Who needs dessert when you have this wonderfully smooth, creamy and delicious cordial?  Impress your guests with a homemade White Chocolate Irish Cream that will have them begging for the recipe.  I can't believe how simple it is to make and how easy it is to drink 🙂  It's rich but not really sweet and would be fantastic drizzled over a bowl of ice cream.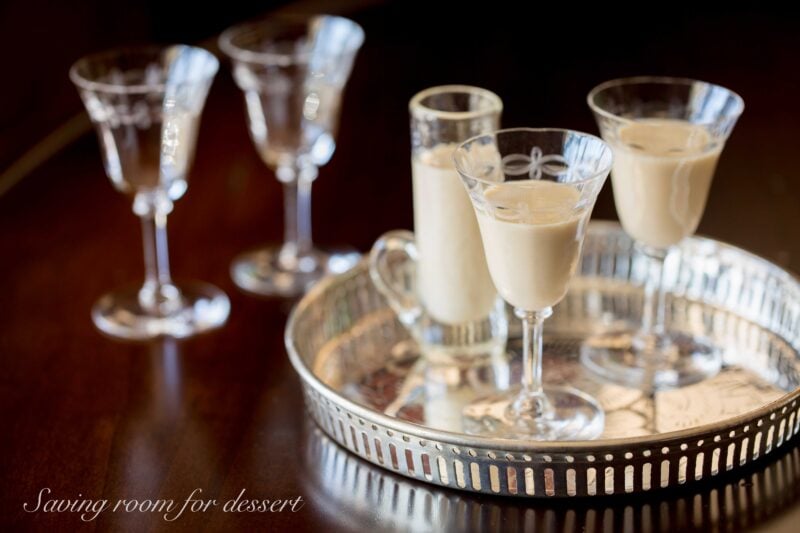 The recipe makes enough to share so it could be a great hostess gift presented in a lovely well-sealed bottle.   I'm not saying you have to share – just trying to help in case you're invited to a St. Patrick's Day party this year.  Since I'm feeling a bit "captain obvious" today I'll add that this recipe doesn't have to be saved for a special day in March, I think it would be pretty great any time of the year!
Serve chilled in cordial glasses or over ice in a rocks/whiskey glass for a wonderful relaxing end to your day.
Don't forget your PIN!
White chocolate Irish Cream
Creamy, dreamy, smooth and delicious! A wonderful after dinner drink that tastes like dessert!
Recipe type:
Cordial, Adult Mixed Drink
Ingredients
8 ounces heavy whipping cream
1 (14 ounce) can sweetened condensed milk
1¼ to 1½ cups Jameson Irish Whiskey (or to taste)
1 teaspoon instant espresso granules
1 teaspoon pure vanilla extract
¼ teaspoon pure almond extract
2 ounces white chocolate, melted and cooled slightly (I used Ghirardellii)
Instructions
Combine the whipping cream, sweetened condensed milk, espresso, vanilla, almond and chocolate in the carafe of a blender. Process until smooth.
Add the whiskey in three batches processing until smooth after each addition. Chill and serve.
Will keep for several weeks if refrigerated.
Sue from
The View from Great Island
posted a beautiful
homemade Irish Cream
recipe this past weekend and now I want to try hers too!  I should have listened to Sue when she said to be careful and not "taste-test" too much or too often, especially early in the day.  Hope you have a wonderful Monday and a great St. Patrick's Day – thanks so much for stopping by!
Tricia