This post may contain affiliate links. Please read my disclosure policy.
Balos Beach and Lagoon is one of the most beautiful, picturesque destinations on the Island of Crete, in Greece.
It's easy to see why this unique peninsula surrounded by vivid blue and turquoise waters, exotic scenery and sugary white sand is one of the most photographed locations in Crete. Read on for tips when planning a day trip to visit this wild, naturally beautiful lagoon.
There are a few ways to get to Balos Beach.
By car: If you have a car and plan to drive, Balos Beach is easy to find and only about an hour from Chania. Once you reach Kaliviani near Kissamos it's a well marked 10km drive on a rocky dirt road running along Cape Gramvousa. In some areas the dirt road narrows and gets a little close to the edge of the cliffs which is slightly stressful, especially for those of us that don't like heights. While passing other vehicles that were coming down the mountain, I may have closed my eyes a few times. Guess it's a good thing I wasn't driving! About halfway up the mountain there is a roadside shack where you're required to stop and pay a small fee (1 euro) for each person in the vehicle. The fee is collected for the protection of the Balos Reserve and for the maintenance and preservation of the road. At the top you'll reach a parking area which is often full so go early! During our visit there were attendants on hand helping wedge the vehicles into every last empty space in the dirt parking lot.
By ferry: Another way to reach Balos Beach is by ferry from the port of Kissamos. This is a popular Cretan adventure so be sure to plan your trip well in advance before the tickets sell out. Check Cretan Daily Cruises for more information, pricing and tips for a wonderful day trip.
The well-worn trailhead on the hike to Balos Beach.
Once you crest the top of the hill you'll be greeted with the reason you made the trip. The view is phenomenal and utterly breathtaking!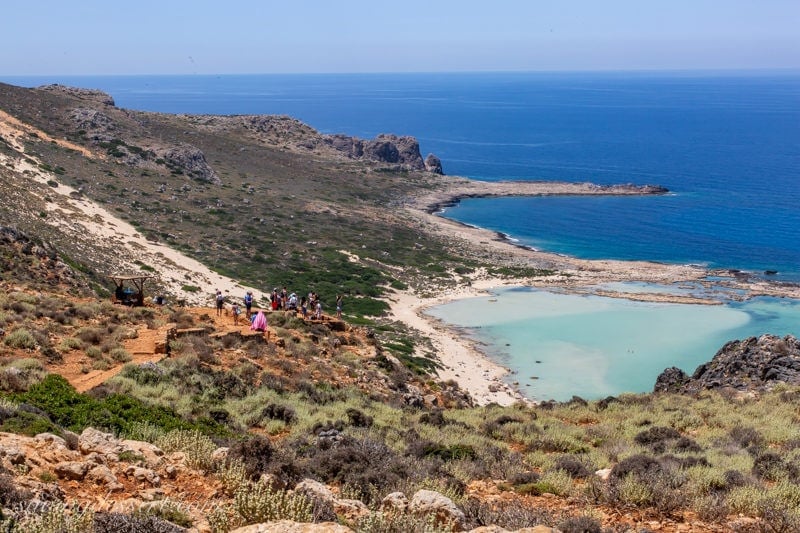 Be sure to stop and take a few hundred photos along the way!
It's hard to hike down the trail and gaze at the panoramic views at the same time.  But no worries, there are some great places to stop and gaze, and shoot photos all along the way.
Goats – we've got goats!
There are goats everywhere on this Cretan adventure. Goats were standing in the middle of the dirt road on the way up, laying in the shade of the cars in the parking lot, and everywhere in between. Can you see the three 'rock' colored goats in this photo? They were so hard to see and if not for the fact that they were jumping from rock to rock, I might not have ever seen them. Camouflage goats!
Here's something you don't see everyday: a roadside honey stand being attended to by a goat. Not sure if 'honey' is sold out of honey or if this is just her name. Either way, she seemed most in charge of her situation, sitting in the shade visiting with the folks driving by on their way to Balos Beach.
You've heard the old saying, "photos don't do it justice." Such is the case of Balos Beach and Lagoon.
It's hard to describe this kind of panoramic beauty. We were still near the top when I shot this picture, as you can probably tell by the tiny boats and little, bitty umbrellas on the beach. It was so beautiful I could have sat in this spot for hours and never tired of the view. The water of the Mediterranean Sea is at least a hundred shades of blue.
A ferry from Kissamos arrived while we were at Balos Beach.
Even with the extra few hundred visitors, the beach didn't feel over-crowded. There's plenty of room for everybody in this remote little corner of the world.
After a nice long, leisurely visit (and some ice cream) we headed back up the mountain.
You'll probably want to stop and take a few more photos on the way back up to the parking lot.  And it's a good excuse to rest for a few minutes and catch your breath. It's so beautiful you may not want to leave anyway!
Here's a list of TIPS and suggestions to consider before hiking to Balos Beach and Lagoon:
Good walking / hiking shoes:
I highly recommend wearing good shoes for your hike to the beach. It's a 1km (6/10 of a mile) trek down and then back up the mountain over dusty, rocky terrain. Some of our friends visited Balos Beach the day before and wore flip flops which they immediately regretted. I wore tennis shoes which were fine. If you want, carry beach shoes or flip flops in a pack and change when you get there.
Drinking water:
You'll want to hydrate properly because it gets hot in the sun, especially when making the trip back up the mountain. Plan on sweating and drinking plenty of water.
Take a hat:
There are no trees to hide under to get out of the sun. Take a big hat that covers your ears for the best protection.
Suntan lotion:
Suntan lotion is a must when you're going to spend hours in the hot sun and in the warm waters of the Mediterranean. Nobody wants to be a lobster on vacation.
Pack light:
Remember, anything you take down to the beach must also be carried back up! The terrain is steep and the hike up the mountain is strenuous.
Concessions:
There's a small concession stand on Balos Beach where you can purchase drinks and ice cream. Take cash and enjoy an ice cream before your trip back up the mountain.
Money / Currency / Cash:
Carry extra cash (in small denominations) if you want to rent a lawn chair and umbrella on the beach.
Portable Toilets:
There are a few rustic portable toilets near the beach. Carry extra tissue, hand sanitizer and/or wipes just in case.
Camera:
Don't forget your camera (or smartphone) because you'll be taking lots of pictures!
Towel and bathing suit:
Pack a small towel and bathing suit if you plan to swim.
Snacks:
A little something to snack on may be a good idea too, especially something that will hold up in the heat. Apples and oranges would do well and if you eat them at the beach you don't have to carry them back up! There are some concessions at Balos Beach but I cannot guarantee they'll be open when you visit. Think protein bars, nuts, fruit, sandwiches on hearty rolls, and my husband's favorite Gatorade Chews.
Hiking poles:
If you typically hike using poles, you'll appreciate having them on this trip. Hiking poles would be helpful, but not necessary.
Donkey Taxi:
As you start the hike back up the mountain there was a vendor selling donkey taxi rides back to the top. Yes, it's a Greek thing. We're not sure how much he charges but if you get sick or have an injury like a twisted ankle, or heat exhaustion, there is hope you can get back to your car!
Ferry from Kissamos:
If you're in poor health or don't feel well, I recommend skipping the strenuous hike and take the ferry from Kissamos. The biggest negative with taking the ferry would be missing the views from the top.
We had a fabulous time on holiday in Crete! We stayed in Chania for 10 days and had plenty of time to explore the old town and surrounding area. This is the first post in our series with more to come!
(Image source: Google Maps)
Thanks for PINNING!
Let's be travel friends! If you have any questions please feel free to leave a comment on this post. I'm sure your question will help all our readers, and it helps me too. If you share on INSTAGRAM tag @savingroomfordessert so we can stop by and give your post some love. And we'd be very happy if you'd FOLLOW Saving Room for Dessert on FACEBOOK| INSTAGRAM| PINTEREST | TWITTER  and subscribe to our YOUTUBE channel for the latest recipes, videos and updates. Thank you!!
Happy travels! Thanks so much for stopping by!  Tricia