This post may contain affiliate links. Please read my disclosure policy.
It seems like this trip was months ago, instead of weeks.  Getting back to the states just in time for Thanksgiving made time fly!  Christmas and New Years are just around the corner and my days are filled with decorating, baking, Christmas cards, shopping for just the right presents, and working – yeah there's that.  So if you're looking for a quick 5 minute escape, like me – please read on!
On our second day in Ireland we left Portlaoise and headed to Cashel to explore more ruins and the town famous for the "Rock of Cashel."  This is the Hore Abby a former Benedictine monastery near the Rock of Cashel.  The day started out a bit gloomy with drizzly rain and cool temperatures.
If you don't like the weather in Ireland all you have to do is wait a few minutes.  True to it's reputation, the rain stopped and we set out to explore this fascinating site.
It's hard to imagine that a monastery could still be standing since 1270 … parts of it anyway.
They just don't build things like they used to.
There is a cemetery in the back with headstones so worn I couldn't read the inscriptions.   I guess they are very old!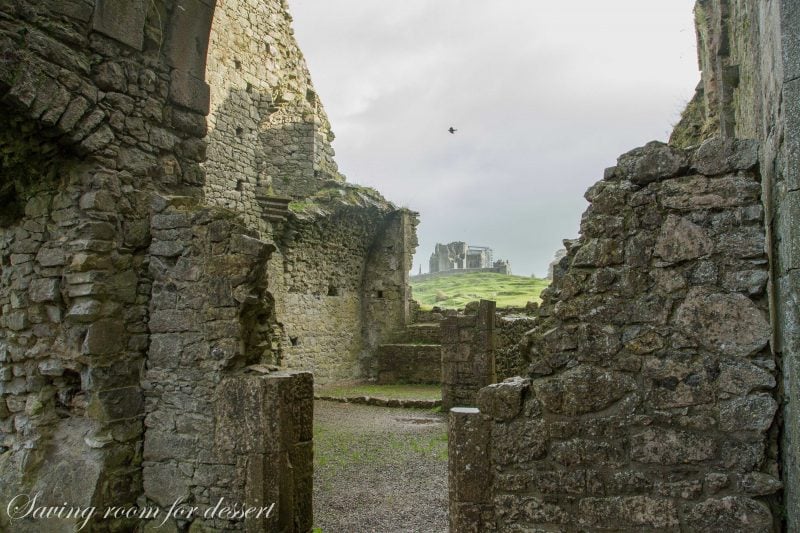 Off in the distance you can see the 'Rock of Cashel' castle currently under renovation for conservation purposes.
After exploring the Abbey we headed into Cashel to get information on touring the castle.  This is the beautiful Cashel Palace Hotel.  It looked like Elizabeth Bennett or Mr. Darcy would step out of the front door at any minute.  We didn't stay at this hotel … but I would!  We're "pub B&B" kind of people but I wouldn't mind exploring this 1730's Queen Ann style house.  Maybe next time!
We were lucky to find Cashel was hosting an Arts Festival in the center of town.
Vendors lined up selling handmade crafts, woolens, jewelry and tasty homemade goodies.
I picked up a great handmade hat for my grandson Issac.  It fits and he loves it!
We enjoyed the music from a local brass band.  Such fun!
I guess it's no surprise that I was fascinated with this lovely lady's home baked traditional Irish desserts.
Jam, chocolate, nuts and other treats lured us in!
We picked up a few pieces of delicious cake to share.  All this walking and exploring makes one hungry.  I wish I could remember the name of all these pastries!  They were delicious.
Daisy Cottage Farm from Wicklow, Ireland – give her a "like" on Facebook!  She developed an award wining scone mix and made all these fantastic pastries.  It's so sad we couldn't taste them all!
The sun came out, the brass band took a break, and we enjoyed listening to a youth orchestra – LOVED it!
We walked a couple of blocks to check out the castle.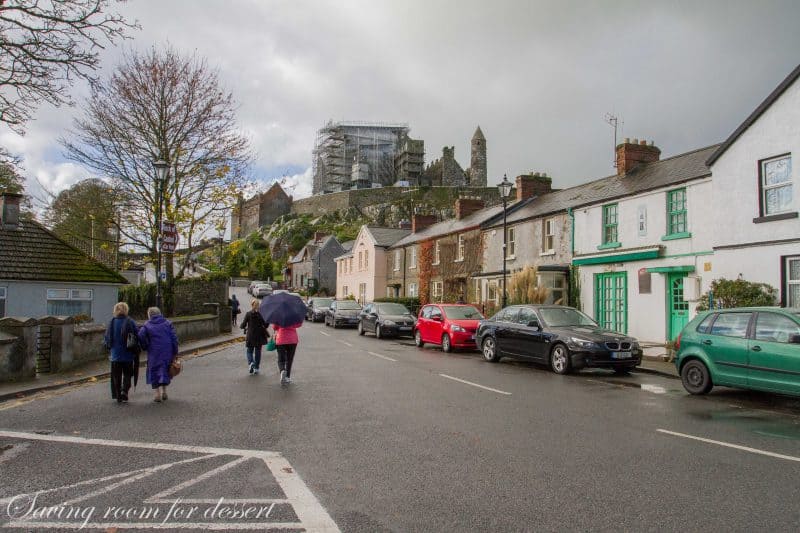 The Rock of Cashel castle isn't hard to find – in fact it's hard to miss.
I stopped to take pictures of these lovely garden flowers still in bloom in November.
The sun went away again and we enjoyed more rain.  But that's okay – as the old saying goes – there's no bad weather … only bad clothing.  We were prepared with umbrellas and rain coats and went on to enjoy and explore.
At the bottom of the hill we found a lovely little woollen shop.  If you find yourself in Cashel be sure to stop in and introduce yourself to Inga.  We had a lovely visit and she was a wealth of information!  Inga gave us some pointers for what to see off the beaten path, where to stay, etc.  We took all of her advice and you will see photos of those adventures in future posts.  Inga was adorable, friendly and so funny I think she could do stand up comedy.  We had so much fun visiting with her and shopping.  I've said it before but it should be repeated, the people of Ireland are one of its' greatest assets.  They are an amazingly warm and friendly bunch of terrific people, and they're Irish too!
Fall colors near the castle.
The Rock of Cashel.
From the Castle you can see the Abbey we visited earlier in the day.
A view of Cashel from the top.
Thanks for coming along on our adventure in Cashel.  I still have another 4-5 posts to share in the coming month but I guess I better get back to the kitchen!  The holidays are coming and I'm not ready!  I do have a new recipe for a sweet bread to share later this week.  Thanks so much for stopping by!
Here's a PIN for  your favorite travel board!
Here are a few more posts about our adventures in Ireland:
And don't miss this wonderful roundup of Irish Recipes & Travel Posts too!
Thanks so much for stopping by!
Tricia