This post may contain affiliate links. Please read my disclosure policy.
Chinese Street Food in Shanghai ~ from authentic egg pancakes to delicious soup dumplings, we all enjoyed the sights, sounds and flavors of this amazing city.
My husband Ed and I, our son Patrick (in the black t-shirt) DIL Callie and granddaughter Jayden (also pictured), recently returned from a big adventure in Shanghai.  Patrick is an athlete and competes in Spartan Races, which range from 3 miles to marathon distance and all include a series of difficult obstacles.  Races are held worldwide, with many in the US and 14 other countries including Canada, Europe, South Korea, Australia and China.  If you're a regular SRFD reader, you may remember that Patrick won a video contest last fall sponsored by Spartan Race Inc. and Obstacle Racing Media, which included a trip to Shanghai to compete in a Spartan race.
But I'm getting ahead of myself.  We have several more posts to come!
Shanghai is located on the eastern coast of China where the Yangtze River meets the East China Sea.
With over 24 million people, Shanghai is the world's most populated city (as of 2014).   As with any large city, it may take a while to find what you're looking for.  Being the foodie that I am (with a foodie family) I could not leave Shanghai without trying some authentic Chinese street food.  I'm not talking about the stuff they make for the tourist, I'm talking about finding where the locals eat.
Patrick found a couple of vendors not far from our hotel on one of his morning runs.
Being halfway around the world (literally) with a 12 hour time difference from home, we found ourselves up early each day ready to go by 6:00 a.m.
Since none of us speak Chinese, we can't tell you exactly what goes into making these egg pancakes.
The things we recognize are scallions, cilantro, onions, chicken (we think) a soft bread stick (guessing here) a tasty brown sauce, and some sort of crispy waffle thingy.  Research confirms these are Chinese Egg Pancakes also known as Jianbing.  Similar to a crepe, very filling, delicious and inexpensive, I could have eaten these everyday.  We ordered two wraps with different fillings to share, for about 12 Chinese Yuan or $1.75 US.  That's a pretty cheap breakfast for 4 1/2 people.
This vendor is an artist, making the entire wrap in just a few minutes.
This Chinese Egg Pancake had the soft, savory bread stick in the middle.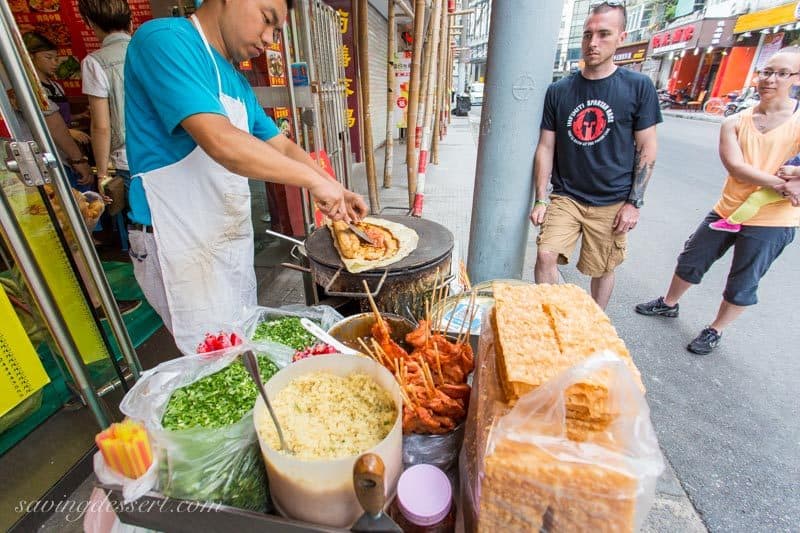 With a tasty chicken skewer added at the end.
Now for the fold and wrap … we're all drooling here.
Cut in half and bagged for easy eating on the streets of Shanghai.
Ed was shooting video while I shot stills so be sure to check it out and see the artistry which was our breakfast!
We had several months to plan our trip and everything we read mentioned the amazingly delicious Shanghai soup dumplings.  Patrick hit another home run in finding this walk-up restaurant, loaded with locals at 6:30 in the morning.
The line moved quickly, going inside to order and pay.  Once complete you step outside to the window and hand your receipt to this young man who fills the order.
I took a few shots of the process of making soup dumplings.  Each piece of dough is hand rolled, filled and twisted to seal.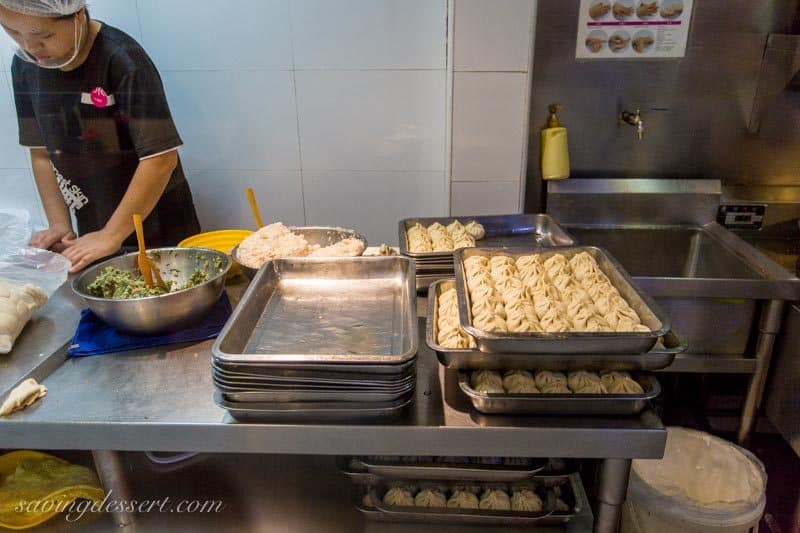 From everything I've read, soup dumplings are made by creating a rich broth that is refrigerated until congealed like jelly.  The thick, cold, congealed broth is mixed with other ingredients and scooped into the hand made dumplings.
The dumplings are steamed which liquifies the broth inside and cooks the filling.  The bottoms are browned and the tops sprinkled with sesame seeds.
These dumplings were flying out the window with some people bringing their own containers to fill.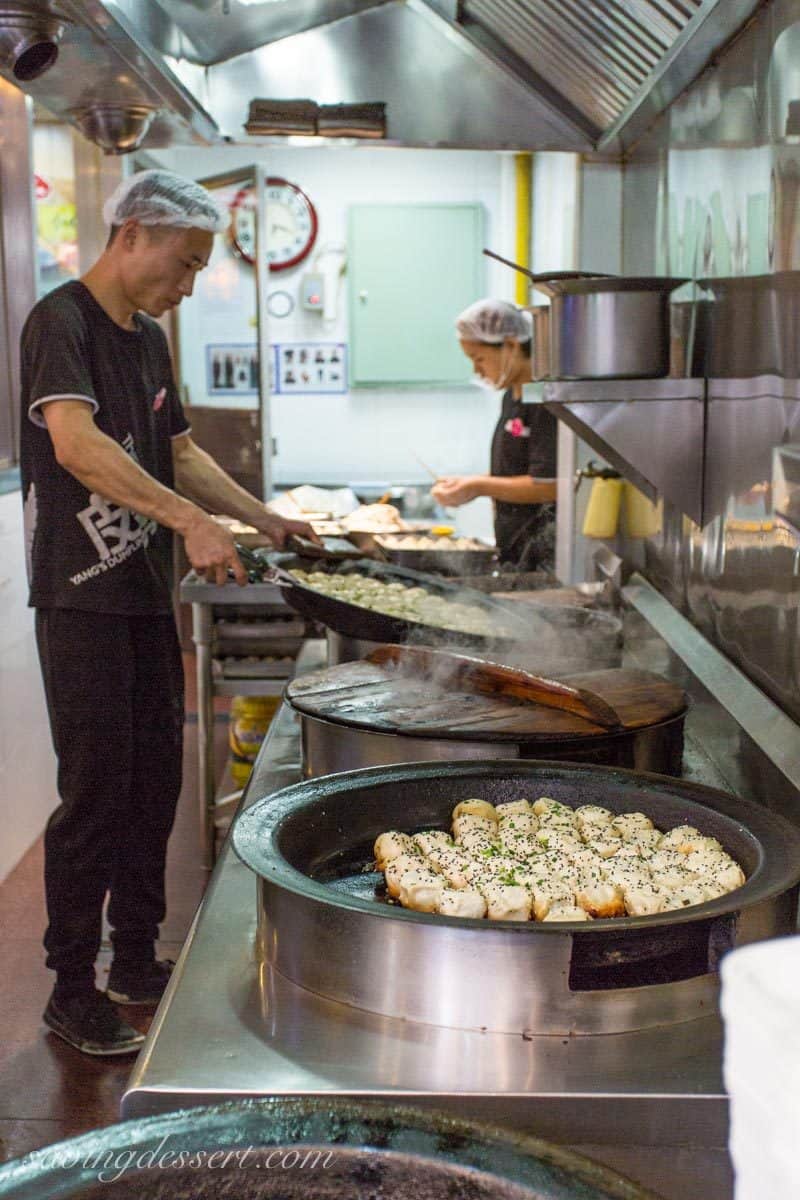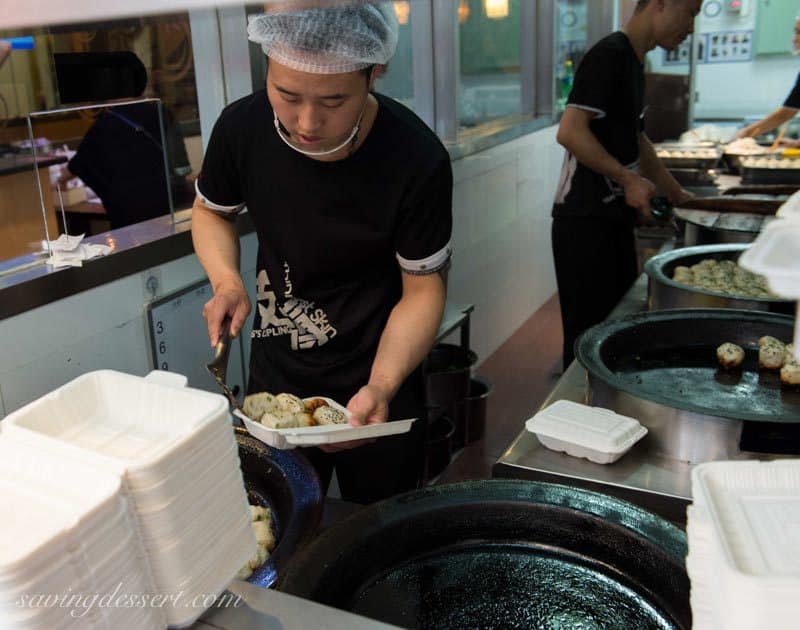 Patrick and Ed went inside to order and said there was a photo/board advertisement at the register.  They pointed at the picture to show what they wanted, which also included the price.  They ordered two boxes of 6 dumplings for less than $5.00 US.
Each box of 6 dumplings included two shrimp/seafood dumplings, two pork and two vegetable (broccoli we think).  The pork and vegetable dumplings were my favorite.  To tell them apart, one variety is topped with white sesame seeds, another with black, and the third with a combination of black and white seeds.
This is not my usual food styling process – haha – but our Chinese street food was enjoyed greatly none the less!
To eat the dumplings we found it easiest to bite off a top corner and slurp out most of the broth.  Then you can bite the dumpling in half or shove the whole thing in your mouth if it's big enough!  Do soup dumplings live up to the hype?  Oh … without a doubt, they are fantastic.  Most of the dumplings I've seen in the US, or on blogs, are just steamed.  The crispy bottom on these dumplings sealed the deal for me so if I ever get the chance to make them at home, I will try browning the twisted end as they did in Shanghai.
I shot this photo to show the interesting way they do their electrical and cable wiring in Shanghai.  I can't imagine how confusing that must be for the electricians and cable guys!
Jayden enjoyed her first Chinese Egg Pancake and forgot all about the baby food her mom prepared.
Are you wondering how it was traveling with a 14-month old on a 14-hour flight halfway around the world?  I think Jayden deserves a whole post of her very own so please come back to read more about our big fat Shanghai adventure!
Don't forget to PIN to your favorite travel board!
Thanks so much for stopping by!
Tricia