This post may contain affiliate links. Please read my disclosure policy.
After spending a wonderful week on Sanibel Island, Florida, we headed a few hours north to Clearwater Beach so my husband could attend a work-related convention.  This opportunity gave me plenty of time to explore the area while continuing my vacation.  I jumped on the Jolly Trolley and headed to the Clearwater Marine Aquarium home to two famous dolphins, Hope and Winter, the stars of the very popular movies Dolphin Tale I & II.
Clearwater Marine Aquarium is a rescue and rehabilitation center with great emphasis on education.  The dedicated employees and volunteers care for many injured animals and, if possible, release them back into the wild.  The tanks above hold sea turtles being nursed back to health before going home to the Gulf of Mexico.
Sea turtles who can no longer care for themselves are given a home and an important job, to help educate visitors about how they live and about the dangers they face everyday.
A few of the resident turtles are no longer able to dive underwater due to injuries.  These friendly turtles suffer from a buoyancy disorder, possibly caused by injuries, where air is trapped under the shell.  The staff are training the turtles to recognize their own colored stick as part of their regular feeding.
Harold has a vision impairment and must be hand fed.  He cannot see well enough to find food but is thriving at the Aquarium.
Cooper is a North American River Otter found in a residential garage suffering from dehydration and injuries that were most likely caused by a motor vehicle.  Cooper is partially paralyzed and cannot use his rear legs.  He still swims and is doing well in his forever home.
I didn't catch this guys name but understand from the staff that he recently downsized to a smaller shell.  I guess he got tired of carrying around the bigger home.
Clearwater Marine Aquarium is home to another famous movie star.   Ricky is an African great white pelican who played the part of "Rufus" in the movie Dolphin Tale.   Ricky can also be seen in the movie Zohan starring Adam Sandler.  In the photos above his trainer is demonstrating how they trained Ricky for his movie roles.
The movie Dophin Tale II features this beautiful bottlenose dolphin named HOPE.  Found in shallow water at only 2-3 months old with her deceased mother, Hope came to live at the aquarium and is best friends with WINTER.   Being orphaned at such a young age, Hope was unable to survive on her own in the wild.
Hope participates in a special experience for visitors through the Animal Encounter program.  Tickets are available for visitors to meet Hope in person with aquarium provided photos!
The most famous resident is WINTER, the tailless dolphin and star of Dolphin Tale I & II.   Winter was found beached and entangled in a crab trap with numerous severe injuries.  Due to her injuries Winter's tail eventually fell off on it's own, making it nearly impossible for her to swim.  She survived against all odds and has fully recovered from her injuries.  She learned to swim using a back and forth method like a shark and later a series of prosthetic fins were made for Winter.  The movie is based on this real life success story.  Winter continues to inspire those with disabilities, especially children and amputees.
Winter was working with her trainer and I was able to catch just a few shots through a gate.
After a big storm passed, Winter came out for a quick visit.  There are several inspirational documentaries about her amazing life, all are worth watching.
Winter and Hope are best friends and live together at the Aquarium.
Nicholas is another resident dolphin who was brought to the aquarium on Christmas Eve 2002 along with his mother Noelle.  Noelle was sick and beached herself but unfortunately her young son followed.  Noelle did not survive and Nicholas received 3rd degree burns on his back and fin due to sun exposure.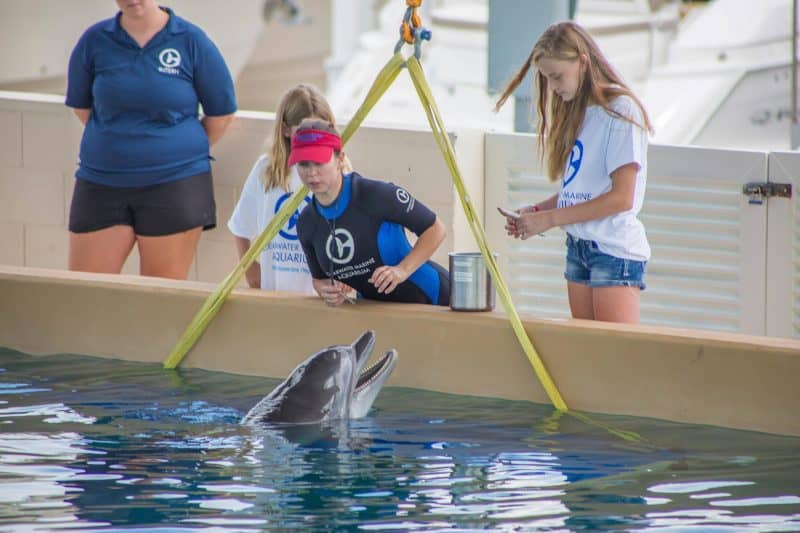 Nicholas, like Hope, also participates in the Encounter program thrilling these young girls.
The trainer instructed Nichols to roll over for a belly rub!
Nichols is also trained to recognize colors and objects.  It was interesting to watch him select the correct item then show off with a big splash.
While watching the encounter I noticed a wild dolphin in the harbor (top right of the bottom photo.)  Perhaps it was trying to see the show?
Nicholas posed for me to get a shot – I think he's a bit of a ham!
And finally if you've seen the movie then you may have seen this house boat.  The film was shot on site at the aquarium and the surrounding harbor.  The aquarium ticket price includes a trip across the bay to a building that was used during the filming of the movie.  Visitors can see movie props and complete furnished rooms from the house such as the kitchen, bedroom and garage.  They even have a hurricane experience and gift shop.
If you ever find yourself in the Clearwater area – I hope you will  visit with Winter, Hope, Nicholas and all the other residents of the aquarium.  Thanks so much for stopping by!  Have a great weekend.
Tricia