This post may contain affiliate links. Please read my disclosure policy.
What would a trip to Ireland be without a visit to the Guinness Storehouse in Dublin?   We recently returned home from an amazing 9 day adventure in Ireland that started and ended in Dublin and included many small villages and towns throughout the southwestern part of the island.  To be honest, big cities don't really do it for me.  I love the outdoors and Ireland offers so much to those interested in exploring.  Dublin, Galway, Belfast and Cork are the biggest cities in Ireland and each holds amazing wonders rich with history.  But  I can't wait to get on the country roads, see the sheep filled green fields, explore castle ruins and spend time with Ireland's greatest asset – the people.
 We left on an afternoon flight from Richmond to Boston where we met sister-in-law Rita from Nashville.  We flew together to Dublin, caught a strong tail wind and arrived the next morning at 4:30 a.m.  Ireland is 5 hours ahead of eastern time so we were able to sleep a little on the plane.  We started our adventure getting used to driving on the wrong side of the road, on the wrong side of the car, then headed out to find coffee and breakfast.  If you think driving on the left side of the road is difficult, it's not near as bad as trying to find coffee because people just don't get up that early in Ireland!  Breakfast is often served between 8:30 and 10:00 a.m.  So we hung around and waited until the Guinness Storehouse opened at 9:30 where we had reservations to tour the old brewery and enjoy a pint of the black stuff.
The Irish are absolutely serious about their Guinness!  This old brewery is almost a museum paying homage to a stout beer that has been brewed in Ireland since 1759.  Old advertising posters and displays line the walkways.
Floor by floor you discover how Guinness is brewed and what has made it so successful for hundreds of years.
 At the end of the tour you are invited to the top floor of the Storehouse to enjoy a pint of Guinness in the glass enclosed Gravity Bar.
There is a proper way to pour a glass of Guinness and don't even think of drinking it until it's deemed ready!  You can Google it – seriously.  There are Youtube videos about the proper method of pouring Guinness to get the creamy thick head.  Here's the short version – pour at a 45 degree angle, then allow it to settle and then top it off, then allow it to settle.  You just can't get in a hurry with a Guinness.
 The Gravity Bar was pretty busy and it was only 10:30 in the morning!  That's 5:30 eastern so yes, I was drinking beer at 5:30 in the morning!  Ha – great way to start the day and a vacation.
This little activity is very popular with the dudes.
The glass enclosed circular Gravity Bar offers some wonderful views of  downtown Dublin.
There are so many things to see in Dublin so don't let me discourage you.  Cathedrals, libraries, and of course there is the famous Temple Bar.  Temple Bar is an area of downtown where you can drink a pint in a pub, eat at great restaurants, listen to street musicians, enjoy traditional Irish music along with almost every other tourist in Dublin.  It's a busy place when the sun goes down so remember you're in a big city – and stay safe.
Another popular tour in Dublin includes a visit to the Jameson Distillery.  John Jameson started distilling his Irish Whiskey in 1780 and continued in this location for nearly 200 years.  In 1971 they moved the production to a location near Cork, Ireland but you can still tour the original distillery and of course, have a little drink at the end.
This guided tour is actually very well done with a movie and displays to explain the different stages of making whiskey.
There are a few bars and a restaurant on site.
At the end of the tour they give each guest a little taste of Jameson and pick 8 volunteers from the group to participate in a taste test.  The group compares an American Whiskey (Jack Daniels), with a scotch whiskey and lastly the Jameson.  Sister-in-law Rita was picked as a volunteer for this adventure!  Almost all 8 chose Jameson as the best – but we knew that already!
Now that  you're feeling all warm and cozy inside they run you through the gift shop where you can purchase Jameson and even take home a bottle or two of a blend only available from this store.  Great for gifts from Ireland!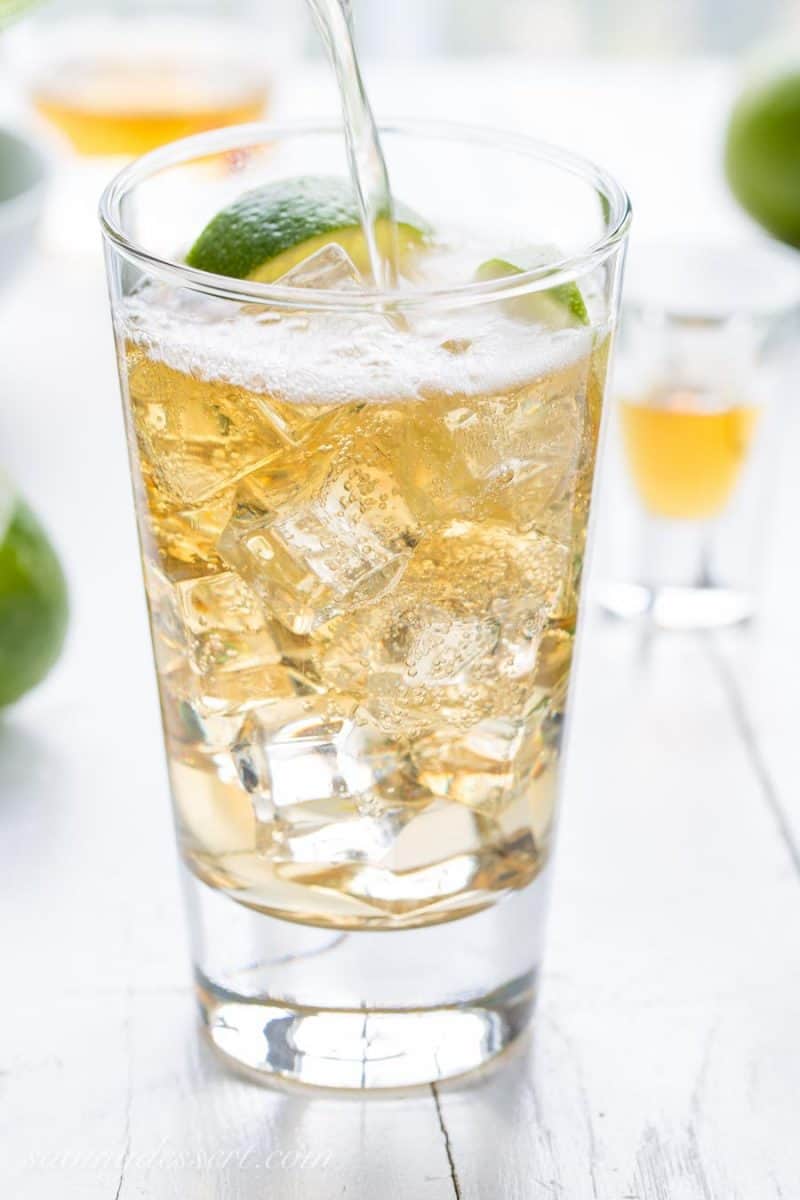 Even though I don't have a delicious food recipe for you today – I want to share the recipe for Jameson's signature drink  – the Jameson & Ginger Ale with Lime
We left Dublin in the afternoon and traveled about 1 hour west to Portlaoise, a lovely small town with plenty to do and see.  Just a few minutes from Porlaoise is the ruins of the Rock of Dunamase castle.  This National Monument is open for visitors to explore and experience.   Built late in the 12th century this defensive stronghold provides gorgeous views of the surrounding landscape and the Slieve Bloom Mountains.
We wandered through the ruins until the sun started to go down then headed back to check into our hotel.  We made reservations at the Heritage Hotel in Portlaoise and were thrilled with the accommodations.  There was an Irish wedding party at the hotel and even as busy as they were, the manager was extremely attentive and helpful.  One of the best parts of traveling in Ireland is that they love Americans.  This helps make the visit outstanding!  If you get the opportunity to visit Portlaoise and stay at the Heritage Hotel, be sure to experience their wonderful full Irish breakfast.  Amazing!
I finally got to sit and gaze on the gorgeous landscapes that brought me back to Ireland again.
Rolling green hills and stone churches, a brisk wind and perfect weather – it was lovely!
It's easy to see why they built the castle on top of the hill – panoramic views provided the safety they needed to survive.
I really could spend an entire day exploring these ruins.  It is fascinating.
There were lots of ohhh's and ahhhh's from the top!
Thanks for coming along with us on part 1 of our trip to Ireland!  I have about another 1,000 (+-) photos to get through so stay tuned for more castles, more green fields, a few sheep, a wonderful hike and lots of fun!  May you have a blessed Thanksgiving holiday with family and friends and I hope all your recipes turn out fantastic!  Blessings and best wishes … from our house to yours!
Don't miss these other fun posts about our adventures in Ireland:
And finally, check out this lovely roundup of Irish Recipes & Travel Posts too!
Thanks so much for stopping by.
Tricia