Spritz Cookies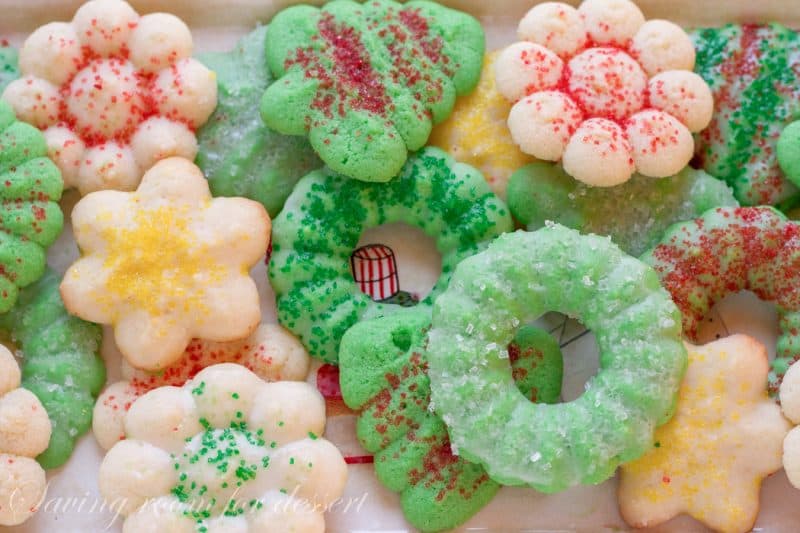 Recipe type:
Cookies, Dessert
For the Cookies:
1 cup unsalted butter, room temperature
⅔ cup granulated sugar
2¼ cup unbleached all-purpose flour
¼ teaspoon salt
1 egg
¼ teaspoon almond extract
1 teaspoon vanilla extract
For the Vanilla Glaze:
1 cup sifted confectioners sugar
2 tablespoons milk
1 tablespoon corn syrup
½ teaspoon vanilla
Food color, colored sugar, nuts, candied fruits or candy as a garnish and decoration if desired.
To make the cookies preheat oven to 400 degrees. In a large mixing bowl combine the butter and sugar. Beat on medium speed until well blended. Add the flour, salt, egg, almond extract, and vanilla extract. Blend on low speed until combined. Place the dough in the cookie press.
Press the dough onto ungreased cold cookie sheets. Decorate as desired. Repeat with the next batch but be sure to use a cold cookie sheet.
Bake for 8 minutes or just until they are set but not brown. Immediately and carefully remove the cookies to a wire rack to cool.
To make the glaze whisk all ingredients together and drizzle on each cooled cookie. You can also dip the cookie tops directly into the glaze and allow the excess to drip before placing the cookies back on the wire rack to set.
Store cookies in an airtight container.