This post may contain affiliate links. Please read my disclosure policy.
Since I work full time I usually do most of my "blog" cooking on the weekends. But during the week – I hunt and gather (recipes). I have a color coded folder system to help me keep track of upcoming recipes, recipes I've already made and need to post, and a folder with family heirlooms. In addition to the folders I have numerous piles of magazines and cookbooks many with post-it notes marking my good intentions.
Within this highly organized mess I also have various stages for all my ideas: I have must try recipes, maybe someday, absolutely, why didn't I think of that, and I wonder what would happen if I mixed this with that? The system works for me and yes I love it.
But there is a downside to my limited time. All week long I'm exposed to awesomely beautiful posts from my blog-world friends and buddies. They (you) inspire ideas and cravings and between beautiful blogs, there is the food network, food magazines, and the farmer's market. I change my mind about what I want to make at least 15 times before I get anything on the table. I want to make it all! So my folders get fatter, the piles get bigger, more cookbooks are pulled from the shelf and at the end of the day on Sunday, I wish I had a few more days in the kitchen with my camera.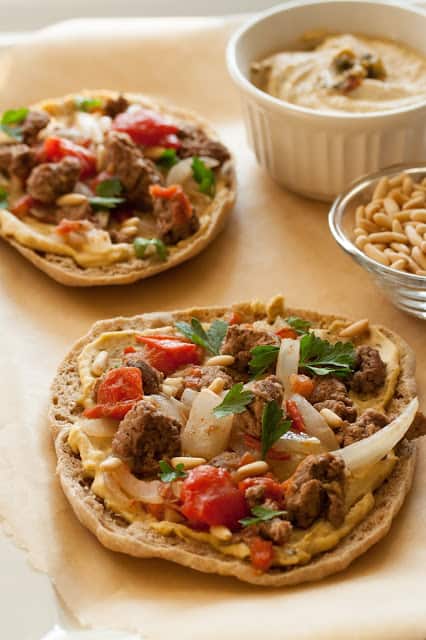 I often joke with my husband that I've worked for so much of my life and I don't want to anymore. If I didn't work I could exercise in the mornings, walk the dogs, piddle in the garden, then go all Donna Reed with my hair fixed purdy, perfect makeup and something other than baggy pants and t-shirts. A girls gotta dream. I have aprons – do you have aprons? I could wear my aprons and pretty shoes too!
Not sure what that has to do with this great, delicious recipe but I felt the need to share. I think I had a craving for homemade bread and thought pitas would be perfect. Pitas are so versatile and then I remembered this recipe I saw in the August 2013 edition of Cooking Light. If you've been a long time SRFD visitor you may remember we did a 6 month totally gluten free experiment to see what would happen. We missed crackers a lot but also felt better overall. Now days we keep gluten to a minimum so if we're going to splurge, homemade is the way to go. I made the pita bread (recipe to post on Friday) over the weekend and was able to whip up these simple pizzas in no time at all. It actually took longer to take pictures than it did to make the pita pizzas.
I'm generally not a fan of ground beef but love ground lamb. Hummus has always been a constant in our kitchen and fresh parsley, oregano and tomatoes from our garden sealed the deal. Put this recipe in your folder, pile, or box, pin it, print it, copy it, post it or share on Facebook – you won't be sorry you moved this one to the top!
Lamb & Hummus Pita Pizzas
12 ounces ground lamb
1 tablespoon extra-virgin olive oil
3 cups sliced sweet onions
2 tablespoons minced fresh garlic
3 teaspoons ground cumin
1 teaspoon fresh minced oregano
1/2 teaspoon salt
1/2 teaspoon ground cinnamon
1/2 cup water
1 cup chopped seeded tomato
3 tablespoons fresh lemon juice
4-6 (6-inch) pitas (recipe coming soon)
1 cup hummus (I used roasted pine nut Sabra)
1/2 cup chopped fresh parsley
2 tablespoons toasted pine nuts
Preheat oven to 450 degrees. Heat a large non-stick skillet over medium heat. Add the ground lamb and cook for 5 minutes or until browned, stirring to crumble. Remove the lamb and set aside. Add the olive oil to the pan and swirl to coat. Add the onion and saute for about 4 minutes. Stir in the garlic, cumin, oregano, salt and cinnamon. Saute another minute Stir in 1/2 cup of water and bring to a simmer. Add the tomato and cook for just a few minutes until the tomatoes are just warmed. Stir in the cooked lamb. Cover and reduce heat and simmer 3 or 4 minutes. Stir in the lemon juice and remove from the heat.
Split each pita bread into 2 rounds. Place the pita rounds on a baking sheet and bake for a few minutes until crisp but not too brown. Spread each pita with 2 or 3 tablespoons hummus and top each with 1/3 cup of the lamb mixture. Sprinkle with pine nuts and parsley and serve.
(adapted from a recipe in the August 2013 Cooking Light Magazine)
~~~~~~~~~~~~~~~~~~~~~~~~~~~~
Hope you're having a good week. School starts again soon and then the holidays will creep up before you know it. Be safe and thanks so much for stopping by!