This post may contain affiliate links. Please read my disclosure policy.
Take a walkabout on Manly Beach Australia!
When visiting Sydney Australia be sure to enjoy a leisurely hike around Manly Beach and the surrounding community.
Take in the breathtaking beaches, beautiful quiet shorelines, crashing waves, hikes up clifftop streets, fantastic views of the Pacific, and a stroll through quiet neighborhoods with parks and gorgeous homes.
Last September my husband Ed and I took an epic two week trip to Sydney Australia.
When he casually mentioned that he had to go to Sydney for a week on business I volunteered to tag along, being the great wife that I am, of course. I suggested we add a week of vacation onto his work trip. Since we'd be there anyway, it made perfect sense. Ed agreed and we took a quick crash course on all the things to do and see in Sydney.
We didn't have a lot of time to plan and research, but with the help of Pinterest and a few great guide books, we managed to see a lot!   Since it was a work trip, Ed would be busy during the day for the first week. He knew I would jump at the chance to explore the area and adventure on my own. I was delighted to be set free in this amazing city and quickly found that walking 20,000 steps a day was a dream come true.
One of my first solo adventures was a nice 4-hour walkabout around the Manly community, including a leisurely stroll along the super famous Manly Beach.
Sydney and the surrounding areas are easy to navigate, with plenty of reliable and comfortable public transportation including the ferries that can get you just about anywhere. The main transportation hub in Sydney is the Circular Quay (pronounced key). It includes access to trains, buses, ferries and international passenger cruise ships. Located in the heart of downtown Sydney, Circular Quay is near hotels, restaurants, shopping and the iconic Sydney Opera House.
The trip from Circular Quay to Manly via public ferry takes about 30 minutes.
In addition to the public ferry (which I highly recommend) there are also a few faster, private ferries that make the trip in about 18 minutes. Once you arrive at the Manly dock, it's a straight walk down the Corso, a pedestrian shopping plaza that runs from the ferry wharf and harbor beach across the peninsula to Manly Beach. The Corso mall is lined with popular surf shops, pubs, cafes, galleries, street entertainment and a wonderful Starbucks with a fantastic view of Manly beach.
You can spend the day shopping, riding bicycles, people watching, meandering, swimming, snorkeling, scuba diving, or surfing.
Since we were there in September (early spring down-under), the weather was completely fantastic with no rain, and temperatures in the low 70's. During the Sydney summer, and around Christmas, Manly beach can be super crowded, but on this Monday in September I felt I had the whole beach to myself! Manly's slogan has long been "seven miles from Sydney and a thousand miles from care." I get that.
Spend the day on the beach or continue on and walk the entire Manly Scenic Walkway as I did. The popular 6-mile walk takes in all the beauty of this lovely little slice of heaven with beaches, bush and beautiful views.
The best dog park!
According to Wikipedia, Manly Beach was named by Capt. Arthur Phillip who wrote that "[the indigenous people's] confidence and manly behavior made me give the name of Manly Cove to this place." It's a popular place to walk your dog, and it seemed like everybody had one.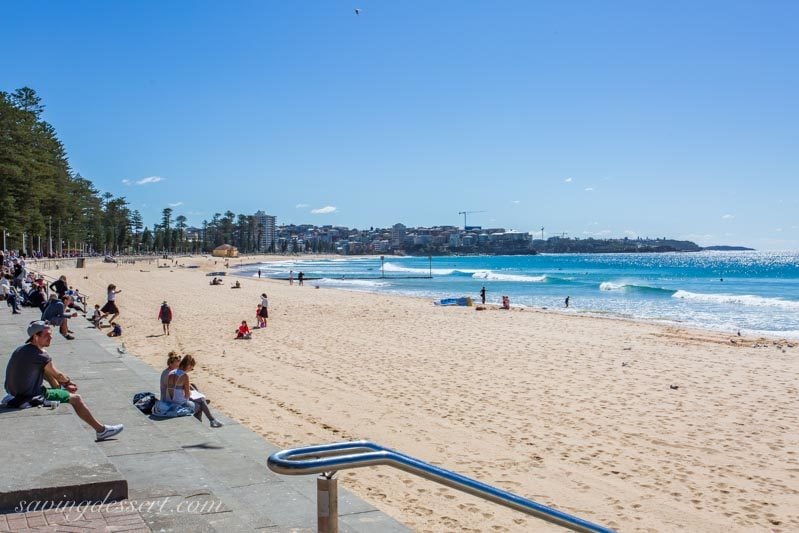 Manly Beach was the location of the first world surfing contest held in 1964.
It's one of Australia's most famous surfing beaches and a must see when you head to Sydney. Nope, I didn't try surfing but I would be willing to go snorkeling anytime!
What do you need to carry on the Manly hike?
With a good hat on my head, a few snacks, a guide book and maps in hand, I carried a small backpack with water and camera gear and headed out on a four hour walking tour.
Take your time and enjoy the scenery!
I'm sure this tour took me much longer than most as I stopped every 10 feet to take pictures and gaze at the amazingly blue, and beautiful, Pacific Ocean.
I kept my eye out for whales but didn't see any on this trip. I was completely stunned by the beauty of this place.
The walk is easy to follow and well documented in the guide books. Take your time and soak it all in.
Warm enough for playing in the sun, but probably not in the water, I passed a few families enjoying the day.
Spend some time planning your trip and agenda.
I never expected to travel to Sydney and didn't have much time to fully research the area. So, I don't know what I expected but was somewhat surprised at the tropical landscape and surfer vibe.
I passed one of the famous rock pools in an area.
This pool is named Fairy Bower for the wildflowers and ferns that used to grow on the hillsides.
Built by locals in 1929.
This beautiful ocean pool is one of many carved out of the coast around the time saltwater bathing became popular.
People in and around Sydney all seem very fit and active.
Everybody's walking dogs, jogging, bicycling and just enjoying the outdoors. I can really see the appeal of living here.
This point located near Shelly Beach is another popular surfing spot. I saw several surfers waiting on the big waves.
Photos can't convey the whole feel of the area with crashing waves, the warm salty breeze and lush vegetation.
The Manly Scenic Walkway takes you along several beaches, quiet shorelines and up clifftop streets.
You'll pass a historic building that was formerly St. Patrick's Seminary, and venture into neighborhoods with parks, beautiful homes and fantastic views of the Pacific.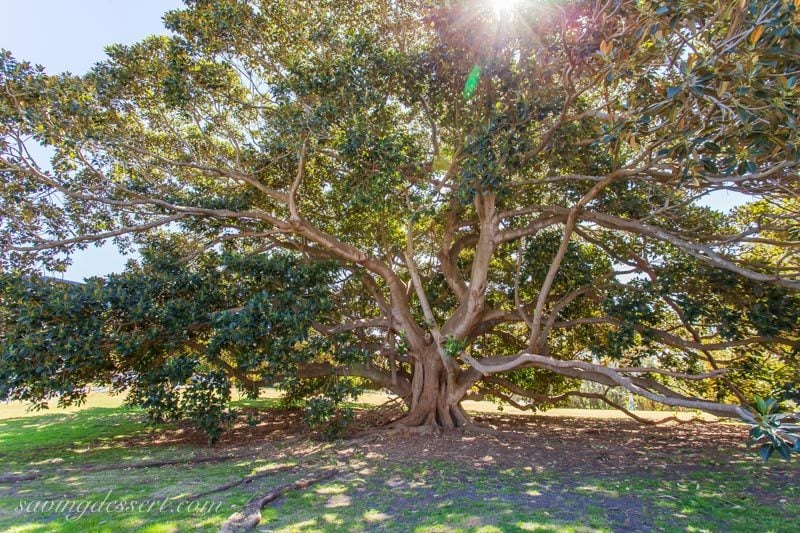 I love these sprawling evergreen ficus macrophylla (or Australian banyan) trees native to the area. Some grow up to 200 feet tall and no doubt twice as wide!
After a little hike in the bushland on a well worn path, I arrived at Collins Beach.
It's a very quiet area with plenty of dense vegetation and foot bridges. A stone cairn marks the spot where Governor Arthur Phillip was speared in the shoulder by the Aboriginal Wil-ee-ma-rin after a disagreement in the late 1700's.
I stopped again to take in the beautiful harbor views of Little Manly Cove.
Manly Point Peace Park is clean and beautiful with plenty of places to relax and have lunch.
Ready for the weekend, sailboats are anchored in the coves.
I arrived back at Manly Cove Wharf in time to grab a fruit smoothie. Then jumped on the ferry and enjoyed the 30-minute ride back to Circular Quay.
What to take:
A good guidebook or two with maps (see Amazon links below for our recommendations);
Bottled water and a snack or two;
Camera and cellphone (or a good cellphone camera);
Wear a proper hat, sunscreen and a good pair of walking shoes
Thanks for PINNING!
Be sure to take a good guide book and map of the area. The books outline the Manly Scenic Walkway in great detail – where to turn, what comes up next, etc. Click on the photos for more information:
If you decide to purchase something at Amazon after following my affiliate link, I receive a small commission.
Stay tuned! Many more posts to come … thanks so much for stopping by! Tricia