This post may contain affiliate links. Please read my disclosure policy.
For the last month or so we've been completely off our normal routine. We went camping in the Shenandoah Mountains, spent weeks working on the blog while we transitioned to WordPress, and then went out of town for a week to the Outer Banks in North Carolina.
I'm really looking forward to settling in for the next six weeks trying some new recipes and blogging on my regular schedule.  But … before we get back to delicious recipes, I want to share some vacation photos from our OBX adventure.
If you've followed SRFD for a while you probably know we love to kayak. We took our boats on vacation and spent a couple of days paddling around with my husband's sister-in-law Rita. We kayaked in the Currituck Sound and had a wonderful day on this canal in The Preserve at Kitty Hawk Woods.
The canal runs 8.5 miles through more than 1,800 acres of lush trees, wildlife, birds and fish.  It was a relaxing, fascinating day with perfect weather and great company.
You may remember my sister-in-law Rita works at the Nashville Zoo and is our resident bird, bug and animal expert.  We love traveling and vacationing with her and can't wait to go again soon!
We felt lucky to visit the area in early fall because I am quite sure we dodged some pesky blood sucking mosquitoes and sun bathing snakes.  I understand the area is also home to those enormous Nutria (giant swimming rats) – oh yuck!
 My husband fished a little but only caught a small crab.
The area seems to be holding on to many secrets and untold stories.
We paddled up to an abandoned covered bridge.  Apparently it was part of a development that never got off the ground.
I was fascinated with the drift wood and fallen trees.  They are creepy and beautiful at the same time.
 Along the canal we came across several docks and houses.
 We headed back to the south out of the woods and into the marsh.
Mother nature is very artistic.
 Kitty Hawk Bay – this way!
 I paddled out to see what was written on this sign – "Seasonal Bull Shark Nursery Area – May – Oct."  Oh my – let's go back!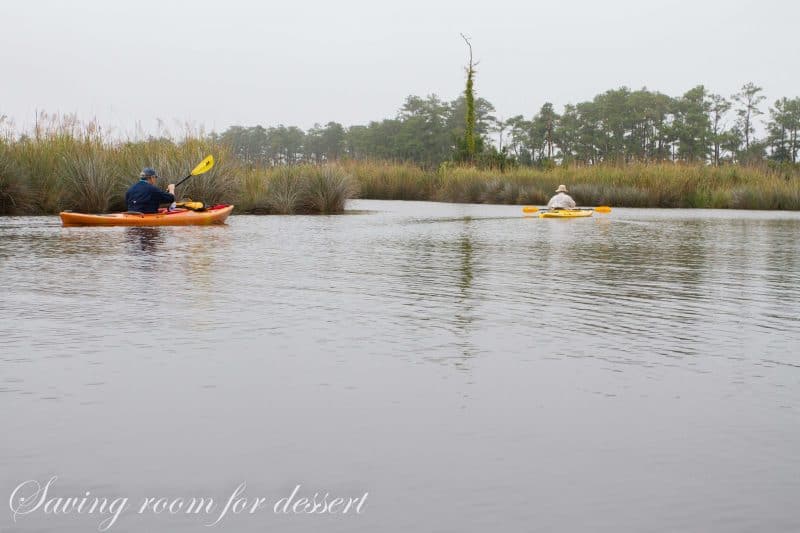 We didn't hang around there very long – ha ha!
This giant (Banana) spider was nice enough to hold still while I took out the macro lens and got a close up.  I didn't need to get very close as she was more than 2 inches long.  Eeewwwww – creepy and fascinating.
I hope you enjoyed our trip down the canal and Kitty Hawk Bay.  I have a few more photos of the beach and will get those up later this week.  Did you know there are about 150 wild horses that live on the island?  Thanks so much for stopping by.
Tricia