This post may contain affiliate links. Please read my disclosure policy.
When traveling to Sydney, Australia, be sure to visit the world class Taronga Zoo.

Last fall we spent two glorious weeks in Sydney, Australia. This beautiful city impressed and thrilled us every day. And, every night we were utterly exhausted and dove head first into bed. We never got bored, not once! There's so much to see and do. Of course we didn't want to leave Australia without a nice long visit to the famous harbourside Taronga Zoo.
Taronga is a not-for-profit organization supporting wildlife conservation
There are approximately 4,000 animals from over 350 species cared for in this zoo, many of which are threatened. To address this problem, Taronga participates in education and community programs, wildlife conservation science and research, and global breeding programs. With state of the art equipment, Taronga's wildlife hospitals are also able to rehabilitate native wildlife.
As mentioned in our previous posts, the Sydney public transportation system is reliable, comfortable, affordable, easy to navigate and fun!
The Taronga Zoo is just a 15-minute ferry ride from Circular Quay, the main transportation hub in downtown Sydney.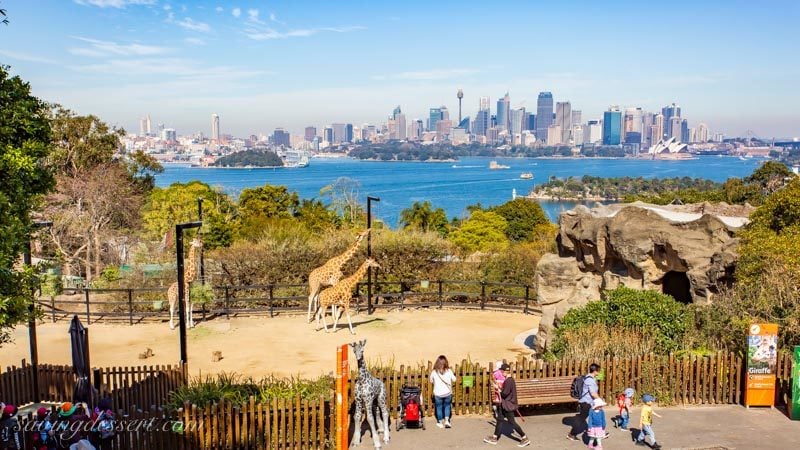 With breathtaking views of downtown Sydney and exciting animal environments, the Taronga Zoo is a must-see!
Plan your trip to Taronga with amazing animal encounters, behind the scenes tours, or be a zoo keeper for a day! Toranga has two restaurants on site so be sure to enjoy a leisurely lunch while you're there. We had a delicious lunch at the Forage & Graze located at the front gate of the zoo.
Always my favorite animal, Taronga is home to four beautiful giraffes. They have three females and one male.
Taronga's Asian elephant breeding program has enjoyed great success, with three calves born so far.
Asian elephants have a lifespan of 50-70 years. While we were there, this little one was only about 8 months old. She played with her aunt, and rested under her mom.
Currently the zoo has two male Plains Zebras, named Zuri and Zubiri.
In the wild, their average lifespan is 25 years. Often, zebras and giraffes are often found together in the wild. To replicate their natural relationship, sometimes zebras are housed with the giraffes.
Taronga is part of a regional conservation management plan for Sumatran Tigers including breeding, fundraising, research and community action to support sustainable Palm Oil.
Taronga has a new, world-class Sumatran Tiger experience, Tiger Trek. Tiger Trek is an expansive, Indonesian-themed exhibit where guests can get up close to the endangered Sumatran Tigers. You'll learn how simple shopping choices can help to preserve the tiger's precious, natural habitat.
Unlike other members of the cat family, the tiger cannot outrun its prey however, relying on its camouflage to ambush. This hunting method is slow and patient, stalking through often dense cover until close enough to spring. Check out the photo on the bottom left of the collage; she is well hidden!
(SOURCE)
While we were visiting this lovely lady, she called to other tigers in a separate enclosure.
The Taronga Zoo also features Western Lowland Gorillas and Chimpanzees.
Critically endangered Western Lowland Gorilla populations have dropped by 80% since 1950. Taronga has proudly participated in a regional breeding program for many years. Taronga has welcomed 3 infants born into their troop since introducing the male Silverback. These gorilla have an average lifespan of 35 years in the wild, and up to 50 years in captivity.
(SOURCE)
The Taronga Zoo also has 17 Chimpanzees.
Chimps are also an endangered species. They are very intelligent animals and communicate through hand and facial gestures. Chimps share nearly 99% of their DNA with humans and live in very complex societies.
The Taronga Zoo has a great exhibit featuring native Wallabies and Kangaroos.
It's a large enclosure where you can walk along a path that takes you among the animals, relaxing, napping and laying in the sun.
Also native to Australia, the adorable Koala is a nocturnal animal, spending 18-20 hours sleeping each day.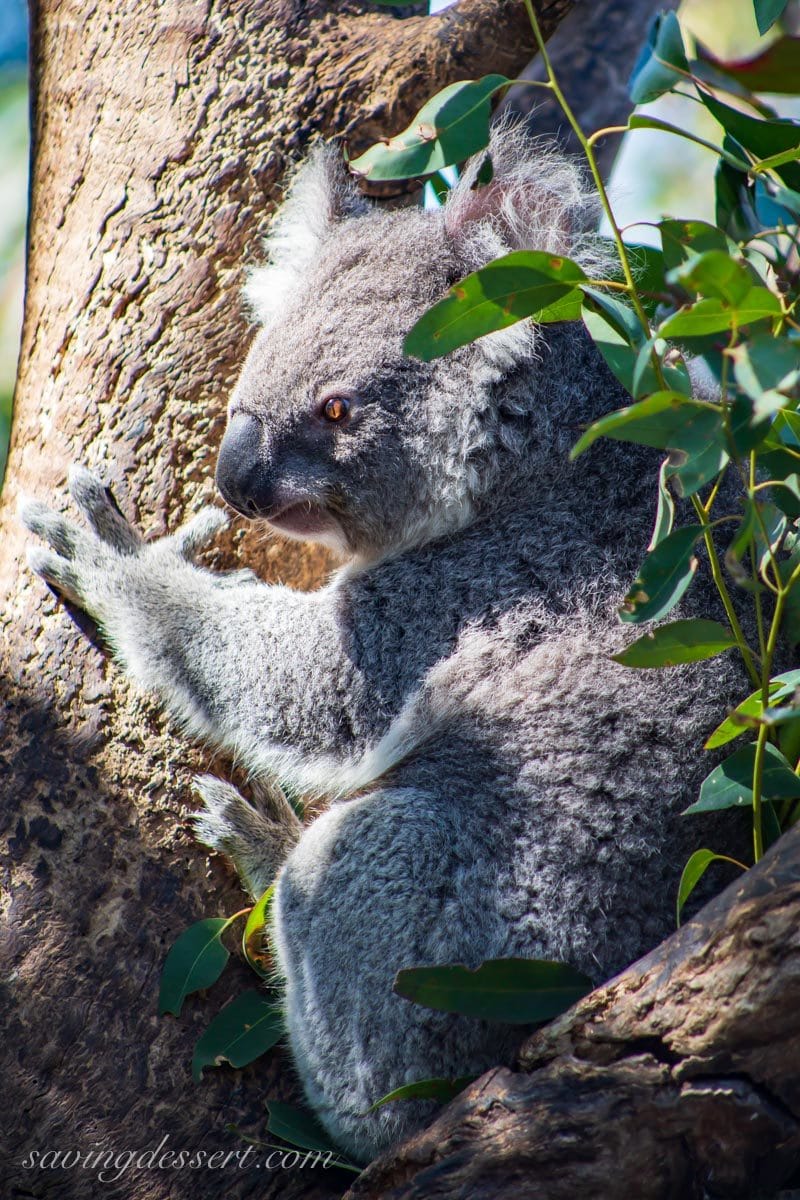 The Goodfellow's Tree Kangaroo is very different to land kangaroos, as they are agile in trees and clumsy on land. This mammal is not native to Australia, and has been classified as Endangered.
The Australian Pelican put on an interesting show for our cameras.
The pelican is a beautiful, large bird and has been recorded as having the longest bill of any living bird. With a diet of mainly fish, it will also consume birds and scavenges for scraps if the opportunity arrises.
Native to North Africa, the Barbary Sheep use their horns in dramatic head-butting clashes with the winner earning mating rights to all the females in the group.
Found in a remote region of central Kenya you may find the Eastern or Mountain Bongo, a species of antelope. As part of Taronga's breeding program, they welcomed the first calf in April 2012.
The Blue Mountains Bushwalk is a beautiful section of the zoo with many species of birds in the lush, thick natural setting. Don't miss this lovely habitat!
There are many, many more animals, birds, and reptiles not even mentioned here in this post.
Our overall impression of the Taronga Zoo is that it is clean and well planned, with environments closely resembling their natural habitats. They feature a wide variety of animals and the entire park seems very kid friendly. Don't miss the 20 keeper talks and shows each day, with numerous special tours, events & concerts taking place regularly. There's always a new reason to visit Taronga Zoo!
Thanks for PINNING!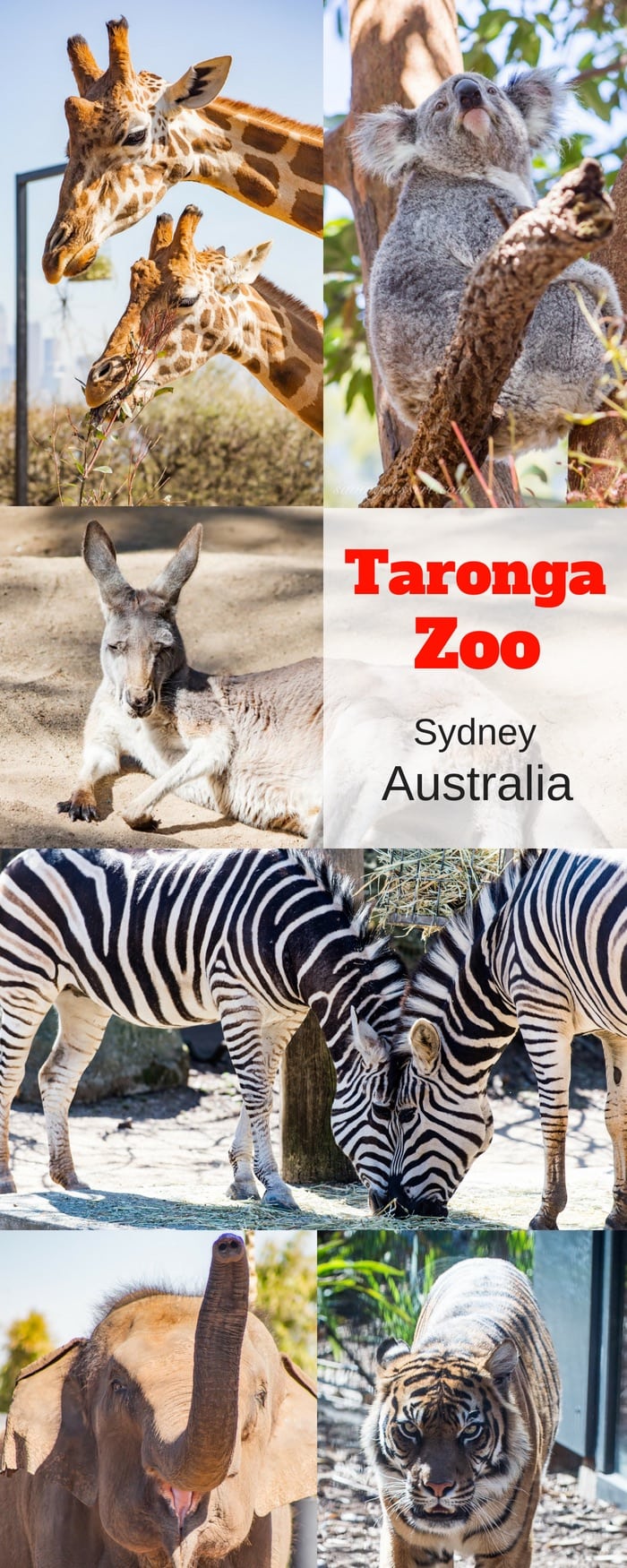 Finally, don't miss our other posts from the Sydney adventure!
A big thank you to my Traveling Husband for sharing some of his amazing photos for this post. Between the two of us, we must have taken almost 500 pictures at the zoo alone. The zoo is very photo friendly!
If you're like me and love to visit zoos, check out our behind-the-scenes tour of the Nashville Zoo with our sister-in-law Rita. We got to feed giraffes and visit the animal hospital too.
Thanks so much for stopping by. Tricia