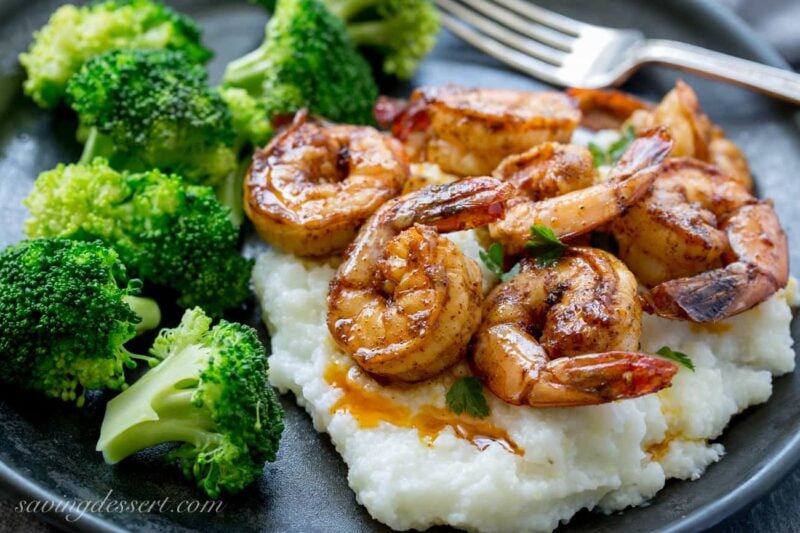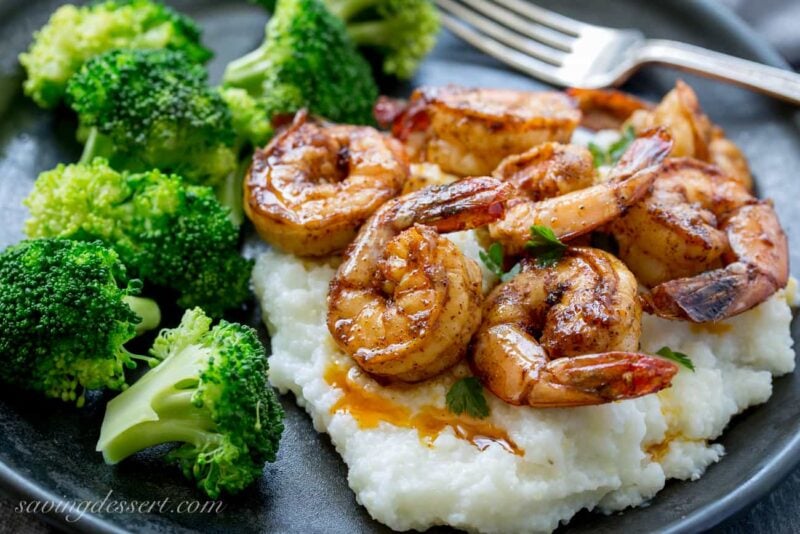 Print Recipe
Chili Garlic Shrimp from Barefeet in the Kitchen
Cooked in a skillet or on the grill, this flavorful shrimp is finger-licking good!
For the marinade:
1/4

cup

olive oil

2-

tablespoons

fresh lemon juice,

about 2 lemons

2-

large cloves garlic,

minced

2-

teaspoons

chili powder

1 1/2

tablespoons

granulated sugar

1/2

teaspoon

Kosher salt
Rinse the shrimp and pat them dry with a paper towel. Remove the shells if desired.

For the marinade combine 1/4 cup olive oil, lemon juice, 2 minced cloves garlic, chili powder, 1 1/2 tablespoons sugar and salt in a large ziplock bag. Add the shrimp and turn to coat. Allow the shrimp to marinate for 15 minutes on the counter top.

Heat a large stainless steel skillet over medium-high heat. Add 1 tablespoon olive oil and when it shimmers, add the remaining garlic. Sauté the garlic for 1 minute, then sprinkle with 1 teaspoon sugar. Sauté for another 30 seconds and then add the shrimp in a single layer. Discard the extra marinade. Cook the shrimp for 2 minutes, then turn and increase the heat to high and cook for 2 minutes while reducing any remaining liquid. Remove the shrimp from the pan when it's pink and cooked through.

Serve immediately.
Recipe by Mary Younkin of Barefeet in the Kitchen
Grilling directions: Soak wooden skewers in water then thread the shrimp onto the skewers. Heat the grill to medium-high and generously oil the grates to prevent sticking. Place the skewers on the grill and sprinkle lightly with 1 teaspoon sugar. Let the shrimp cook for 3 to 4 minutes per side, turning once or twice, just until the shrimp are pink and cooked through.