Macarons with White Chocolate-Mint Ganache – A wonderful little meringue cookie you can decorate for any occasion or leave plain for a special treat!
Check out our fun little how-to video!
The calendar says its spring, but the temperature went down to 26 last night.  I think we all need (and want) a little sunshine so fingers crossed for better weather!  There is nothing I can do about the weather or the temperature but I can share some spring colored Macarons with White Chocolate Mint Ganache with my favorite virtual friends! It has been a long, long time since I've made these fun little egg white cookies, I wasn't sure I still remembered.
As mentioned in previous posts I've tried two different methods for making macarons.  The first, a French method, was my favorite until I tried the Italian method.  For some reason this one seems much easier to me.  The batter does not deflate as quickly and seems sturdy.  First combine the almond flour and confectioners' sugar in a large bowl and add half of the egg whites.  Fold together to form a paste and set aside.
Combine granulated sugar in a small saucepan with a small amount of water.  Bring the mixture to a boil and keep cooking until it reached 239 degrees.  Beat the remaining egg whites in the bowl of a stand mixer and once soft peaks form, slowly drizzle the hot sugar mixture into the bowl with the mixer running.  This is a lot like making homemade marshmallows.  Beat until stiff peaks form then fold in half the almond flour mixture.  Once combined, gently fold in the remaining half of the almond flour.
I tried to take a series of photos to help show you the evolution of the batter consistency.   Continue to gently fold the mixture until it is smooth and drizzles off the spatula back into the bowl.  The batter should blend back into itself after a few minutes, if it does not, fold it a few more times.  You are basically thinning the batter without completely deflating the meringue.
Before starting the cookies,  I prepared 3 pieces of parchment paper with a small egg shaped cookie cutter (2.5″ x 1.5″) traced as a template.  You can make any shape but since I'll be matching two pieces together with icing in the middle, it helps to have cookies that are the same size.
I divided the batter into three bowls and added gel food color.  I'm not a big fan of artificial food color, but it's Easter and green, yellow and blue cookies are mandatory 🙂
Pipe the batter onto the prepared parchment and allow them to rest for about 30 minutes. During this resting period, the cookies form a shell which is essential if you want them to have "feet".  Bake for about 18 minutes then cool completely before filling.  I made a super easy white chocolate ganache with mint extract for the filling.  Macarons are so much better after they have aged for 24-48 hours.  Bring to room temperature for at least an hour before serving.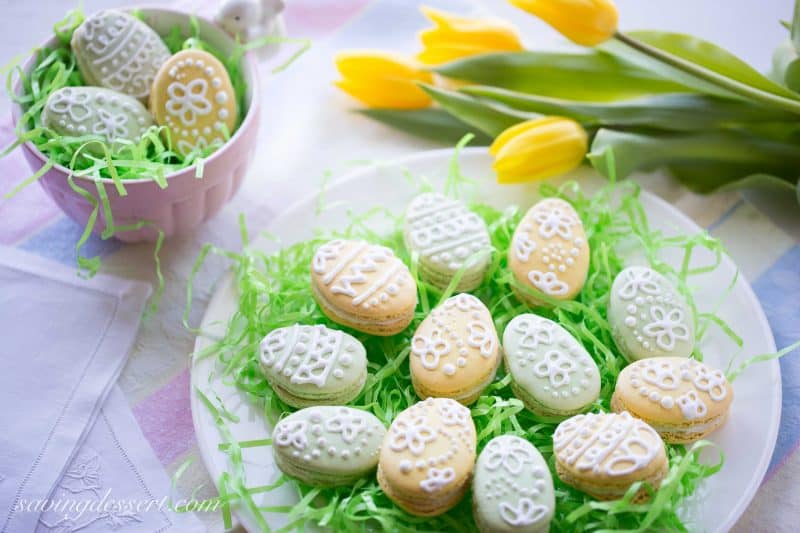 Please ignore my "less than perfect" attempt at decorating!  I don't use Royal Icing very often and it's been years since I decorated Easter Eggs.  But I had such a lovely time playing in the kitchen.
I sprinkled a little sanding sugar on the sides where the icing meets the edge of the cookie for a little extra bling and sparkle.
Don't forget to PIN to your favorite cookie board!
Macarons with White Chocolate-Mint Ganache
A wonderful little meringue cookie filled with minty white chocolate ganache. Decorate for any occasion or leave plain for a special treat!
Recipe type:
Cookies, Dessert
Serves:
30 filled cookies
Ingredients
For the Batter:
150 grams almond meal, sifted twice, weighed after sifting
150 grams powdered sugar, sifted
55 grams egg whites, aged overnight or for several hours (not refrigerated)
For the Meringue:
150 grams granulated sugar
37-38 grams water
55 grams egg whites, aged overnight (not refrigerated)
For the White Chocolate Mint Ganache:
¼ cup plus 2 tablespoons heavy whipping cream
8 ounces white chocolate (I used two 4 ounce bars of Ghirardelli white chocolate) finely chopped
⅛ teaspoon pure peppermint extract
Extras:
White sanding sugar
Royal icing for decorating
Gel food color, if desired
Instructions
Prepare 3 sheets of parchment paper to fit your rim-less baking sheet. To ensure consistent sized cookies, trace a cookie cutter on the parchment paper as a template then turn it over before pipping. Prepare a pasty bag fitted with a large round tip. Set aside.
In a large mixing bowl sift together the almond meal and powdered sugar. Make a well in the center and add 55 grams of egg whites. Fold the mixture with a spatula until it becomes a thick, paste-like batter.
Place the remaining 55 grams of egg whites in the large mixing bowl of a stand mixer fitted with the whisk attachment. Set aside.
In a small saucepan combine the granulated sugar and water over medium heat. Stir until the sugar is dissolved. Attach a candy thermometer to the pan and heat to 225 degrees. Once the syrup reaches 225 degrees, turn on the stand mixer and beat the egg whites on high.
Continue to beat the whites while cooking the syrup until it reaches 239 degrees. You want the meringue to be at soft peak stage so if it reaches that stage before the syrup reaches 239 degrees, turn the mixer down to low. When the syrup reaches 239 degrees remove it from the heat and slowly pour it into the egg whites while the mixer is running on low. Try to stream the syrup directly into the whites close to the side of the bowl so it won't cool too quickly.
Once all the syrup has been added, whip on high for a minute then reduce the speed to low and continue beating until the bowl has cooled slightly and glossy stiff peaks have formed.
Add about half the batter into the meringue, gently folding until combined and smooth.
Gradually add the remaining batter, and food color if using, and fold until the batter is smooth. To test the consistency, pick up the spatula and if the batter ribbons back into the bowl, it is ready. It should be like lava blending back into itself after about a minute.
Preheat oven to 300 degrees.
Fill pastry bags with the macaron batter. Pipe the batter into the desired shape.
Once the first sheet is filled, rap the pan on the counter top a few times to rupture any air bubbles trapped in the cookie. Rotate the pan and rap again. If using a rim-less baking sheet you can now slide the parchment paper filled with cookies onto the counter side to allow a shell to form. If you don't have a rim-less baking sheet you will need two more cookie pans. To harden the outer shell it will take about 20-30 sitting out at room temperature. Pipe another sheet of cookies and repeat until the batter is gone.
Bake for about 16-18 minutes for until you can lift the cookie off the parchment coming away clean. If the top separate from the bottom, they are not ready. Watch them carefully because you don't want them to brown, just cook until set.
Remove the entire sheet of parchment paper with cookies intact to a wire rack to cool. Once completely cool, remove the macarons from the parchment and fill with the ganache.
To prepare the ganache bring the whipping cream to a boil in a small saucepan over medium heat. Remove from the heat and add the chopped white chocolate. Set aside for about 5 minutes, then stir until all the chocolate is melted. Add the peppermint extract and stir to combine. Allow the ganache to cool until it reaches a spreadable consistency. You can refrigerate the mixture but not too long as it will harden and become un-spreadable. If this happens, leave the ganache at room temperature stirring until you are able to spread and ice the cookies
Notes
Special equipment you will need:
A scale (preferably digital) with grams
Candy thermometer
Stand mixer is best/easiest
Sifter/sieve
Parchment paper
Piping bag
Food color optional
Cookie cutter for template
Shell recipe adapted from The Baker Chick
White chocolate ganache adapted from
Food.com
I decorated the egg shaped macarons with a plain white royal icing using 1/3 of  
THIS
recipe.  Please don't let all these steps scare you off.  If you read the directions over a few times you'll see how quickly it all comes together.  This was a fun project but next year I hope I'll have some help from my grandson.  Maybe we'll just decorate eggs or sugar cookies – but anyway I think there is an Easter egg hunt in my future!  Have a wonderful week and thanks so much for stopping by!~
Tricia