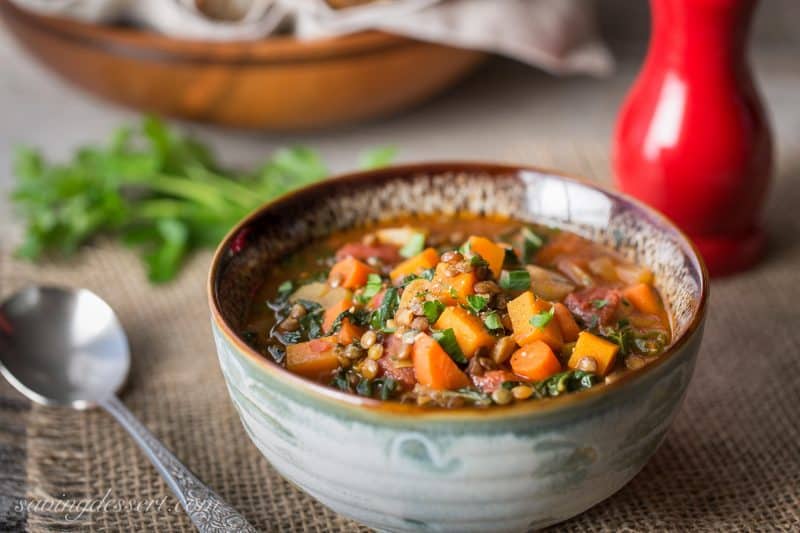 Vegetable Soup with Lentils & Seasonal Greens – a delicious, hearty and rustic soup with vegetables simmered in a rich flavorful broth with wilted seasonal greens & lentils
This is what I crave lately … a hearty rustic soup loaded with vegetables simmered in a rich flavorful broth with wilted seasonal greens and lentils.  There are so many varieties of lentils available but this French variety (I used Bob's Red Mill) hold their shape amazingly well.  Lentils are a nutritional powerhouse full of fiber and protein and boast an impressive amount of folate, iron, phosphorus and potassium.  Lentils make a great addition to most any soup, chili, and even salads.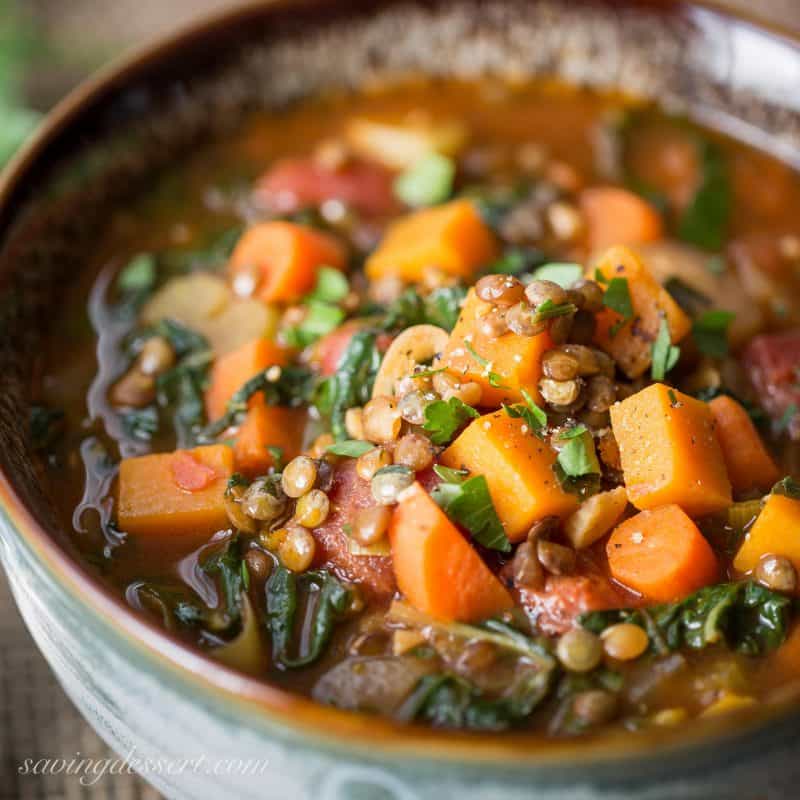 While we (sadly) try to avoid bacon and other processed meats, I do miss the smokey flavor it adds to a vegetable dish.  Did you know Smoked Paprika is a great spice substitute for smokey bacon flavor?  This delicious Vegetable Soup with Lentils & Seasonal Greens is proof that you don't have add meat or give up flavor to eat healthy.  A pinch of cayenne rounds out the broth so no need for lots of salt.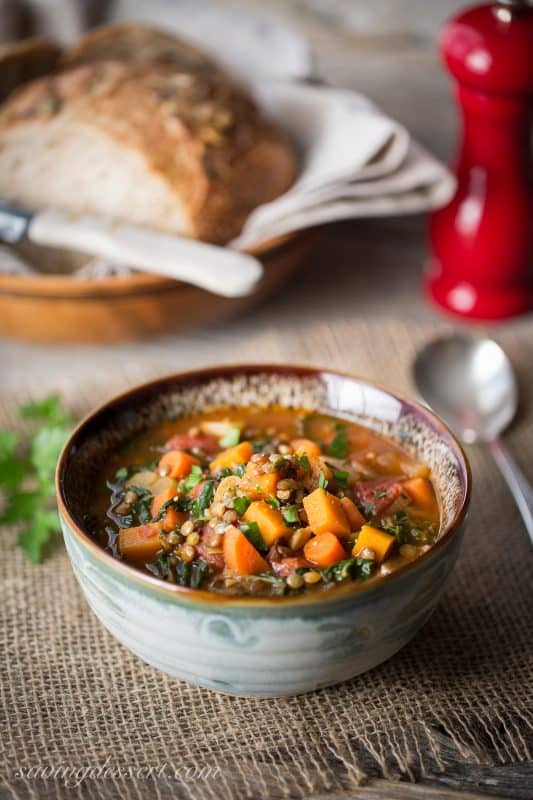 Serve with a hearty rustic loaf of whole grain bread for the perfect winter meal.
Thanks for Pinning!
Vegetable Soup with Lentils & Seasonal Greens
Recipe type:
Soup, Vegetarian, Vegan
Ingredients
3 tablespoons olive oil
1 small sweet onion, chopped
4 cloves garlic, minced
1 small leek, cleaned and sliced (white and light green parts only)
2 stalks celery, sliced
4 medium carrots, peeled and sliced
1 cup chopped butternut squash (1/2" cubes) (*see notes)
¾ cup French Lentils, rinsed and drained
4 cups (32-ounces) no / low-salt vegetable stock
14 ounce can chopped canned tomatoes (low salt)
1½ tablespoons tomato paste
1 pound baby Bok Choy, greens cut as a chiffonade, white parts added with the carrots and other vegetables (*see notes)
½ cup fresh parsley, chopped
1 tablespoon fresh thyme, chopped
sea salt and fresh ground pepper
½ teaspoon smoked paprika
¼ teaspoon cayenne pepper
Instructions
Drizzle the olive oil in a large soup pot or dutch oven with a heavy bottom. Heat on medium until hot. Add the chopped onion and garlic and sauté until the onion is softened.
Add the leek, celery, carrots, butternut squash, white portion of the Bok Choy and the lentils. Stir gently to coat all vegetables in the olive oil then add the vegetable stock and chopped tomatoes. Season with salt and pepper. Cover the pot with a lid and gently simmer for about 15 minutes.
Add the tomato paste, chopped greens, parsley and thyme. Heat until the greens are just tender.
Garnish with fresh parsley and black pepper. Serve with a hearty whole grain bread if desired.
Notes
* The soup is easily adaptable by substituting rutabaga or turnips for the butternut squash. Use seasonal greens such as Swiss Chard, Kale, Cabbage or Spinach in place of the Bok Choy if desired.

Be sure to cut vegetables about the same size so they cook evenly.
All the decorations are packed away for another year.  The cold weather has finally come to Virginia so it's starting to feel more like winter.  We were downtown yesterday and saw a Forsythia bush in bloom.  They are always the first to bring flowers in spring but I'm afraid they will freeze this week.  It felt like spring for a while 🙂  Hope you have a wonderful New Year!  Thanks so much for stopping by!
Tricia
SaveSave
SaveSave