Almond Butter Sticks are a melt-in-your-mouth delicious, tender cookie made with a cream cheese dough and an almond extract sugar filling.  I've only made these a few times but on those rare occasions I often wonder why these aren't on our dessert tray each Christmas.  It may not be the first cookie the kids grab but that's because they don't know any better – and we should keep it that way.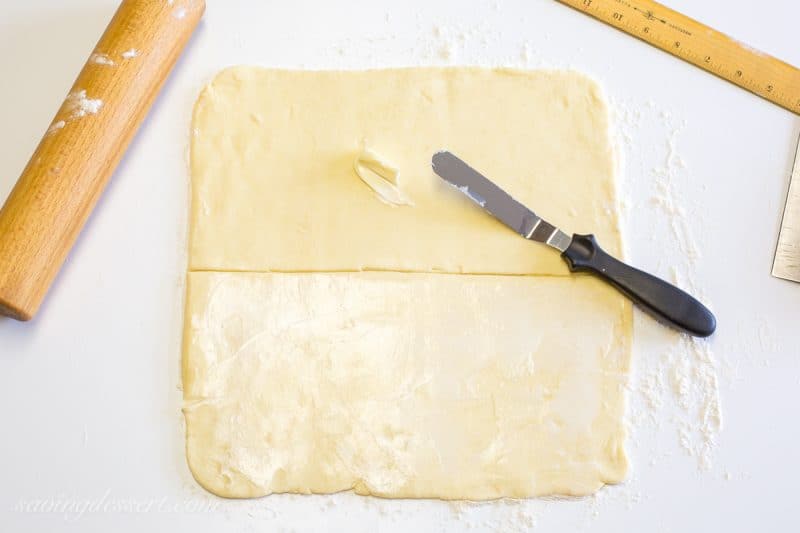 The tender cream cheese dough is a dream to work with.  Roll into a 12″ x 12″ square, spread with softened butter and cut it in half.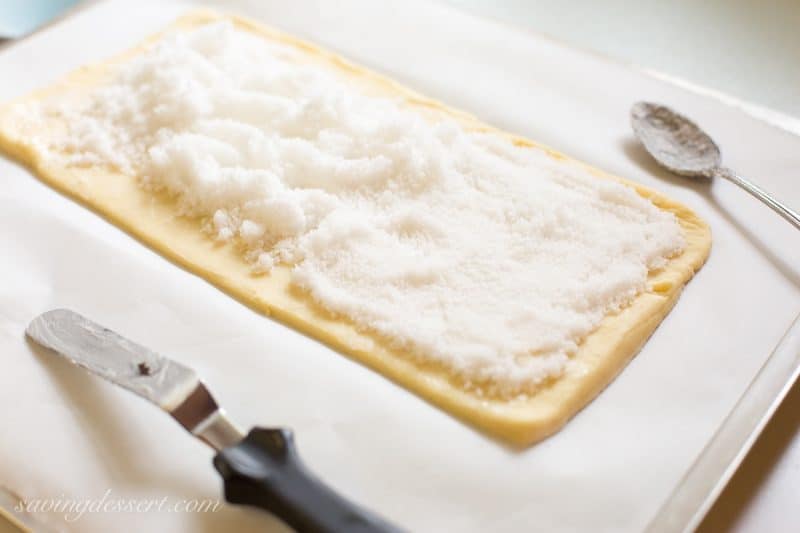 Mix granulated sugar with almond extract then spread on half the buttered dough.
Seal the two pieces together and brush with a lightly beaten egg white.  Sprinkle with sliced almonds and a teaspoon of coarse sugar.
Cool before cutting into bars and store in an airtight container.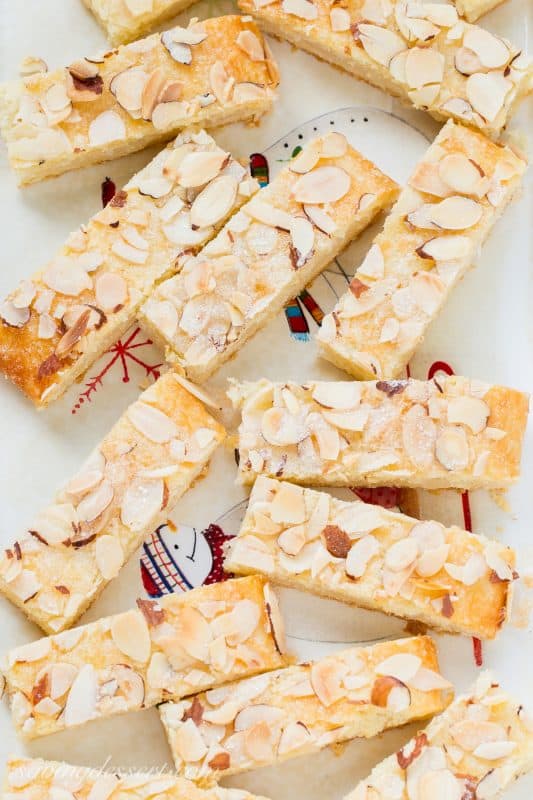 That is "if" you have any left.  The recipe makes about 24-28 cookies you won't have to worry about storing them for long.
Thanks for PINNING!
We'd love to connect with you on social media. If you try our recipe, please use the hashtag #savingroomfordessert on INSTAGRAM for a chance to be featured! And be sure to FOLLOW Saving Room for Dessert on FACEBOOK | INSTAGRAM| PINTEREST | TWITTER for all the latest recipes and updates.
Almond Butter Sticks
Almond Butter Sticks are a melt-in-your-mouth delicious, tender cookie made with a cream cheese dough and an almond extract sugar filling
Ingredients
¾ cup granulated sugar
2 teaspoons almond extract
½ cup unsalted butter, plus 1 tablespoon (divided)
6 ounces cream cheese
1½ cups unbleached all-purpose flour
¾ teaspoon salt
½ teaspoon baking powder
1 egg, separated (white is reserved for glazing)
⅓ cup sliced almonds
1 teaspoon coarse sugar for topping
Instructions
Preheat oven to 375 degrees.
Line a cookie sheet with parchment paper and set aside.
In a small bowl combine the sugar and almond extract; cover and set aside.
In a medium bowl whisk together the flour, salt and baking powder.
In a large mixing bowl combine 8 tablespoons (1/2 cup) butter and cream cheese. Beat on low until blended. Add the egg yolk and blend until smooth. Add half the flour mixture and beat on low until combined. Add the remaining dough and blend just until the dough starts to come together.
Transfer the dough to a floured work surface. Knead by hand about 25 strokes until the dough is pliable. Roll or press into a 12x12 inch square. Spread with the remaining 1 tablespoon of butter.
Cut the dough in half and place one half on the prepared cookie sheet, butter side up.
Spoon the sugar mixture to within ½-inch of the dough edges all the way around. Place the remaining dough half, butter side down, over the sugar. Press the edges tightly to seal.
Brush the dough with a lightly beaten egg white. Sprinkle with almonds and coarse sugar.
Bake 25-30 minutes or until golden brown. It's best removed from the oven when you think it needs one or two more minutes.
Cool at least 30 minutes.
Cut the pastry in half lengthwise and then into ½ to 1 inch strips crosswise.
Store in an airtight container.
Notes
Slightly adapted from a recipe by Pillsbury
I absolutely love these
Scandinavian Almond Bars
from
The View from Great Island
.  I've had them and they really are fantastic.  If you love almond extract and almond flavoring as much as I do, I bet you'll love these gluten-free
Italian Almond Cookies
from
Barefeet in the Kitchen
.  I'm also drooling over these pretty
Chocolate Dipped Almond Cookies
from
Foodiecrush
.  And don't miss my most popular cookie recipe ever, for
Raspberry Almond Shortbread Thumbprints
.  All wonderful holiday cookies!
I mentioned last week that our son and daughter-in-law are expecting a new baby girl in April.  Our daughter Allie (Isaac's mom) also found out this week that she is going to have a girl in June.  Issac will have a new cousin and a sister in 2016!  We'll have to make room for more stockings next year 🙂
Thanks so much for stopping by!  Have a lovely week and happy baking.
Tricia
SaveSave
SaveSaveSaveSaveSaveSaveSaveSaveSaveSaveSaveSave