This post may contain affiliate links. Please read my disclosure policy.
Baked Eggplant Parmesan with plenty of cheesy goodness!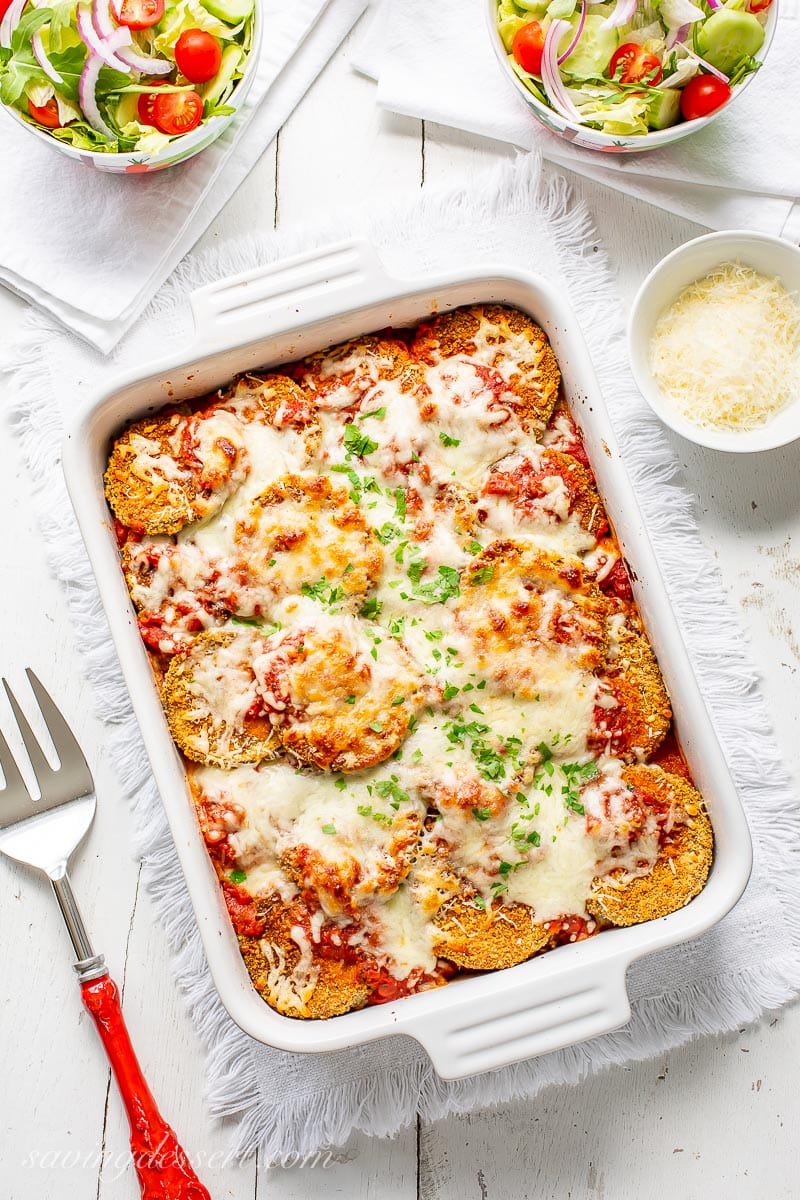 Baked Eggplant Parmesan is filling and flavorful, Italian comfort food; and leftovers reheat very well in the microwave!
This is one of my husband's favorite meals. He loves it so much, he frequently orders eggplant Parmesan from our best local Italian restaurant. However, he says my lightened up version is way better than the fried eggplant he usually eats. How about that? Better than restaurant quality!
If you love eggplant, you're going to love this recipe.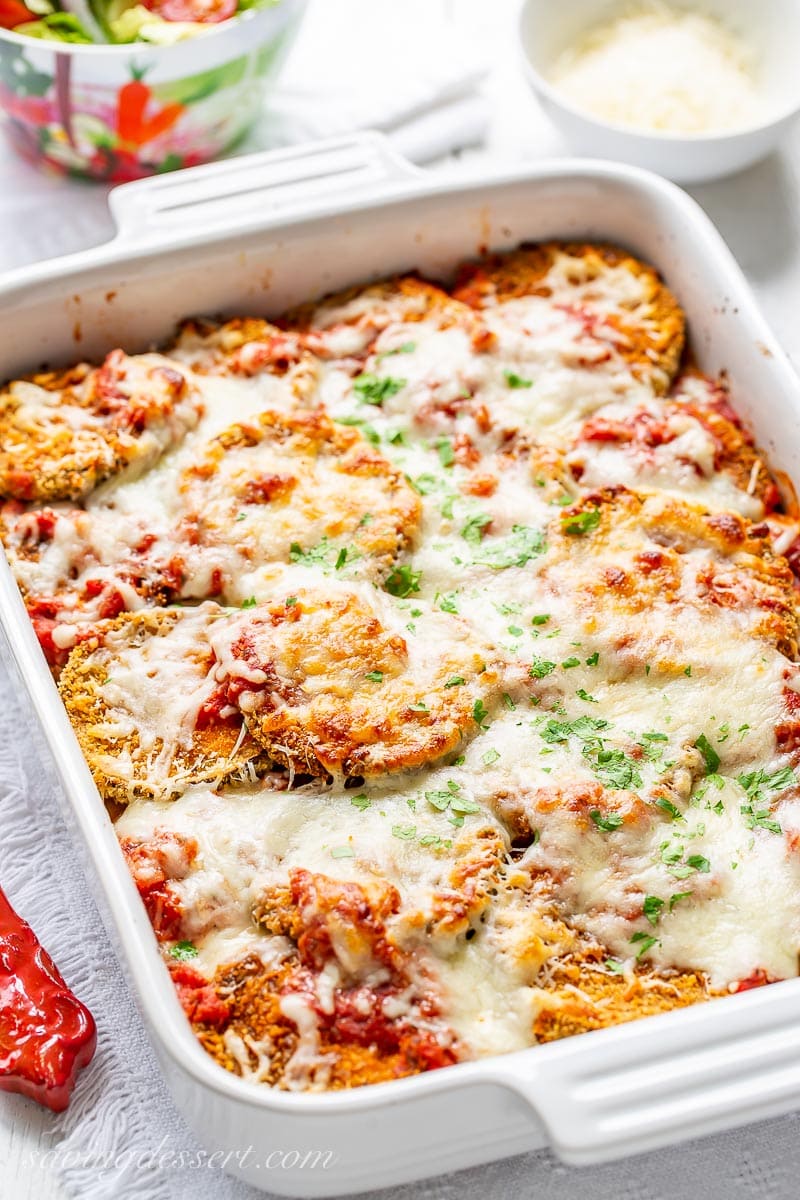 Is baked Eggplant Parmesan hard to make?
There's nothing difficult about making this Italian-styled favorite. However, it requires several steps and a good bit of hands-on time. If you have a favorite sous chef in the house, an extra set of hands makes quick work of this dish.
First, sweat the eggplant:
Place the eggplant rounds on a paper towel lined baking sheet and salt both sides with kosher salt. Add another layer of paper towels, more eggplant, more salt, etc. Once all the eggplant is seasoned, place another baking sheet on top. Set a heavy pot on the top pan to add weight. Leave the eggplant to "sweat" out the excess moisture and to remove any bitterness. This will take about 45 minutes.
In the bowl of a food processor, combine Panko bread crumbs, oregano, red pepper flakes, fresh grated Parmesan and black pepper. Pulse until ground, then pour into a shallow bowl or pie plate. In another separate bowl, add 1 cup of flour, and whisk the eggs in a third bowl.
Dredge and bake the eggplant:
Dip the sliced eggplant in the flour, then the egg, and then coat in the bread crumb mixture. Once all eggplant rounds are coated, bake on a hot, preheated, oiled baking pan. The key to making great baked eggplant, is to preheat the baking pans. The eggplant rounds sizzle the minute they hit the pan and creating a nice crispy crust.
This sauce is so easy to put together, it's like opening a jar of store-bought marinara. You'll need good quality San Marzano Style canned crushed tomatoes and a few herbs.
Combine the sauce ingredients and heat on medium-low while baking the eggplant. This recipe makes about 8 cups of thick marinara. You won't need the entire 8 cups for the eggplant casserole. Use the extra sauce for serving with spaghetti or as an extra dollop on top, if desired.
Assemble the Eggplant Parmesan:
Pour a cup of tomato sauce in the bottom of a lightly greased 13×9-inch casserole pan. Layer half the eggplant, more sauce, and then half the mozzarella. Repeat with the remaining eggplant, sauce, Parmesan and the remaining mozzarella. Bake uncovered for 15 to 20 minutes.
The eggplant is already cooked through so it doesn't need long. Once the sauce is bubbly and the cheese melted and browned, it's ready to serve!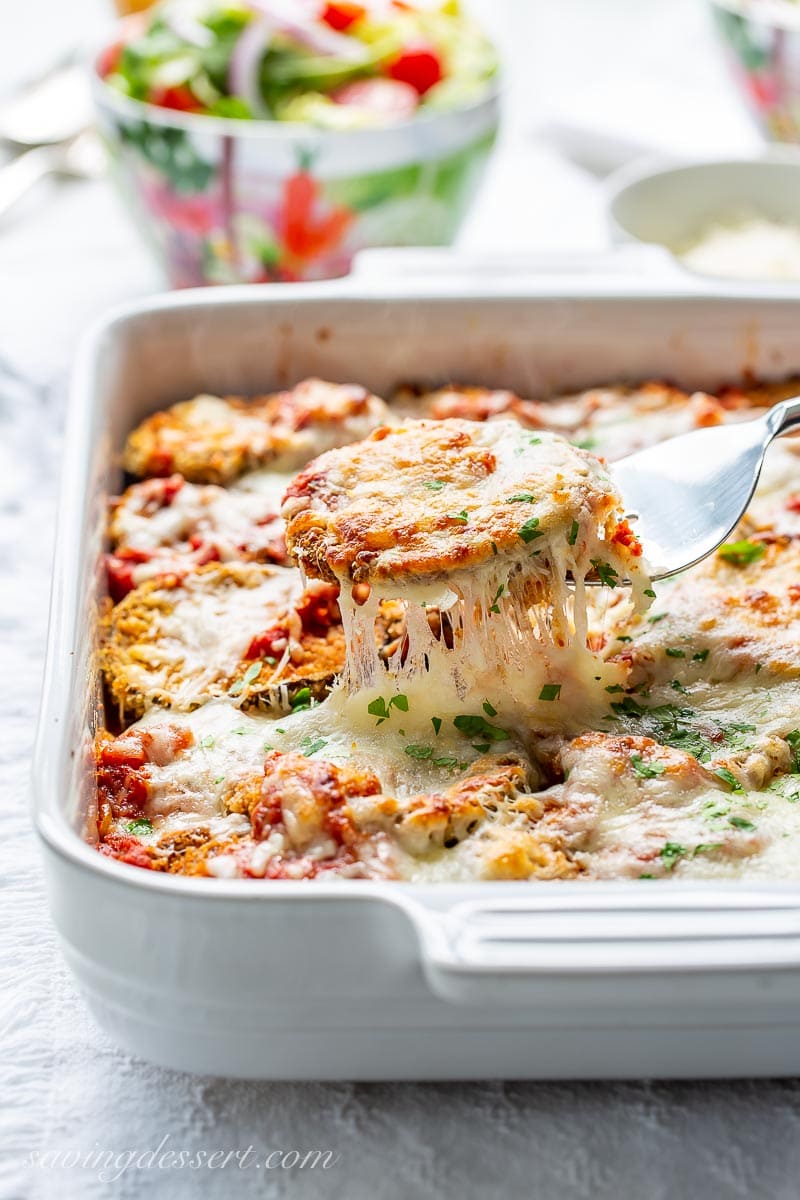 Does eggplant need to be salted to remove excess moisture?
There's plenty of debate about whether or not eggplant needs to be salted to remove excess moisture. If you want to skip that step, I won't tell. However, I can't guarantee the breading will be crisp, and the eggplant soft and tender.
I'm normally very salt sensitive, but this dish does not bother me. Our homemade marinara sauce used in this recipe is not salty, like some you might find in a restaurant dish or on a pizza.
If you use jarred marinara sauce instead of our easy recipe, check the sodium content on the label.
We recommend using a coarse kosher salt to sweat the eggplant for several reasons. Larger coarse salt kernels won't dissolve completely on the flesh of the eggplant, so it will be less salty.
Also, kosher salt is easier to wipe away before breading the eggplant. This process has always worked well for me, but feel free to use your best judgment.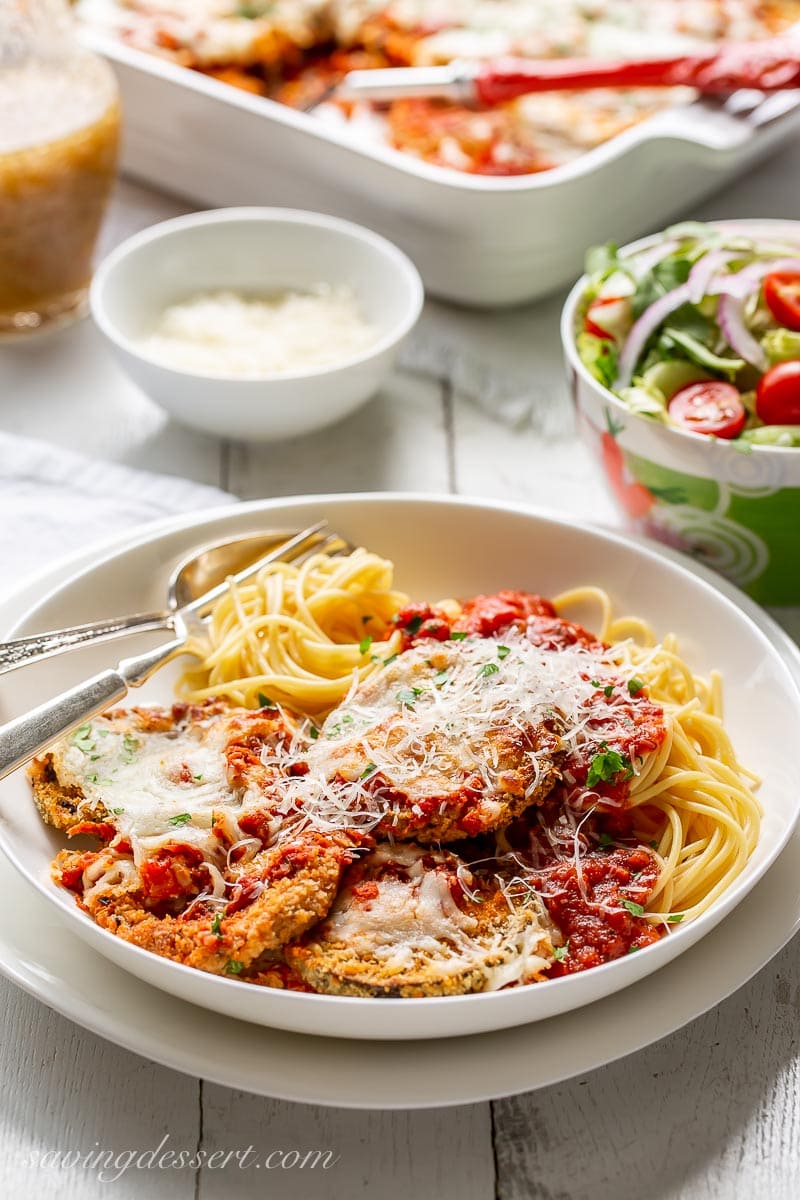 Can Eggplant Parmesan be made ahead of time?
Yes indeed! Baked Eggplant Parmesan can be made up to 2 days in advance. Once baked, cool completely, cover with foil, and refrigerate. To reheat, pop the pan in a preheated oven and reheat for 15 minutes. Remove the foil and bake until bubbling around the edges, about 10 minutes more.
I know leftovers don't normally sound as appealing as a dish fresh out of the oven. But this eggplant Parmesan recipes doesn't loose a thing by being made ahead. Eggplant is like a flavor sponge, soaking up all the amazing deliciousness built into this dish.
Feel free to under-bake the casserole a little first time around. Reserve some shredded mozzarella to add during the last few minutes of reheating. The eggplant stays intact and maintains its nice silky texture. And, the flavor almost seems to bloom even more after it sits a while. Leftovers are amazing!
This Italian staple has been around for centuries.
Eggplant Parmesan probably didn't start out like this with crispy breading and all, but aren't glad it evolved? According to a history of Eggplant Parmesan, this dish may have come from the southern regions of Italy, near Naples and Sicily. Variations of this dish have been around for hundreds of years. It may have become popular around the time tomatoes moved in to stay in Italy.
Which is the best kind of eggplant to use in this Eggplant Parmesan recipe?
For this recipe we use 2 medium globe eggplants. If possible, select smaller eggplants, as the really large vegetables have tough skin. We like to use those about 3-inches in diameter at their widest spot. Globe eggplants are among the most inexpensive and are typically easy to find.
What's good to serve with Eggplant Parmesan?
Crusty bread, a nice green tossed salad and hot spaghetti are our favorite sides to serve with eggplant Parmesan. A bottle of wine wouldn't hurt, either. Buon Appetito!
Thanks for PINNING!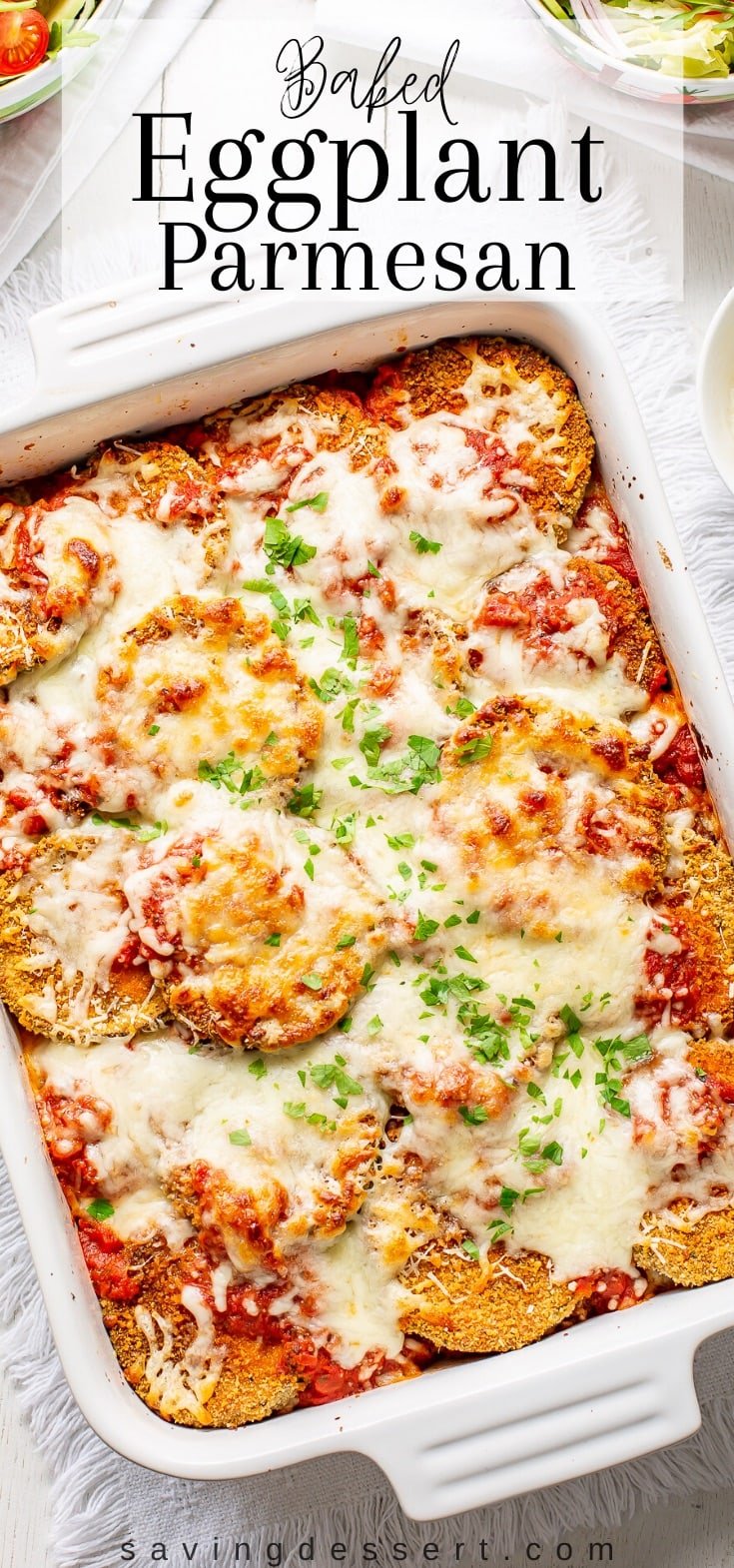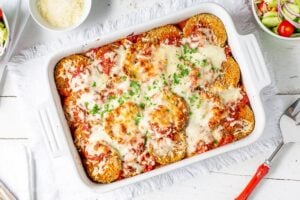 Baked Eggplant Parmesan Recipe
Total Time:
2
hrs
15
mins
PRINT RECIPE
A delicious and flavorful baked version of the Italian classic!
Ingredients
For the eggplant:
2

medium eggplants,

cut into 1/2-inch thick rounds

1

tablespoon

kosher salt

(or other coarse salt)

2

cups

unseasoned panko bread crumbs

(188g)

1

teaspoon

dried oregano

¼

teaspoon

crushed red pepper flakes

1

cup

fresh grated Parmesan cheese

(2 ounces)

1

teaspoon

fresh ground black pepper

1

cup

all-purpose flour

4

large eggs

4

tablespoons

vegetable oil,

divided
For the sauce:
2

28oz cans crushed tomatoes

2

tablespoons

tomato paste

2

tablespoons

olive oil

3

teaspoons

Italian seasoning

1

teaspoon

dried oregano

½

teaspoon

onion powder

½

teaspoon

granulated garlic

2

teaspoons

granulated sugar

½

teaspoon

salt

1

teaspoon

pepper
For layering:
8

ounces

part-skim mozzarella,

shredded (2 cups)

½

cup

grated Parmesan cheese

1 ounce

fresh basil leaves or chopped parsley
Instructions
To prepare the eggplant:
Place a triple layer of paper towels on a large baking sheet. Lightly season the sliced eggplant all over with salt and place on the prepared pan. Once full, top with another double or triple layer of paper towels and then more sliced eggplant. Once all eggplant is salted and layered, place a final double layer of paper towels over the top. Set another baking over over the eggplant slices. Place a heavy pot on the top to add weight. Set the eggplant aside for 45 minutes to an hour while preparing the sauce and breading.

While the eggplant is draining, adjust the oven rack to the upper and lower middle positions. Preheat to 425°F degrees.

In the bowl of a food processor, combine the bread crumbs, oregano, red pepper, Parmesan, and 1 teaspoon black pepper. Pulse until finely ground. Transfer the crumbs to a pie plate or shallow bowl. Pour the flour into a second shallow bowl and set aside. In a third bowl, whisk the eggs until blended. Set aside.

Blot the eggplant with paper towels to remove as much liquid as possible, then wipe off excess salt. Stack on a plate as you go. Place the now empty baking sheets in the oven to preheat.

Cut a large piece of parchment or wax paper and place on your work surface. Working with one piece at a time, dredge the eggplant in the flour, then dip in the egg, allowing excess to drip off. Dredge the eggplant in the breadcrumb mixture, coating the entire surface. Shake off excess and place in a single layer on the parchment paper. Repeat until all eggplant is coated.

Remove the preheated baking sheets from the oven and brush the inside of each pan with 2 tablespoons vegetable oil. Place the breaded eggplant slices on the baking sheets in a single layer. Bake until the eggplant is golden brown and crisp, about 30 minutes. Rotate the pans and flip the eggplant halfway through baking.
To prepare the sauce:
While the eggplant bakes, prepare the sauce. Combine all sauce ingredients in a medium saucepan and heat on medium-low. Cook until heated through. Keep warm. Sauce may be made 24 hours in advance and refrigerated until needed. Thin with a little wine or water if you prefer thinner sauce.
To assemble the Eggplant Parmesan:
Lightly coat a 13x9-inch baking pan with vegetable cooking spray. Pour 1 heaping cup of tomato sauce over the bottom of the prepared pan. Layer half the eggplant slices, overlapping the edges if needed to fit. Spoon 1 cup of sauce over the eggplant layer. Sprinkle half the mozzarella over the sauce.

Add the remaining layer of eggplant then top with spoonfuls of the sauce, leaving some of the eggplant exposed so it will remain crisp. Sprinkle with ½ cup of Parmesan and all the remaining mozzarella.

Bake until bubbling and the cheese is browned, about 15 minutes. Cool for 10 to 15 minutes then serve garnished with basil or parsley. Pass extra warm sauce to spoon over individual servings or spaghetti.
Recipe Notes
Do Ahead:
Eggplant Parmesan can be made 2 days in advance. Once baked, cool completely, then cover with foil. Refrigerate until needed.
30 minutes before baking, remove the casserole and rest at room temperature. Reheat in a preheated 350F oven for 15 minutes. Remove the foil and continue baking until bubbling around the edges.
Nutrition information is calculated using an ingredient database and should be considered an estimate. When multiple ingredient alternatives are given, the first listed is calculated for nutrition. Garnishes and optional ingredients are not included.
Nutrition
Calories:
368
kcal
|
Carbohydrates:
34
g
|
Protein:
22
g
|
Fat:
16
g
|
Saturated Fat:
7
g
|
Polyunsaturated Fat:
2
g
|
Monounsaturated Fat:
6
g
|
Trans Fat:
1
g
|
Cholesterol:
114
mg
|
Sodium:
1666
mg
|
Potassium:
450
mg
|
Fiber:
5
g
|
Sugar:
7
g
|
Vitamin A:
537
IU
|
Vitamin C:
3
mg
|
Calcium:
517
mg
|
Iron:
3
mg
Here are a few more of our favorite Italian recipes you might enjoy: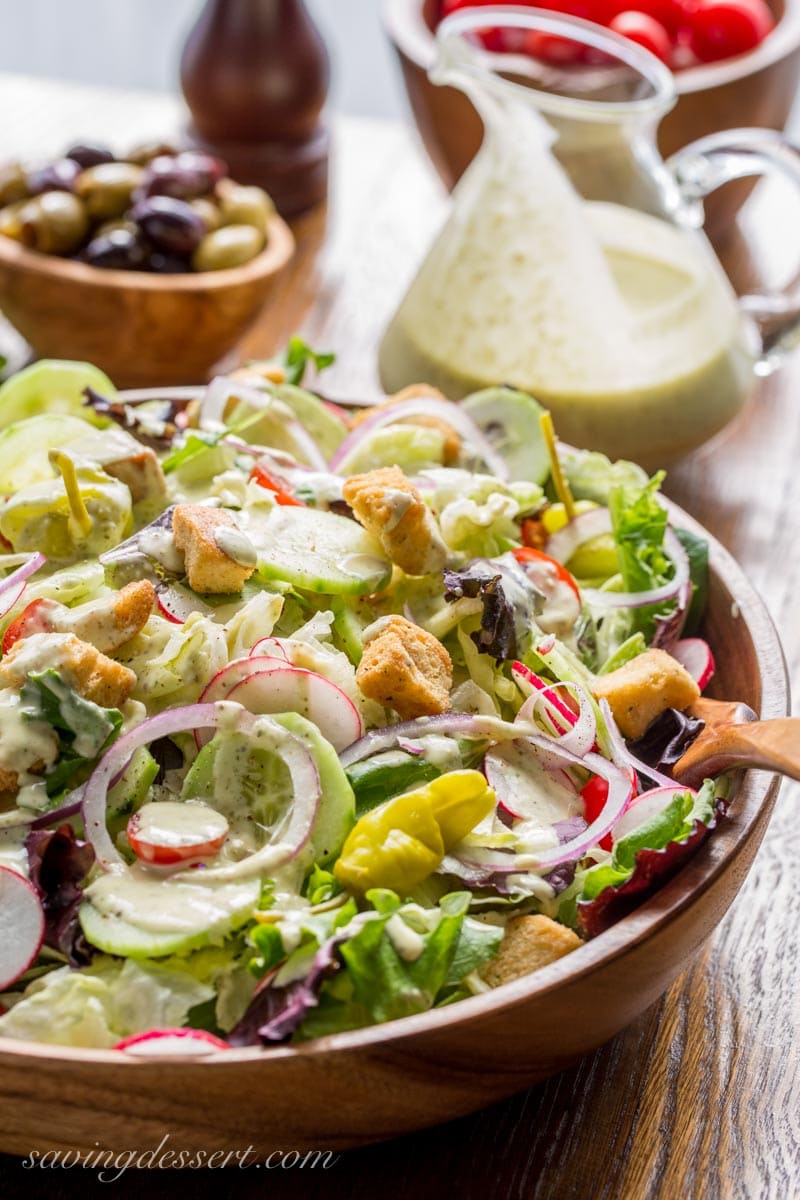 Serve our Creamy Italian Dressing Recipe with a nice green salad. It goes perfectly with Eggplant Parmesan!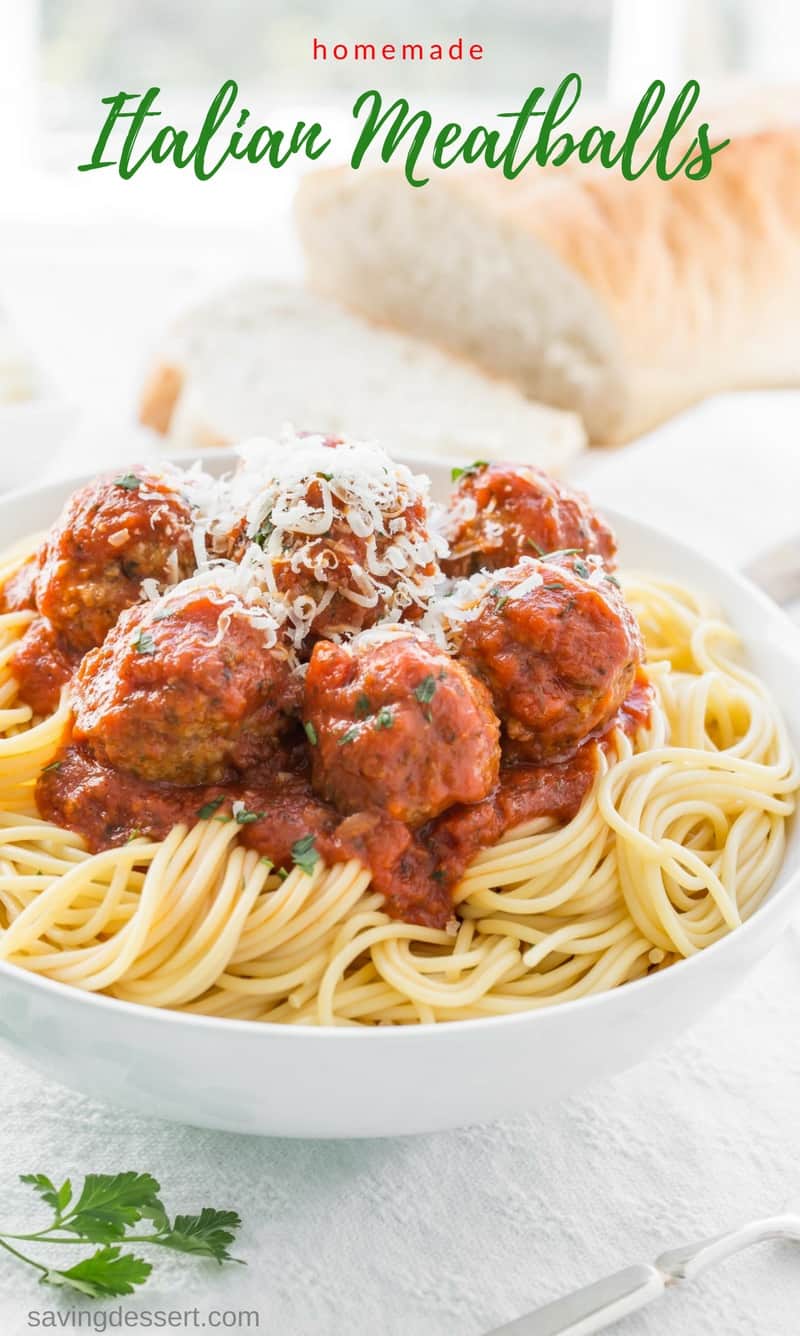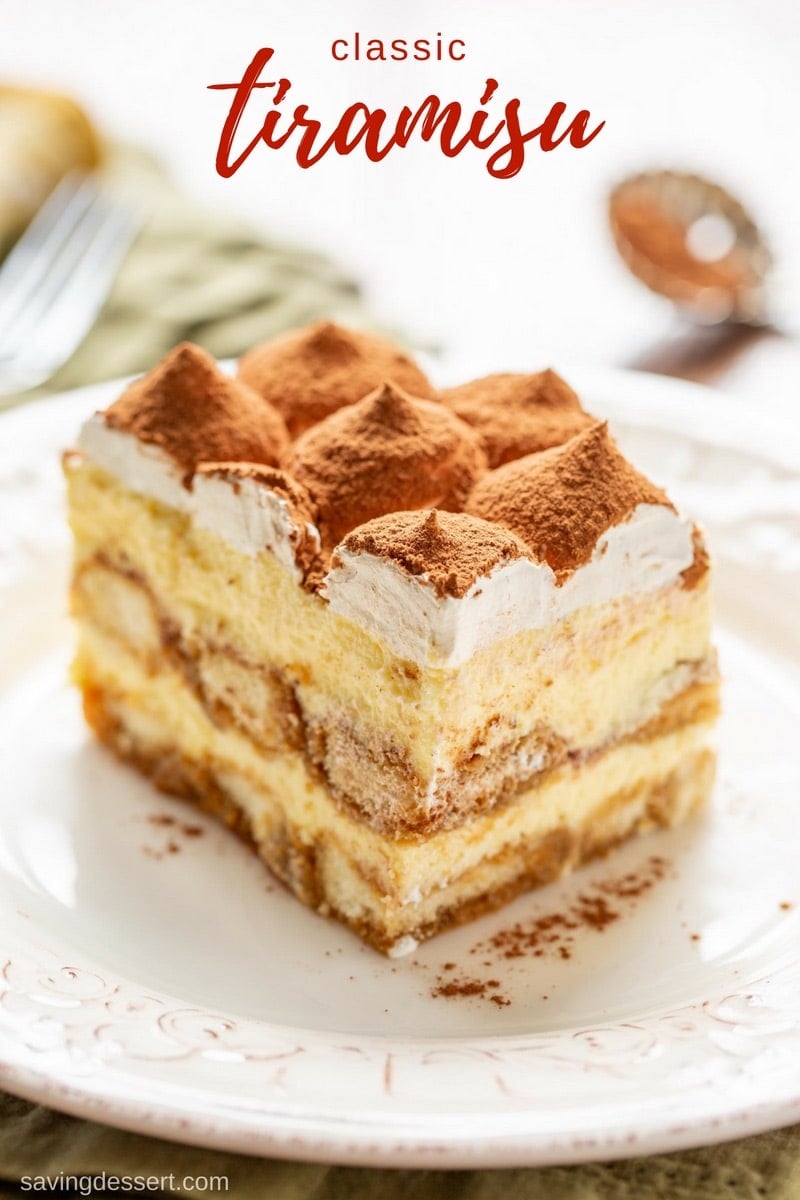 The perfect ending to any meal – make ahead Classic Tiramisu!