This post may contain affiliate links. Please read my disclosure policy.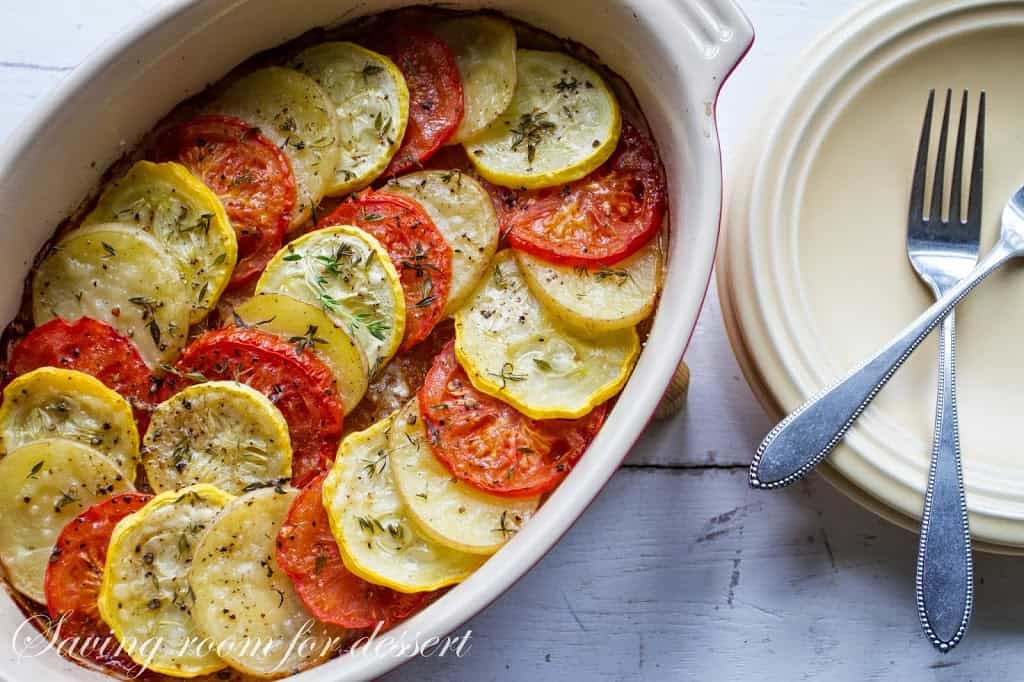 I saved room for dessert this week but wouldn't you know, it was a complete failure.  I guess that's okay because I'm having trouble getting back on my diet anyway.  It's so easy to fall off the wagon and even harder to get back on.  I know, waaah, waaah, boo-hoo.  But this dish is totally diet friendly, fresh and delicious.  My senior taste-tester (a/k/a traveling husband) is … well … traveling, so he missed the first squash from our garden.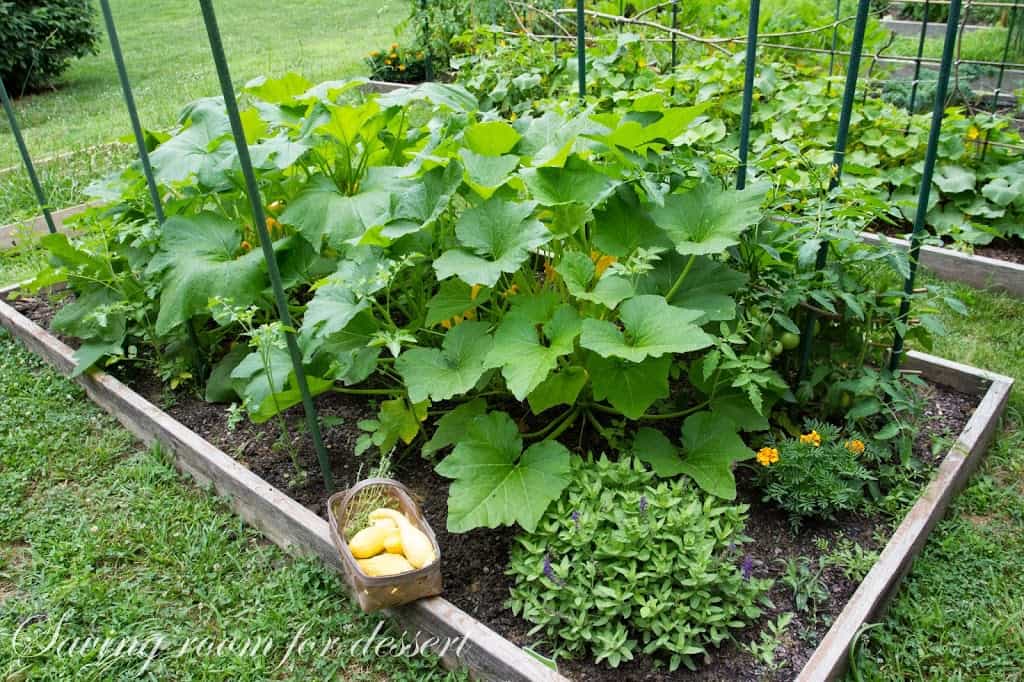 These two squash plants are ginormous!  (I
GOOGLED
 "ginormous" and it came up.  It means "extremely large."  I guess it's a real word now so I'm using it.)  These plants have tons of blooms and they're pooping out squash everyday.  I'm not complaining because I'm going to saute it, grill it, broil and boil it and enjoy every single bite.  We have volunteer tomatoes popping up everywhere, along with our heirloom plants new to the garden this year.   I'm looking forward to fresh, organic tomatoes and big fat (ginormous) tomato sandwiches.  The next row back is cucumbers.  I've never seen so many blooms and I hope they all mature to nice fat cucumbers.  I see pickles in our future!  The top right corner is the kale which needs to be picked again.  Kale chips – yum!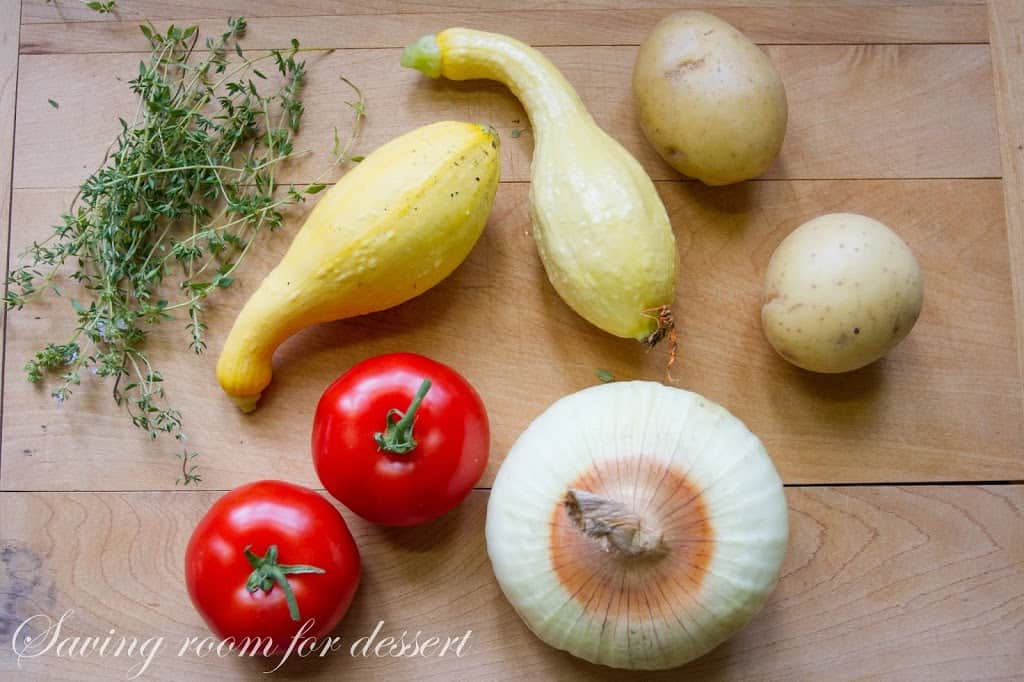 This recipe is super simple, but packed with flavor.  All you need is fresh thyme, two tomatoes, two yellow squash, a really ginormous onion (or two medium), two butter potatoes and olive oil.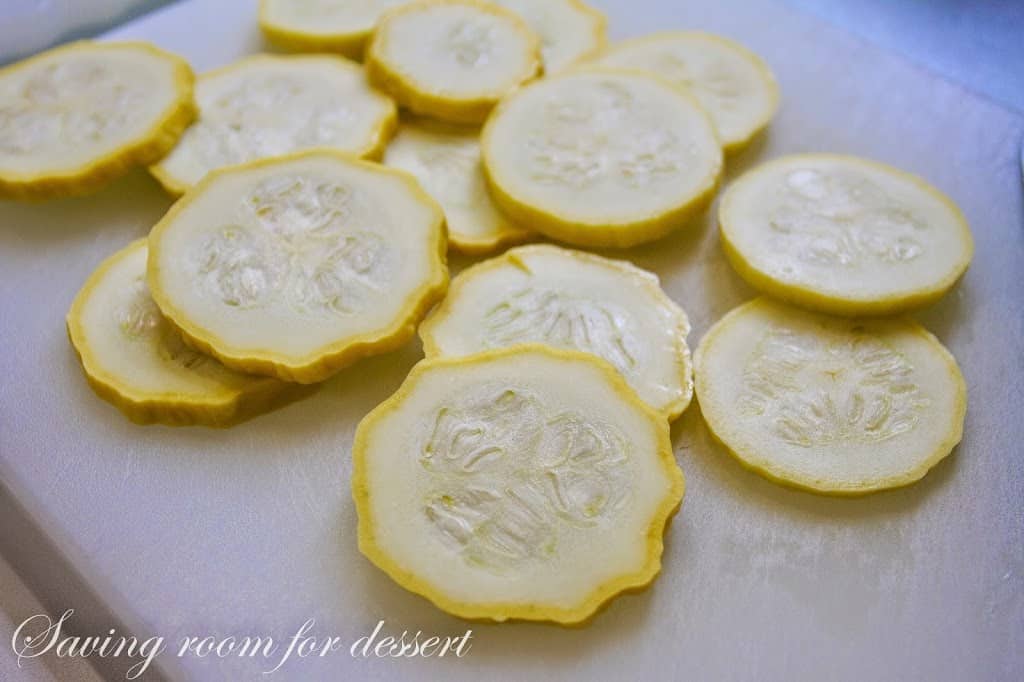 Try to select vegetables with a similar circumference for nice matching rows.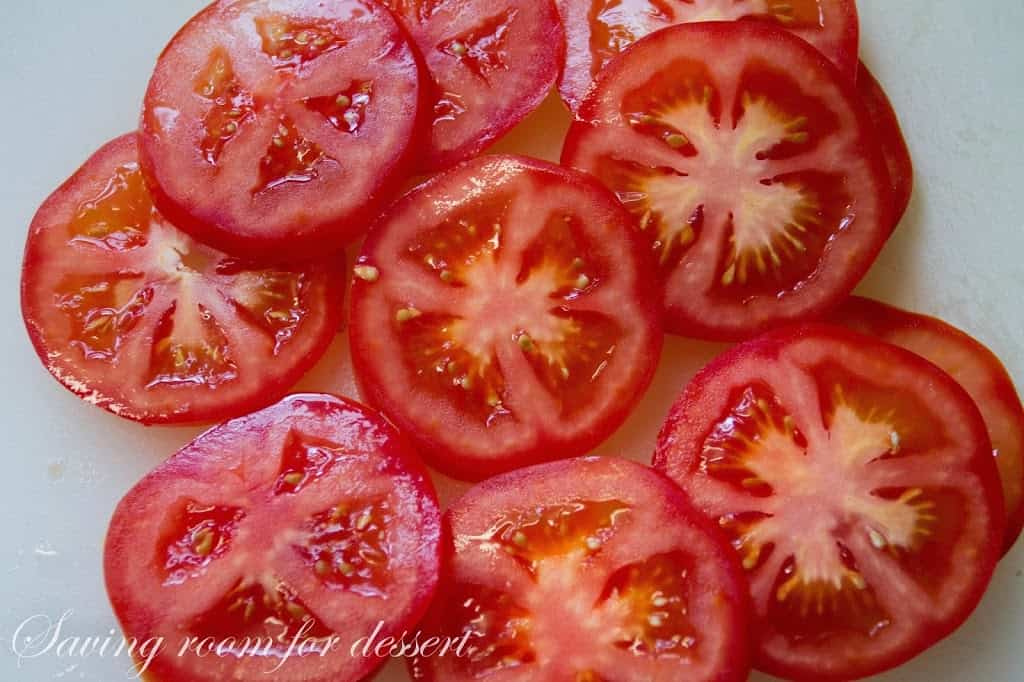 Everybody gets sliced to 1/4 inch thick.
Skin on for the potatoes!
Lightly grease or spray a casserole dish.  Cook the sliced onion in olive oil until lightly browned.  Next time I'm doubling the amount of onion.  Gosh it is so good!
Arrange the tomato, squash and potato on top of the onion.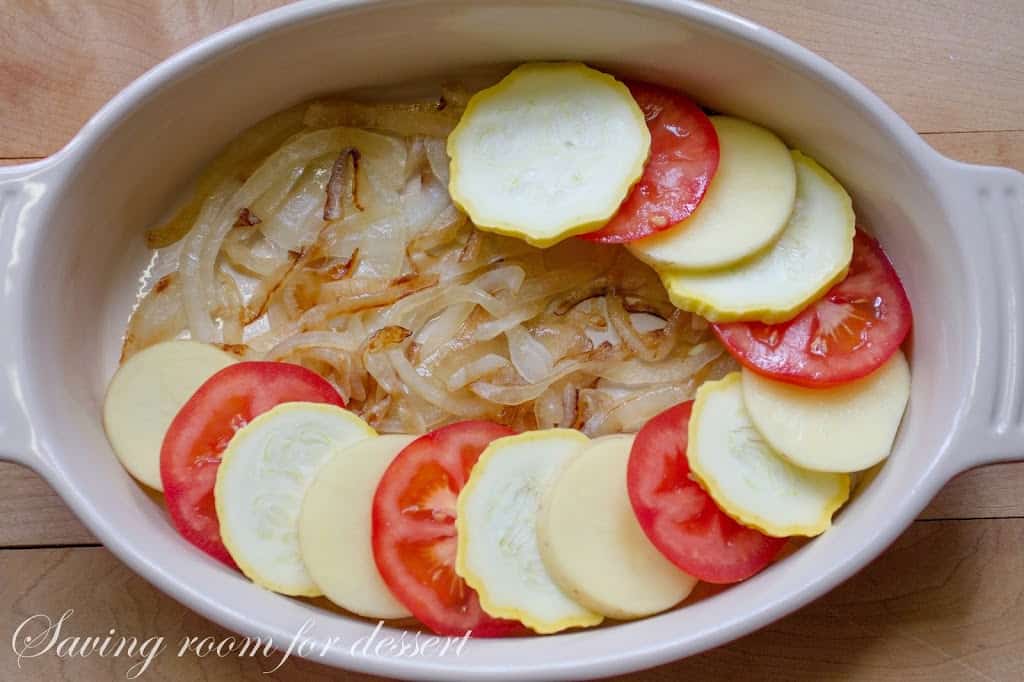 Keep layering until everybody fits in the dish.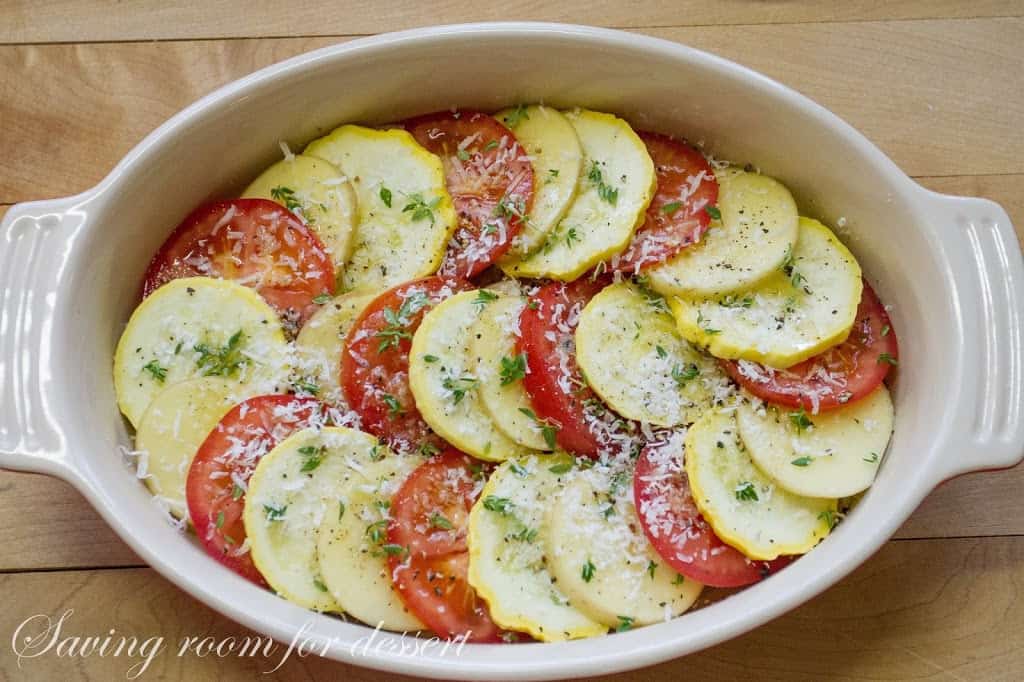 Sprinkle with thyme leaves, salt and pepper and grated Parmesan.
Bake covered at 375 degrees for 30 minutes.  Uncover and bake another 20-30 minutes or until the potato slices are tender.
It was hard not to eat right out of the casserole, especially since nobody was here to see me do it.  This casserole is pretty, easy, healthy and extremely tasty.  Hope you will give it a go!
Don't forget to Pin to your favorite recipe board!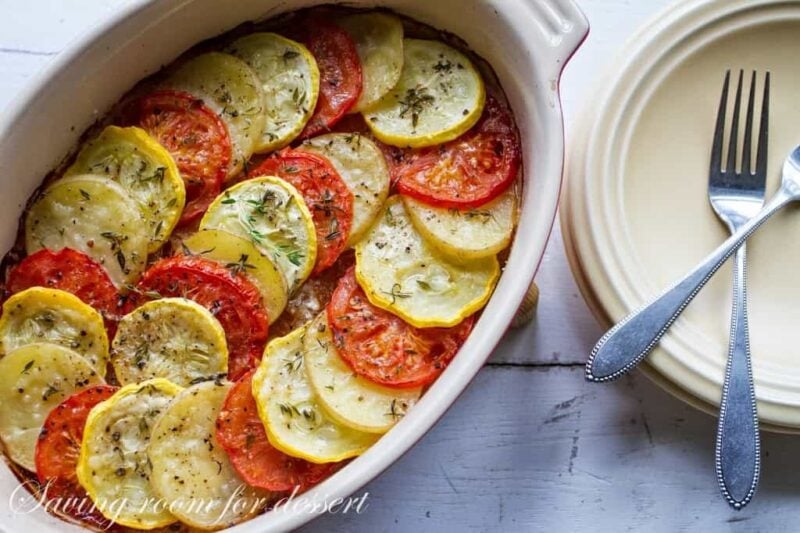 Baked Squash, Tomatoes, Onions and Potatoes
Course:
Vegetable side dish
Summer vegetables are the star of this wonderfully fresh and easy meatless main or super side - fresh from the garden
Ingredients
2

tablespoons

olive oil,

plus extra for drizzling

1

or 2 large onions,

sliced thin

2

medium tomatoes,

sliced ¼-inch thick

2

yellow squash,

sliced ¼-inch thick

2

medium butter potatoes,

sliced-¼ inch thick

sea salt and freshly ground pepper

1

tablespoon

fresh thyme leaves,

or 1 teaspoon dried thyme

2

tablespoons

freshly grated Parmesan
Instructions
Heat oil in a medium skillet, over medium heat. Add the onion slices and sauté until lightly browned.

Lightly grease or spray a casserole dish. Arrange the caramelized onions on the bottom and layer the potato, tomato and squash, edges overlapping, on top. Season with salt and pepper, sprinkle with thyme and Parmesan and drizzle with olive oil.

Cover the dish with foil and bake for 30 minutes. Remove the foil and bake another 20-30 minutes or until the potato is tender.
Recipe Notes
Inspired by a September 2011 Wholeliving.com recipe
Nutrition information is calculated using an ingredient database and should be considered an estimate. When multiple ingredient alternatives are given, the first listed is calculated for nutrition. Garnishes and optional ingredients are not included.
Nutrition
Calories:
178
kcal
|
Carbohydrates:
24
g
|
Protein:
5
g
|
Fat:
8
g
|
Saturated Fat:
2
g
|
Polyunsaturated Fat:
1
g
|
Monounsaturated Fat:
5
g
|
Cholesterol:
2
mg
|
Sodium:
50
mg
|
Potassium:
814
mg
|
Fiber:
4
g
|
Sugar:
6
g
|
Vitamin A:
815
IU
|
Vitamin C:
47
mg
|
Calcium:
72
mg
|
Iron:
2
mg
Check out some of our long-time favorite squash recipes: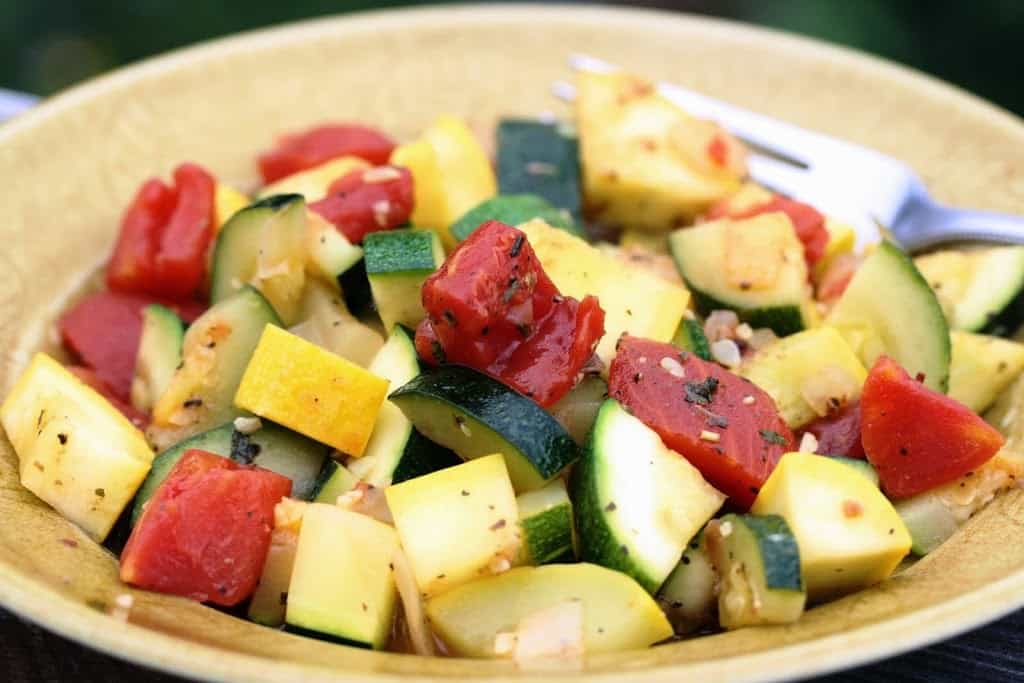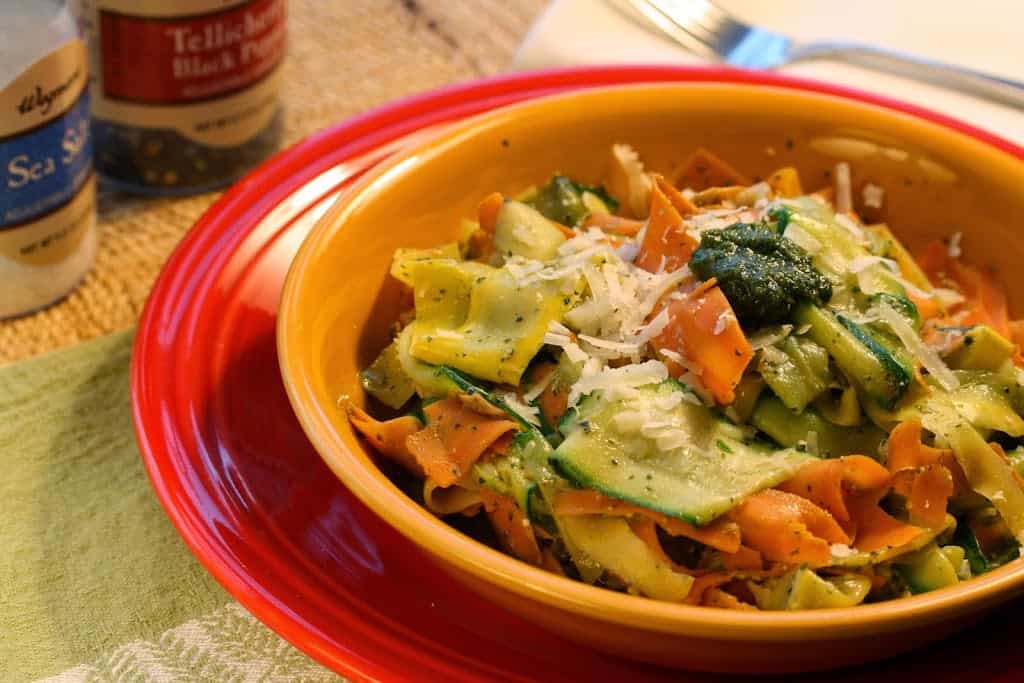 Do you have big plans for the 4th of July?  I have a recipe I'm working on – with the traditional red, white and blue theme – so I hope this one comes out!  We've been helping our daughter and son-in-law renovate an old house on the weekends.  It's basically gutted and our free time is spent painting and cleaning.  I am so excited for them to get a home of their own and my grandson Isaac will love having a big yard to play in.  Anyway, son-in-law Josh promised hamburgers while we paint – so that's where I'll be.
I hope you all have a lovely week.  I'm going to try making that dessert one more time so maybe I'll post it on Thursday.  We'll see 🙂  Thank you, thank you, thank you – for stopping by, and for taking the time to comment, and for being a wonderful virtual friend!  Have a great week.