This post may contain affiliate links. Please read my disclosure policy.
Tender and juicy Beef Tenderloin Steaks with Herb Pan Sauce.
A restaurant quality steak for a fraction of the price, and super easy to make too! The pan sauce comes together in minutes and the flavor is nothing short of fantastic.
Every now and then I love a good, juicy, tender, melt-in-your mouth steak. Tenderloin is one of my favorite cuts, probably because it's so lean, and there's no waste, at least I don't waste any 🙂 But I'm also one of those people who hates to go out at night, because once I'm home, I'm staying home. The lure of a fancy restaurant alone may not be enough to get me out of my evening jammy pants, usually, maybe, okay sometimes.
So once a year or so I splurge on a couple of good steaks from the butcher and feel no hesitation about making them at home, using this recipe. I know it's going to work perfectly, because I've made it many times. There's nothing worse than spending $30 on two good steaks only to overcook them or be disappointed in the flavor.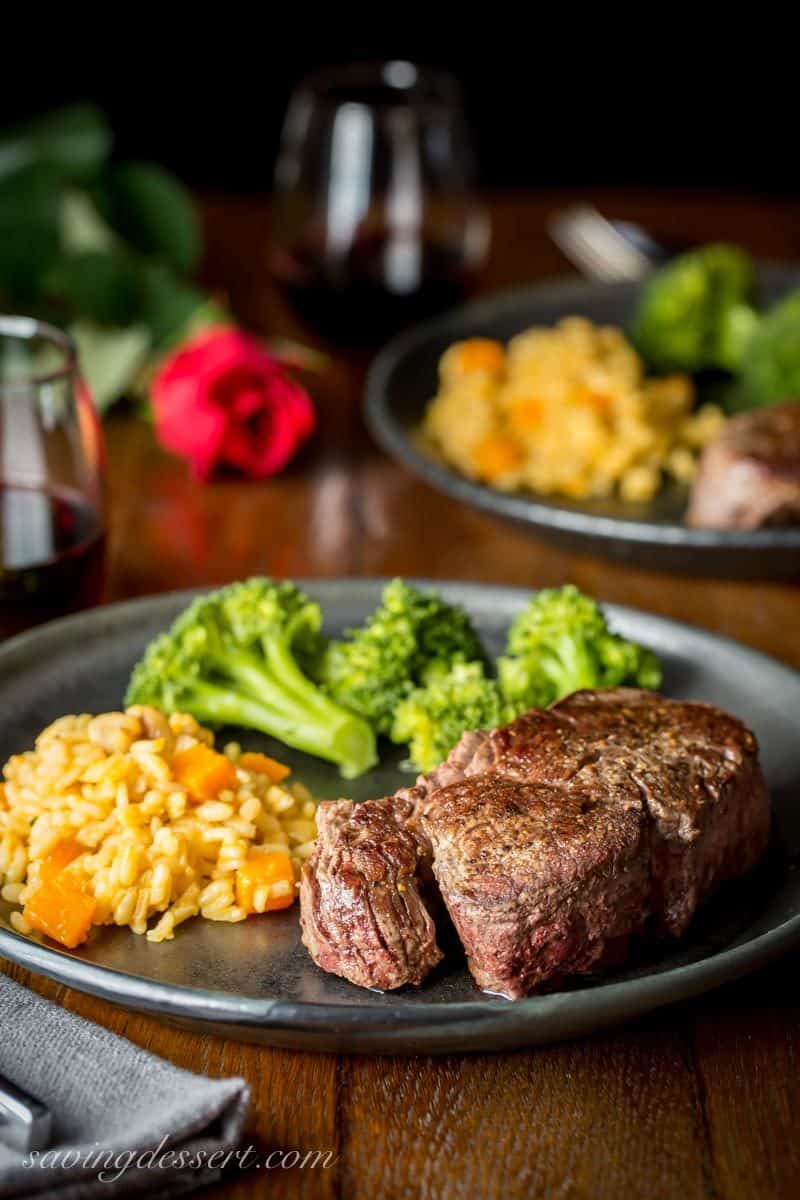 This beef tenderloin recipe is easy to make and all you need is a cast iron skillet.
The one I used for this recipe is a 9-inch, but anything from 8-10 inches will work perfectly. You'll want the steaks to be far enough apart so they can cook properly in the oven. Start by drying the steaks with paper towels, then season well with kosher salt and fresh ground black pepper.
Next, leave the steaks at room temperature for at least 30 minutes so the center of the beef won't be ice cold. If you don't allow the steaks to come to room temperature, the middle won't cook properly and the steak will end up a little on the raw side.
Once the tenderloin steak is seared on the stove, pop the whole skillet in the oven to finish cooking.
After about 8-9 minutes, remove the steaks to a warm plate and tent with foil to keep warm. They'll continue to cook and the internal temperature should increase by about 5 more degrees. Then, while the steaks are resting, make the sauce in the cast iron skillet. This truly takes just a few minutes and oh my, wait until you taste it. This pan sauce is roll your eyes to the back of your head delicious, seriously moan-worthy stuff.
A little Dijon, shallots, beef broth, and plenty of herbs will leave you wondering if you'll ever go back to that fancy restaurant again.  The herb pan sauce does a great job of enhancing the meat and doesn't hide, or cover up, the flavor of the steak. It's really the perfect compliment and not at all overbearing, and goodness it's delicious.
Make my beef tenderloin steak medium-rare!
I like my steak medium-rare but my husband does not. He prefers his steak cooked a little more towards medium or medium-well; not mooing like mine. For a little more well done, you can leave one of the steaks in the oven for an additional 2-3 minutes, or buy one that's not as thick.
We served these steaks with fresh steamed broccoli and our delicious Butternut Squash Risotto with Sugared Walnuts. Check it out! I know you're going to LOVE these recipes as much as we do!
Thanks for PINNING!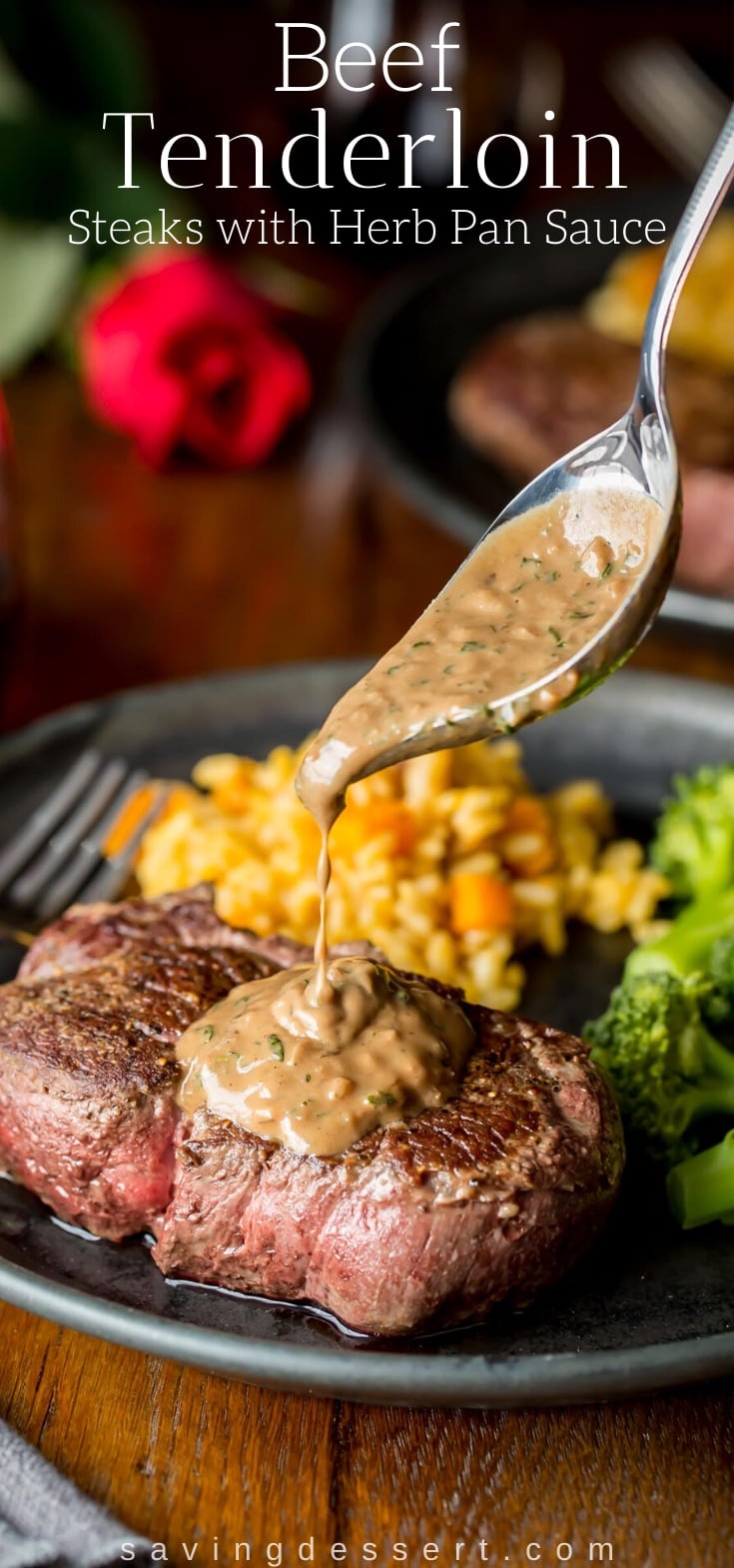 Let's be cooking friends! When you try our recipe please feel free to leave a comment on this post. I'm sure your experience and insights will help all our readers, and it helps me too. Also, if you're on Pinterest feel free to leave a comment and photo there if you have one! If you share on INSTAGRAM tag @savingroomfordessert so we can stop by and give your post some love. And we'd be very happy if you'd FOLLOW Saving Room for Dessert on FACEBOOK| INSTAGRAM| PINTEREST | TWITTER  and subscribe to our YOUTUBE channel for all the latest recipes, videos and updates. Thank you!!!
PRINT THE RECIPE!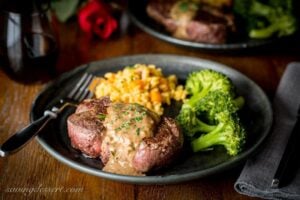 Beef Tenderloin Steaks with Herb Pan Sauce
A restaurant quality steak for a fraction of the price, and super easy to make too! The pan sauce comes together in minutes and the flavor is nothing short of fantastic.
Ingredients
For the steaks:
2

beef tenderloin steaks

(1 ½inches thick)

¼

teaspoon

kosher salt (or other coarse salt)

½

teaspoon

fresh ground black pepper

1

tablespoon

vegetable oil
For the pan sauce:
1

tablespoon

unsalted butter

1

small shallot,

minced

splash of dry red wine

(optional)

2

teaspoons

Dijon mustard

1

cup

beef broth

(low salt)

1

tablespoon

Worcestershire sauce

2

tablespoons

heavy cream

1

tablespoon

chopped fresh parsley

2

teaspoons

chopped fresh thyme
Instructions
Preheat oven to 425°F. Pat steaks dry with paper towels, then season both sides with the kosher salt and pepper. Set aside allowing the steaks to come to room temperature for 30 minutes.

Heat the vegetable oil in a large cast iron skillet on medium-high heat until shimmering. Add the steaks and cook without moving or turning for 3 minutes. Flip the steaks over using tongs and immediately put the skillet in the preheated oven.

Cook until the steaks are firm to the touch, about 8-9 minutes for medium rare. You can check with an instant read thermometer to be sure. The steaks should be 130 degrees but will continue to increase in temperature by about 5 more degrees while resting. Remove from the oven and transfer the steaks to a warm plate. Tent with foil and keep in a warm location while preparing the sauce.

Return the cast iron skillet to the stove top set to low heat and add the butter. Once melted, add the shallots. Cook, stirring frequently, about 1 minutes. Carefully add the red wine, if using, and bring to a boil. Cook and stir, scraping up any browned bits stuck to the bottom, until the wine has mostly evaporated. Stir in the mustard and increase the heat to medium-high.

Add the beef broth and Worcestershire sauce and bring to a boil. Continue to cook and stir until the sauce is slightly reduced, about 5 minutes.

Turn the heat to medium and add the cream. Simmer for a few minutes or until the sauce coats the back of a spoon, about 3 minutes. Turn off the heat and stir in the herbs.

Transfer the steaks to individual plates and pour any accumulated juices from the steaks into the pan sauce. Stir to combine, then drizzle over the steaks and serve immediately.
Recipe Notes
Inspired by a recipe on allrecipes.com
Nutrition
Calories:
527
kcal
|
Carbohydrates:
5
g
|
Protein:
52
g
|
Fat:
32
g
|
Saturated Fat:
13
g
|
Polyunsaturated Fat:
5
g
|
Monounsaturated Fat:
10
g
|
Trans Fat:
0.3
g
|
Cholesterol:
177
mg
|
Sodium:
1035
mg
|
Potassium:
1028
mg
|
Fiber:
1
g
|
Sugar:
2
g
|
Vitamin A:
672
IU
|
Vitamin C:
8
mg
|
Calcium:
99
mg
|
Iron:
5
mg
 Cast iron skillets are amazing kitchen tools – check out this inexpensive pre-seasoned Lodge skillet I love – click on the photo for more information:
If you decide to purchase something at Amazon after following my affiliate link, I receive a small commission, at no additional cost to you, which I use to pay for web hosting and services for this blog. Thanks for supporting SRFD!
If you live where it's warm in January, you may want to bust out the grill and try our Tri-Tip Roast with Chimichurri. It has so much flavor and is super easy to make. I love a good Classic Roast Beef and Gravy too, perfect for Sunday supper! Love this combo of Buttered Steak Bites with Mushrooms from Barefeet in the Kitchen, and this mouthwatering Chopped Steak with Bacon and Mushroom Gravy from The View from Great Island. How about this big guy … Porterhouse Steak with Mushrooms from Oh Sweet Basil – yum!
Are you having crazy weather too? Here in Virginia we went from temperatures dipping into the teens to 70 degrees yesterday afternoon. I had all the windows open and enjoyed a glorious breeze. We have robins in the yard grabbing up the worms. Early spring? I think it's too early for that but who knows. Either way, it won't be long now! Thanks so much for stopping by!
Tricia