This post may contain affiliate links. Please read my disclosure policy.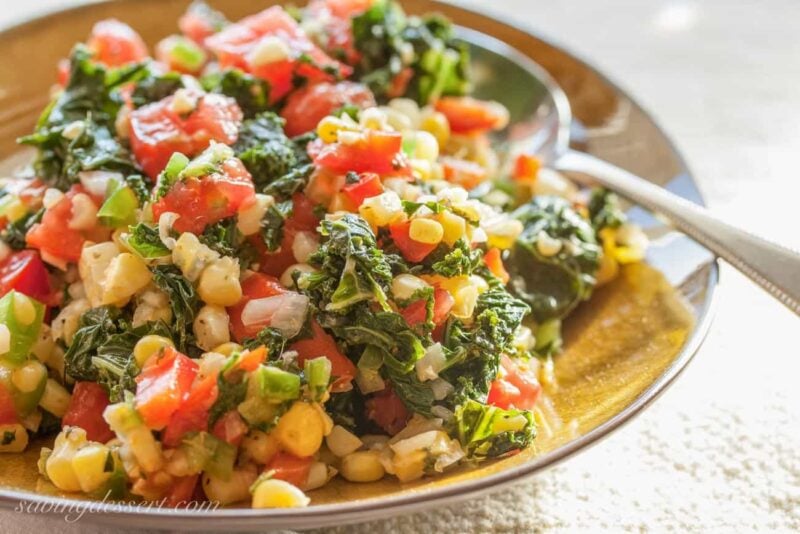 I know it may be hard to believe but we still have corn!  And who can say no to a delicious, healthy, easy dish like this?  Not me.  The Cajun spices combined with crisp sweet corn, crunchy vegetables and fresh cooked Kale is a winner in our house.  This healthy combo is tasty cold, warm or room temperature.  My husband was eating it like salsa, I put leftovers on a salad and took it to work, and we ate it as a side dish with some really tender pork tenderloin.  This may even be great with a nice egg on top (
Larry
!)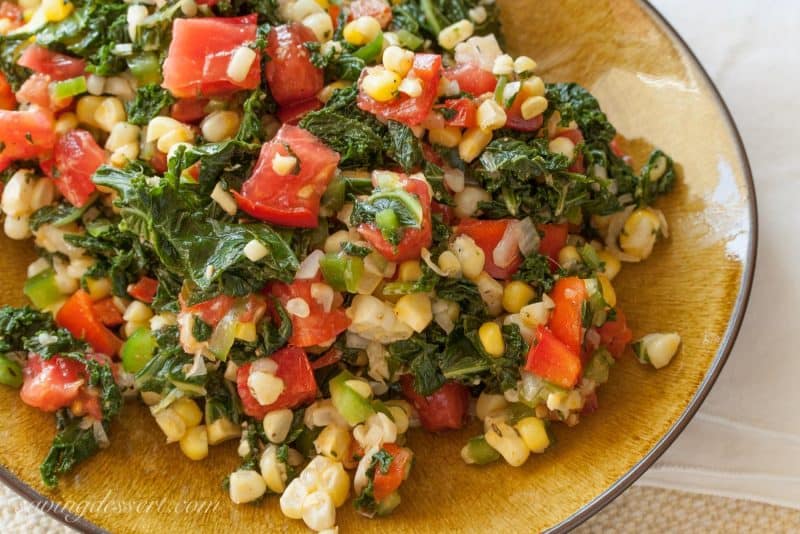 When I eat like this I wonder why we would ever want to consume pre-packaged, pre-made, preservative filled boxes of tasteless nothing.  With just a little time spent cutting up vegetables the rest of the dish comes together fast and easy.  You control the heat so spice it up as much as you want.  As the recipe is written it has a lovely flavor without too much heat.  I could bump it up a bit myself.
Cajun Corn and Kale Salad
The Cajun spices combined with crisp sweet corn, crunchy vegetables and fresh cooked Kale is a winner.
Ingredients
4

ears sweet corn

husks and silk removed

1

large bunch of kale

stems removed

2

teaspoons

salt

for cooking the kale

1

large red bell pepper

diced

1

large green bell pepper

diced

1

large tomato

diced & seeded

1

small sweet onion

minced

1

large clove garlic

minced

¼

cup

olive oil

2

tablespoons

fresh lemon juice

about 1 lemon

¼

teaspoon

salt

¼

teaspoon

cayenne pepper

¼

teaspoon

fresh ground pepper

¼

teaspoon

ground mustard

¼

teaspoon

crushed fennel seeds

¼

teaspoon

dried thyme

you may substitute 1 ½ teaspoons Cajun season for the salt, pepper, cayenne, mustard, fennel and thyme
Instructions
In a small mixing bowl combine the olive oil, onion, red and green bell peppers, garlic, lemon juice, salt, cayenne, pepper, mustard, fennel and thyme. Stir until combined and set aside.

Bring 2 quarts of water to boil in a large pot. Add the corn and turn off the heat. Let the corn cook in the hot water for 5 minutes. Remove the ears to a plate and allow them to cool. Reserve the cooking water. After the corn has cooled, cut the kernels from the cobs and place in a large serving bowl.

Bring the water to a boil again and add two teaspoons salt and the kale.  Cook until the kale is tender (not mushy) and still bright green, about 5 minutes.  Drain the kale and once cool, squeeze the remaining water from the kale using your hands.  Chop into small pieces.  Add the chopped kale and tomato to the corn then fold in the olive oil herb mixture with peppers and onion.  Season with salt and pepper to taste or use additional Cajun seasoning or something like Tony Chachere's Creole Seasoning.  Serve and refrigerate left overs.
Recipe Notes
(adapted from a recipe by Angelic Organics Kitchen - published in the Farmer John's Cookbook) Nutrition information is calculated using an ingredient database and should be considered an estimate. When multiple ingredient alternatives are given, the first listed is calculated for nutrition. Garnishes and optional ingredients are not included.
Nutrition
Calories:
947
kcal
|
Carbohydrates:
102
g
|
Protein:
19
g
|
Fat:
61
g
|
Saturated Fat:
9
g
|
Polyunsaturated Fat:
8
g
|
Monounsaturated Fat:
41
g
|
Trans Fat:
1
g
|
Sodium:
5338
mg
|
Potassium:
2157
mg
|
Fiber:
18
g
|
Sugar:
40
g
|
Vitamin A:
11784
IU
|
Vitamin C:
364
mg
|
Calcium:
236
mg
|
Iron:
5
mg
There you have it.  Another healthy recipe to make up for the cookies I'm going to bake this weekend.  I'm saving room for dessert, and corn, and maybe some biscuits or something.  We've been so good for a while now I feel the need for a splurge.  I've been eyeing Ree's (the Pioneer Woman) Mango Margarita recipe and think that would be great to have this weekend too.
We're having pretty terrific cooler weather here in Virginia.  It has inspired me to compile some camping recipes to try next time we head up to the Shenandoah Mountains.  Soon – very soon.
And (I must be chatty tonight) our garden is just not producing vegetables but is very green and happy.  We went totally organic this year, no Miracle Grow for us 🙁  We have a giant compost bin and my husband has been working it pretty hard.  We hope it will turn around soon and now that our dogs did away with all the rabbits, voles and opossums, maybe, just maybe, something will grow without being eaten first.  I told that last little bunny to run, but he wasn't fast enough for our Jack Russell Terriers.  They're like Velociraptors working in pairs and they are deadly.  We have a six foot privacy fence so I try to keep the furry cute animals out, oh well – we do what we can do, and they do what they were breed to do.
Anyway – thanks so much for stopping by!  Hope you have a lovely weekend.
Tricia