This post may contain affiliate links. Please read my disclosure policy.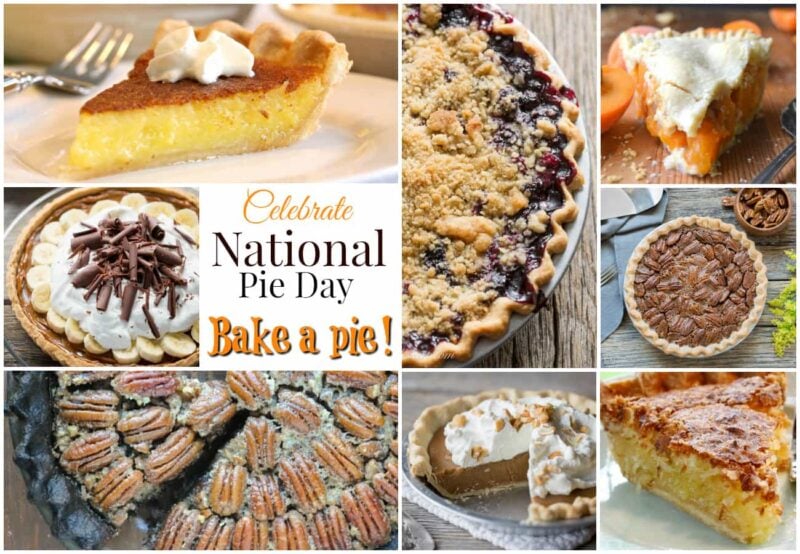 It's probably not a big surprise that I love to bake pies.  Sometimes I don't even care if I get a piece, I just love the idea of filling a crust with something savory or sweet and dressing it up a bit with a lovely topping or garnish.  Did you know I have more than 60 PIE RECIPES on SRFD?  If you look back in the archives you'll see (along with some not so great photos) that I baked one pie each week in 2011.  That was an amazingly fun and delicious project especially with an abundance of culinary consultants on hand at the time.  We're empty nesters now with few young adult visitors so my pie peeps are no longer at the ready to gobble up a slice or two at a moments notice.
We're currently snowed in with an epic blizzard pounding the Washington D.C. area.  I love a good snow and am not complaining one bit!  If we're going to get some snow, let's go with 20-30 inches.  I feel very sure I'll have a picture or two to post so check back for a bunch of very bright, white photos .  Maybe a new pie or tart would be a good snow day project 🙂
There seems to be a "national" day for everything now,  but to me National Pie Day is something just a bit more than a way to celebrate eating a slice of pie.  The truly great recipes are often the simple ones passed down from generation to generation, with our parents and grandparents teaching us how to roll out crust.  It's our heritage, a legacy, and certainly a delicious way to celebrate family.  People love to eat pie, and are thrilled to see them on the holiday table or at a family picnic.  Pies can be made any time of the year.  Cold pies are a terrific treat in the summer – like a good tart Key Lime Pie and warm Skillet Apple Pie is a favorite in the fall.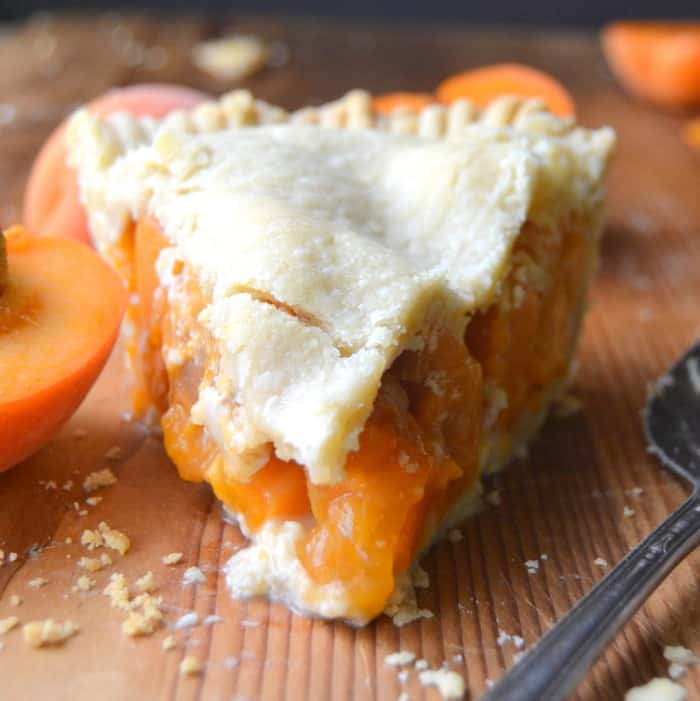 Apricot Pie from The View From Great Island
Fruit pies are some of the best desserts ever made.  Fresh picked berries or fruit are mixed with sugar then lovingly scooped into a pastry lined pie plate and baked until bubbly hot and thickened into a colorful syrup.  How simple is that?
The American Pie Council   "... is the only organization committed to preserving America's pie heritage and promoting American's love affair with pies. Designed to raise awareness, enjoyment and consumption of pies, the APC offers Amateur, Professional and Commercial Memberships."   APC hosts annual competitions and if you are a member they will help you research any information not immediately available.  For a low cost one time joining fee, you can be a life member and benefit from their research and advice.  The American Pie Council began promoting and sponsoring  National Pie Day in 1986 as a way to commemorate Crisco's 75th anniversary.
Black Bottom Bourbon Pecan Pie from The View from Great Island
My maternal grandmother "Mammaw" was the first to teach me how to make pies.  We made 10 apple pies in one day with apples picked fresh from her trees.  Mammaw froze unbaked pies for use throughout the year.  She was a master at using everything she had, and wasted nothing.  My mom was also an amazing baker and a willing teacher.  They both would have been proud to know I won a blue ribbon once at a county fair for apple pie.  I was so excited!
Over the years I've taught a few people to make pies, and have offered to help many, many others.  My daughter Allie made Minny's Chocolate Pie as her first and my niece Shannon made a fresh Blueberry Pie while visiting us in Virginia.  Shannon has gone on to make many pies for family and friends and is their go-to family baker during the holidays.  It makes me happy to know I've passed on a skill taught to me by her great-grandmother.
Do you have a favorite pie?  Here are a few more amazing recipes that may just be your "new" favorite pie!
Chocolate Espresso Pudding Pie by Created by Diane
Lemon Chess Pie – a classic southern favorite!
Mini S'More Pies from Created by Diane
Chocolate Pecan Pie – my family's favorite holiday pie
Hoosier Sugar Cream Pie – so good and so easy – a must make!
Thank you so much for stopping by!  Have a lovely weekend.
Tricia