This post may contain affiliate links. Please read my disclosure policy.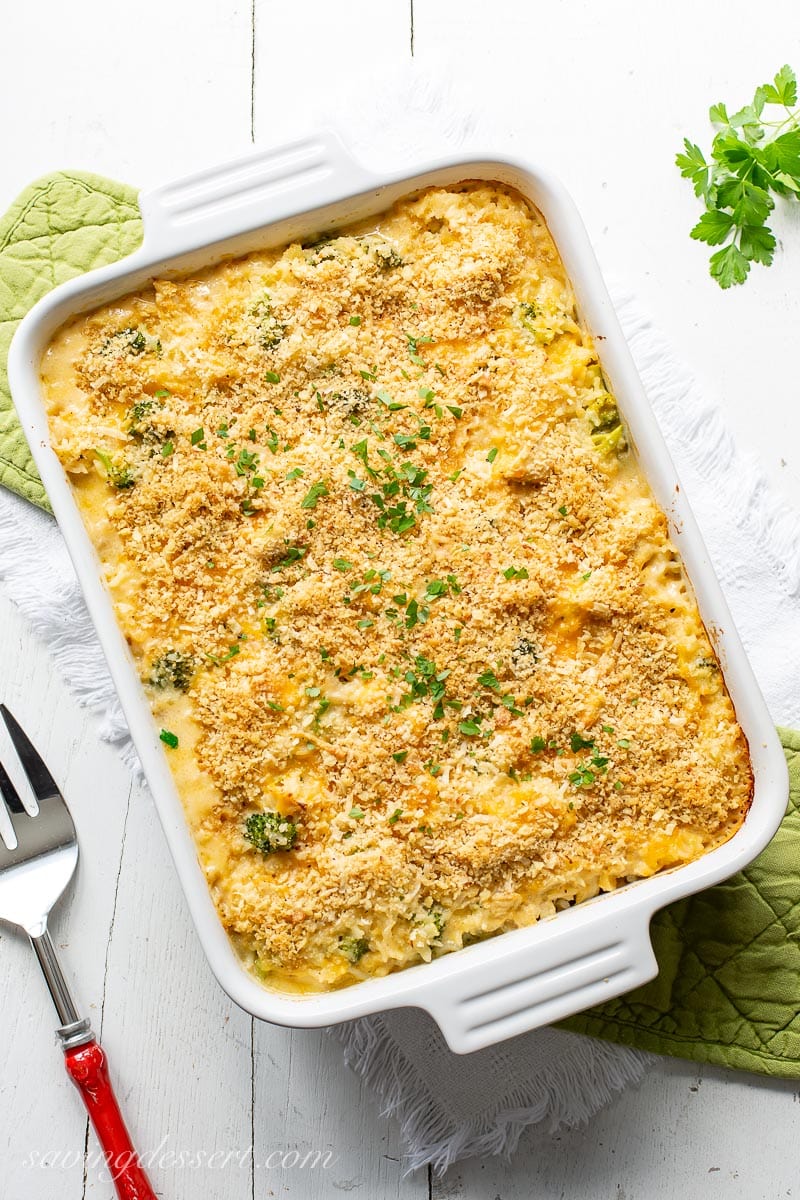 Cheesy Chicken Broccoli and Rice Casserole is pure comfort food!
This hearty casserole has it all, and no canned soup! With tender bites of chicken in a creamy, cheesy sauce, flavorful rice and crisp tender broccoli all topped off with a well seasoned, crunchy topping. The perfect casserole for the whole family.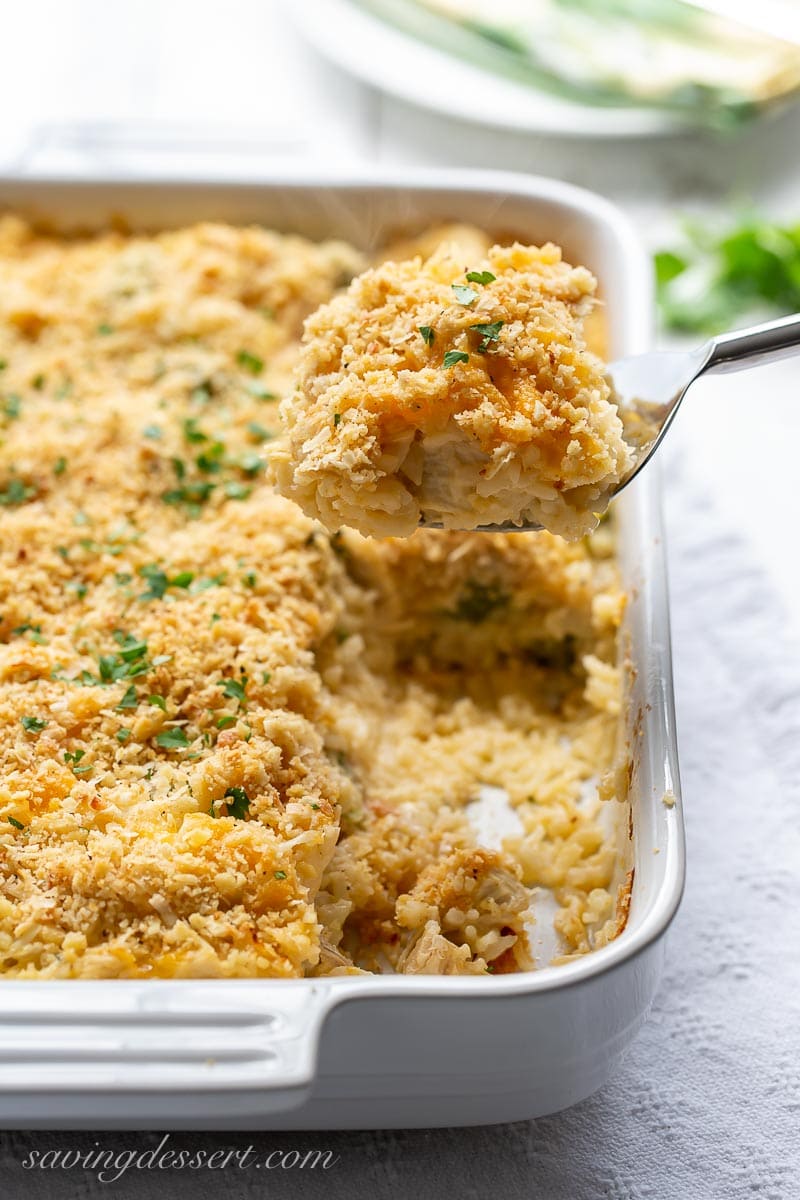 How to make a broccoli casserole with chicken and rice:
Our broccoli and cheese casserole is cooked in two basic steps. Everything is prepped on the stove-top then the casserole is finished in the oven.
This casserole starts with 3 cups cooked, diced chicken.
You can use rotisserie, sautéed, grilled or poached chicken for this recipe. For this casserole we usually poach three chicken breasts in chicken broth seasoned with fresh thyme and plenty of black pepper. Poached chicken be made ahead of time and refrigerated or frozen until needed.
There's no need to pre-cook fresh broccoli for this chicken and rice casserole.
To prep the broccoli, cut the florets into 1-inch size pieces. Place the broccoli in a colander and pour a kettle of boiling water over the top. This easy method starts the cooking process and takes the edge off the raw broccoli.
We use this quick trick often, but especially when making recipes that call for raw broccoli, like our family famous pasta salad. The broccoli turns a beautiful bright green color and has great crisp tender texture.
You can also use frozen broccoli if desired. Slightly undercook the frozen broccoli according to package directions. Drain well before adding to the casserole.
The final steps are done in a Dutch oven on the stove-top.
Diced onion is sautéed in butter until soft. Next add the rice and garlic and continue sautéing for a minute or two. Add chicken broth and milk and simmer until the rice is tender. Remove the pan from the heat and add Dijon, cayenne, cheddar and Parmesan cheese. Fold in the broccoli and chicken and pour the mixture into a prepared casserole dish.
Top the casserole with a bread or cracker crumb mixture.
For the topping you can use whatever you have on hand. Regular bread crumbs, panko, saltine or Ritz crackers all work well for this casserole. Mix the crumbs with butter, Parmesan, garlic powder and pepper until combined. Sprinkle over the top of the casserole and bake!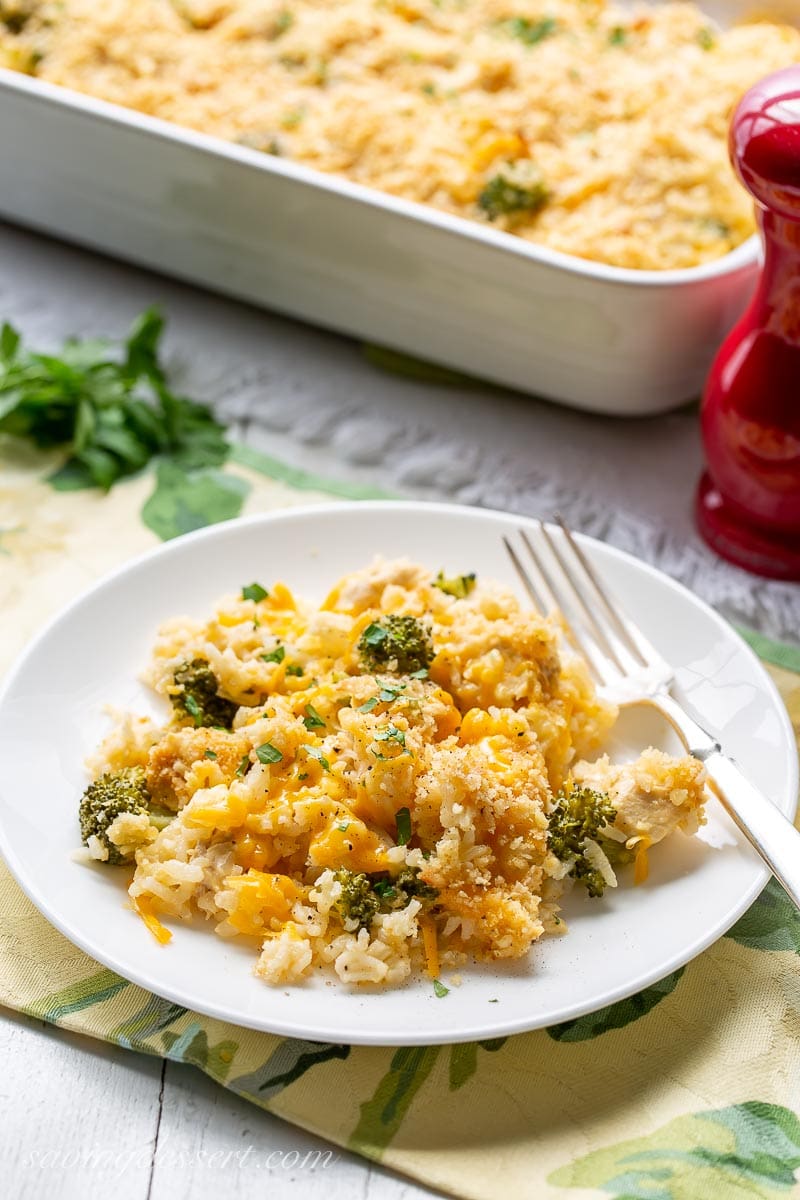 Can this Chicken Broccoli and Rice Casserole be made ahead of time?
One of the things I love best about this casserole is being able to make it up to 24 hours in advance. Prepare the casserole but don't add the topping, yet. Cover and refrigerate until an hour before you want to serve.
Sprinkle the topping over the casserole and allow it to rest at room temperature at least 30 minutes. Bake and serve!
Leftovers are also delicious rewarmed gently in the microwave. Make this casserole for dinner on the weekend, and have lunch meal-prepped for the week!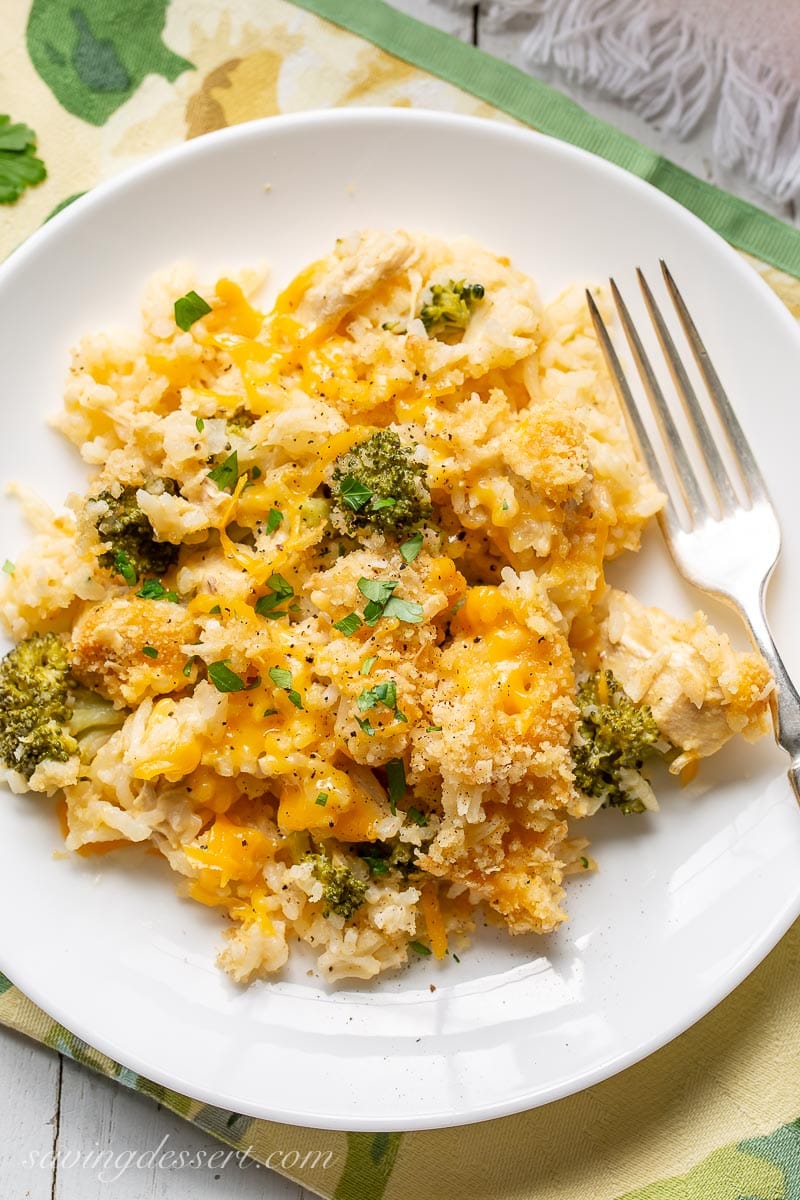 Tips for making the best Chicken Broccoli and Rice Casserole:
As with any rice dish, the liquid will be soaked up by the rice. 
Make sure you have enough milk added in the beginning to make a soupy, milky casserole before stirring in the cheese, broccoli and chicken.
Use small pieces of broccoli that will cook in a short time.  
If you use large stalks of broccoli without pre-cooking, it won't have enough time to become tender in the oven. Cut the florets into small pieces and use the boiling water method to blanch before baking.
Don't skimp on the cheese.
I've made this casserole with low-fat products and was not as thrilled with the results. It was still delicious and perfectly edible, so if that's all you have on hand, go for it. However, low-fat cheese won't melt like a good sharp cheddar will. Good quality sharp cheddar cheese adds a lot to the creamy, risotto-like consistency of the rice.
We've used a variety of toppings for this casserole, all with great success.
Use your favorite cracker, bread crumbs or even canned French fried onions. It's all good! If you don't have Ritz or Panko on hand, use saltines or regular bread crumbs.
Use fresh grated Parmesan.
I highly recommend using fresh grated Parmesan in this casserole and in the topping mixture. The salty bite of fresh grated Parmesan is terrific in this dish.
We use whole milk or a combination of milk and half-and-half.
For a richer casserole, feel free to use all half-and-half. Again, feel free to use whatever you have on hand. Low fat milk will work in a pinch, but you may want to add an extra tablespoon of melted butter to the mix.
If you don't have Dijon mustard on hand, try adding a squeeze of lemon juice. 
This casserole is best with a little bite of something acidic to offset the milky, cheesiness.
Substitute garlic powder or granulated garlic for fresh if needed.
I prefer fresh garlic in the casserole and granulated garlic in the topping. Again, just use what you have on hand. This recipe is highly adaptable.
Prep all ingredients before starting. 
This casserole comes together quickly, so be sure to have your cheese pre-shredded, the onions diced, and the chicken cooked ahead of time.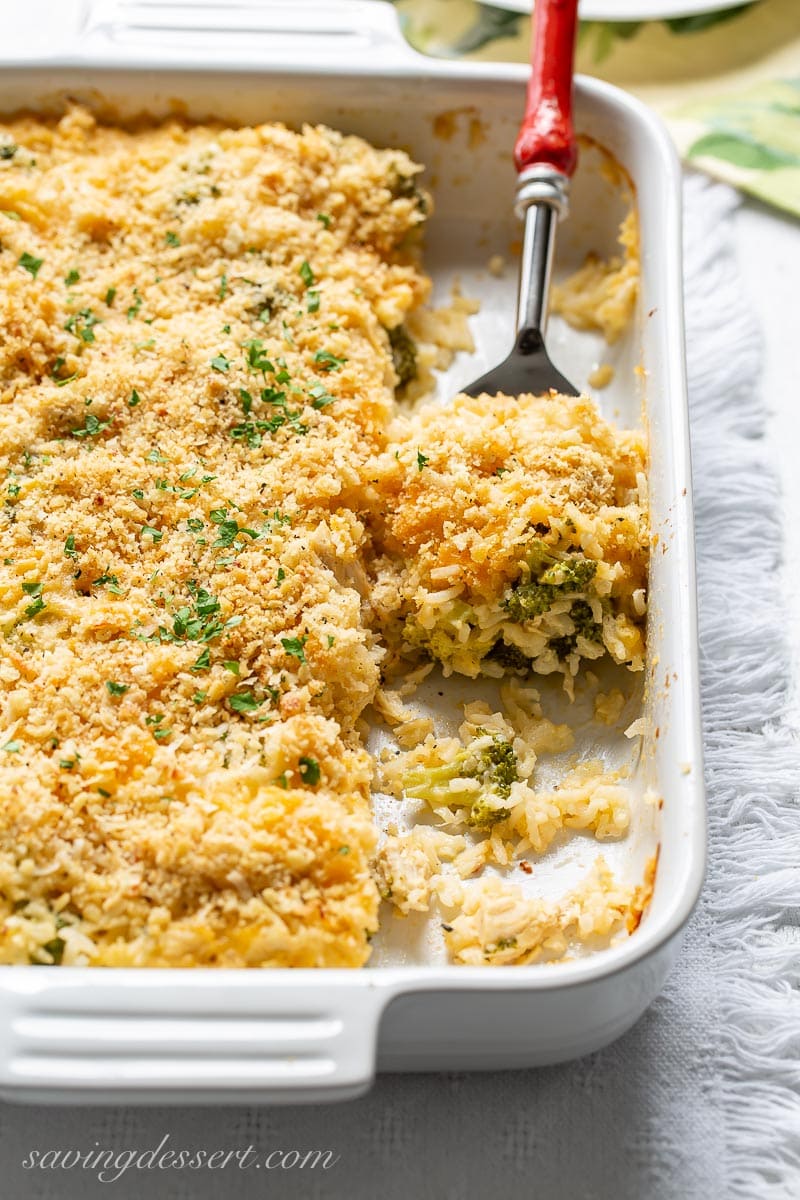 What kind of rice can you use in this casserole?
Any long grain white rice works well in this casserole. I usually have Basmati rice on hand. In a pinch I've also made this casserole with Arborio which is an Italian short-grained rice used in risottos. Brown rice will also work so feel free to adapt and adjust as desired.
Our cheesy Chicken Broccoli and Rice Casserole comes out of the oven hot, bubbly and golden brown.
Finally, this casserole should not be soupy, nor should it be dry. It holds together well when served making it great for gatherings, Sunday supper or buffets. Enjoy this classic favorite without canned soup!
Thanks for PINNING!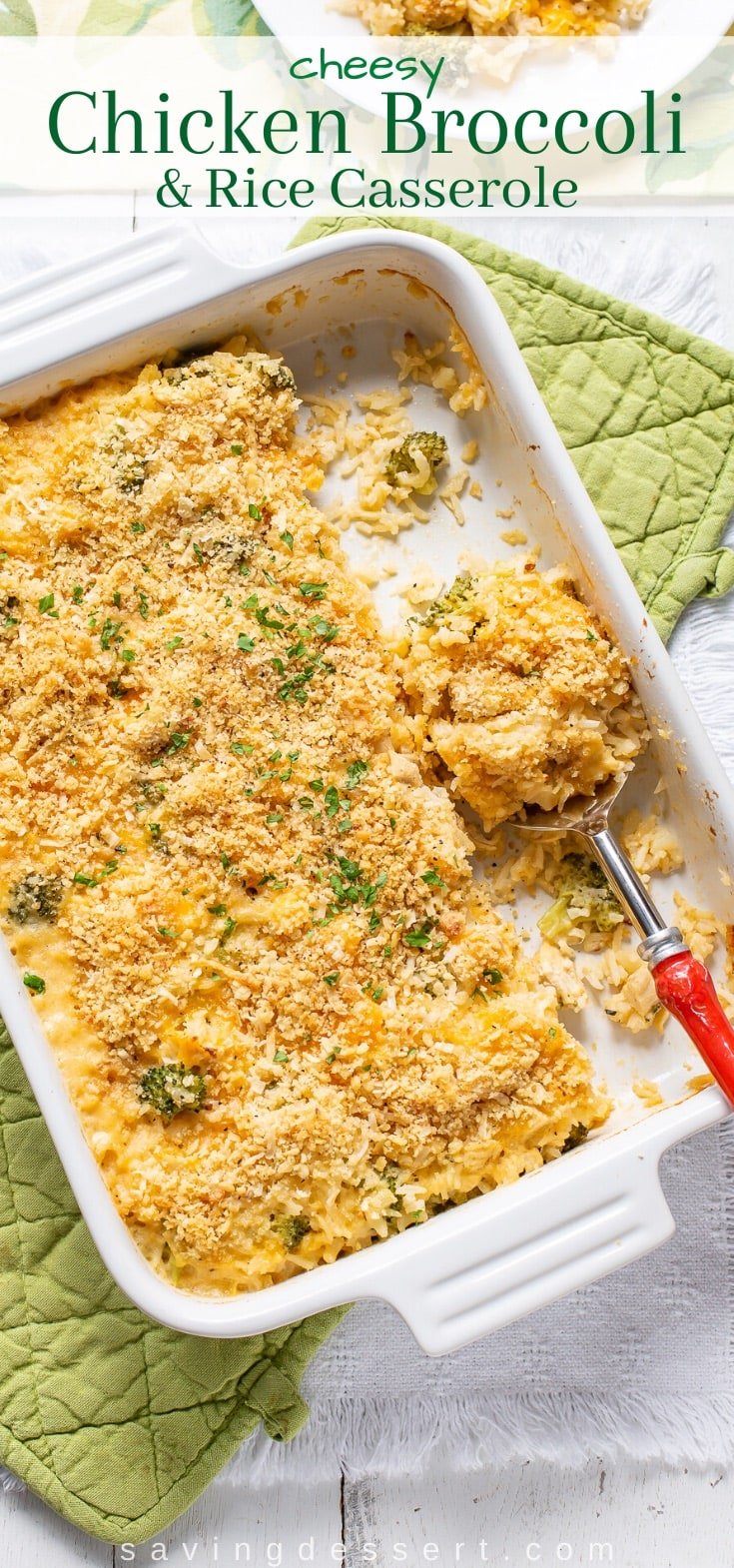 Let's be cooking friends! When you try our recipe please feel free to leave a comment on this post. I'm sure your experience and insights will help all our readers, and it helps me too. Also, if you're on Pinterest feel free to leave a comment and photo there if you have one! If you share on INSTAGRAM tag @savingroomfordessert so we can stop by and give your post some love. And we'd be very happy if you'd FOLLOW Saving Room for Dessert on FACEBOOK| INSTAGRAM| PINTEREST | TWITTER  and subscribe to our YOUTUBE channel for all the latest recipes, videos and updates. Thank you!!!
PRINT THE RECIPE!
Cheesy Chicken Broccoli and Rice Casserole
Total Time:
1

hour
35

minutes
A hearty, cheesy and comforting casserole with tender chicken, crisp tender broccoli and creamy rice.
Ingredients
For the casserole:
4

cups

broccoli florets,

cut into 1-inch pieces

3

tablespoons

unsalted butter

1

medium onion,

chopped fine

1

teaspoon

salt

1

teaspoon

ground black pepper

1 ¼

cups

long grain white rice

(250g or 9oz)

3

small cloves garlic,

minced

4

cups

low-sodium chicken broth

(32oz or 907g)

1 ½

cups

milk

12oz (plus up to ½ cup additional milk if needed for desired consistency)

1

tablespoon

Dijon mustard

⅛

teaspoon

cayenne pepper

2 ½

cups

shredded sharp cheddar cheese,

divided (8oz)

½

cup

fresh grated Parmesan

(1oz or 30g)

3

cups

cooked chicken, diced

(3 medium chicken breasts)
For the topping:
⅔

cup

bread or cracker crumbs

(50g or 1 ½oz)

¼

cup

grated Parmesan cheese

(15g or ½oz)

3

tablespoons

unsalted butter,

melted

⅛

teaspoon

garlic powder

½

teaspoon

fresh ground black pepper
Instructions
To prepare the casserole:
Preheat oven to 400° F. Lightly grease a 13x9-inch baking dish; set aside.

Place a large colander in the kitchen sink and add the broccoli florets. Carefully pour half a kettle of boiling water over the broccoli. Toss gently, then pour the remaining boiling water over the broccoli. Repeat and drain while preparing the rice.

Melt 3 tablespoons butter in a Dutch oven over medium heat. Add the onion, salt and black pepper and cook until softened, about 5 minutes. Add the rice and garlic and cook, stirring constantly, about 2 minutes. Add the chicken broth and milk. Increase the heat to medium-high and bring to a boil. Reduce the heat to medium-low and gently simmer, uncovered, stirring frequently until the rice is tender, about 10 to15 minutes. There should be some milky liquid remaining. If the rice absorbed all the milk and broth, add ¼ to ½ cup additional milk to the pot.

Remove from the heat and add the Dijon mustard, cayenne, 2 cups cheddar cheese and ½ cup Parmesan. Stir to combine. Fold in the diced chicken and drained broccoli. Mix gently to combine. Pour the mixture into the prepared baking dish and top with the remaining ½ cup cheddar. (At this point the casserole can be covered and refrigerated for up to 1 day.)
To prepare the topping:
In a small bowl combine the bread crumbs, ¼ cup of Parmesan, melted butter and garlic powder.

Sprinkle the topping over the casserole. Bake until the casserole is bubbling around the edges and the top is golden brown, about 15 to 20 minutes. Cool briefly then serve.
Recipe Notes
Make ahead directions: Prepare the filling and pour into the prepared casserole dish. Cover and refrigerate for up to 1 day. Bring the casserole to room temperature then top with the bread crumb mixture. Bake as directed.
This casserole is easily cut in half, if desired.
Substitute Panko bread crumbs, seasoned croutons, crushed saltines or Ritz crackers for the bread crumbs, if desired. You can also use cubed toasted bread as a topping as well as canned French fried onions.
Store leftovers in an airtight container in the refrigerator. Rewarm individual portions in the microwave.
A portion of this recipe was inspired by Cook's Country and Eating Well
Nutrition information is calculated using an ingredient database and should be considered an estimate. When multiple ingredient alternatives are given, the first listed is calculated for nutrition. Garnishes and optional ingredients are not included.
Nutrition
Calories:
556
kcal
|
Carbohydrates:
39
g
|
Protein:
34
g
|
Fat:
29
g
|
Saturated Fat:
17
g
|
Polyunsaturated Fat:
2
g
|
Monounsaturated Fat:
8
g
|
Trans Fat:
1
g
|
Cholesterol:
111
mg
|
Sodium:
858
mg
|
Potassium:
557
mg
|
Fiber:
2
g
|
Sugar:
5
g
|
Vitamin A:
1088
IU
|
Vitamin C:
42
mg
|
Calcium:
483
mg
|
Iron:
2
mg
Here are a few more recipes you might also enjoy: