This post may contain affiliate links. Please read my disclosure policy.
Toasted whole grain oats, dried fruits and nuts combine for a wonderfully chewy, crunchy treat perfect for lunch boxes or an anytime snack.  I've posted many fruit and nut recipes over the years and love each and every one.  This recipe is no exception.  They are hearty, and chewy, and sweet.  I wanted a little something special this week especially since all the Easter egg macarons were whisked away before I could eat more than one, okay maybe two (do I hear three?)
One of the very best things about being a cook or baker (and blogger) is being inspired to try new products.  I often look for ways to substitute healthier alternatives for things like butter and granulated sugar.  I've been using a lot of coconut oil in my baking lately and thought I would try this coconut sugar too.  I am super pleased with how these turned out and since I have a nice big-bag, you'll probably see more recipes using coconut sugar.   Coconut sugar may not be healthy per se, but it is lower on the glycemic index than regular sugar.   Zero sugar would be better of course but where's the fun in that?  If you want to substitute butter for the coconut oil and brown or granulated sugar for the coconut sugar in this recipe – I think that would be perfectly wonderful.
Spread the oats, raw almonds and cashews on a baking sheet and bake in a 350 degree oven for 10-15 minutes or until they are lightly toasted.
In a large mixing bowl combine the fruit and I also threw in the pepitas since they were already roasted.  My thoughtful daughter gave me this wonderful wooden spoon as a gift.  Having a blog opens up lots of gift possibilities and my family has fully embraced it!
Allow the toasted oats and nuts to cool slightly then add to the fruit.  Stir to combine and set aside while making the syrup.
Combine brown rice syrup, coconut sugar, sea salt, coconut oil and coconut almond butter.  Feel free to substitute regular almond butter or even peanut butter if you prefer, this is an easily adaptable recipe that is hard to mess up.    I'm loving the No Stir Coconut Almond Butter from MaraNatha these days.  Great flavor!  Bring the mixture to a simmer and cook for about 1 minute then pour over the fruit and nuts.  Stir until everything is well blended and coated in the syrup.
Press the mixture into an 8×8 inch baking pan lined with parchment paper.  Lay a piece of parchment or wax paper on top and press down firmly until it is evenly distributed and lightly packed.  I sprinkled a little unsweetened coconut on top as an after-thought – but it would be fine without.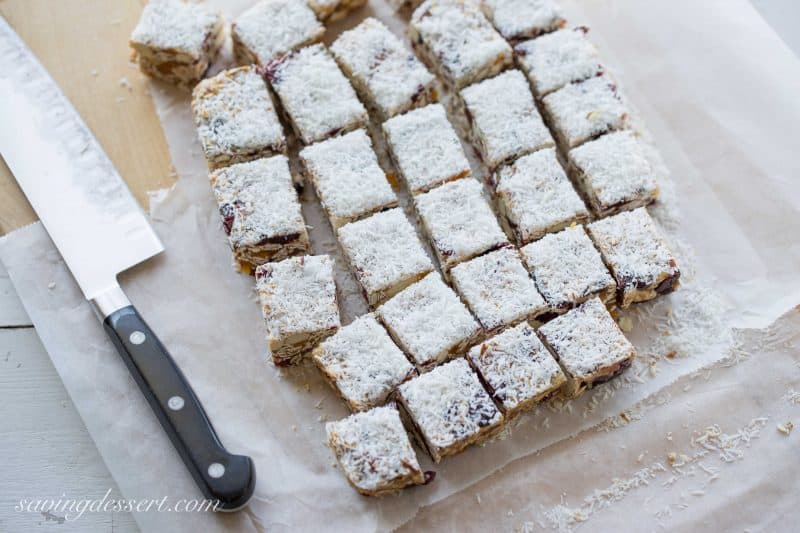 Refrigerate about an hour before cutting into 25-30 squares.  Store in an airtight container and enjoy!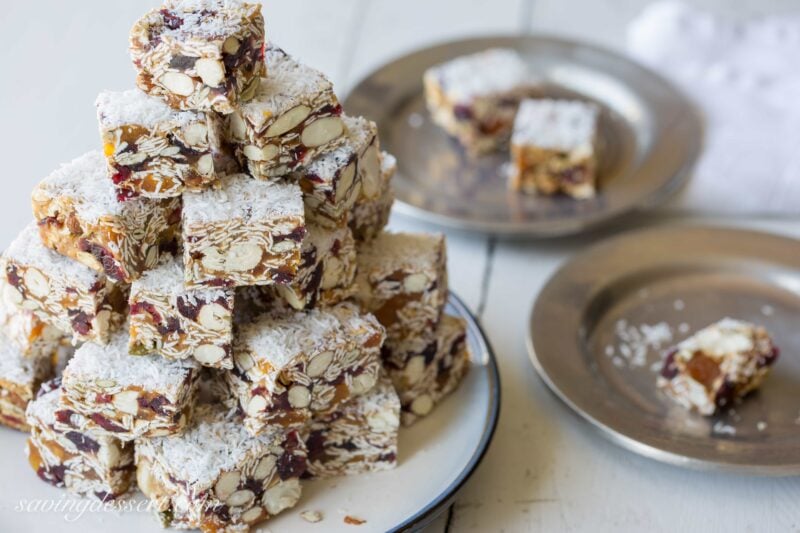 Chewy Fruit & Nut Bars with Toasted Oats
An easy chewy and nutty treat the whole family will love
Ingredients
2

tablespoons

coconut oil

or unsalted butter

1 ½

cups

Old Fashioned oats

¼

cup

roasted pepitas

¾

cup

whole unsalted almonds

½

cup

whole unsalted cashews

1

cup

dried cranberries

½

cup

chopped dried apricots

about 12-14

½

cup

brown rice syrup

¼

cup

coconut almond butter

or regular almond butter or peanut butter

2

tablespoons

coconut sugar

may substitute light brown sugar

dash sea salt

2-3

tablespoons

unsweetened shredded coconut

optional topping or add-in
Instructions
Line an 8x8 inch baking pan with parchment paper leaving enough to hand over the side.

In a large mixing bowl combine the fruit and any roasted nuts and set aside.

Combine the oats and any raw nuts (almond and cashews) and place on a large rimmed baking sheet. Bake for 10-15 minutes or until lightly toasted. Cool slightly then add to the dried fruits.

In a small saucepan combine the coconut oil, brown rice syrup, almond butter, coconut sugar and salt. Cook, stirring constantly, over medium heat until it begins to simmer. Cook for 1 minute then remove from the heat and pour over the oats and nut mixture.

Stir well to combine then press into the prepared pan. Lay a piece of parchment or wax paper on top and gently press until it is evenly distributed and lightly packed. Top with unsweetened shredded coconut if desired.

Refrigerate for 1 hour then cut into 25-30 pieces. Store in an airtight container.
Recipe Notes
Inspired by a recipe by Karen Ansel, Healthy in a Hurry posted on Williams-Sonoma Nutrition information is calculated using an ingredient database and should be considered an estimate. When multiple ingredient alternatives are given, the first listed is calculated for nutrition. Garnishes and optional ingredients are not included.
Nutrition
Calories:
104
kcal
|
Carbohydrates:
14
g
|
Protein:
2
g
|
Fat:
5
g
|
Saturated Fat:
1
g
|
Polyunsaturated Fat:
1
g
|
Monounsaturated Fat:
2
g
|
Trans Fat:
0.001
g
|
Sodium:
10
mg
|
Potassium:
90
mg
|
Fiber:
2
g
|
Sugar:
8
g
|
Vitamin A:
78
IU
|
Vitamin C:
0.1
mg
|
Calcium:
19
mg
|
Iron:
1
mg
Happy Easter to you and your family.  We plan to do some Easter egg hunting with our grandson Isaac – so stay tuned for pictures 🙂  And if the weather holds we will put our kayaks in the water for the first time since last fall.  Maybe the fish will bite!  Thanks so much for stopping by!
Tricia