This post may contain affiliate links. Please read my disclosure policy.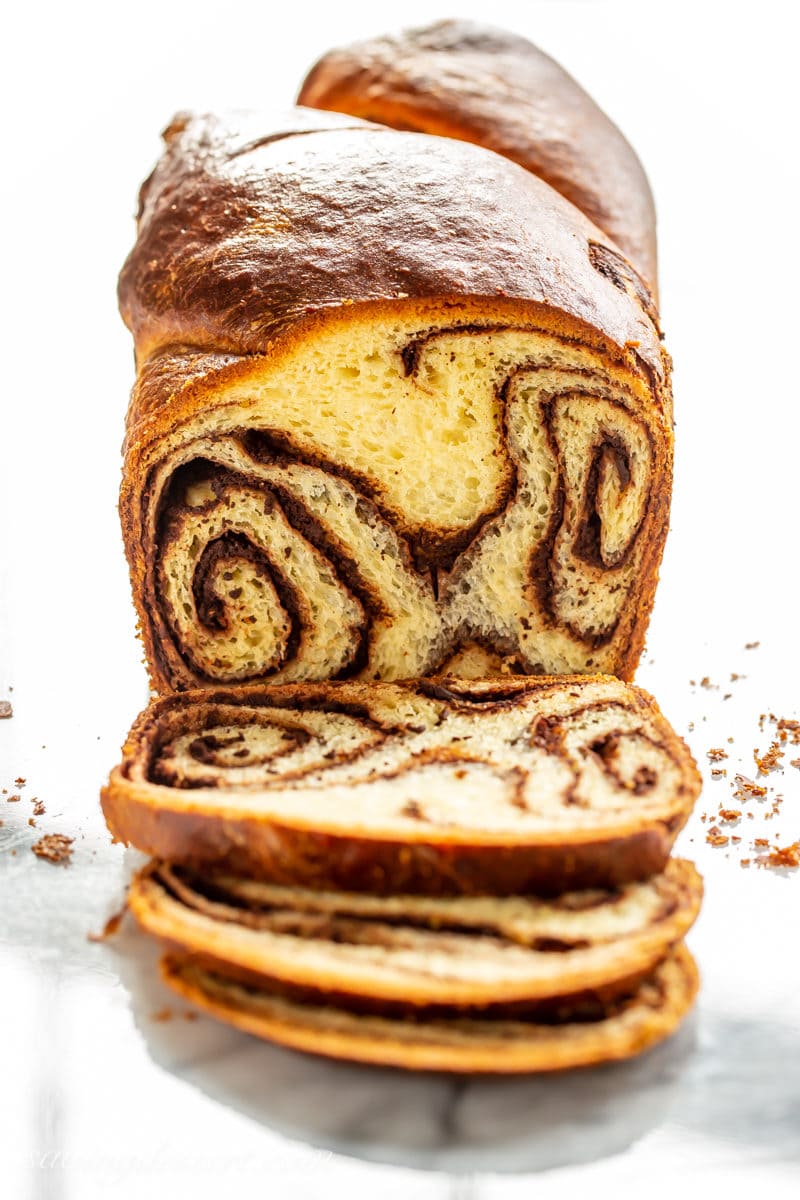 Soft and sweet and loaded with plenty of rich chocolate, this beautiful Chocolate Babka recipe is worth every minute it takes to make it!
I adore weekend baking projects, especially this time of year when it's cold and rainy, all the time. Anyway, who wants to go outside when there's delicious Chocolate Babka baking in the oven filling the house with an utterly enticing aroma!?
There's nothing like fresh baked bread to send my post-holiday diet into a tailspin. I adore bread: making it, eating it, smelling it, and trying new recipes. I made this gorgeous loaf several times during the holidays and was thrilled with each and every bake. Each babka turned out a little different in appearance, but all have been simply fantastic.
What makes babka so special?
Babka is a rich, tender yeasted loaf similar to a brioche. The lightly sweet enriched dough is rolled up with decadent fillings such as nuts and cinnamon, or luscious chocolate. Really great babka is hard to come by unless you live in New York City so I set out to find the perfect recipe to make at home. The name 'babka' comes from the Slavic word 'babcia' which means 'grandmother.' Babka has been around for ages and is sometimes topped with a streusel.
A truly delicious babka recipe cannot be rushed.
While it can take hours to make, each step is simple and easy for anyone that loves to bake. Most of the 5 or 6 hours needed to make this bread are spent on the two rise times. There is a one-hour period spent in the refrigerator in between the two rises and finally the loaf needs 3 hours to cool after the bake. The prep time can be split in half by making the dough the day before you plan to bake then refrigerated after the first rise. Really great bread like this Chocolate Babka take time to make so this recipe is a terrific weekend baking project.
Babka is so flavorful you don't need butter or other toppings.
The gorgeous swirls, which are unique to each loaf, give this bread wonderful visual appeal. But it truly is the flavor that will leave you craving this delicious bread again and again. This chocolate babka recipe is adapted from a from Cook's Illustrated cookbook titled Bread Illustrated. Check out the Amazon link at the bottom of this post if you're interested in learning more.
If you're looking for tested, perfected and delicious bread recipes with great tips and explanations, you'll want this cookbook in your kitchen library! I learn something new every time I open the cookbook.
The hardest thing about making this bread is waiting until it's cooled to slice it.
Don't worry if the loaf is not perfect in every way. I've made it many times and each loaf has looked completely different, inside and out. However, this Chocolate Babka is always delicious and beautiful and I hope you'll give it a try. Happy baking!
Thanks for PINNING!

Let's be baking friends! If you make our recipe please feel free to leave a comment on this post. I'm sure your experience and insights will help all our readers, and it helps me too. Also, if you're on Pinterest feel free to leave a comment and photo there if you have one! If you share on INSTAGRAM tag @savingroomfordessert so we can stop by and give your post some love. And we'd be very happy if you'd FOLLOW Saving Room for Dessert on FACEBOOK| INSTAGRAM| PINTEREST | TWITTER  and subscribe to our YOUTUBE channel for all the latest recipes, videos and updates. Thank you!!!
PRINT THE RECIPE!
Chocolate Babka
Total Time:
1

hour
15

minutes
Soft and sweet and loaded with plenty of rich chocolate, this beautiful Chocolate Babka is worth every minute it takes to make it!
Ingredients
For the dough:
2

cups

all-purpose flour

1 ½

teaspoons

instant or rapid-rise yeast

½

teaspoon

salt

½

cup

whole milk

room temperature

¼

cup

granulated sugar

2

large egg yolks

room temperature (reserve 1 egg white for the filling)

1

teaspoon

vanilla extract

8

tablespoons

unsalted butter

room temperature
For the filling:
2

ounces

semi-sweet chocolate

chopped fine (not chocolate chips)

4

tablespoons

unsalted butter

cut into pieces

3

tablespoons

natural unsweetened cocoa powder

¼

cup

powdered sugar

1

large egg white

reserved from dough ingredients

1

large egg whisked with 2 tablespoons water
Instructions
To prepare the dough:
Lightly grease a large bowl or container with vegetable oil. If you have a large glass bowl or plastic container with measurements marked on the side it will be helpful in determining when the first rise is complete.

In the bowl of a stand mixer whisk together the flour, yeast and salt. In a separate medium bowl whisk together the milk, sugar, egg yolks, and vanilla until the sugar is dissolved.

Fit the dough hook on the mixer and turn on low speed. Slowly drizzle the milk mixture into the flour and yeast until all liquid is added and the dough starts to come together. Scrape down the sides of the bowl to ensure it's well blended.

Turn the speed to medium-low and add the butter, 1 tablespoon at a time, until each is incorporated. Scrape down the sides of the bowl often and/or in between adding butter. It may take up to 5 minutes to add all the butter. Continue to knead until it's elastic and forms a cohesive dough, about 10-12 minutes. The dough will be a bit shaggy and wet. IMPORTANT: Since this is a small loaf, large mixers may have a hard time kneading the dough properly. To remedy, be sure to scrape down the sides of the bowl often to ensure the dough engages with the hook and kneads properly. Don't be tempted to add more flour, just keep scraping down the sides of the bowl.

Scrape the dough out onto a lightly floured, clean countertop. Knead by hand to form a smooth, round ball. This won't take long, about 30-seconds. Place the dough ball, seam side down, in the oiled bowl. Cover tightly with plastic wrap and let rise until the dough is increased in size by about half. This will take about 1 ½ to 2 hours depending on the temperature in your home. Once risen, place the dough in the refrigerator until firm, about an hour. NOTE: Dough can be refrigerated overnight at this point. Bring to room temperature for 15 minutes before rolling out.
To prepare the chocolate filling:
While the dough is chilling, prepare the filling. In a medium bowl combine the chopped chocolate, butter and cocoa. Microwave on medium (50%) power for 1 minute. Stir then repeat for 15 or 30-second intervals until the chocolate is melted and smooth. If little chunks of chocolate remain, set the mixture aside for a minute, stir, then repeat until smooth. You don't want to over-cook the chocolate in the microwave. Add the powdered sugar and blend until smooth. Set aside to cool completely. Once cool, add 1 egg white and blend with a fork until fully combined. Remove 1 tablespoon of the chocolate mixture and set aside.

Grease an 8 ½ by 4 ½-inch loaf pan and set aside.

Lightly dust a clean work surface with flour. Gently press down the dough with your hand to deflate. Turn the dough out onto the prepared surface. Do not knead, fold or turn the dough, but gently press or roll the dough into an 18 by 14-inch rectangle, with the 18-inch side parallel to the edge of the counter. TIP: Roll the dough in such a way that the final ⅓ section farthest away is slightly thicker. The last ⅓ of the dough will be wrapped on the outside of the cylinder and this helps prevent splitting and leaking.

Using an off-set spatula, spread the filling (all but the reserved 1 tablespoon) over the dough leaving a ½-inch border around the edges.

Pushing away from you, roll the dough into a cylinder, keeping the roll tight by tucking it under itself as you go. TIP: I find a lightly floured bench scraper aids tremendously in this process. Pinch the seams together and reshape as needed to get an 18-inch cylinder of uniform thickness. With the seam side up, spread the remaining 1 tablespoon of filling over the seam in a thin (1-inch) line. Fold the cylinder in half bringing it on top of itself. Pinch the ends together to seal.

Gently twist the cylinder twice to form a double figure eight. Using the bench scraper to help, lift the loaf into the prepared pan. Gently Press the dough into the corners of the pan. Lightly cover the loaf in plastic wrap and let rise until the dough is level with the lip of the pan, about 1 ½ to 2 hours. Don't overproof the dough!

When ready to bake, adjust the oven rack to the lower-middle position and heat to 350°F. Gently brush the loaf with the egg wash mixture and bake for 40 to 45 minutes or until it registers 190°F to 195°F degrees on an instant read thermometer. The loaf will be a deep golden brown. Cool the bread in the pan for 15 minutes, then remove to a wire rack to cool completely, about 3 hours.
Recipe Notes
TIPS:
Read through the directions a few times before beginning to understand the work flow.
After the first rise, the dough can be refrigerated overnight. Allow the dough to sit at room temperature for about 15 minutes before rolling out. 
Substitute bittersweet chocolate for the semi-sweet if desired. Don't use chocolate chips as they don't melt as well as better quality chocolate.
I like to use a bench scraper to help roll up the cylinder and as support when transferring the dough into the prepared pan. 
If using a 9 by 5-inch loaf pan, increase the shaped rise time by 20-30 minutes. Check for doneness after 30 minutes of baking.
Nutrition information is calculated using an ingredient database and should be considered an estimate. When multiple ingredient alternatives are given, the first listed is calculated for nutrition. Garnishes and optional ingredients are not included.
Nutrition
Calories:
174
kcal
|
Carbohydrates:
18
g
|
Protein:
3
g
|
Fat:
10
g
|
Saturated Fat:
6
g
|
Polyunsaturated Fat:
1
g
|
Monounsaturated Fat:
3
g
|
Trans Fat:
0.3
g
|
Cholesterol:
52
mg
|
Sodium:
77
mg
|
Potassium:
76
mg
|
Fiber:
1
g
|
Sugar:
6
g
|
Vitamin A:
288
IU
|
Vitamin C:
0.003
mg
|
Calcium:
20
mg
|
Iron:
1
mg
Essential Kitchen Tools used when making this beautiful Chocolate Babka:
We love the Bread Illustrated cookbook. It's easy to read, easy to understand, is very informative, and has plenty of wonderful recipes too!
Check to make sure your loaf is baked all the way through, with this inexpensive instant-read thermometer. Great for meats, candy and bread baking.
Finally, stop over-proofing and under-proofing your doughs. Leave it to rise in a clear marked container so you can tell when it has doubled or reached the proper size for your recipe.
*Saving Room for Dessert is a participant in the Amazon Services LLC Associates Program ~ I earn a small commission, at no additional cost to you, which I use to pay for web hosting and services for this blog. Thanks for supporting SRFD!
Looking for more delicious bread recipes? Always great for the holidays or your next dinner party, you'll love these soft, fluffy and buttery Lion House Rolls. You may also want to try this Chocolate Hazelnut Bread. It's a simple yeasted loaf of fluffy sweet bread, loaded with chunks of bittersweet chocolate and toasted hazelnuts. Serve with a slathering of Nutella for a wonderful treat. Finally, don't miss our Lemon Sweet Rolls with Lemon Cream Cheese Icing. They're a lightly sweet, soft yeast roll with a lemon infused dough, and a sweet lemon filling, topped with a lemony cream cheese icing.  Weekend baking at it's best!