This post may contain affiliate links. Please read my disclosure policy.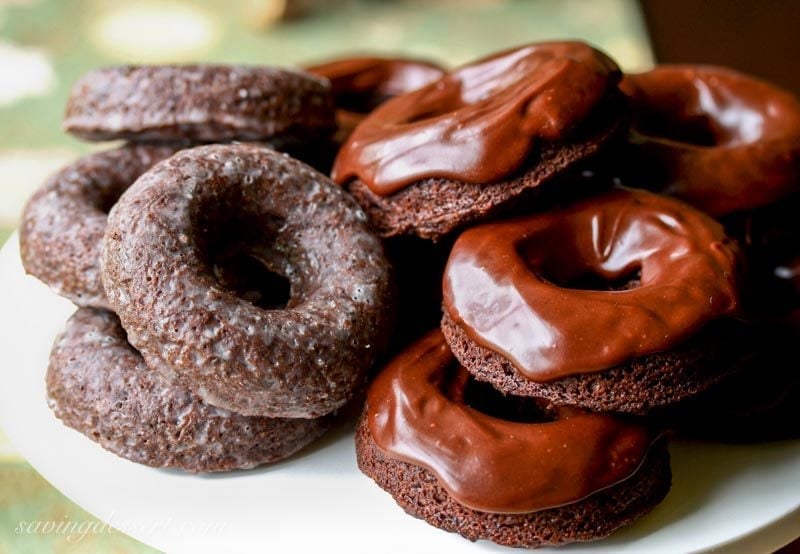 Baked Chocolate Doughnuts – rich and luscious and completely delicious!
We adore these soft little, tender cakey doughnuts with the velvety chocolate icing or simple sweet buttermilk glaze. If by chance you really need a chocolate doughnut, these will absolutely, without a doubt, completely and totally satisfy your craving!  They're like mini-cakes with all the trimmings.  A little sweet for breakfast, I'll stick with oatmeal or a protein packed smoothie and save these for dessert!
I've had doughnuts on my bucket list for a long, long time and finally broke down and bought a pan.
They're inexpensive, generally less than $10. Check the link at the bottom of this post to order one from Amazon. My husband said I could make blueberry donuts next time so I guess I've got the go-ahead to make some more.  I made chocolate icing for some and the others were dipped in a simple buttermilk glaze.  My favorite is the buttermilk glazed doughnuts. As much as I adore chocolate, the chocolate icing is a little too chocolatey for me.  There I said it.  I finally met my match.  I used to think there was no way you could have too much chocolate on anything.
These remind me of the chocolate cake donuts from Dunkin Donuts.
Soft chocolate cake with just a hint of sweet crunch from the glaze on the outside.  Yum! The texture is pretty fantastic.
My son, daughter-in-law and their good friend Michael stopped by this afternoon.  I made a gift of the doughnuts and Michael asked me if I was making some sort of reference to cops and doughnuts.  I forgot he is a police officer so this is perfect!  It's always good to be nice to the boys in blue.
Thanks for PINNING!
Let's be baking friends! If you try our recipe please feel free to leave a comment on this post. I'm sure your experience and insights will help our readers, and me too. Also, if you're on Pinterest feel free to leave a comment and photo there if you have one! If you share on INSTAGRAM use the hashtag #savingroomfordessert so we can stop by and give your post some love. And we'd be very happy if you'd FOLLOW Saving Room for Dessert on FACEBOOK| INSTAGRAM| PINTEREST | TWITTER  and subscribe to our YOUTUBE channel for all the latest recipes, videos and updates. Thank you!!!
Here's another doughnut recipe you might enjoy:
Baked Chocolate Doughnuts
Soft chocolate cake with just a hint of sweet crunch from the glaze on the outside.
Ingredients
For the doughnuts:
Nonstick cooking spray

1 ¼

cup

unbleached all-purpose flour

½

cup

light brown sugar

packed

⅓

cup

unsweetened cocoa powder

¼

cup

granulated sugar

1

tablespoon

instant espresso coffee granules

½

teaspoon

baking soda

½

teaspoon

baking powder

¼

teaspoon

salt

1

egg

lightly beaten

½

cup

milk

½

cup

butter

melted and slightly cooled

1

cup

semi-sweet mini-chocolate chips
For the buttermilk glaze (OPTIONAL):
½

cup

powdered sugar

1 ½

tablespoons

buttermilk

milk or cream will work fine too

drop of vanilla extract
For the chocolate icing (OPTIONAL):
2

ounces

unsweetened chocolate

chopped

2

tablespoons

butter

2

cups

confectioners' sugar

2

teaspoons

light-colored syrup

like Karo

¾

teaspoon

vanilla

3-4

tablespoons

hot water
Instructions
To make the doughnuts:
Preheat oven to 350°F.  Coat the doughnut pan with nonstick cooking spray.  Set aside.

In a large mixing bowl combine the flour, brown sugar, cocoa powder, granulated sugar, espresso granules, baking soda, baking powder and salt.  Whisk the dry ingredients until blended and make a well in the middle.  Set aside.

In a small mixing bowl lightly beat the egg.  Whisk in the milk and then add the melted butter.  Quickly add the egg mixture to the flour and cocoa mixture all at once.  Stir just until the batter is smooth.  Do not over beat.  Stir in the mini-chocolate chips.  Spoon the batter into the doughnut pan filling about two-thirds full.  Bake for 12 minutes or until a toothpick comes out clean.

Allow the doughnuts to cool in the pan for 2-4 minutes. Transfer to a wire rack and cool completely before icing. To make powdered sugar donuts, roll the warm donuts in a bowl of powdered sugar until coated.  Cool on a wire rack.

This recipes made about 16 full size doughnuts depending on how you fill the pan.
To make the buttermilk glaze:
Whisk all ingredients together until smooth.  Dip a cooled doughnut into the glaze and turn it over to coat the other side.  Allow the excess glaze to drop back into the bowl. Place the glazed doughnut on a wire rack to dry.
To make the chocolate icing:
Combine the chopped chocolate and butter in a small saucepan.  Cook over medium-low heat until melted, stirring frequently.  Stir in the syrup, confectioners' sugar, vanilla and hot water.  Blend until smooth.  Iced cooled doughnuts as desired.  Additional water can be added to thin the icing if needed.
Recipe Notes
Adapted from a recipe published in the January 2012 Better Homes and Gardens – Chocolate Special Interest Publication
Nutrition information is calculated using an ingredient database and should be considered an estimate. When multiple ingredient alternatives are given, the first listed is calculated for nutrition. Garnishes and optional ingredients are not included.
Nutrition
Calories:
177
kcal
|
Carbohydrates:
27
g
|
Protein:
3
g
|
Fat:
7
g
|
Saturated Fat:
4
g
|
Polyunsaturated Fat:
0.3
g
|
Monounsaturated Fat:
2
g
|
Trans Fat:
0.01
g
|
Cholesterol:
13
mg
|
Sodium:
102
mg
|
Potassium:
156
mg
|
Fiber:
2
g
|
Sugar:
16
g
|
Vitamin A:
47
IU
|
Calcium:
46
mg
|
Iron:
2
mg
Here's a link to an inexpensive doughnut pan like the one I used in this recipe. Click on the photo for more information:
SRFD participates in the Amazon Affiliate Program.  If you decide to purchase something at Amazon after following my affiliate link, I receive a small commission, at no additional cost to you, which I use to pay for web hosting and services for this blog. 
Thanks to everyone who passed along favorite recipes for our upcoming pre-wedding cookout.  I love all the ideas and will run them by the bride-to-be.  I have my mother-of-the bride dress (on sale!  whoohoo!) but still need shoes – don't guess you can help me with that one?!?!
Have a wonderful week and thanks so much for stopping by!  Tricia