This post may contain affiliate links. Please read my disclosure policy.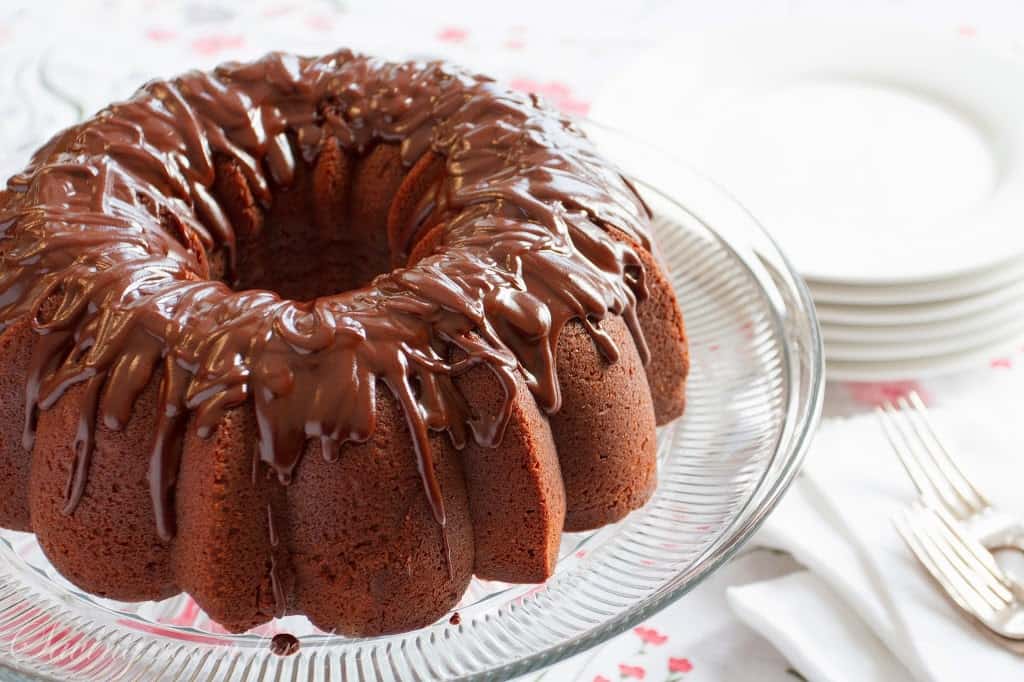 Chocolate Pound Cake ~ rich and decadent, this easy to make dessert is topped with a silky smooth chocolate glaze – perfect for the chocoholic in your life!
Raise your hand if you've ever had problems with your cable, Internet and telephone service provider.  Now keep those hands up if you've ever gotten so fed up you told them … you know … to stick it?  We had a big storm the other night and everything went out.  We called to report the outage and were told they didn't have any reports of outages in our area.  "Well I'm calling to tell you we have an outage."   I won't bore you with the details but after days of trying to get someone to come out, and hours on the phone trying their way first, we finally said forget it we'll get someone else.  We're lucky to have options I know there are some that don't.  Anyway – we're going to save $30 a month and have faster Internet, but it will be another week before everything is working again.
This is a problem if you're a blogger and need access to the Internet to write posts, visit favorite websites, Facebook, Pinterest, etc. and do on-line banking.  My son and daughter-in-law were kind enough to let me bring the laptop over and work on my post today.  The weirdest thing about being in the dark, is living without the Weather Channel.  I need my weather forcast.  It's a blessing I have a smart phone – or I would be seriously lost!  Have you ever tried living without TV, Internet and telephone for two weeks?  Yeah – an interesting experience.  I'll be back visiting and commenting soon – so please forgive me for disappearing/ going dark/ off the grid!
Thanks for reading my rant but I bet you came to see about this lovely, rich, decedent, simple, easy chocolate pound cake!  I don't blame you.  Chocolate cures a lot of things, maybe not the cable connection, but many others!
A few weeks ago I was invited to a friend's house to give a little class in baking a cake.  While I'm not a professionally trained baker I do have years of experience and am happy to share my tips – you know … pass it on.  And since many of my readers are young bakers or new moms, I thought I'd get into more detail with this post and share a few tips.
First if I'm going to the trouble to bake something homemade, I use good ingredients.  I've recently found this high-end cocoa and am very pleased with the results. I'm sold.
Over the years I've used Gold Medal, White Lily and others, but King Arthur is my favorite.  I've found unbleached works great in anything calling for all-purpose flour (sometimes referred to as AP flour).   I'm not an expert on the difference between bleached and unbleached flour, but there is tons of information on the web – so Google away.  If you are concerned be sure to sift before baking.
Hands down – I never use anything other than Land O'Lakes unsalted butter in all my baked goods.  Period.  I've made the mistake of using a more generic brand with terrible results.  This is especially important when making candy or fudge.  I always use unsalted because it has a much better flavor and I prefer being in control of the salt.  All my recipes are tested with unsalted butter.
If you don't bake often, make sure your baking powder and baking soda are fresh.  Whenever I open a new can or box (use aluminum-free baking powder) I mark the date on the can so I don't have to guess.  It is fairly cheap so I replace the can at least every six months.
I always use real – pure vanilla extract.  No imitation vanilla flavoring for me.  I love this brand but again it's not cheap.  Keep in a cool dark place and it will be good for a long time.
Domino sugar is the best, and they didn't pay me to write that.  They are welcome to send me some free sugar to use however!
Now that you've bought everything you need, next pre-measure and set out all your ingredients before starting.  The main reason I do this is to prevent a mistake or forget to add something like vanilla, etc.  I've done it and it is easy to do.  I usually read a recipe several times and even make notes if I'm going to make changes.  For young mothers I know how hard it is to bake and cook with a little one around.  The distractions are multiplied if you have several children along with a dog and a cat, etc.  Play it safe.  Get everything ready and measured before starting.  I may not be a young mom, but I am a grandmother.  Baking with a two year old is a little more confusing.
Pound cake recipes always tell you to cream together the sugar and butter until light and fluffy.  What does that mean exactly?  I tried to take some pictures that might help.  The room temperature butter was blended with the granulated sugar for a minute or two.  It's still grainy and not at all smooth.  It's not ready.
It still looks a bit sandy – beat some more.
It starting to look better but still not as smooth as it could be.  Why is this important?  Creaming the butter and sugar will give you a more consistent cake crumb and a lighter, loftier texture overall.  Beating adds air to the mixture.
This is more pale in color and appears puffier.  I think it's good.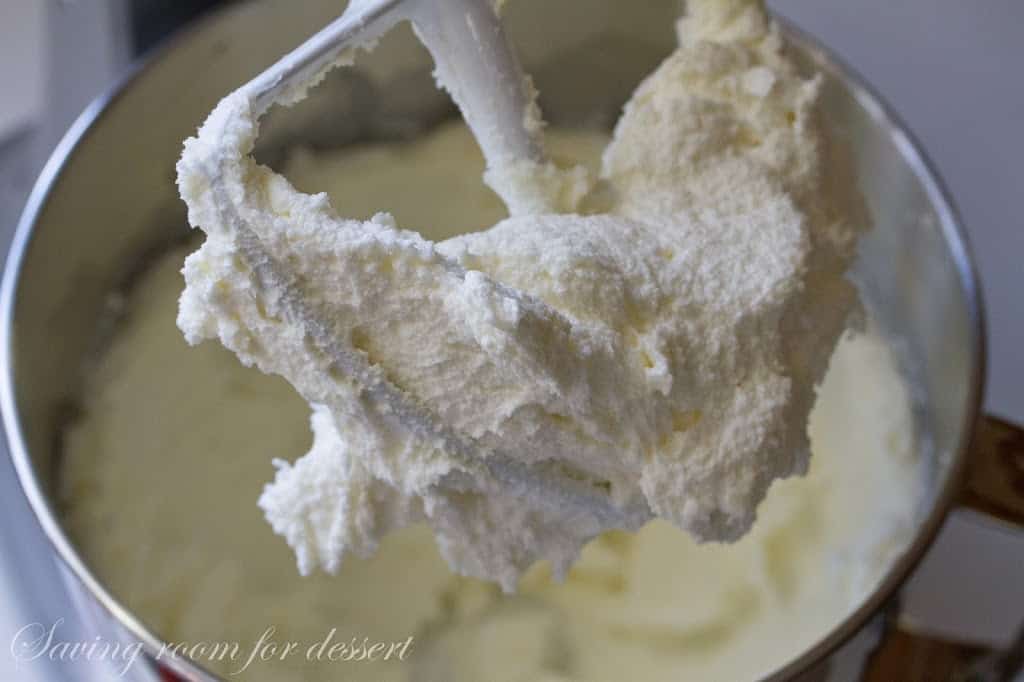 Not grainy, just light and fluffy.
I always put my eggs and butter out a few hours before baking.  Room temperature ingredients yield the best results but don't worry if you don't have time.  It will turn out good regardless.  If you need your butter softened, put it in the microwave at 30% power for about 1 minute.  Don't melt it, just softened enough to cream with the sugar.  When a recipe calls for multiple eggs to be added one at a time, I will often put them all in a container with a spout.  With the mixer running you can pour them in one at a time, beating well after each addition.  Don't walk off – this doesn't take long.  Just stay with the mixer and as soon as the yellow disappears, add another egg.  Give it another good 30 seconds of mixing, taking the time to scrape down the sides with a spatula.
Pound cake recipes usually say to add the flour mixture and buttermilk or other liquids alternatively. Be sure to start and stop with the flour mixture and beat just until combined, you don't want to liquefy the batter.  My husband adores buttermilk so I know it won't be wasted in our house.  But if you don't want to buy it there are alternatives to buttermilk.  There is a dry buttermilk powder from 
Saco
 available in the baking aisle of your favorite store or you can make your own by mixing vinegar or lemon juice with regular milk.  Problem solved!
Once you pour the batter in the prepared pan, take a dull knife and swirl the batter around until it is distributed evenly.  Always preheat your oven and it's a good idea to check and make sure the oven is level from time to time.  If you move it to clean or retrieve a cat toy, it may get out of whack.  Just saying – this has happened to me.
Yeah!  We baked a cake.  The aroma of baking chocolate cake should get your attention long before it burns, but still use a timer!
This cake would be perfect served just like this.
Maybe a sprinkle of sifted confectioners' sugar so it will be purdy.
But this is a special birthday cake for my choc-o-holic boss.  I added a rich, satiny, chocolate glaze to send it over the top.
So easy, so delicious and homemade.
Do you think he'll notice that I sliced it before bringing it to work?  Ha-ha I hope he doesn't mind but I had to show you the texture of this cake.  Dense is good sometimes and this is one of those times.  For that special someone in your life that loves chocolate – this is the cake!
Don't forget your PIN!
Rich and chocolatey and easy to make with a silky chocolate glaze.
Ingredients
For the cake:
1 ½

cup

unsalted butter,

room temperature

3

cups

granulated sugar

5

large eggs,

room temperature

2

teaspoons

pure vanilla extract

2

teaspoons

instant espresso powder,

dissolved in ¼ cup hot (not boiling) water

1

cup

buttermilk

(not non-fat)

2

cups

all-purpose flour

¾

cup

unsweetened cocoa powder,

not dutch-processed

½

teaspoon

baking powder

1

teaspoon

table salt
For the glaze:
¾

cup

semisweet chocolate chips

3

tablespoons

unsalted butter

1

tablespoon

light corn syrup

¼

teaspoon

pure vanilla extract
Instructions
To prepare the cake:
In a medium mixing bowl, whisk together the flour, baking powder, cocoa and salt. Set aside.

In the bowl of a stand mixer fitted with the paddle attachment, beat the butter and sugar until light and fluffy. Add the eggs, one at a time, beating just until the yellow yolk disappears. Beat in the vanilla until blended. Add the flour mixture alternatively with the buttermilk and espresso liquid, beginning and ending with the flour mixture.

Spray the Bundt pan with a non-stick baking spray such as Pam with flour. Pour the batter into the prepared Bundt pan and spread evenly.

Bake for 60 minutes or until a toothpick inserted into the center of the cake comes out clean. Allow the cake to cool for about 30 minutes then remove from the pan and invert onto a wire rack to finish cooling.

Once cooled dust with sifted powdered sugar, chocolate glaze or icing.
To prepare the satiny chocolate glaze:
Place a heat proof bowl over a pan of hot but not boiling water. Add the butter, chocolate chips and corn syrup. Heat and stir until the chocolate is melted and smooth. Add the vanilla and stir well. Drizzle over the cake and serve
Recipe Notes
(adapted from recipes on allrecipes.com)
Nutrition information is calculated using an ingredient database and should be considered an estimate. When multiple ingredient alternatives are given, the first listed is calculated for nutrition. Garnishes and optional ingredients are not included.
Nutrition
Calories:
746
kcal
|
Carbohydrates:
93
g
|
Protein:
9
g
|
Fat:
40
g
|
Saturated Fat:
24
g
|
Polyunsaturated Fat:
2
g
|
Monounsaturated Fat:
11
g
|
Trans Fat:
1
g
|
Cholesterol:
168
mg
|
Sodium:
320
mg
|
Potassium:
283
mg
|
Fiber:
4
g
|
Sugar:
68
g
|
Vitamin A:
1121
IU
|
Calcium:
83
mg
|
Iron:
3
mg
Are you a cook or a baker?  I guess it's no secret I prefer to bake, but since I also love to eat – I am a cook.  I guess I'll go cook something now and vacate my son and daughter-in-law's house and get off their Internet!  Thanks so much for stopping by and I hope you have a wonderful week!