This post may contain affiliate links. Please read my disclosure policy.
Deliciously rich, homemade Coffee Extract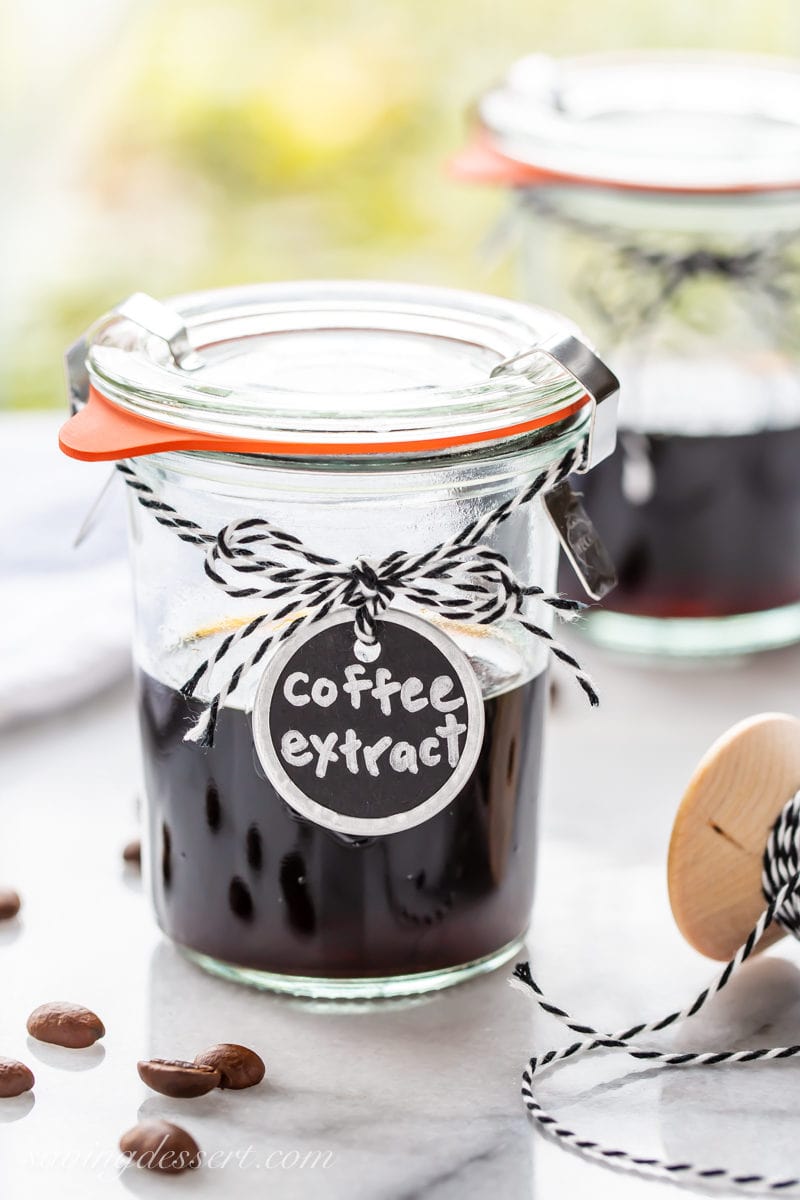 Who knew coffee extract could be such a handy and delicious addition to your kitchen pantry!
Coffee extract may be a bit obscure, but it should be moved to the front of the pantry right behind that big bottle of vanilla. This full-bodied extract will enhance just about any recipe but especially all things chocolate. Our extract is also a great replacement for espresso powder in all your sweet or savory recipes.
Unfortunately, this magical elixir is hard to find in the grocery stores, but you can order it on Amazon, of course! I say why bother buying it when you probably have everything you need to make it right at home.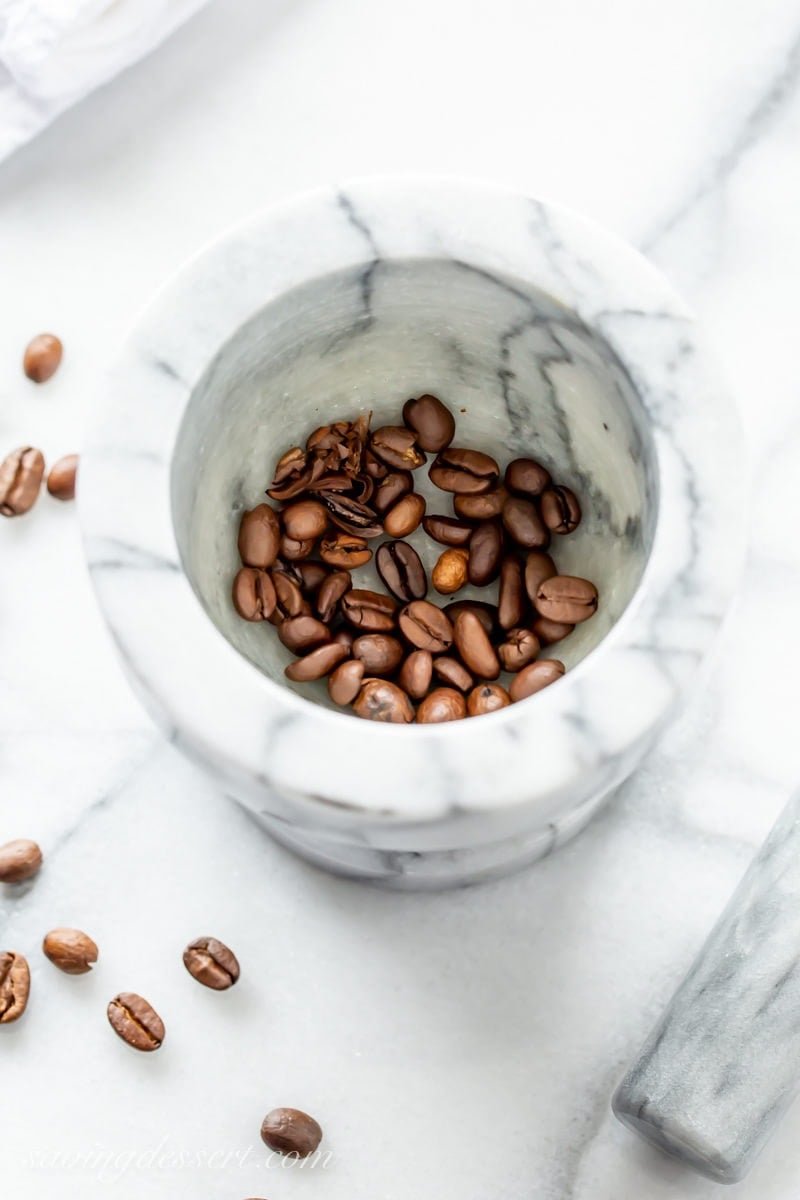 What special ingredients are needed to make this simple extract?
You don't need anything special to make homemade coffee extract. Two simple ingredients and a week at room temperature and you're done. This DIY extract uses just 1/4 cup of your favorite whole coffee beans. Lightly crush the beans using a mortar and pestle or rolling pin, then place in a clean jar with a tight fitting lid.
Pour 1 cup of your favorite vodka over the crushed coffee beans and swirl to combine.
Seal the jar and place in a cool dark location for a week. Once a day or so, swirl or shake the jar to mix the beans with the vodka.
How long does it take to make coffee extract?
After a week of swirling and shaking you'll have a beautiful, luscious black extract that can be used immediately or stored in a cool, dark location indefinitely. This extract enjoys a very long shelf life, so you'll probably use it up before you start to wonder how old it is. Our easy method is very similar to the process used to make homemade vanilla extract.
Pour the mixture through a fine mesh sieve to remove the beans. Line the sieve with cheesecloth before straining if you think it needs it, but it's not necessary. A little coffee bean dust is fine!
What kind of recipes are best for using coffee extract?
There's no limit to the way you can use this magic elixir. It's great as a one-to-one substitute for vanilla in all your baked goods. Add a teaspoon to a chocolate milkshake for a mocha rich treat or a heaping tablespoon to a steak marinade or beefy gravy. Use coffee extract in place of espresso powder in recipes. One teaspoon is about the same as 1-teaspoon espresso powder.
Mix 1 teaspoon with 1/4 cup hot water for 1/4 cup of brewed coffee. No need to turn on the coffee maker or brew a pot for a quick little pick-me-up.
Sweet or savory, I bet you'll find plenty of ways to use your coffee extract. Divide a batch into small jars and share with the coffee lover in your life. They'll love this thoughtful homemade gift!
Thanks for PINNING!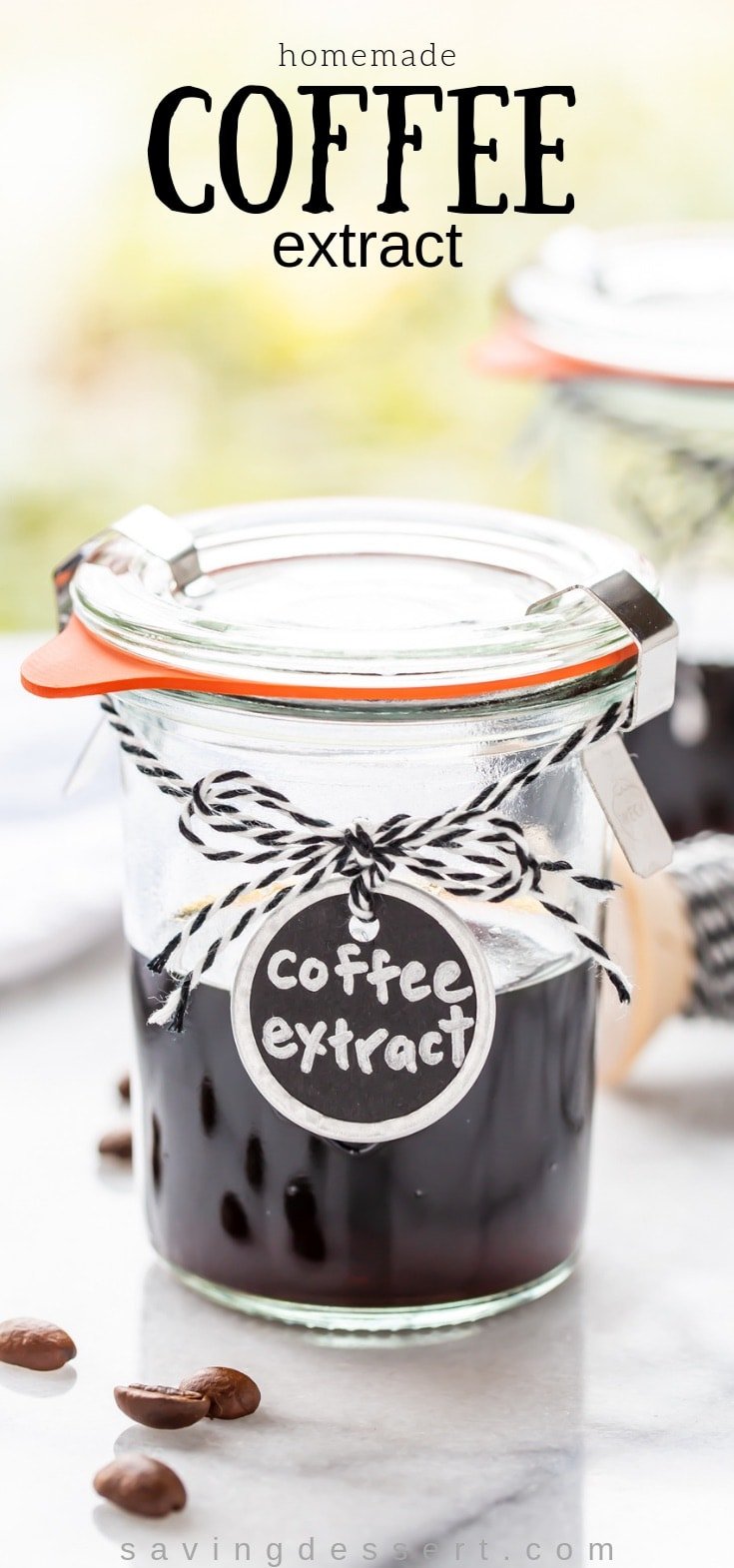 Let's be cooking friends! When you try our recipe please feel free to leave a comment on this post. I'm sure your experience and insights will help all our readers, and it helps me too. Also, if you're on Pinterest feel free to leave a comment and photo there if you have one! If you share on INSTAGRAM tag @savingroomfordessert so we can stop by and give your post some love. And we'd be very happy if you'd FOLLOW Saving Room for Dessert on FACEBOOK| INSTAGRAM| PINTEREST | TWITTER  and subscribe to our YOUTUBE channel for all the latest recipes, videos and updates. Thank you!!!
Helpful kitchen tools for making homemade Coffee Extract:

Once you have a mortar and pestle in your kitchen, you'll wonder how you ever lived without one! It's perfect for many small tasks like cracking coffee beans for homemade Coffee Extract, or for crushing herbs, spices or even pills. We use ours frequently and find it very effective.
Is it possible to have too many measuring cups with a spout? I think not! These inexpensive kitchen tools are very helpful in our everyday life.
Click on the photos for more information or to purchase from Amazon.
*Saving Room for Dessert is a participant in the Amazon Services LLC Associates Program ~ I earn a small commission, at no additional cost to you, which I use to pay for web hosting and services for this blog. Thanks for supporting SRFD!
PRINT THE RECIPE!
Deliciously rich, homemade Coffee Extract is a handy and delicious addition to your kitchen pantry!
Ingredients
¼

cup

whole, fresh coffee beans

1

cup

vodka
Instructions
Lightly crush or crack the coffee beans using a rolling pin or mortar and pestle. Transfer the beans to a small jar with a tight fitting lid. Add the vodka and seal the jar. Place in a cool, dark location for at least a week, swirling or shaking daily to mix.

Strain the coffee extract to remove the crushed coffee beans. Discard the beans. Seal the extract and store in a cool, dark location.
Recipe Notes
1 teaspoon coffee extract = about 1 teaspoon espresso powder
Substitute coffee extract for vanilla extract in baked goods. It's great added to most chocolate recipes and enhances the chocolate flavor.
Nutrition information is calculated using an ingredient database and should be considered an estimate. When multiple ingredient alternatives are given, the first listed is calculated for nutrition. Garnishes and optional ingredients are not included.
Nutrition
Calories:
554
kcal
|
Sodium:
2
mg
|
Potassium:
2
mg
|
Iron:
1
mg
Finally, here are a few recipes you might also enjoy: