This post may contain affiliate links. Please read my disclosure policy.
Once upon a time, there was a rich and creamy Key Lime Pie hanging out in the world of beaches and bathing suits … looking perfectly delicious.  Along came a cool, tall, salty and handsome Margarita and when they met, it was love at first bite.  I guess you know what happened next – fluffy, dreamy and Creamy Margarita Pretzel Bars!  Sometimes children get the best of both parents … and that's a good thing.  This dessert is a great thing!  
Many years ago when I first started blogging, I thought it would be a good idea to make a different pie each week for the entire year.  One of our favorites was a Margarita Pie with a Pretzel Crust.  I've received many emails over the years about that recipe, so I couldn't resist tweaking it a little and mixing it up in bar form.  You know how bloggers are … we can't leave a good thing alone!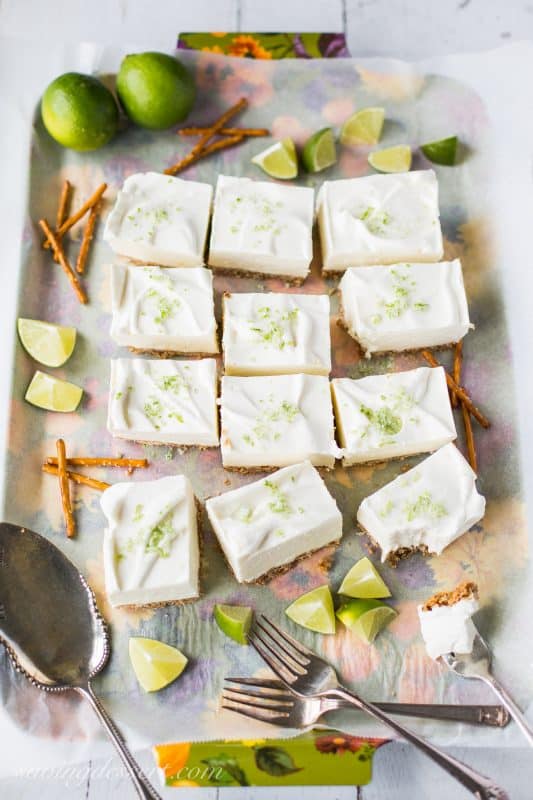 The crust is a combination of pretzels and graham crackers giving it a little sweet and salty crunch.  The filling is made with lots of fresh, tart lime juice, sweetened condensed milk, tequila, Cointreau and whipped cream.  Oh boy, oh boy – you're going to love this one!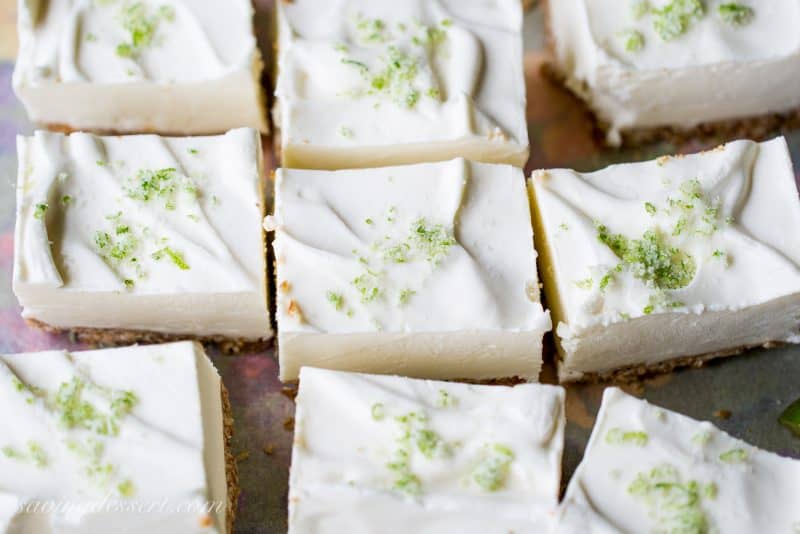 This dessert is best stored in the freezer until firm, then sliced and allowed to sit a room temperature for about 10 minutes before serving.  They are light as a cloud but pack plenty of lime flavor.  This recipe is not dramatically different from the original pie, so either recipe will work great.  I used orange flavored Cointreau in these bars which is a very nice upgrade from standard Triple Sec.  Cut the bars into about a dozen pieces and place in an airtight container in the freezer.  You'll have the perfect summer dessert ready to serve when company pops in!  Sprinkle with a mixture of lime zest and a little granulated sugar for a pretty and sweet presentation.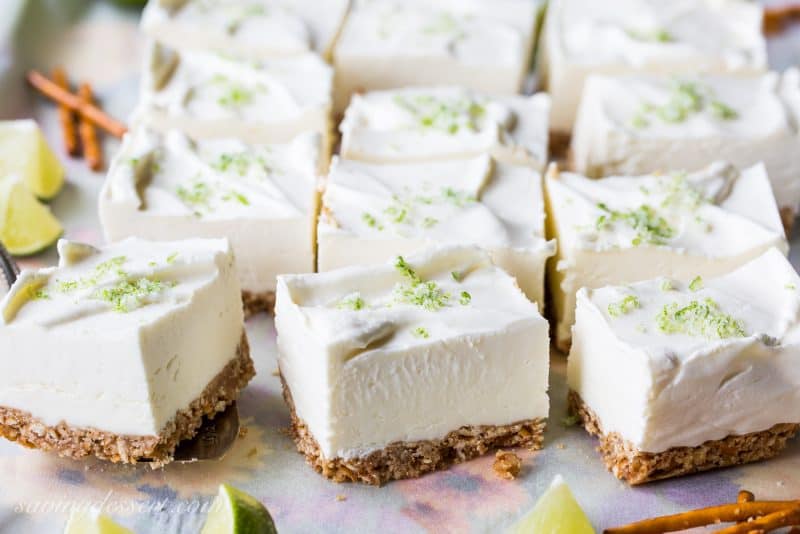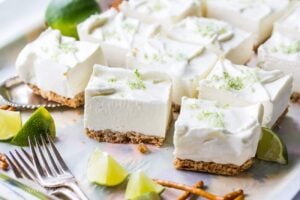 A creamy Margarita flavored dessert with a sweet and salty Pretzel Crust. Prefect for summer get togethers!
Ingredients
For the crust:
1/2

cup

unsalted butter,

melted

1/4

cup

granulated sugar

2 1/2

cups

pretzel sticks

2

sheets of graham crackers

(4 squares)
For the filling:
1

14 ounce can sweetened condensed milk

1/3 to 1/2

cup

fresh lime juice,

about 4 juicy limes

2

tablespoons

tequila

2

tablespoons

Cointreau

1

cup

heavy whipping cream
For the topping:
Zest of 1 lime

1

teaspoon

granulated sugar
Instructions
Preheat oven to 350 degrees. Lightly grease an 8x8-inch square pan. Line the pan with parchment paper leaving the extra hanging over the sides.

In a food processor combine the pretzels and graham crackers. Pulse until crushed. You should have about 1 1/4 cups of crushed pretzels and crackers. In a medium mixing bowl, combine the melted butter and the granulated sugar. Add the crushed pretzel mixture and stir until combined. Gently press the crust mixture into the bottom of the prepared pan. Don't press too hard! Bake at 350 degrees for 10 minutes. Cool completely before filling.

For the filling beat the cold whipping cream in a medium bowl until stiff peaks form. Set aside.

In another medium mixing bowl combine the sweetened condensed milk, lime juice, tequila and Cointreau. Gently fold in the whipped cream, just until blended.

Pour the filling into the prepare crust and freeze for about 4 hours or overnight. Garnish with a mixture of lime zest and sugar if desired. Cut into 9 to 12 servings.
Recipe Notes
These bars are best cut frozen, then allowed to rest at room temperature 10 minutes before serving. Store leftovers in a sealed container in the freezer.
Are you and your family taking a big vacation this summer?  Going anywhere fun?  I hope so – we don't have any plans to travel, because we're getting a new kitchen.  We've heard from a few families that said they'll come for a visit.  We'll get the guest bedroom ready and let them sleep with one of our dogs!  Such fun!
Thanks so much for stopping by!  Have a lovely weekend 🙂
Tricia