This post may contain affiliate links. Please read my disclosure policy.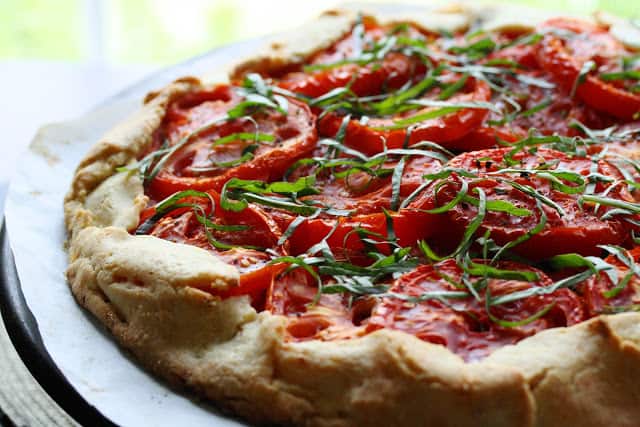 Tomatoes. Lovely and firm, red and juicy. This has to be our favorite summer fruit.
And this recipe is a new family favorite. The tomatoes are so sweet and the crust is amazing! It may not look like much, but it really hit the spot. This version is gluten free but substitute regular flour and you still have a terrific pie!
See the drops of water? It's rain, really it is! Our garden needs it and we pray for more. What a terribly hot summer this has been. But due to my husband's green thumb and dedication to predawn watering, we have lots and lots of tomatoes. My job? Pick 'em and get them ready to eat!
It's a tough job but I can do it. For this tart you'll need 2 pounds of tomatoes. I used 6 medium ripe tomatoes but feel free to substitute yellow tomatoes for half the red.
I've professed my love for pizza, many, many times. If I had only one food to eat on a desert island, I would pick a thick crust vegetable pizza. Fresh basil from the garden mixed with creamy fontina cheese and fresh oregano creates a flavorful base under the tomatoes. Garnish with more fresh basil and it seals the deal!
You want to know the biggest surprise in this recipe? Fresh kernel corn processed with Greek Yogurt … in the crust! Yeah – no kidding.
Just a little extra sprinkle of fontina cheese won't hurt anything 🙂
Rustic and delicious. Pies make me happy!
Rustic Tomato-Basil Tart
(Adapted from a Cooking Light Recipe 2003)
2 pounds ripe tomatoes, cut into 1/4-inch thick slices (about 6 medium)
1 1/2 teaspoons Sea Salt, divided
1 cup fresh corn kernels (I used 1 1/2 ears)
1 tablespoon fresh lemon juice
3 tablespoons plain Greek Yogurt (I used 2% fat – substitute sour cream if desired)
1 1/2 cups Gluten Free Flour Mixture or all-purpose flour (* see note below)
1/4 cup yellow cornmeal, plus 1 tablespoon cornmeal, divided
1/4 cup unsalted cold butter, cut into small pieces
1/2 cup thinly sliced fresh basil, divided
1/3 cup shredded fontina cheese, plus extra for sprinkling on top
1 tablespoon chopped fresh oregano
2 tablespoons cornstarch (or substitute all-purpose flour if desired)
1/2 teaspoon freshly ground black pepper
Place the tomato slices in a single layer on several layers of clean paper towels. Sprinkle with 1/2 teaspoon salt and let stand for at least 20 minutes. Blot dry with additional paper towels.
Preheat oven to 400 degrees
Add the corn, lemon juice and yogurt to a food processor or blender and process until smooth. In a separate medium bowl, combine the flour, 1/4 cup cornmeal and 1/2 teaspoon salt. Whisk until blended. Cut in the butter with a pastry blender until mixture resembles coarse meal. Add the pureed corn mixture and stir until a soft dough forms. Knead gently until it holds together, 3 or 4 times.
On a large clean slightly damp surface, slightly overlap 2 (16-inch) sheets of plastic wrap. Place the dough on the plastic wrap and press into a 6-inch disc. Cover with 2 more (16-inch) sheets of overlapping plastic wrap. Roll the dough (still covered) using a rolling pin into a 14 inch circle. Transfer the dough to a large baking sheet and freeze for about 10 minutes or until the plastic wrap can easily be removed. Line the baking sheet with parchment paper and sprinkle with 1 tablespoon cornmeal. Remove the top layer of plastic wrap and place the dough open face down on the cornmeal topped baking sheet. Remove the top layer of plastic wrap.
Combine 1/4 cup of basil, 1/3 cup fontina cheese and oregano. In a separate small bowl combine the cornstarch and 1/2 teaspoon salt. Spread the cheese mixture on the dough leaving a 1 1/2 inch border. Sift 1 tablespoon of the cornstarch mixture over the cheese. Arrange half the sliced, blotted tomatoes over the cheese. Sift the remaining cornstarch mixture of the top of the tomatoes. Layer the remaining sliced tomatoes on top. Fold the edges of the dough up toward the center and press to seal. Bake at 400 degrees for 35 minutes or until the crust is browned. Allow the tart to sit for 10 minutes before cutting. Sprinkle with freshly ground pepper, 1/4 cup basil and additional fontina cheese if desired.
*

Note – for an all purpose gluten free flour mixture we used the following recipe: 2 cups brown rice flour, 2/3 cup potato starch and 1/3 cup tapioca flour. Mix and store in an airtight container in the refrigerator.
It's hard to believe but our 6 month gluten free experiment is over. I've been putting together thoughts on this process and can't say for certain I am convinced one way or the other. I am happy we did it and will report back soon! Hope you have a terrific day and weekend. I hope you get a chance to try this recipe – it was really good. Thanks so much for stopping by!