This post may contain affiliate links. Please read my disclosure policy.
Ripe sweet bananas, real maple syrup, fresh berries and creamy dreamy creme fraiche.  This was way too easy and super delicious.  If you're looking for a lovely, semi-healthy dessert to impress your family and friends at your next cookout, please give this a try.  It's really a healthy dessert, unless you eat multiple helpings.  You can easily adapt this recipe to 2, 4 or 8 servings.  The recipe below will be for eight so adjust accordingly.
Creme fraiche (pronounced "CREM FRESH") can be found in the cheese section of better grocery stores.  I've always been fond of the Vermont brand of creamy goat cheese, so I thought we would give this a try. So happy this comes in small tubs!
Creme fraiche looks similar to sour cream or a good Greek Yogurt.  Scoop 8 ounces of the creme fraiche into a medium mixing bowl.  Stir lightly.
Add 1/4 cup real maple syrup.   Stir gently to combine but don't try to blend it completely.  Leave some streaks of syrup not incorporated.  Place the entire bowl, uncovered in the freezer while preparing the bananas.
Slice a ripe banana in half lengthwise but leave it in the peel.  Brush the cut side of bananas lightly with vegetable oil.  Grill until golden brown and turn to the peel side to continue cooking.  Cook until the banana is cooked through.
Since I was experimenting with this recipe for the first time, I used my Panini grill pan instead of the gas grill.  This banana got a little over caramelized but it tasted great.  To serve, gently remove the banana from the peel.  Spoon creme fraiche on top and garnish with fresh berries and mint if desired.
I decided to try cutting the bananas and put them on wooden skewers.  This method worked well and I really liked having them in bite size pieces.  I also cooked them on a lower heat which helped prevent the burn marks.
Scoop two large tablespoons of the semi-frozen  maple creme fraiche on top and drizzle with a little extra maple syrup.  Sprinkle with berries and serve!
Grilling the banana chunks on skewers worked great.  You can also put them in a dessert dish or pudding cup and completely freeze the creme fraiche to make something that looks just like maple ice cream.  Absolutely delicious!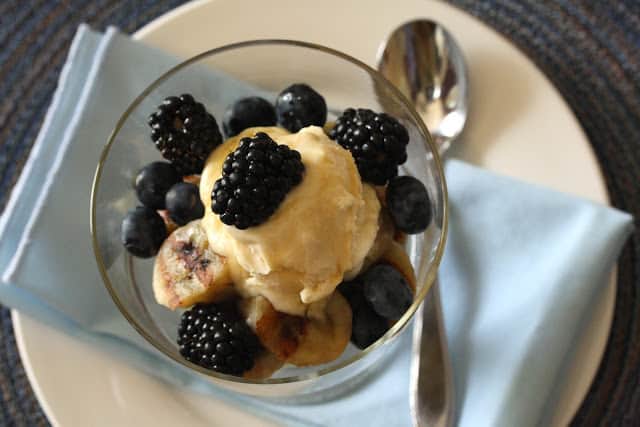 I could not believe how easy this was and how many different ways you can serve this sweet treat!
Grilled Bananas with Maple Creme Fraiche
Ripe sweet bananas, real maple syrup, fresh berries and creamy dreamy creme fraiche.
Ingredients
4

ripe bananas

halved and left in the peel

vegetable oil

8

ounces

creme fraiche

¼

cup

pure maple syrup

blackberries

blueberries, and or raspberries for garnish
Instructions
In a medium mixing bowl combine the creme fraiche and maple syrup.  Don't over mix and leave a few streaks of maple syrup visible.  Place the bowl in the freezer while preparing the bananas.  If you prefer the creme fraiche to be frozen like a soft ice cream, leave in the freezer for about an hour.

When ready to serve preheat the grill or grill pan.

Brush the cut side of the banana lightly with vegetable oil.  Grill with the cut side down until golden brown.  This will only take a few minutes.  Turn the banana over and continuing grilling on the peel side until cooked through.

Remove from the heat and set the banana aside to cool for a few minutes.  Using a table knife or spoon, remove the cooked banana from the peel and place on a serving dish.  Top with a large tablespoon of the maple creme fraiche and garnish with berries.  Serve immediately.
Recipe Notes
(adapted from a 2007 recipe by Bobby Flay)
Nutrition information is calculated using an ingredient database and should be considered an estimate. When multiple ingredient alternatives are given, the first listed is calculated for nutrition. Garnishes and optional ingredients are not included.
Nutrition
Calories:
126
kcal
|
Carbohydrates:
21
g
|
Protein:
1
g
|
Fat:
4
g
|
Saturated Fat:
3
g
|
Polyunsaturated Fat:
1
g
|
Monounsaturated Fat:
1
g
|
Sodium:
30
mg
|
Potassium:
234
mg
|
Fiber:
2
g
|
Sugar:
14
g
|
Vitamin A:
38
IU
|
Vitamin C:
5
mg
|
Calcium:
14
mg
|
Iron:
1
mg
~~~~~~~~~~~~~~~~~~~~~~~~
Last week really got away from me.  I went non-stop with things to do everyday.  Who could ever image that working my job and living life is more important than blogging? Go figure!   So happy Monday to all!  Hope you have a great week and thanks so much for stopping by.