This post may contain affiliate links. Please read my disclosure policy.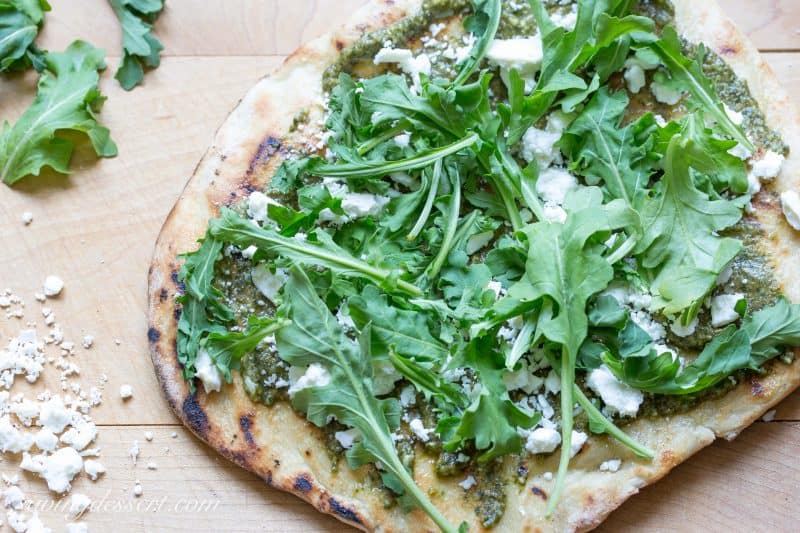 Pesto Grilled Pizza ~A full flavored pizza made with fresh Basil Pesto and peppery arugula. Feta cheese adds a nice creamy bite to this simple but tasty pizza.
Third times a charm … right?  That was true for me when it came to making grilled pizza.  My daughter-in-law Callie should be proud!  Twice before I've made homemade dough for pizza and tried to grill it.  The first one turned out okay but not blog worthy.  And that was only after I had forgotten to oil the grill and the first crust stuck and burned.  Not pretty.  I shared half the dough with my son Patrick and DIL Callie and they grilled their pizzas with much better luck.  Instead of boring you with all the things you should not do when making Grilled Pesto Pizza with Arugula and Feta, I've included "helpful" tips in the notes section of the recipe, based on experience, and multiple pizza experiments!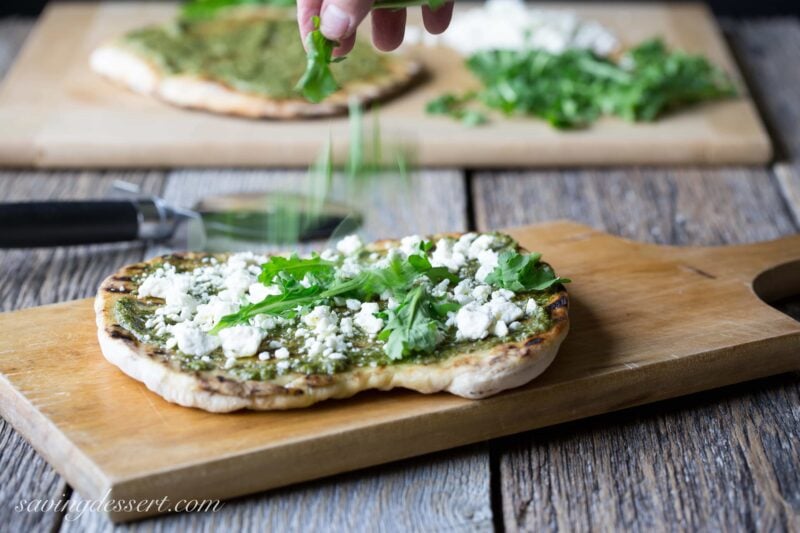 I've been enjoying more full flavored food lately.  The Sriracha Fish Tacos, Sweet Corn Salsa and now this standout pizza.  Pesto alone is amazing but spread on a grilled pizza it becomes addictive.
This is a very green post today! If you're one of those people that can't imagine pizza without red sauce, trust a recent convert when I tell you, pizza with pesto is nothing short of memorable.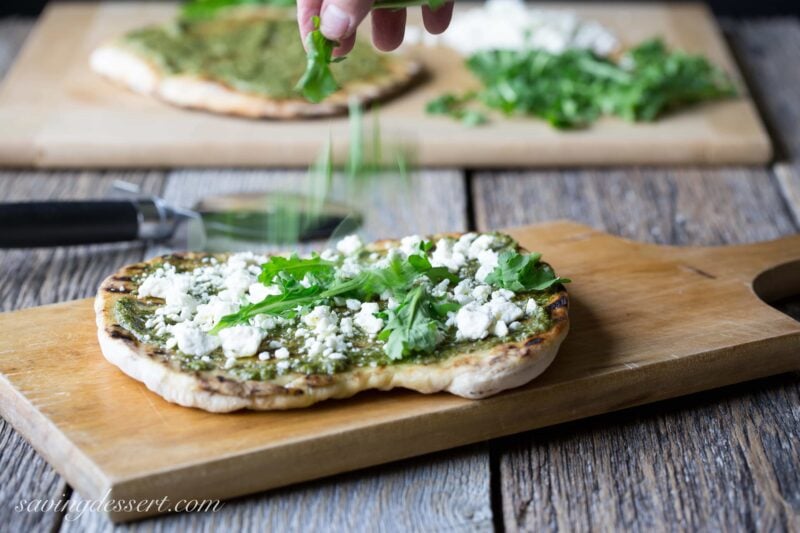 Grilled Pesto Pizza with Arugula and Feta
Total Time:
4

hours
5

minutes
A full flavored pizza made with fresh Basil Pesto and peppery arugula. The dough is best made 1 or 2 days ahead of time. It freezes well and makes a great traditional oven baked crust too.
Ingredients
For the sponge:
1 ½

teaspoons

active dry yeast

1 ½

cups

tepid water

about 80 degrees

2

tablespoons

olive oil

2 ¼

cups

unbleached all-purpose flour
For the pizza dough:
The sponge

2

cups

all-purpose flour

1

scant tablespoon table salt
For the toppings:
4

balls of pizza dough

2

cups

arugula

1

cup

crumbled Feta

1

cup

prepared pesto

(see link in NOTES)
Instructions
To make the sponge:
Add the yeast to the bowl of a stand mixer. Add the water stirring to dissolve the yeast. Allow the yeast to rest for 5 minutes or until it becomes creamy. Add the olive oil and then gradually stir in the flour with a wooden spoon or rubber spatula.

Scrape down the sides of the bowl, cover and let the sponge rest and rise in a warm place (about 85°F) for 1 ½ hours. I use my microwave as a proofing oven. It is very warm inside when I keep the task light on underneath. Be sure your dough is free from drafts. The sponge should double in volume and become very bubbly.
To make the dough:
Use a rubber spatula to deflate the sponge and fit the mixer with the dough hook. Add 2 cups of flour and the salt to the sponge and mix on low for 2 or 3 minutes. Increase the speed to medium and add a spoonful of flour, one at a time, if needed to help bring the dough together. It should be cleaning the sides of your mixer bowl. Continue to knead on medium for another 5 minutes or until the dough is smooth and elastic.

Transfer the dough to a lightly oiled mixing bowl and turn it to make sure all sides are moistened with oil. Cover the bowl with plastic wrap and allow it to rest in a warm location for another 1 ½ hours. The dough should double in volume and hold an impression when you gently poke it with a finger. 

Turn the dough out onto a lightly floured work surface. Divide the dough into four pieces and cover the pieces set aside to work with later. Shape the dough into a ball and then flatten into a disk. Roll the dough into a 8-9 inch circle using a rolling pin. If the dough snaps back and doesn't hold it's shape, let it rest a few minutes then try again. Transfer the dough to the pizza peel or rimless baking sheet.
To make the pizzas:
Preheat your grill as hot as you can get it. Working quickly, oil the grate of the grill then slide the pizza dough onto the grill. Cook for a minute or two until it is cooked on the bottom and the top starts to bubble up. Quickly turn the pizza dough over and continue grilling until done, 2-4 minutes more.

Repeat with the remaining dough. Top each with pesto, arugula and feta cheese. Serve immediately.
Recipe Notes
If you want to make the dough ahead of time wrap each piece of fully risen dough in plastic wrap, then place it in a Ziplock bag. Store it in the refrigerator for up to 2 days.
You can also wrap the dough tightly and freeze until needed. To thaw the frozen dough, place it still wrapped in the refrigerator overnight. Both frozen and refrigerated dough should be allowed to come to room temperature before shaping - about 2 hours.
Generously grease the grate of your grill with vegetable oil. Pour oil into a small cup or bowl. Fold a paper towel to fit into the bowl. Use the oil soaked paper towel and tongs to grease the grate. Grease again in between crusts.
Use a rimless baking sheet or pizza peel dusted with cornmeal to transfer the pizza dough onto the grill.
Have an oven mitt and tongs ready when grilling the pizza dough
Click HERE to get the recipe for our easy BASIL PESTO
Nutrition information is calculated using an ingredient database and should be considered an estimate. When multiple ingredient alternatives are given, the first listed is calculated for nutrition. Garnishes and optional ingredients are not included.
Adapted from a recipe by: Steve Sullivan, published in Baking with Julia 
Nutrition
Calories:
902
kcal
|
Carbohydrates:
110
g
|
Protein:
24
g
|
Fat:
40
g
|
Saturated Fat:
10
g
|
Polyunsaturated Fat:
2
g
|
Monounsaturated Fat:
7
g
|
Cholesterol:
38
mg
|
Sodium:
1019
mg
|
Potassium:
245
mg
|
Fiber:
6
g
|
Sugar:
3
g
|
Vitamin A:
1647
IU
|
Vitamin C:
2
mg
|
Calcium:
325
mg
|
Iron:
7
mg
Thanks so much for PINNING!

Please don't let the lengthy directions scare you off.  The pizza dough is super simple to make – it just takes time for the yeast to do its thing.  The pizza crust is wonderful and worked better than the other crust I tried to grill.  The basil came from our garden and I hope it will continue to produce.  It has been very hot so it may not last much longer.  No matter how much we water, the blazing sun takes it's toll.  I would love to freeze pesto sauce to use this winter.
Hope you had a wonderful weekend!  Thanks so much for stopping by and happy Monday!
Tricia
SaveSave
SaveSave
SaveSave
SaveSave
SaveSave
SaveSave
SaveSaveSaveSave