This post may contain affiliate links. Please read my disclosure policy.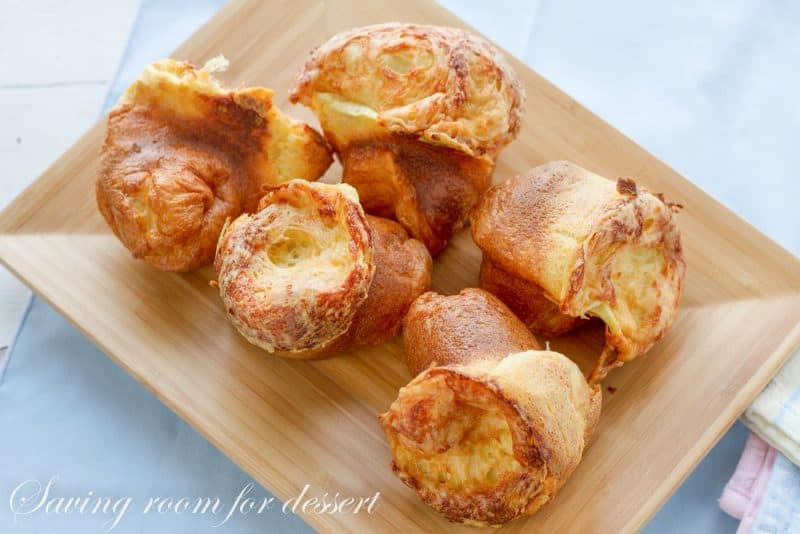 My husband and I 'popped' into the mall the other day and happened to walk by a kitchen store.  While I normally just walk on by (yeah right), this store was clearing out their entire inventory and will reopen as a different kitchen store in April.   Don't you just love a good deal?  I certainly do and when I saw popover pans on sale for 50% off the already marked down price, well you know I had to buy one.  I try not to buy too many specialty pans like the Madeline cookie and donut pans I have sitting on the shelf.  Had I known what I know now, I may have paid full price for this popover pan.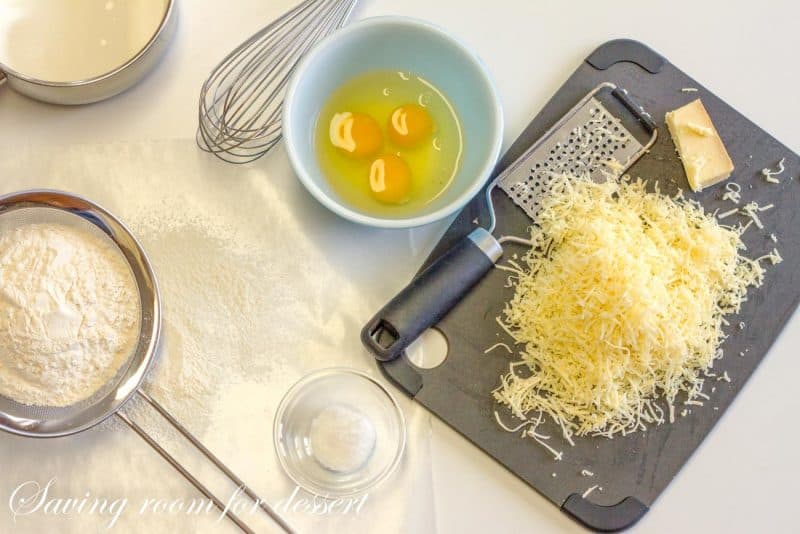 Popovers are magical and made with normal pantry ingredients.  Based on my research they are highly adaptable and sometimes include herbs, cheese, or sugar and cinnamon.  Did you know you can add Prime Rib drippings and make Yorkshire puddings?  Some say popovers are just an American version of Yorkshire pudding.  Whatever, I love these things!
This recipe includes a healthy portion of Gruyére Cheese which is a slightly salty, almost sweet, yellow cheese.  The flavor of Gruyére varies greatly depending on the age.  I used an older, aged cheese that has a more assertive, intense and complex flavor.  For this recipe I would buy the good stuff.  You know everything gets better with age, like me!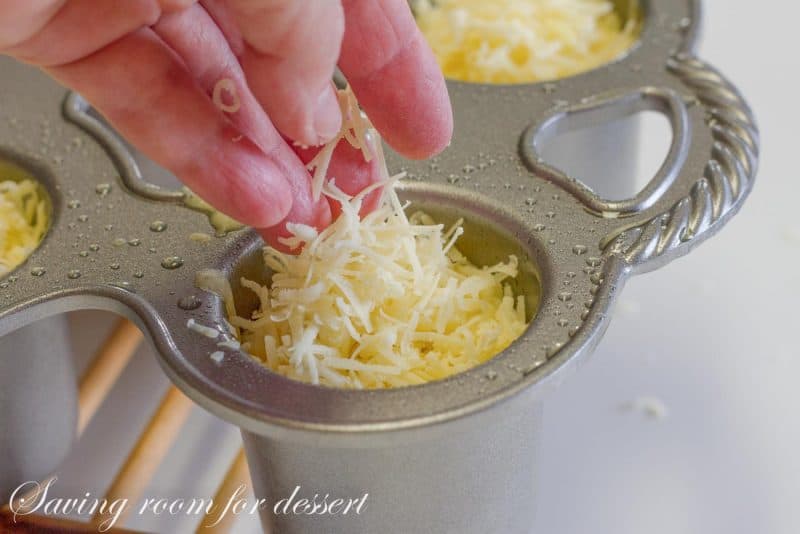 Heating the pan in a very hot oven is key to making popovers 'pop' out of the pan.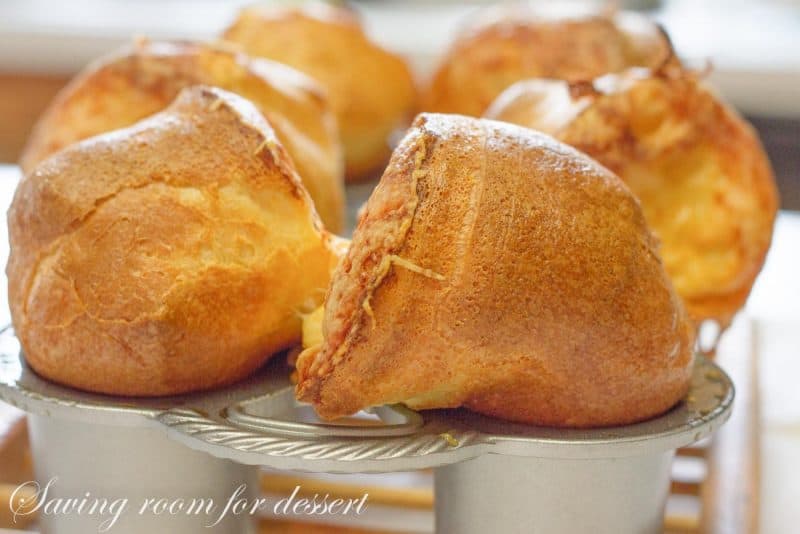 Mine turned out like telescopes, rising up out of the pan, then taking a left.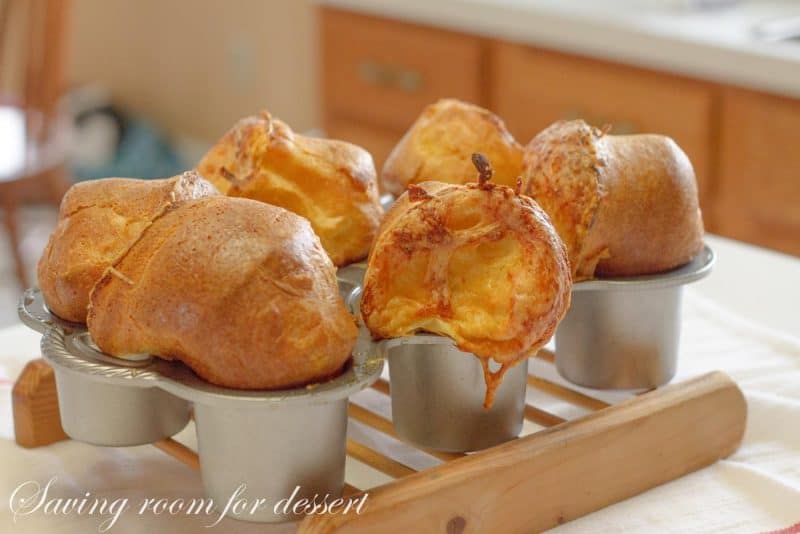 Look at the yummy cheese – these things are wonderfully delicious, easy, fun and interesting.  I'm not sure if this is typical but when I pulled them out of the pan I thought they would go all the way to the bottom.   But several only had a little nub underneath.  How funny.  I could actually see them rise in the oven.  I was mesmerized and watched them for a long time.  I should have just pulled up a chair.  I wonder what makes them 'pop' and crawl out of the pan like that?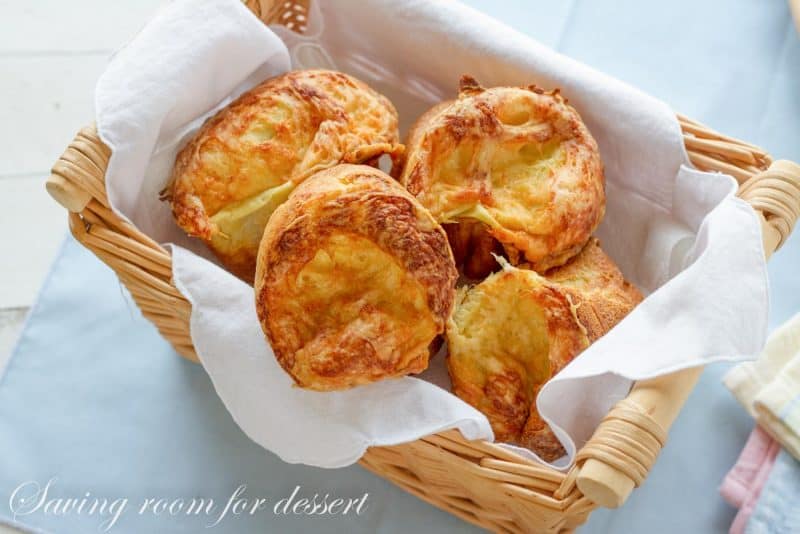 Served warm from the oven, you can slather them with butter or other spreads, but I don't think they need anything.  The cheese flavor is perfect with the egg-y bread.
A light hollow middle means these were a success!  Since they are light and not very dense, I guess I could eat two, or three – you know while they are warm – yum~!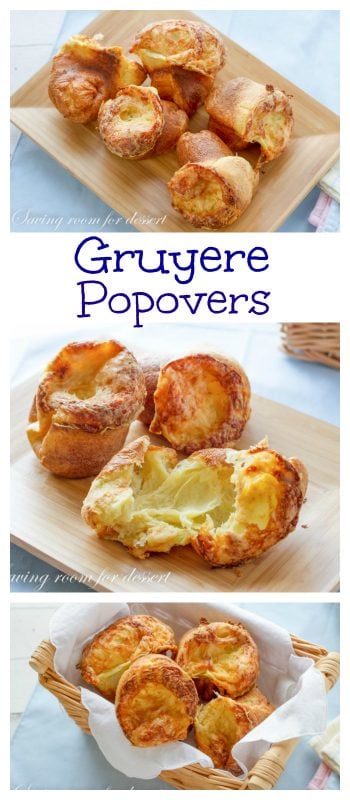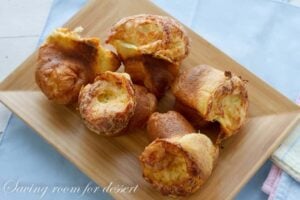 Cheesy and flaky and so delicious!
Ingredients
1 ½

cups

whole milk

1 ½

cups

all-purpose flour

1 ½

teaspoon

sea salt

3

large eggs,

room temperature

3

ounces

aged Gruyére cheese,

grated
Instructions
Place a 6-cup popover can in the bottom third of an oven. Place a baking sheet on the rack underneath to catch any drips. Preheat the oven to 400°F.

Sift together the flour and salt through a fine mesh sieve. Set aside.

In a large mixing bowl, whisk the eggs until frothy, about 2 minutes.

Pour the milk into a small saucepan and heat on medium-high until the milk just starts to bubble. Remove from the heat and slowly drizzle the milk into the beaten eggs, whisking constantly to prevent the eggs from cooking. Keep slowly adding the milk until it is all incorporated into the eggs. Gradually whisk in the flour mixture just until blended.

Remove the popover pan from the oven (it should have preheated at least 15 minutes) and spray the cups with a nonstick vegetable spray. Divide the batter between the 6 cups filling them about three-fourths full. Sprinkle each cup of batter with 1/6th of the grated cheese.

Immediately return the pan to the oven and bake for 15 minutes. Quickly open the oven and rotate the pan 180°F, then reduce the oven to 350°F. Continue baking the popovers until puffed and browned, about 35 minutes. Do not open the oven again after rotating the pan.

Remove the popovers from the pan and serve immediately.
Recipe Notes
Recipe may be doubled easily. If baking in the same pan be sure to wipe out any excess fat from the cups before adding new batter. Also preheat the pan in the same manner mentioned above.
Recipe adapted from BLT Steak via Williams-Sonoma
Nutrition information is calculated using an ingredient database and should be considered an estimate. When multiple ingredient alternatives are given, the first listed is calculated for nutrition. Garnishes and optional ingredients are not included.
Nutrition
Calories:
241
kcal
|
Carbohydrates:
27
g
|
Protein:
12
g
|
Fat:
9
g
|
Saturated Fat:
5
g
|
Polyunsaturated Fat:
1
g
|
Monounsaturated Fat:
3
g
|
Trans Fat:
1
g
|
Cholesterol:
104
mg
|
Sodium:
687
mg
|
Potassium:
156
mg
|
Fiber:
1
g
|
Sugar:
3
g
|
Vitamin A:
352
IU
|
Calcium:
230
mg
|
Iron:
2
mg