This post may contain affiliate links. Please read my disclosure policy.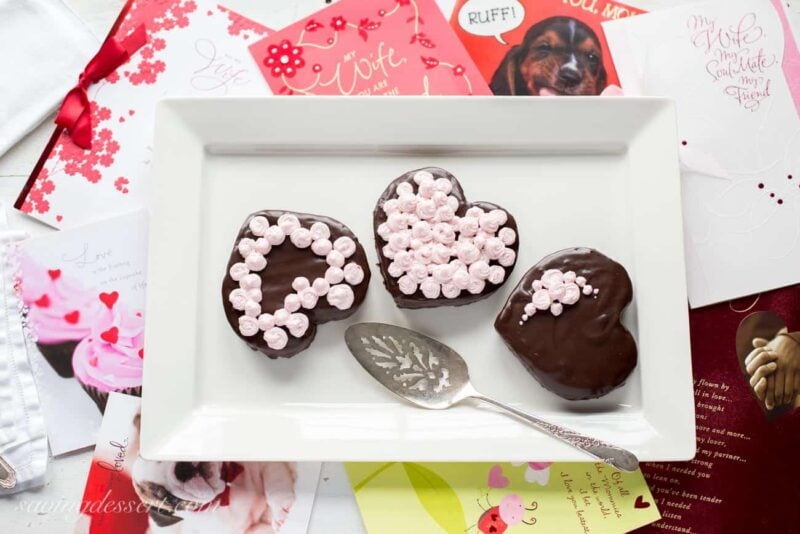 Do you save cards and letters?  I always seem to have a drawer full of anniversary cards, birthday cards, Valentine's Day cards and mother's day cards.  I like to pull them out from time to time and see if there are any repeats – you know … when you buy and give the same card two years in a row.  I've been known to do that myself – but that just proves when you find the right card, you have to buy one, or two.  While my husband and I don't make a big deal out of Hallmark holidays like Valentine's Day, I do want him to know how much he means to me.  We usually exchange cards and enjoy a few stories about the early days, and sometimes I try to make him a special treat like these Heart Shaped Chocolate Cakes.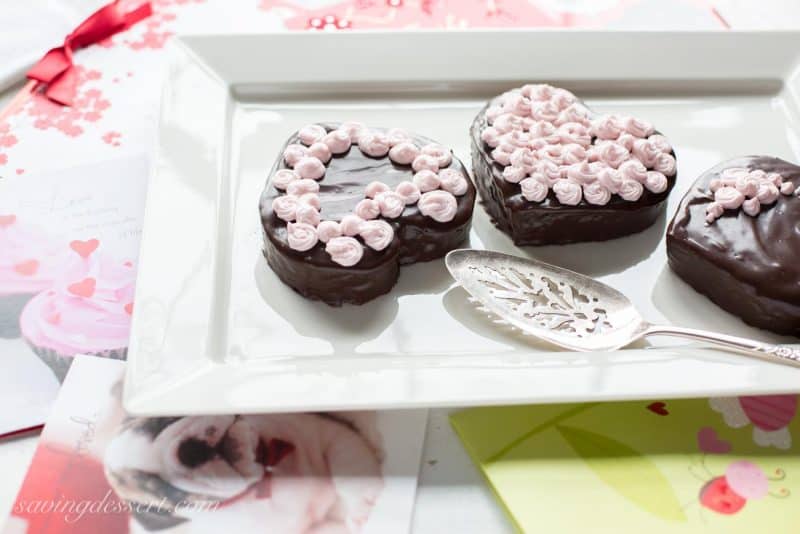 Have you seen the cute little paper cake liners in your local Home Goods or grocery store?  I came across some Home Brands Heart Shaped Pans and just had to give them a try.  They're about 4 1/2 inches wide and long, perfect for a little treat without  having too much leftover.
Don't let my less than stellar piping job dissuade you from trying this delicious moist and easy chocolate cake.  Double the recipe and make an 8×8 or 9×9 inch cake.  I used a simple chocolate ganache frosting and then attempted to decorate the hearts with a raspberry buttercream – they are supposed to look like mini-roses but the frosting got a little thin.  But … no worries, they tasted great!
This recipe, which is adapted from King Arthur Flour, is egg and dairy-free.  Who knew such a deliciously moist and tender cake could be made with water and vinegar?  You don't even need an electric mixer for this one.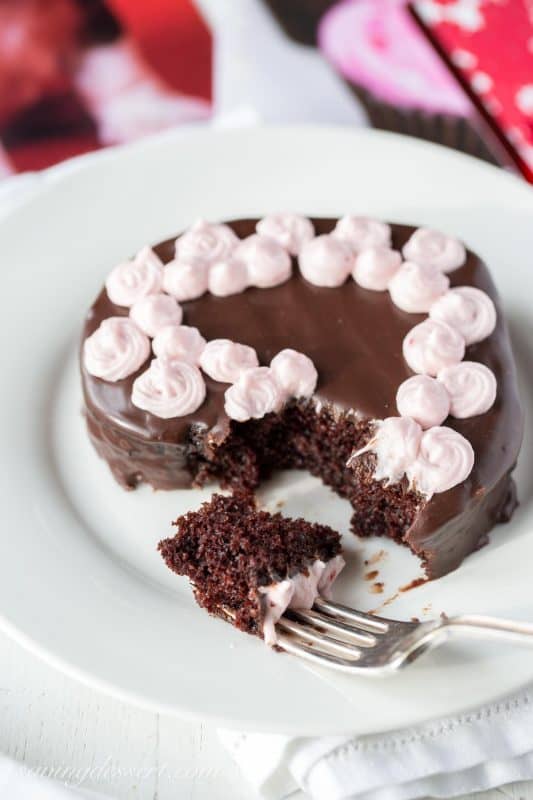 Don't forget your PIN!
A deliciously moist chocolate cake that is dairy and egg-free. No mixer required and it's great eaten warm or cold. A truly versatile recipe great baked as a cupcake or in a pan.
Ingredients
3/4

cup

unbleached all-purpose flour

1/2

cup

granulated sugar

2

tablespoons

good quality all-natural cocoa

1/4

teaspoon

salt

1/4

teaspoon

espresso powder

1/2

teaspoon

baking soda

1/2

teaspoon

pure vanilla extract

1 1/2

teaspoons

white vinegar

3

tablespoons

vegetable oil

1/2

cup

cold water
For the ganache:
3/4

cup

chocolate chips

1/3

cup

half-n-half
Instructions
Preheat oven to 350 degrees.

Place the paper pans on a baking sheet and set aside.

In a medium mixing bowl whisk together the flour, sugar, cocoa, salt, espresso powder and soda.

In a separate small bowl, whisk together the vanilla, vinegar, oil and water. Pour the water mixture into the dry ingredients and blend with a spatula just until combined.

Divide the batter into three heart shaped pans and bake for 25 minutes or until a toothpick test comes out mostly clean, with just a moist crumb or two.

Serve warm in the pan or cool and top with a simple chocolate ganache. To remove the cooled cakes from the pan, cut the paper liners with scissors, gently remove and discard.

For the chocolate ganache, combine 3/4 cup chocolate chips and 1/3 cup half-n-half in a microwave safe bowl. Heat on high for 1 minute and stir to melt. Repeat if needed 30-seconds at a time until smooth. Drizzle over cooled cake.

Refrigerate left-overs.
Recipe Notes
Double the recipe to bake in a lightly greased 8" square or 9" round pan.
Recipe adapted from King Arthur Flour
Looking for more inspiration?
Raspberry & Chocolate Cookie Stack Cakes
Raspberry Macarons – The Italian Method
Do you have big plans for Valentine's Day?  I hope you enjoy whatever comes along.  Thanks so much for stopping by – have a fantastic week!
Tricia