This post may contain affiliate links. Please read my disclosure policy.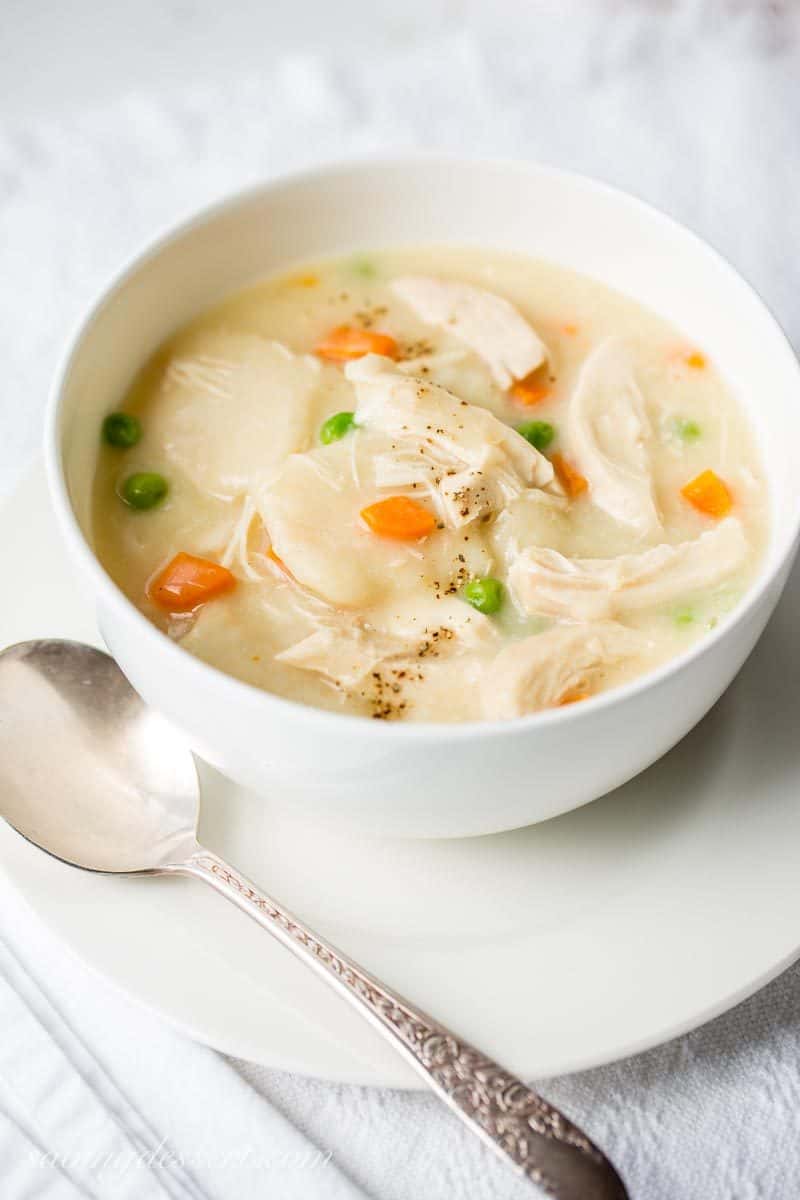 Homemade Chicken and Dumplings ~ a deliciously rich homemade chicken stock is the base of this warming, healing pot of pure southern comfort food.
All the kids are probably back in school now, sharing germs and viruses. Also, with the change in the weather, next come the colds, and seasonal flu bugs.  When the crud strikes at your house, you'll want to make a pot of this old-fashioned Homemade Chicken and Dumplings to help everyone feel better.
The dumplings are made with a biscuit-like dough, rolled out and cut into 1 1/2″ squares then boiled in a rich chicken broth or stock.
The dumplings cook up pillowy soft, but are hearty and filling.  This big pot goes a long way and leftovers are completely delicious so don't even think of cutting the recipe in half!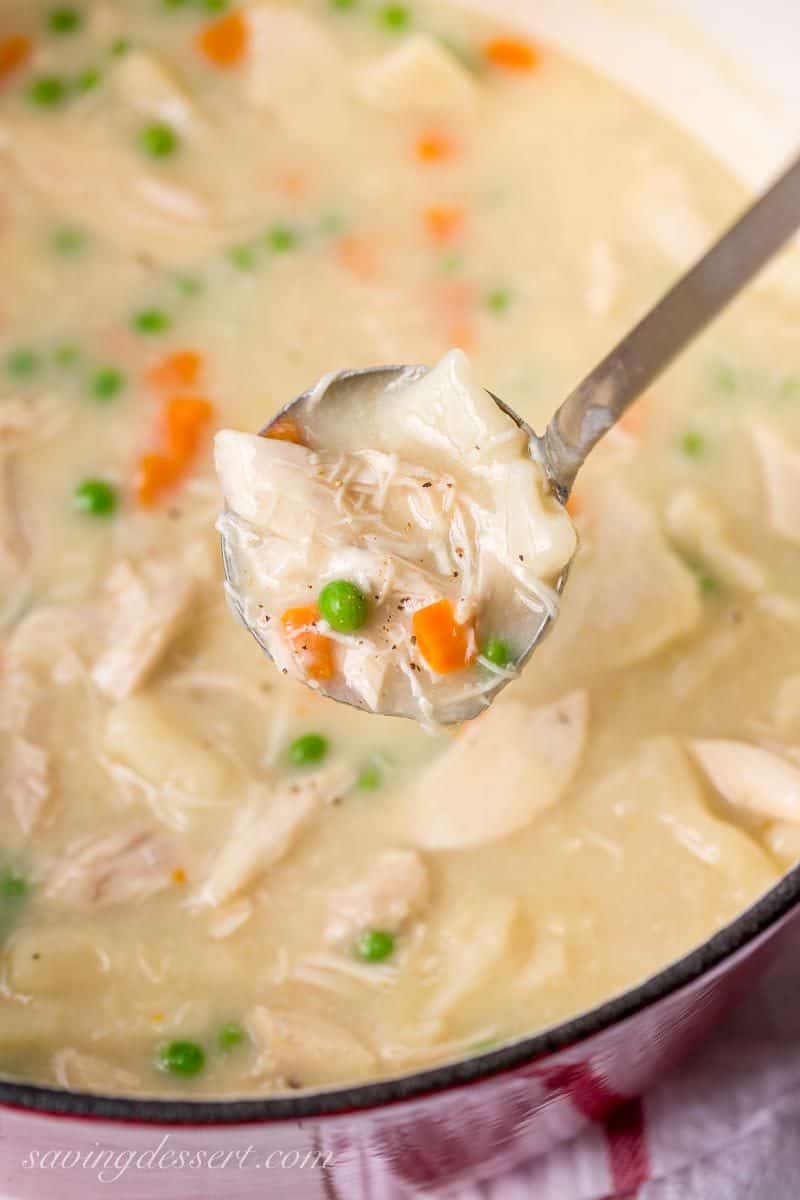 Chicken and Dumplings has been around since the Great Depression and is a very popular comfort food dish in southern cuisines.
There are many variations to this recipe with dumplings made as I've presented here, or by using a drop biscuit method for round puffy dough balls.  It can also be made casserole style but the basics are still the same.  Chicken broth or stock, shredded chicken and doughy dumplings are the basic ingredients, but I've also added a chopped carrot and frozen peas for a little color too.
If you've never made your own chicken stock, I highly recommend giving it a try for this and other chicken soup recipes.
I've included a super easy, low-sodium, no fail recipe below, and I promise you won't be sorry.  Chicken stock is made by combining bone-in, skin on chicken pieces, vegetables and water.  The ingredients are cooked until fall-off-the-bone tender, then removed from the broth.  The vegetables, chicken bones and skin is discarded, the meat shredded, and the broth refrigerated overnight.  The fat from the chicken will rise to the top of the broth and can easily be removed leaving  you with a low-calorie, salt free, rich flavored chicken stock that can be used immediately or frozen until needed.
This is the perfect time of year to make a pot of stock and have it ready in the freezer when needed.  But no worries,  you can make these Chicken and Dumplings with a carton or two of your favorite store bought broth and a shredded rotisserie chicken too!
Chicken and Dumplings is thickened with the flour used to roll out the dumplings.
If you use a drop-biscuit method instead, you may need to thicken the broth with a cornstarch and water mixture.  Since I used a low-sodium homemade chicken stock, these Chicken and Dumplings will need seasoned with plenty of fresh ground black pepper and a little salt to taste.
You won't believe how tender the chicken pieces are in this recipe.
And when you make the stock and chicken ahead of time, the remaining steps come together in about 30 minutes.  Add another 30 minutes cooking time and dinner is done.  This is the perfect, thoughtful gift for a sick friend or family member too.
Thanks for PINNING!
Let's be cooking friends! If you make our recipe please feel free to leave a comment and a star rating on this post. I'm sure your experience and insights will help all our readers, and it helps me too. Also, if you're on Pinterest feel free to leave a comment and photo there if you have one! If you share on INSTAGRAM tag @savingroomfordessert so we can stop by and give your post some love. And we'd be very happy if you'd FOLLOW Saving Room for Dessert on FACEBOOK| INSTAGRAM| PINTEREST | TWITTER  and subscribe to our YOUTUBE channel for all the latest recipes, videos and updates. Thank you!!
PRINT THE RECIPE!
Homemade Chicken and Dumplings
A deliciously rich homemade chicken stock is used for the base of this warming, healing pot of pure southern comfort food.

Ingredients
For the Homemade Low-Sodium Chicken Stock:
1

whole chicken cut-up

(you can usually find a package with 2 breasts, 2 thighs, 2 wings and 2 drumsticks)

6

quarts

water

(or enough to cover the chicken and vegetables)

4

large carrots,

cut into large chunks

4

stalks

celery, green tops included,

cut into large chunks

1

large

onion,

quartered
For the Dumplings:
2

cups

unbleached all-purpose flour,

plus extra for rolling

½

teaspoon

baking powder

½

teaspoon

salt

2

tablespoons

cold butter

cut into ½" pieces

1

cup

whole milk

scant

8

cups

chicken broth or stock

homemade or low-sodium store-bought

4

cups

cooked shredded chicken

1

large carrot

diced

⅓

cup

frozen peas
Instructions
To make the chicken stock:
Chicken stock can be made the day before it's needed.  In a large stock pot add the chicken, vegetables and enough water to cover by an inch or two.  Heat on medium and bring to a low boil.  Cover the pot, turn the heat to low and cook until the chicken is fall-off the bone tender, about 1 ½ to 2 hours.  

Carefully remove the chicken pieces from the broth, and cool, then remove the skin and bones and discard. Pull the chicken meat apart into large pieces. Store the shredded chicken in an airtight container in the refrigerator until ready to use.


Discard the vegetables and strain the broth into a large container. Refrigerate overnight or until ready to make the dumplings. If you chill the stock overnight all the fat will congeal on the top and is easily removed and discarded using a slotted spoon. Set aside 2 quarts, or 8 cups of broth for this recipe and freeze the remaining stock in zip lock bags in 2 or 3 cup portions. Label each storage bag and freeze laying flat if possible.
To make the dumplings:
Put 2 quarts (8 cups) of chicken broth/stock in a large dutch oven or saucepan. Heat on medium while making the dumplings.

In a large mixing bowl combine the flour, baking powder and salt.  Cut in the butter using a pastry blender or fork until it's the size of small peas. Add the milk and mix with a fork until a dough ball forms.

Heavily flour a clean work surface.  Prepare a rimmed baking sheet or plate, also dusted heavily with flour. Roll out the dough into a large square using a rolling pin until it's about ⅛ inch thick.  Keep adding additional flour as needed to prevent the dough from sticking on the work surface or rolling pin.  Cut the dumplings into pieces about 1 ½-inches square. Place each dumpling on the prepared pan or plate.  Sprinkle more flour as needed in between the layers to prevent sticking.

Turn the heat up under the stock to medium-high and bring to a boil. Add the chopped carrots, then add the dumplings, one at a time, stirring continuously to prevent them from sticking to each other. The extra flour coating the dumplings will help thicken the broth so don't worry about shaking it off. Bring the pot to a boil, then reduce the heat to medium-low.  Cook the dumplings for about 20 minutes, stirring frequently, or until they are no longer doughy.  Thicker dumplings may need 5 more minutes to cook, but take care that you don't overcook to the point they are falling apart. The broth should thicken while the dumplings cook. If you prefer a thicker gravy, see NOTE below.

Add the cooked chicken to the pot and heat until warmed through. Check the seasonings and add freshly ground pepper and salt as needed. Remove the pot from the heat and add stir in the peas. Allow the stew to rest for a few minutes, then ladle into bowls and serve. Garnish with parsley if desired and plenty of fresh ground black pepper. Enjoy!
Recipe Notes
Note: If you prefer a thicker gravy, mix together 1 tablespoon cornstarch with 2 tablespoons cold water until smooth. Slowly drizzle the cornstarch mixture into the hot broth, stirring constantly, until you reach the desired consistency.
Nutrition information is calculated using an ingredient database and should be considered an estimate. When multiple ingredient alternatives are given, the first listed is calculated for nutrition. Garnishes and optional ingredients are not included.
Nutrition
Calories:
419
kcal
|
Carbohydrates:
27
g
|
Protein:
34
g
|
Fat:
19
g
|
Saturated Fat:
6
g
|
Polyunsaturated Fat:
4
g
|
Monounsaturated Fat:
7
g
|
Trans Fat:
0.2
g
|
Cholesterol:
112
mg
|
Sodium:
1003
mg
|
Potassium:
543
mg
|
Fiber:
2
g
|
Sugar:
5
g
|
Vitamin A:
5448
IU
|
Vitamin C:
7
mg
|
Calcium:
107
mg
|
Iron:
3
mg
If you love comforting chicken recipes, you might also want to try our fabulous Chicken Pot Pie with Herb Biscuits.  We also love the rich tomato flavor of this Chicken Tikka Masala recipe and this Louisiana favorite Chicken, Sausage & Shrimp Gumbo served over a hot bowl of rice.  I really want to make this Copycat Panera Chicken & Wild Rice Soup ~ from Wishes and Dishes, and this rich Slow Cooker Thai Chicken Soup ~ from FoodieCrush too.  For a quick, hearty dish, try this 10 Minute Southwest Chicken Soup ~ from Barefeet in the Kitchen.  If you've never tried Avgolemono Soup before, here's a super easy recipe for the rich chicken rice soup from The View from Great Island.  That should keep you busy for a while!
I'm still suffering from a bad case of jet lag and can't get my sleep regulated to normal hours.  Next time I go off on an adventure, there will not be a 14 hour time difference!  I'm still working on editing our Australia photos so I hope to get a post together soon.  Thanks so much for stopping by!  Have a terrific weekend!
Tricia
SaveSave