This post may contain affiliate links. Please read my disclosure policy.
The Muffaletta
is both a sandwich and the bread used to make the traditional, overstuffed famous New Orleans favorite.  Immigrants from Sicily brought the bread to New Orleans where it grew into an amazing sandwich loaded with ham, salami, cheese and mortadella.  I've only had a few true muffalettas in my life, none of which were eaten in New Orleans.  If you ever get the chance to indulge – please do so.  The signature olive salad is what really appeals to me!  Nowadays, given that we are more inclined to enjoy a meatless-meal rather than a cured meat layered extravaganza, I opted to make the homemade muffaletta loaves & vegetable sandwich (in a smaller version) stuffed with a grilled vegetable base.  Getting older doesn't have to be without delicious foods!
Muffaletta loaves are most often baked in a 14-inch round, stuffed and cut into individual sandwiches.  Since we're on our own these days, I thought smaller loaves would be a better choice.  The bread is made over a 2-3 day period, but is incredibly easy to make, and delicious.  I am a big fan of sesame seeds so this loaf was a delicious way to enjoy my vegetables!
Grill eggplant, red peppers and zucchini until lightly charred.
When ready to assemble cut a loaf in half and layer with provolone cheese, the olive salad, and the grilled vegetables.
It may not taste exactly like the meat laden version, but this sandwich was really good and much healthier!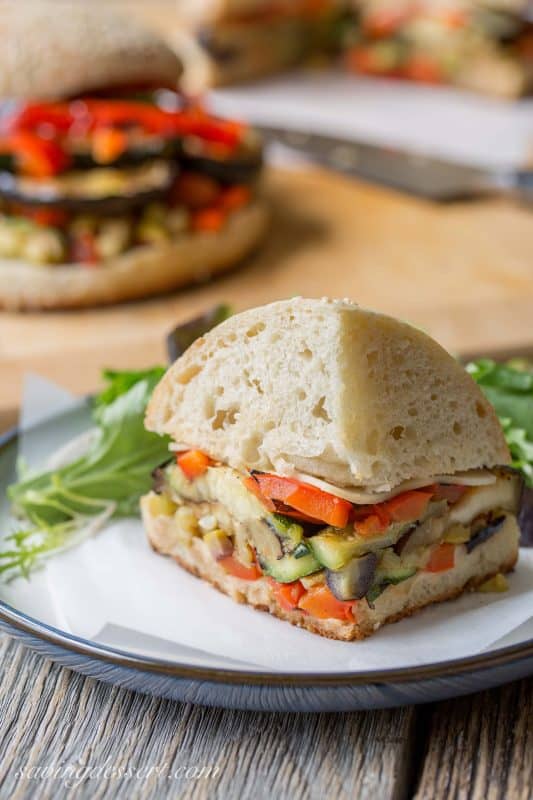 Homemade Muffaletta Loaves & Vege Sandwich
Total Time:
1

hour
40

minutes
Course:
Main Course, Meatless Main
A New Orleans inspired vegetarian version of the famous meat-packed Muffaletta sandwich.
Ingredients
For the Muffaletta Loaves:
For the starter:

½

cup

water

room temperature

1

cup

all-purpose flour

⅛

teaspoon

active dry yeast

For the dough:

All of the starter listed above

3 ½

cups

all-purpose flour

1

cup

water

room temperature

1 ½

teaspoons

salt

¼

teaspoon

active dry yeast

For the garnish:

½

cup

water

1

egg white

sesame seeds
For the Sandwich:
1

small eggplant

cut into ½ inch thick slices

1

large red bell pepper

quartered lengthwise

1

medium zucchini

sliced lengthwise into 4 slices

2

tablespoons

extra-virgin olive oil

¼

teaspoon

salt

½

teaspoon

fresh ground pepper

6

slices

provolone cheese

1

cup

of chopped and slices olives and peppers

from an olive bar at your local grocery store

2

tablespoons

chopped pepperoncini

or banana peppers

2

tablespoons

red-wine vinegar
Instructions
For the Muffaletta Loaves:
To make the starter place the ½ cup of water, 1 cup flour and ⅛ teaspoon yeast in a small mixing bowl. Stir to combine. Cover with plastic wrap and let it rest at room temperature overnight for if making the starter in the morning, allow it to rest for about 10 hours before making the dough (which also rests overnight).

Combine the dough ingredients in a large mixing bowl of a stand mixer. Using a spatula, combine the ingredients until they just come together. Attach the dough hook to the mixer and mix until the dough is somewhat smooth but slightly rough. Cover the dough with a lightly greased piece of plastic wrap and allow it to rise in a warm spot for about 3 hours. After 1 hour gently deflate the dough and turn it over. Cover again and continuing to let is rise for 2 more house.

Line a large baking sheet parchment paper and set aside.

Remove the dough from the bowl and place on a lightly floured work surface. Form the dough into one 14-inch round or cut it into 3 or 4 equal pieces. Form each into 6-inch rounds and place them on the parchment line baking sheet.

Lightly spray a piece of plastic wrap with cooking spray and completely cover the loaf/loaves. Place the pan in the refrigerator and allow them to rest overnight.

We ready to bake, remove the loaves from the refrigerator and let them come to room temperature about about 30 minutes.

Preheat oven to 425°F.

Mix ½ cup of water with the egg white and brush it on the loaves. Sprinkle generously with sesame seeds and gently press to adhere.

Bake for 25-30 minute or until golden brown. Remove to a wire rack and cool.
For the Sandwich:
Preheat grill on high.

Toss the eggplant, zucchini and red pepper with the olive oil, salt and pepper. Grill the vegetables until each is charred on both sides. Remove from the heat. Slice the red pepper into thin strips and the zucchini slices in half.

Slice the muffaletta (or ciabatta) loaves in half and layer with the provolone slices, one on the top, one on the bottom.

Mix together the olives, peppers and vinegar.

Set aside the egg plant, 6 pieces of the zucchini and about half the red pepper slices.

Chop the remaining vegetables and add them to the olive mixture.

Divide the olive and vegetable mixture among the cheese covered rolls. Divide the whole sliced eggplant, zucchini and red peppers on top of the olive mixture. Top with the second slice of cheese and the top of the roll. Cut in half or fourths and serve immediately.
Recipe Notes
*For the Muffaletta Loaves, the preparation time does not include resting and rising times. I made the starter on Saturday morning and 8 hours later made the dough. After the 3 hour rise I formed the loaves and placed in the refrigerator overnight. I baked the loaves on Sunday around noon.
Muffaletta Loaves recipe adapted from King Arthur Flour
Muffaletta Vege Sandwich recipe adapted from May/June 2015 Eating Well Magazine
Nutrition information is calculated using an ingredient database and should be considered an estimate. When multiple ingredient alternatives are given, the first listed is calculated for nutrition. Garnishes and optional ingredients are not included.
Nutrition
Calories:
519
kcal
|
Carbohydrates:
80
g
|
Protein:
17
g
|
Fat:
14
g
|
Saturated Fat:
5
g
|
Polyunsaturated Fat:
1
g
|
Monounsaturated Fat:
7
g
|
Cholesterol:
13
mg
|
Sodium:
1188
mg
|
Potassium:
470
mg
|
Fiber:
7
g
|
Sugar:
5
g
|
Vitamin A:
977
IU
|
Vitamin C:
37
mg
|
Calcium:
188
mg
|
Iron:
5
mg
Are you ready for the July 4th holiday?  Do you have big plans?  My daughter is having a party at her house and I'm bringing a pasta salad and a watermelon.  I bet my grandson is going to love the watermelon!  I think we'll try and pick more berries tomorrow morning so you can bet there is a cobbler in our future.  Hope you have a terrific weekend.  Thanks so much for stopping by!
Tricia