This post may contain affiliate links. Please read my disclosure policy.
Hot Chocolate in this form is an incredible treat.  My husband said it is really chocolaty.  I replied "yup" and took another sip.  I guess he's just not a chocoholic like me.  I had to remind him that this is "real" Hot Chocolate (for the serious chocolate lover).
It's truly amazing but this tiny cup of deliciousness can cure everything that ails you.  You've had a bad day at work and want to down a bag of M&M's.  Make a small cup of real hot chocolate and the craving goes away.  Maybe you feel a little snappish and want to be alone, all alone.  Warm up a cup of this rich creamy potion and you will be ready to face the world again.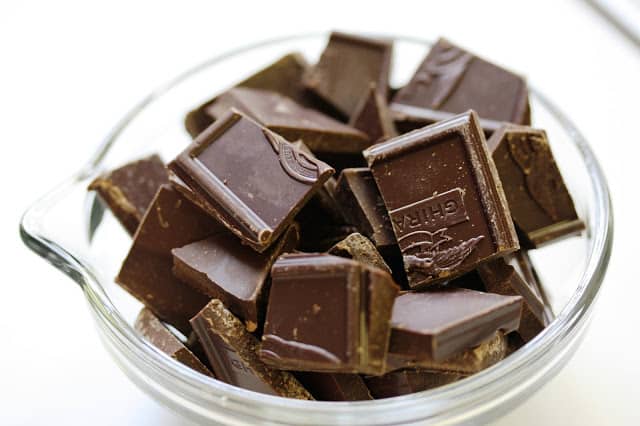 Hot cocoa is made with powdered cocoa.  Real hot chocolate, or sipping chocolate, is made with melted chocolate blended with milk.  You can add more or less milk depending on your personal taste.  My husband is a "more milk" kind of guy.  I am fine with this recipe just like it is.  It is practically perfect!
The taste reminds me of my favorite pie in the whole world – my Mom's 
Chocolate Cream Pie
.  It's a very rich dessert, but not overly sweet and is served in very small demitasse or coffee cups.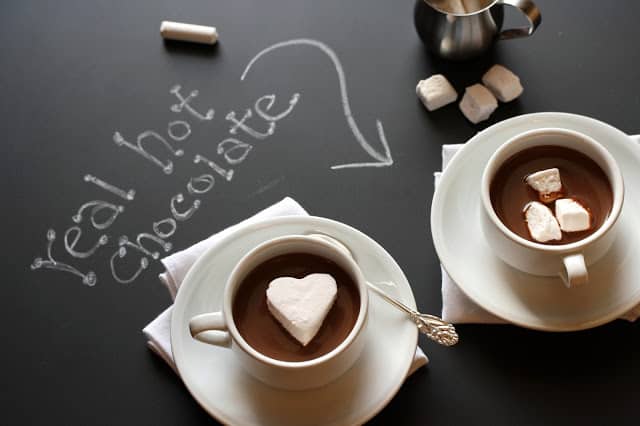 You might like to make this for a Valentine's Day dinner treat.  I topped these with homemade marshmallows cut into very small pieces.  I used a tiny cookie cutter to make heart shaped mallows.  So cute!
I'm not going to post the "how to" on the marshmallows but provide links below in case you're interested. Mary and Sue have posted wonderful step by step directions so please give them a visit.   My husband thought the mallows were fantastic, but he is a marshmallow lover from way back.  I can see him never eating a store bought marshmallow again.  I know these will be on our camping menu this spring.  They are easy and delicious and were absolutely awesome on homemade hot chocolate!
Hot Chocolate Recipe
Course:
Beverage, Dessert
For the serious chocolate lover!
Ingredients
2

cups

whole milk

5

ounces

good quality bittersweet chocolate,

chopped

2

tablespoons

granulated sugar

A few specks/granules of sea salt
Instructions
Heat the milk in a saucepan over medium heat.  Stir in the sugar and whisk until dissolved.  Once the milk is hot and steaming, add the chocolate and salt and turn the heat down to medium low.  Stir until the chocolate is completely melted.

The hot chocolate is now ready to serve.  If you prefer a thicker consistency (like me), keeping whisking and cook at a low boil for 3-5 minutes until it becomes thick and creamy.  Don't walk away, stay with it and lightly whisk to prevent scorching.

Serve warm with homemade marshmallows if desired.

Makes 6 small servings in demitasse or coffee cups.

Add ins:  You can also serve this with a small jigger of Peppermint Kahlua or Creme de Mente.  Your guests add it to the chocolate as desired.
Recipe Notes
(Adapted from a recipe by David Lebovitz)
Nutrition information is calculated using an ingredient database and should be considered an estimate. When multiple ingredient alternatives are given, the first listed is calculated for nutrition. Garnishes and optional ingredients are not included.
Nutrition
Calories:
202
kcal
|
Carbohydrates:
20
g
|
Protein:
4
g
|
Fat:
12
g
|
Saturated Fat:
7
g
|
Polyunsaturated Fat:
1
g
|
Monounsaturated Fat:
3
g
|
Trans Fat:
1
g
|
Cholesterol:
10
mg
|
Sodium:
37
mg
|
Potassium:
241
mg
|
Fiber:
2
g
|
Sugar:
17
g
|
Vitamin A:
144
IU
|
Calcium:
107
mg
|
Iron:
2
mg
For terrific recipes and instructions for homemade marshmallows please visit:
And for a Corn Syrup Free Recipe please visit:
~~~~~~~~~~~~~~~~~~~~~~~~~~~~~~~~~~~~~~~~~~~~~~
Isn't that a fine way to start your Monday?  Oops I almost forgot.  It's time for another grandson update!  My first and only grandchild Isaac will turn 1 next month.  It's so hard to believe time has flow so fast.  I was given the opportunity to babysit yesterday and Isaac was kind enough to allow me a few photos.  So here goes!
Isaac is a super happy boy – no tears – not a one!  He's not a wimpy baby either.  Isaac ranks in the 98 percentile of weight and height.  He's ready to play football.
This is a class shot – he really likes to talk 🙂
I thought he was just going to look inside the basket but decided to take a taste instead.  Teething is hard on our little one.
This baby is pure joy.
Pinch those chubby cheeks!
I must say this was gross.  We have two Jack Russell's and they love Isaac.  Since they are on the same level, the pups will often sniff to see what Isaac has been eating.  Yesterday he just opened his mouth so Mocha could taste it for herself!  Ahhh I almost dropped the camera.  Yuck – bleah, poooth, ick, ahhhh!  Neither Mocha nor Isaac seemed to have a problem with it.
I sure hope his Momma didn't read this – sorry Allie!
~~~~~~~~~~~~~~~~~~~~
Thanks so much for stopping by!  I hope you have a great week, and I hope you don't have to french kiss a dog, and I hope you get to have some delicious chocolate!