This post may contain affiliate links. Please read my disclosure policy.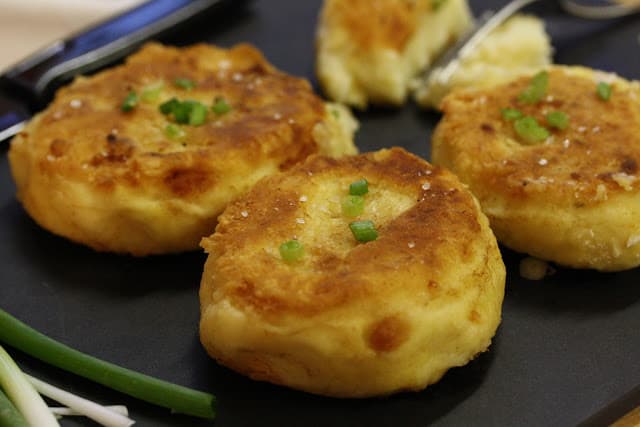 This is more of an idea than a recipe. It's a simple and basic mixture that starts with leftovers, has a bazillion variations, and has been around as long as mashed potatoes. Some people call them patties, some call them cakes. Whatever you call them is fine, just don't forget about them when you find yourself with a bowl of left over mashed potatoes.
Are you making mashed potatoes for the holidays this year? Have you thought about making a little extra just in case? These are a great side or can be served with an egg on top for breakfast.
What do you like on your potato? A little ranch dressing? Ketchup? Gravy? Maybe a light sprinkle of sea salt and chopped green onions?
I bet these would be good with a little cheddar cheese mixed in before cooking. I added chopped sweet onion because that's the way my mom did it. I remember eating these when I was young and looked forward to it with great anticipation.
Being a child of the depression my mom always used leftovers for something. Nothing went to waste. If she had a spoonful of corn, peas or green beans she would drop them all together in a freezer container with all the other leftover vegetables. When it was time to make soup she would bring out the frozen layers of vegetables and add it to the pot. Nothing edible was thrown away and it all tasted great.
These brought back some memories. I don't believe I've eaten them in over 20 years but they were still just as good as I remembered. The outside is a little crispy, the center is creamy, light and fluffy and steaming hot!
(Recipe as remembered from my Mom)
Measurements are estimated depending on the amount of left over potatoes you have on hand:
4 cups cold mashed potatoes
1/4 cup finely chopped sweet onion
2 eggs, lightly beaten
1 cup all purpose flour
salt and pepper to taste
Canola or other vegetable oil for cooking
Place the flour, salt and pepper in a bowl for dredging. In another small bowl whisk the eggs until lightly beaten.
Mix the mashed potatoes and onion together in a large bowl. Add oil to a large skillet (just enough to barely cover the bottom) and heat on medium heat. Make a ball of potatoes using approximately 1/2 cup of the mixture. Do not flatten it to much. It should be like a very thick hockey puck.
Dredge the potato ball in the flour, then the egg mixture and back into the flour again. Fry each cake until lightly browned on both sides. Gently press the potato cake with a spatula but not too thin. Do not over-crowd the pan, cooking a few at a time. Remove the cooked cakes to a paper towel lined plate and keep warm. Serve with your favorite toppings such as green onions, hot sauce, cheese, salsa, ketchup, gravy or ranch dressing. It's all good!
~~~~~~~~~~~~~~~~~~~~~~~~~~~~~~~~
The mashed potatoes were left over from a birthday dinner for my husband and son. Their birthdays are two days apart so we often celebrate them together when we can. They requested a dinner of mashed potatoes and their favorite meatloaf. If you haven't checked out this recipe – you're going to love it!
I have great plans for cooking this weekend. Hopefully I'll get it all done and the laundry too. I hope you have a wonderful fall weekend and thanks so much for stopping by!
If you missed the announcement for the winner of the Williams-Sonoma gift card – here you go!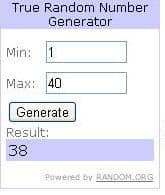 Congratulations to No. 38 – Kate. Please send an email to savingdessert@aol.com with your complete name and address so I can send your gift card! Congratulations again and thanks for being a blog groupie!