This post may contain affiliate links. Please read my disclosure policy.
Molten Lava Cake ~ I'm not really crazy about the name but hey … it fits!  We could call it Budino al Cioccolato for Italian baked chocolate pudding but somebody might not know that means creamy, rich chocolate oozing out of a crispy chocolate crust.  Molten Lava Cake = Must Love Chocolate!
Simple ingredients blended together in such a way to make a decadent dessert fit to serve at any occasion.  Butter, a little bit of flour, confectioners sugar, eggs and egg yolks, chocolate, vanilla and a little orange liqueur.  That's it!  No mixer needed, just a serious chocolate craving and you're good to go.
I cleaned out my pantry of the assorted chocolate chips I had on hand.  You will need a combination of semi-sweet and bittersweet.  Microwave the chocolate and butter on 50% power for 1 minute then stir.  Repeat if needed but only until the pieces of chocolate are almost completely melted.
Stir until all pieces are melted and the chocolate is smooth.  Pretty 🙂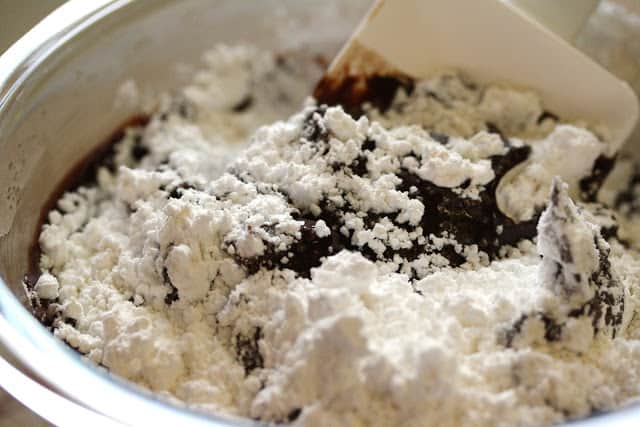 Gently fold in the confectioners' sugar and flour.  The mixture will be a little thick so don't worry about getting it completely blended.  We are trying to cool the chocolate a little before adding the eggs.  No cooked
scrambled eggs in this dessert!
Gently whisk the eggs and egg yolks, do not beat.  Add the vanilla and Grand Marnier and whisk just until blended.  Add the eggs to the chocolate mixture and blend until smooth.
Divide the batter evenly in six butter 6-ounce ramekins or custard cups.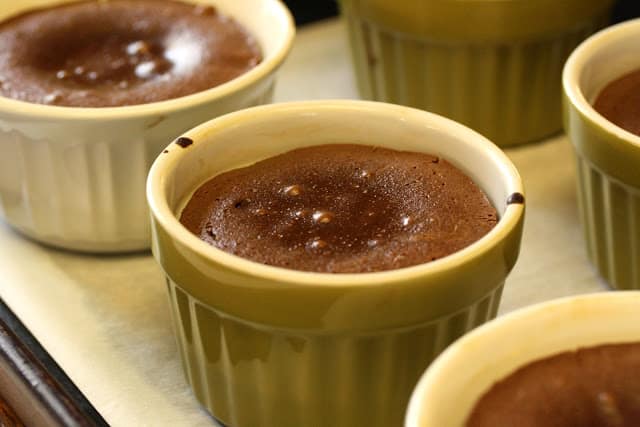 Bake for 14 minutes at 425 degrees.  Do not over-bake or you'll have no lava!
Garnish with fresh raspberries or strawberries and sprinkle with confectioners' sugar.
You may also garnish with sweetened whipped cream but I chose to serve with three very small scoops of good vanilla ice cream.  The cream is the perfect balance for the rich warm chocolate.  Is it good?  Oh yes, it is good.  If you have a chocolate lover in your life, this will make them very happy.  This little cake is pretty darn terrific!
(adapted from a recipe by Paula Dean – of course!)
4-ounces good quality bittersweet chocolate (like Ghirardelli)
4-ounces good quality semi-sweet chocolate (I used Ghirardelli chips)
10 tablespoons unsalted butter (plus extra for buttering the ramekins)
dash salt
1/2 cup all-purpose flour
1 1/2 cups confectioners' sugar
3 large whole eggs
3 egg yolks
1 teaspoon vanilla extract
2 tablespoons Grand Marnier
Raspberries or strawberries, and whipped cream or ice cream for garnish
Extra confectioners' sugar for dusting
Preheat oven to 425 degrees.
Grease 6 (6-ounce) ramekins or custard cups.  Place on a baking sheet so they are not touching.  In a large mixing bowl combine the butter and chocolate.  Microwave on 50% power for 1 minute.  Stir and repeat if needed at 30 second intervals until the chocolate pieces are almost melted.  Remove from the microwave and stir until smooth and all chocolate is melted.
Fold in the confectioners' sugar, a dash of salt and the flour but don't worry if it's not completely mixed.  In a separate bowl lightly whisk the eggs and egg yolks.  Add the vanilla and the liqueur and whisk until blended.  Add the eggs to the chocolate mixture and blend until smooth and fully combined.
Divide batter between the 6 cups and bake at 425 degrees for 14 minutes.  The edges will be firm but the center will be runny.  Allow the cakes to rest for 5 minutes before serving.  Run a knife around the edge of the ramekin to loosen the cake and place on a serving plate.  Sift a little confectioners' sugar on top and add fresh raspberries and a small scoop of vanilla ice cream.  Serve and enjoy.
~~~~~~~~~~~~~
That should get your Monday going!  I hope you had a nice fall weekend.  I saw three leaves on our little front yard tree starting to turn orange.  It seems early this year but I'm not complaining!  Bring on the fleece, fuzzy slippers and warm sweaters, and soup, we're going to need lots of soup!
Here's a little photo I swiped from my daughter's Facebook.  Isaac (my grandson) is now 7 months old.  Can't believe how fast he is growing.  He can laugh so hard it amazes me.  He also sleeps beautifully.  She is one lucky Momma and I am one lucky Gram.
Hope you have a great day – and thanks so much for stopping by!