This post may contain affiliate links. Please read my disclosure policy.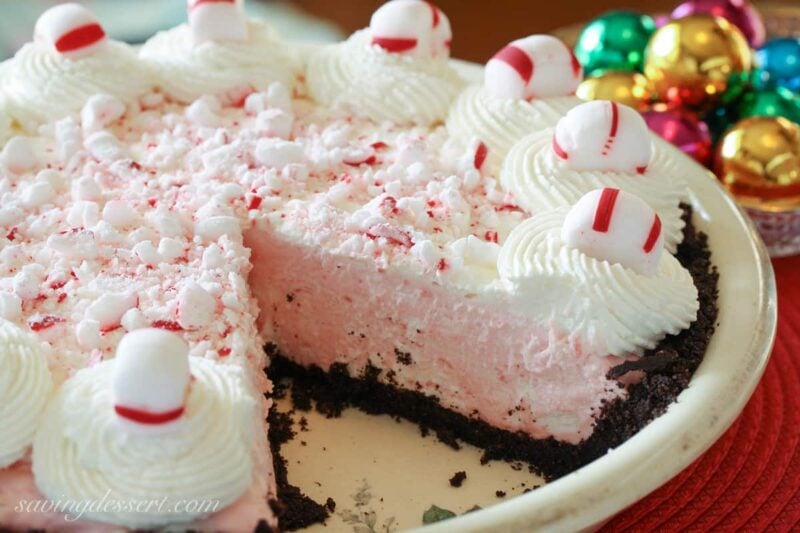 Peppermint Pie ~ light and fluffy, simple and sweet, with all the flavors of the holiday season!
I'm sitting here trying to come up with words to express how I'm feeling right now.  First of all I'm very excited to complete this project.  There's always a sense of accomplishment (and relief) whenever you finish anything you set out to do.  52 pies in 52 weeks, done.  I'm also a little sad because it has been a fun, creative, delicious journey.
Enough of the sappy recap!  (I'll post more sappiness with the pie recap coming January 1st.)
Let's talk about this light, fluffy, pretty, peppermint pie!  Some of the pies I've made this year were … uuhhh challenging; but this was not one of them.  This was so simple with only a few easy steps.  If you have soft peppermints laying around after Christmas this year, I know what you can do with them!
Start with a simple homemade chocolate crumb crust.  I've always wanted to try these chocolate wafer cookies in a dessert so now was my chance.  You see Mrs. Claus stepped in to lend a hand, along with a little sugar and butter too.
Place the entire 9 ounce package (minus one or two) of chocolate wafer cookies in the food processor.
Pulse the cookies with the granulated sugar until ground into fine crumbs.
Add melted butter and pulse until well mixed.
Press the crumb mixture into the bottom and up the sides of a 9-inch pie place lightly greased with Pam.  Bake in a preheated 350 degree oven for 7-8 minutes.  Allow the crust to cool to room temperature while preparing the filling.
For the filling you will need a heaping cup (plus more for garnishing) of crushed soft peppermints.  I found the Red Bird Brand (the original soft peppermint) on sale so these are what we used.  Any soft peppermint stick or candy will do fine.  Bob's peppermints are a popular choice if you can find them.
Place the peppermints in a large Ziploc bag.  I took mine out to the garage and used a hammer to crush them on the concrete floor.  Crush extra for the garnish.
The filling is made from heavy whipping cream, unflavored gelatin, cool water, crushed peppermints and peppermint extract.
Sprinkle the gelatin over 1/4 cup cold water and set aside.
Allow the mixture to soften while preparing the filling.
In a small saucepan add 1/2 cup whipping cream.
Add the crushed peppermints to the heavy whipping cream and cook on low heat until the candy melts.
If you crushed the candy into small pieces this will not take long.  This candy turned the cream a bright pink color.  If using Bob's brand peppermint it may turn a brownish-pink color.  This is fine too.  Once the candy is melted, add the gelatin mixture and peppermint extract and stir to combine.  Cool this mixture until room temperature but be sure to watch it carefully.  You don't want it to become set like Jell-O.
In a separate bowl, beat 1 1/2 cups of heavy whipping cream until stiff peaks form.
Pour the cooled gelatin peppermint mixture into the heavy whipping cream.
Gently fold the mixtures together until almost completely blended.
Pour the filling into the cooled chocolate crust and spread evenly.
Refrigerate until set (about two hours).   Decorate the top of the pie with additional whipped cream and crush peppermints if desired.  (Wrapping paper optional 🙂
A pepperminty fresh taste without sugar overload which seems strange since it's covered in crushed candy!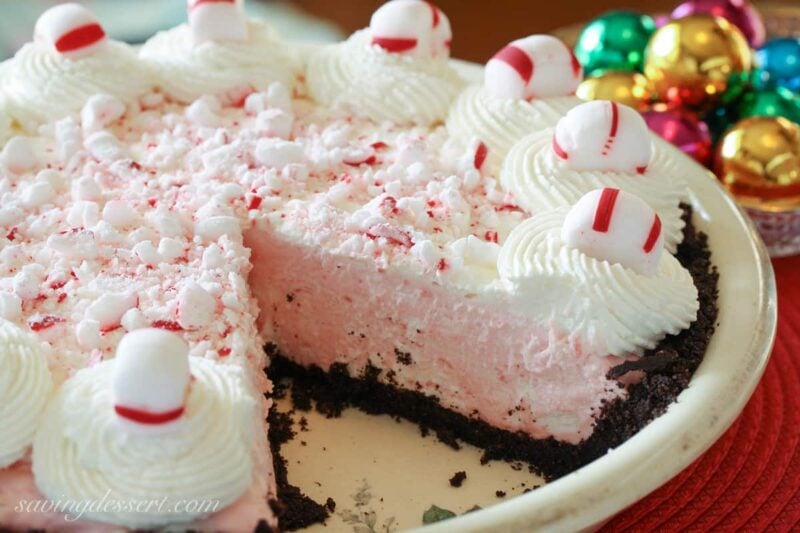 This is a photogenic pie so I took advantage of the daylight to play with the camera.
It's either that or I'm just trying to drag this out 🙁
Thanks for PINNING!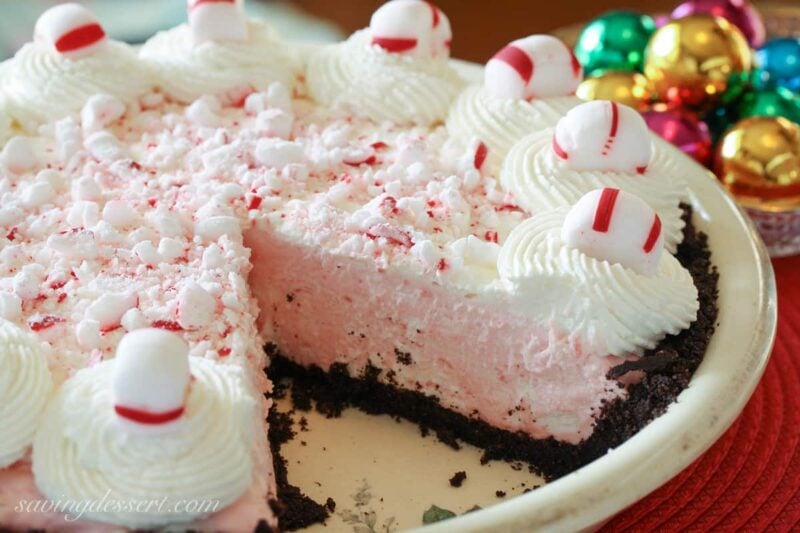 A bright and creamy peppermint pie great for the holidays.
Ingredients
For the crust:
1

(9-ounce) package chocolate wafer cookies

2

tablespoons

granulated sugar

½

cup

unsalted butter,

melted
For the filling:
1

(.25-ounce) package plain gelatin

(about 2 ¼ teaspoons)

¼

cup

cold water

½

teaspoon

peppermint extract

2

cups

heavy whipping cream,

divided

1

cup

crushed soft peppermint candy,

plus extra for garnish
For the garnish:
1

cup

heavy whipping cream

⅓

cup

sifted powdered sugar

½

teaspoon

vanilla

or peppermint extract

Crushed peppermint
Instructions
Preheat oven to 350°F.  Add the chocolate cookies and granulated sugar to a food processor and pulse until crushed to a fine crumb.  Add the melted butter and pulse until mixed.  Spray a 9-inch pie plate with Pam.  Gently press the crumb mixture into the bottom and up the sides of the pie plate.  Bake for 7-8 minutes.  Remove from the oven and cool to room temperature.

In a small bowl sprinkle gelatin over the cold water and set aside to soften.  Measure ½ cup whipping cream in a small saucepan.  Add 1 heaping cup of the crushed peppermint candy.  Cook over low heat until all the candy is melted.  Remove from the heat and add the softened gelatin and peppermint extract.  Set aside to cool to room temperature.  Don't allow the mixture to cool too long and become set.

Beat 1 ½ cups of heavy whipping cream until stiff peaks form.  Gently fold the peppermint mixture into the whipped cream until almost blended.  Spread the filling into the pie crust and refrigerate until set - about 2 hours.

Garnish with additional sweetened whipped cream and crushed peppermints as desired.  The extra crushed peppermint adds a good sweet crunch to this pie without making it overly sweet.  Garnish away!
Recipe Notes
(adapted from a recipe by Paula Dean)
Nutrition information is calculated using an ingredient database and should be considered an estimate. When multiple ingredient alternatives are given, the first listed is calculated for nutrition. Garnishes and optional ingredients are not included.
Nutrition
Calories:
532
kcal
|
Carbohydrates:
31
g
|
Protein:
2
g
|
Fat:
45
g
|
Saturated Fat:
28
g
|
Polyunsaturated Fat:
2
g
|
Monounsaturated Fat:
13
g
|
Trans Fat:
1
g
|
Cholesterol:
153
mg
|
Sodium:
41
mg
|
Potassium:
73
mg
|
Fiber:
1
g
|
Sugar:
23
g
|
Vitamin A:
1667
IU
|
Vitamin C:
1
mg
|
Calcium:
62
mg
|
Iron:
1
mg
Thanks very much for stopping by!  Thanks for reading the pie posts week after week, after week.  Thanks to all my taste testers for eating pie even when you wanted a cookie.  I hope you and your family have a wonderful week of post-Christmas joy.  May the sales be with you!
SaveSave