This post may contain affiliate links. Please read my disclosure policy.
Try our unique and delicious Oatmeal Jammys! These terrific little tart-like cookies are true gems.
They're crispy, tender, buttery shortbread oatmeal cookies filled with jam and a sprinkle of streusel around the edges. While Oatmeal Jammys take a little longer to assemble than a simple slice and bake cookie, they're easy to make and worth every minute in the kitchen. We love these unique Oatmeal Jammys and bet you will too!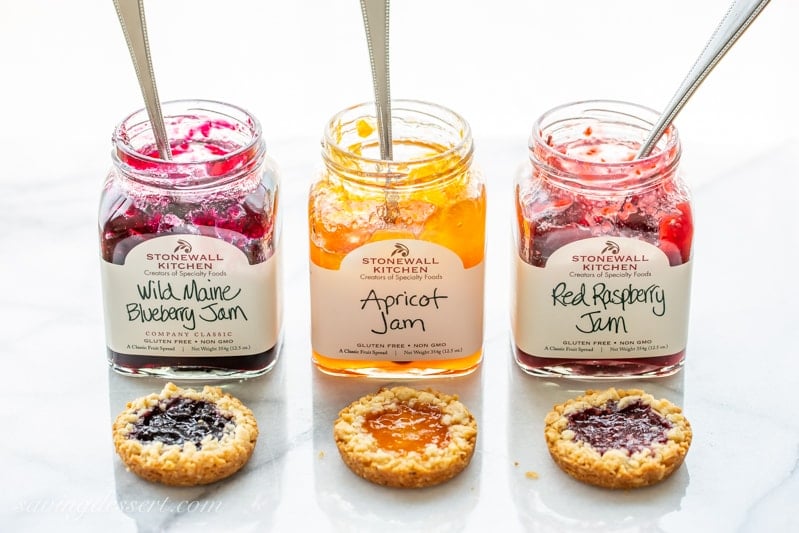 Use a variety of jams for beautiful jewel-toned treats.
First, this is not a sponsored post but I'd like to take a moment to compliment Stonewall Kitchen on their amazing jams. I've never been disappointed with any of their products and I've bought many over the years. For these Oatmeal Jammy cookies you should always use jam in the middle, not jelly. Jelly is often sweeter than jam and may burn when baked. For the cookies in the photos we used blueberry, apricot, and raspberry. We've also made them with sour cherry jam and peach! If you only want to buy one jar of jam, start with raspberry. It's a must-try 🙂
How do we make these perfectly round cookies?
To create a perfectly round cookie that won't spread we use a 12-well regular size muffin tin. (Click HERE for our favorite nonstick muffin pan from Williams-Sonoma.) The cookie dough is made in a food processor which takes all of 5 minutes. One tablespoon of the crumbly dough is pressed into each well of the muffin pan. I use a small cookie scoop to make quick work of this step. Next, a teaspoon of jam is dolloped in the middle of each cookie base. Finally a spoonful of crumbled cookie dough is sprinkled around the outside edges to create the streusel. Bake for about 16 minutes or just until the edges are golden brown and the jam is bubbling. Don't over-bake the cookies!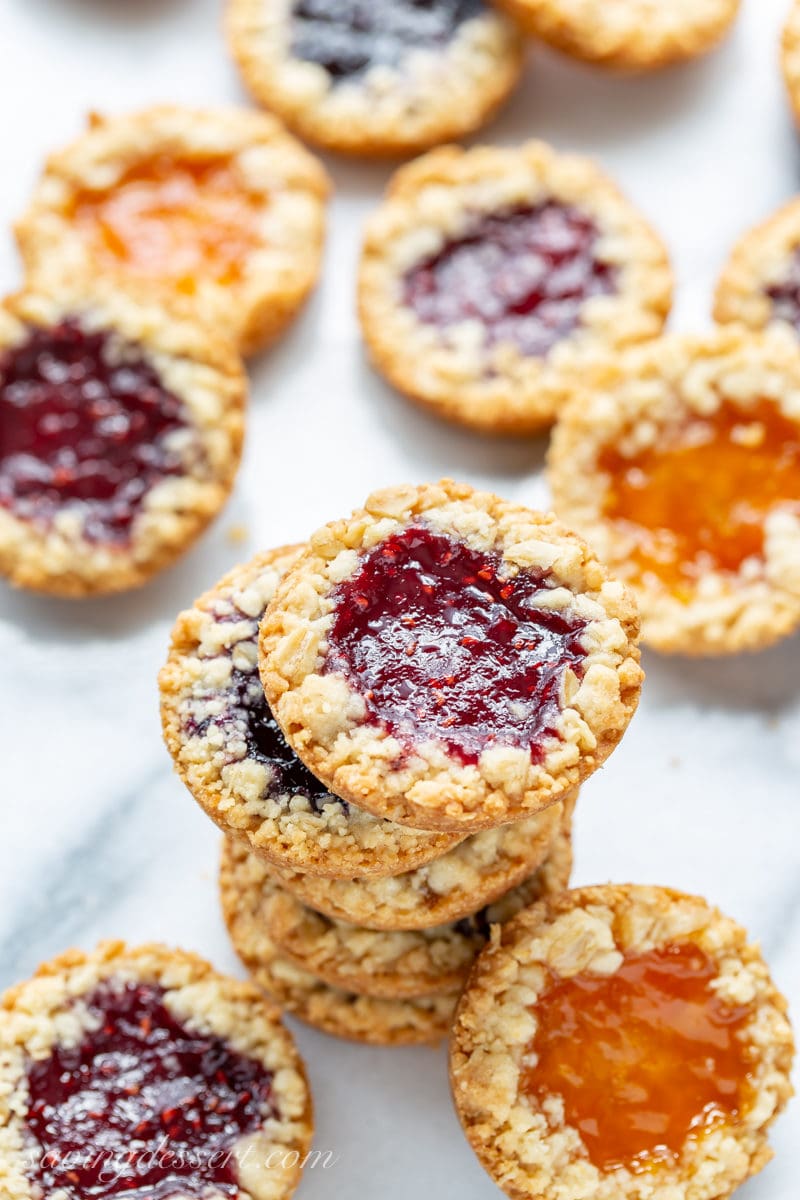 The jam sets up when the cookies cool.
After baking, cool the Oatmeal Jammys in the pan for at least five minutes before removing to a wire rack. The cookies are crumbly when hot but hold together beautifully once cooled. After the cookies are cool the jam is not at all sticky and only slightly tacky. You can easily store the Oatmeal Jammys stacked between layers of wax paper or parchment in an airtight container. The cookies don't stick to the paper and won't look messy.
These Oatmeal Jammys are best stored at room temperature and will keep for up to five days. If you're looking for a fun, delicious and beautiful laundry day baking project, give these a try! Both projects are of the hurry-up-and-wait variety.  Fold a load of clothes, bake a pan of cookies.  Repeat.  🙂
Did I mention that these Oatmeal Jammys freeze beautifully? Yes they do so no worries if you want to bake ahead for the holidays 🙂
Here's another option for making Oatmeal Jammys.
If you don't want to make these cookies in a muffin pan you can also use biscuit or cookie cutters. The blueberry Oatmeal Jammy at the top of the photo was made in a muffin tin. The middle raspberry cookie was formed using a 2 1/2-inch cookie cutter. Place the cookie cutter on a parchment lined baking sheet and fill with cookie dough. Once the jam and streusel are in place, gently lift off the cookie cutter and repeat.
This method is a great way to make larger cookies: the apricot Jammy in the photo above was made using a 3-inch cookie cutter. This 3-inch cutter makes a big cookie that is more like a mini-tart. When baking larger cookies be sure the cookie base is thick enough to support the jam and streusel, and that it doesn't bend when cooled. Honestly you could make these cookies in any pan you want, even these 4-inch mini tart pans with removable bottoms.
The idea for these cookies came from a lady I met at a neighborhood party.
Back in the spring of 2014 I met a really nice lady at a neighborhood block party at our son's house. We discussed baking at great length while enjoying BBQ and my Tangy Lemon Bars. While we were talking about our favorite cookies when she mentioned that her daughter made a great Oatmeal Jammy with a crumbly streusel around the edges. Unfortunately I forgot her name and so was not able to get their recipe but the idea really stuck with me for all these years. I researched recipes for Oatmeal Jammys but never found what I was looking for.
Finally, I got in the kitchen and came up with my own Oatmeal Jammy recipe. I started with my recipe for Almond Tea Cakes with Wild Blueberry Jam, substituted oats for the almond flour and made a few other changes, including baking in a full-size muffin tin. These cookies have been widely taste-tested and everyone unanimously agrees, "don't change a thing!"
Thanks for PINNING!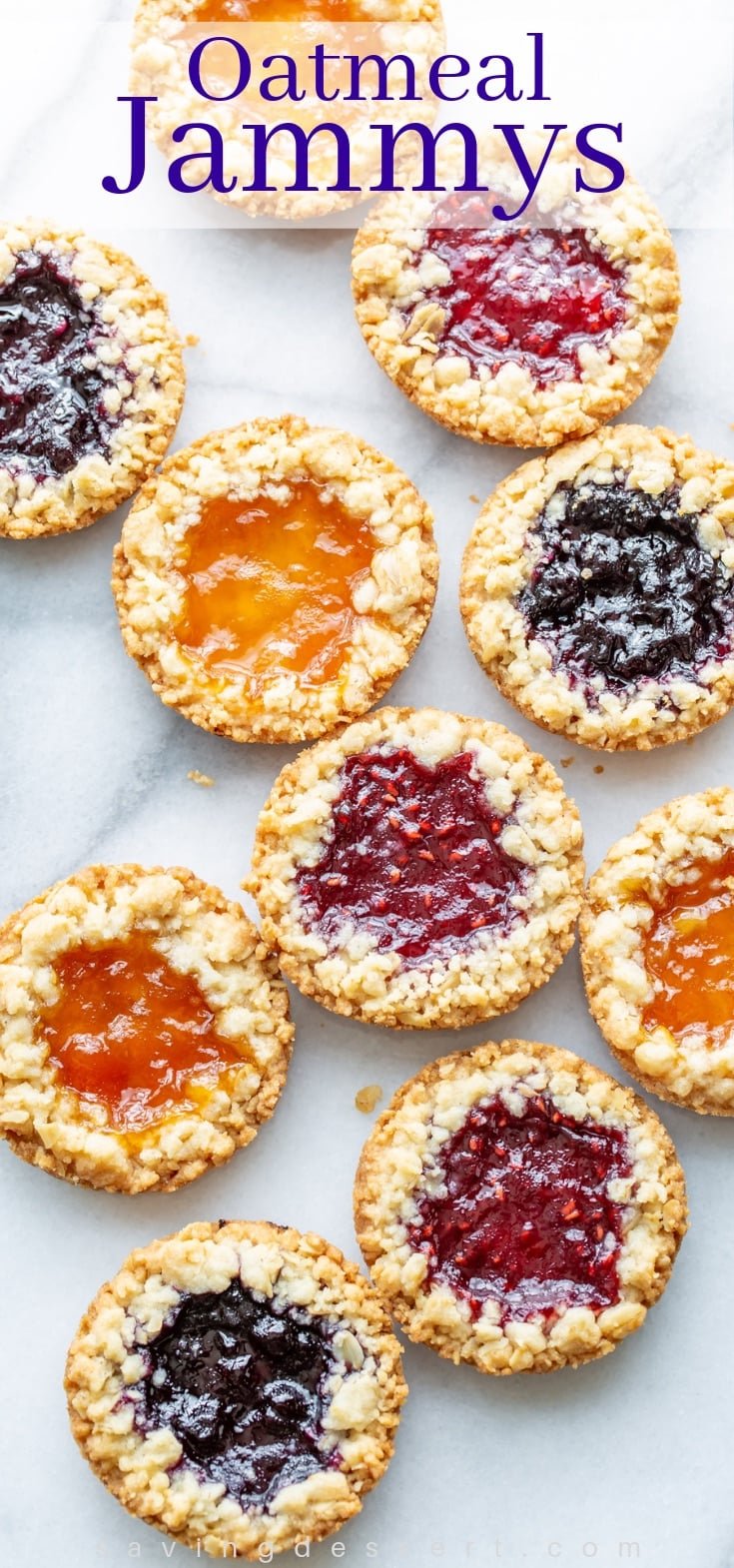 Let's be baking friends! When you try our recipe please leave a comment on this post. If you loved this recipe we'd appreciate a 5-star rating! Sharing your experience, variations and insights will help all our readers, and it helps me too. If you're on Pinterest feel free to leave a comment and photo there if you have one. If you share on INSTAGRAM tag @savingroomfordessert so we can stop by and give your post some love. And we'd be very happy if you'd FOLLOW Saving Room for Dessert on FACEBOOK| INSTAGRAM| PINTEREST | TWITTER  and subscribe to our YOUTUBE channel for all the latest recipes, videos and updates. Thank you!!!
PRINT THE RECIPE!
Oatmeal Jammys
Total Time:
1

hour
16

minutes
A unique and delicious tart-like oatmeal cookie filled with jam.
Ingredients
2

cups

all-purpose flour

(264g)

1 ½

cups

old-fashioned oats

(147g)

½

cup

granulated sugar

(108g)

¼

cup

light brown sugar,

packed (53g)

½

teaspoon

baking powder

½

teaspoon

salt

18

tablespoons

unsalted butter,

melted and cooled slightly (250g or 9-ounces)

1

teaspoon

vanilla extract

10-12

ounces

assorted jams,

room temperature

vegetable cooking spray
Instructions
Lightly spray a regular size 12-well muffin pan with vegetable cooking spray. Set aside.

In the bowl of a food processor, pulse the flour, oats, sugars, baking powder and salt until blended. Add the butter and vanilla. Pulse until the mixture becomes a crumbly dough. Scrape down the sides of the bowl if needed to help it combine. Some of it will seem dry - that's okay.

Transfer the cookie dough to a large bowl and stir to combine. The dry crumbs in the bottom will be used for the streusel so no worries if it all won't stick together.

Scoop out a level, slightly packed small cookie scoop full of dough (1 tablespoon) and drop into one of the muffin tin wells. Using your fingers lightly press the dough into the bottom of the pan making sure it is level. Repeat until the pan is full.

Dollop one full teaspoon of jam into the center of the cookie base in the muffin tin. Using a small spoon scatter crumbled dough around the outside edges of the cookie surrounding the jam. Press very lightly if needed to hold it together.

Bake for 15 to 18 minutes, rotating the pan halfway through baking, until the jam is bubbling and the cookie is lightly browned on the edges. Do not over-bake! Allow the cookies to cool in the pan for at least 5 minutes, then transfer to a wire rack to cool. To remove the cookie from the muffin tin use a small rubber spatula to tilt the cookie up. If it starts to crumble, let it cool a little longer. Once cooled, store at room temperature in an airtight container. Cookies will keep for up to 5 days.
Recipe Notes
This recipe is easily halved to yield 20 cookies
The cookies are very crumbly when they first come out of the oven but firm up as they cool. While they're delicious eaten warm, they hold together much better when cool. Be careful if you eat one hot as the jam will burn your mouth - just saying.
The cookies will soften slightly after a few hours.
If you don't want to wait for the cookies to cool in the pan before making the next batch, use paper cupcake liners and remove the paper once the cookie is cooled.
Use jam for this recipe - not jelly. We've tried Sour Cherry Jam, Apricot, Wild Blueberry, Raspberry and Peach - all delicious!
Create larger cookies by using a 2 1/2-inch round biscuit cutter in place of the muffin tin. You can also use a larger 3-inch cookie cutter for a tart-sized cookie. The bigger the cookie, the thicker the base must be to keep from bending. Place the cookie cutter on a parchment lined baking sheet. Add the dough, press to create the base, top with jam and the streusel. Gently lift off the cookie cutter and repeat.
Nutrition information is calculated using an ingredient database and should be considered an estimate. When multiple ingredient alternatives are given, the first listed is calculated for nutrition. Garnishes and optional ingredients are not included.
Nutrition
Calories:
120
kcal
|
Carbohydrates:
16
g
|
Protein:
1
g
|
Fat:
6
g
|
Saturated Fat:
3
g
|
Polyunsaturated Fat:
1
g
|
Monounsaturated Fat:
1
g
|
Trans Fat:
1
g
|
Cholesterol:
14
mg
|
Sodium:
40
mg
|
Potassium:
28
mg
|
Fiber:
1
g
|
Sugar:
8
g
|
Vitamin A:
166
IU
|
Vitamin C:
1
mg
|
Calcium:
10
mg
|
Iron:
1
mg
Kitchen Essentials – our favorite food processor:

The dough for these cookies is made in our Cuisinart food processor. If you don't have one yet, I highly recommend the Cuisinart brand. We use our food processor all the time and have had the same model for years. I honestly don't know what I would do with out it! Food processors come in a variety of sizes, prices and models. Click on the photo for more information or to purchase from Amazon.
Saving Room for Dessert is a participant in the Amazon Services LLC Associates Program ~ I earn a small commission, at no additional cost to you, which I use to pay for web hosting and services for this blog.
Finally, here are a few more of our favorite jam-filled cookies you might like: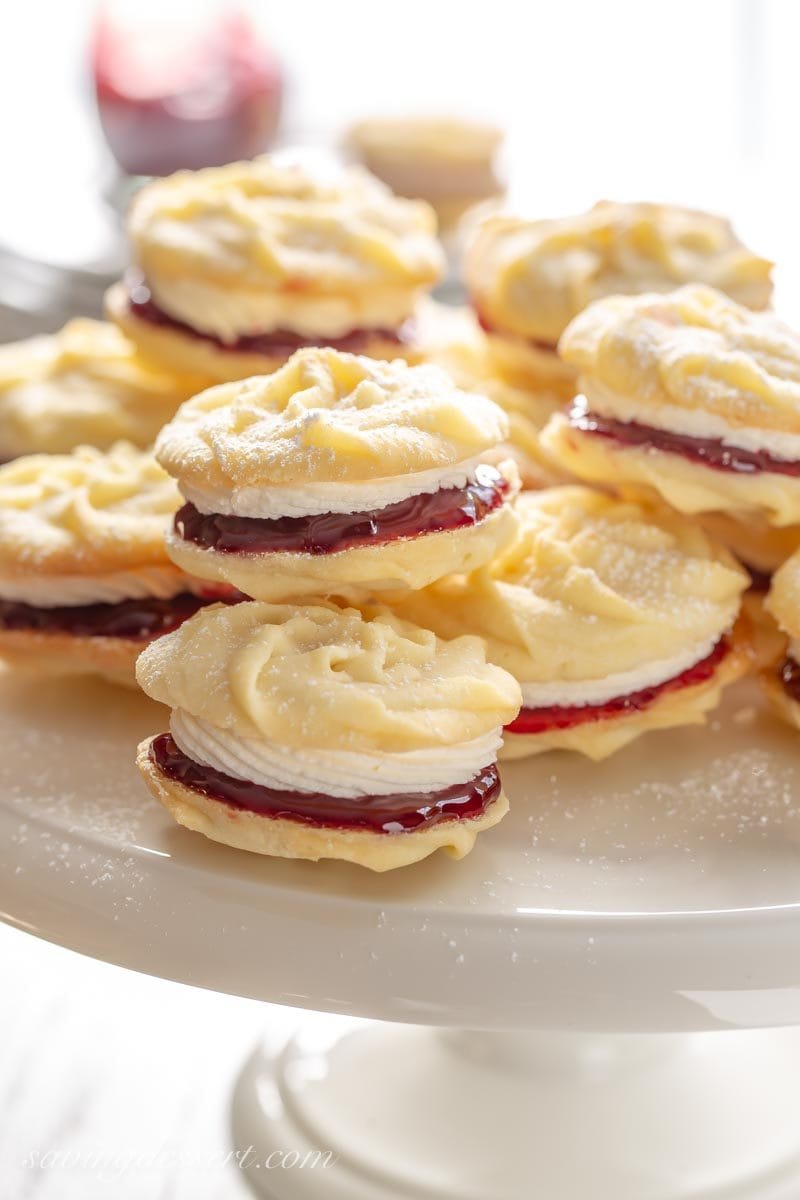 Mary Berry's Viennese Whirls – enjoy these delicious, tender melt-in-your-mouth butter cookies slathered with raspberry jam and a light vanilla buttercream filling. Click HERE to get the recipe.
Almond Tea Cakes with Wild Blueberry Jam – tender little buttery cookies with great texture and loads of flavor from the almond extract and almond flour. Click HERE to get the recipe.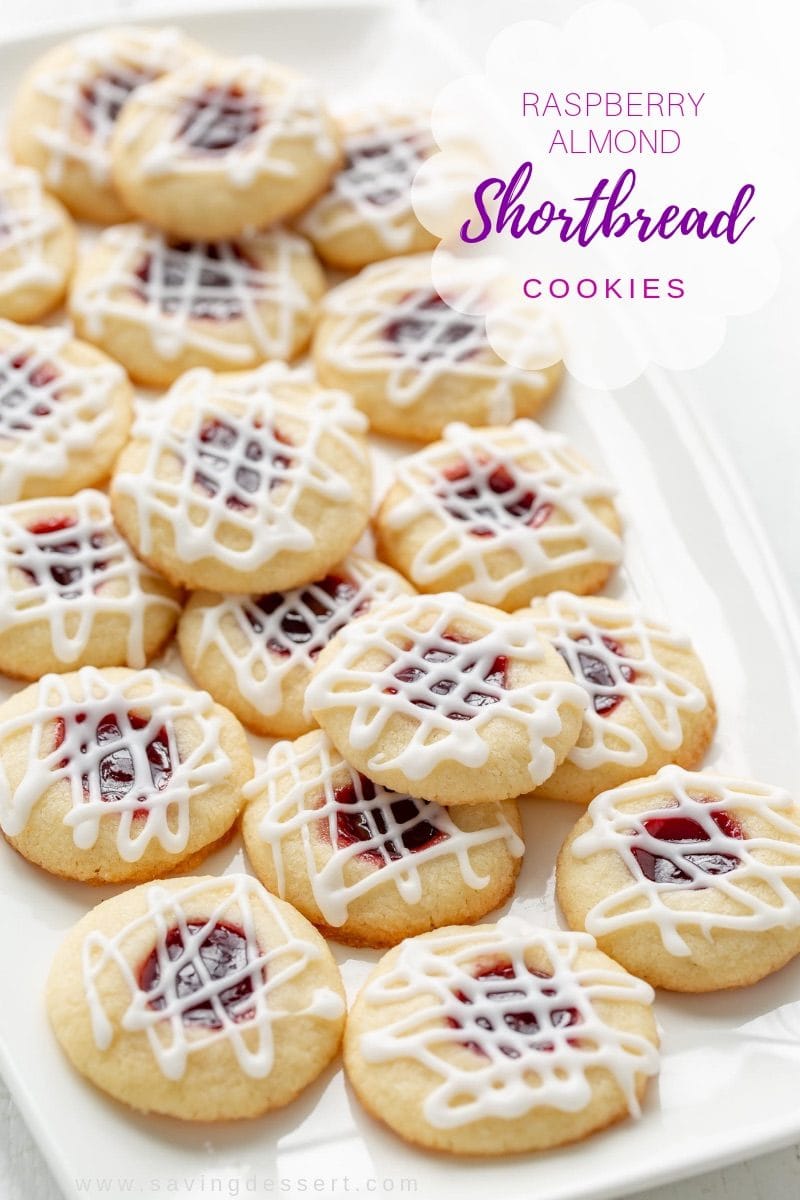 Not just for the holidays! These pretty Raspberry Almond Shortbread Thumbprints are so delicious you'll want to make them for every gift-giving opportunity, party, holiday, event, potluck and family extravaganza! Click HERE to get the recipe.
Thanks so much for stopping by!  Tricia