This post may contain affiliate links. Please read my disclosure policy.
I bet I'm in the minority this week since I don't have a Thanksgiving / Fall dish to post today.  I was overcome with a serious craving for olives and I'm going to blame it on Food52.  Have you ever visited their site or signed up for the weekly emails?  They are very creative and seem to be putting a new look on recipes and wonderfully unique gadgets.  About a month ago they sent out a post with a recipe for an olive sandwich.  It was amazing in it's simplicity and very appealing and I haven't been able to get it out of my head.  I've thought about many different variations to the recipe like adding celery and other vegetables to make it more like a muffaletta olive salad.  Then it came to me while shopping in my favorite grocery store (Wegman's).  They have an olive bar (I should take a picture) with homemade hummus, a tremendous variety of olives, and even roasted garlic.  I scooped up a container full of peppers, olives and roasted garlic and headed home to cure my craving.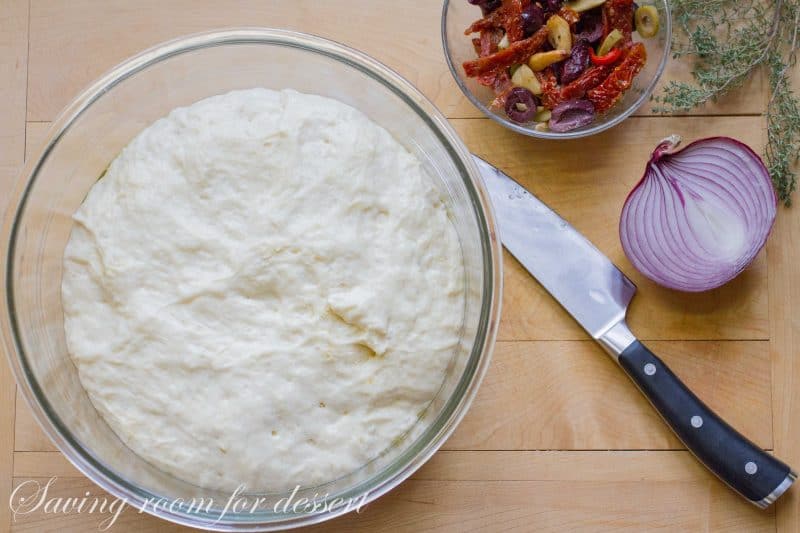 If you have a good basic Focaccia recipe you can make it into almost anything.  It could be a thick crust pizza, a simple olive oil bread or even a lightly sweet fruit bread.  Today it's my cure for all things pizza and olives.  I sliced up olives, red onion and added some sun dried tomatoes then picked some fresh thyme from our garden.
Once the dough rises, press it to fit a 13×9 inch lightly oiled baking pan.  Dimple the dough all over with your fingers and drizzle with olive oil.  Add the topping and press them gently into the dough.
Bake until golden brown then transfer to a rack to cool.
Sprinkle lightly with fresh grated Parmesan Cheese if desired.
This did the trick and I can now move on past my obsession with olives!  I really love this recipe and will absolutely make it again.
A great focaccia with loads of flavor from the olives, sun dried tomatoes and onion
Ingredients
1

cup

warm water

1

package active dry yeast

(1/4 ounce)

1/2

teaspoon

honey

2 1/2

cups

all-purpose flour,

divided

1/2

cup

plus 1 tablespoon extra virgin olive oil, divided

1

teaspoon

kosher salt

1/2

red onion,

sliced

3

sun dried tomatoes,

sliced thin (packed in oil, drained and patted dry with a paper towel)

1

tablespoon

fresh thyme

1

cup

assorted olives,

halved and pitted

10

cloves

roasted garlic,

optional

1/4

cup

shredded Parmesan Cheese
Instructions
IN a large mixing bowl, combine the water and honey. Sprinkle the yeast on top and allow it to stand for about 5 minutes or until foamy.

Add 1 cup of the flour and 1/4 cup of olive oil and mix lightly with a wooden spoon. Set aside to rest for another 5 minutes.

Stir in the remaining flour and salt and knead until smooth. Transfer to an oiled bowl, cover with plastic wrap and place in a warm location, free from drafts, for 1 hour.

Preheat oven to 450 degrees. Lightly oil a 13x9 inch rimmed baking pan.

Place the risen dough in the pan and press to fit. Dimple the dough with your fingers and drizzle with 2 tablespoons of olive oil. Let the dough rise again until puffed, about 20 minutes.

Lightly press the toppings into the dough. Drizzle with the remaining 2 tablespoons olive oil and bake for 20 minutes or until golden.

Transfer to a wire rack to cool.
Recipe Notes
Basic Focaccia recipe adapted from Food & Wine Magazine
Well let's talk about the weather.  Here in Virginia we have our first freeze warning with temperatures dipping into the low 30's.  We didn't get any snow but I think they did in the mountains south and west of us.  Is it cold where you are?  Are you thinking chili or stew is in your future?  I love fleece weather but the Daylight Saving Time change is pretty yucky.  It gets dark so early now.
We had over 200 trick-or-treaters for Halloween this year.  I ran out of candy with kids in the driveway.  I don't know where they are coming from but I know we don't have that many living in the neighborhood.  Grandson Isaac really enjoyed it this year.  He was a puppy and I didn't get one good photo because I was busy handing out candy!
Thanks so much for stopping by – hope you have a terrific week.
Tricia