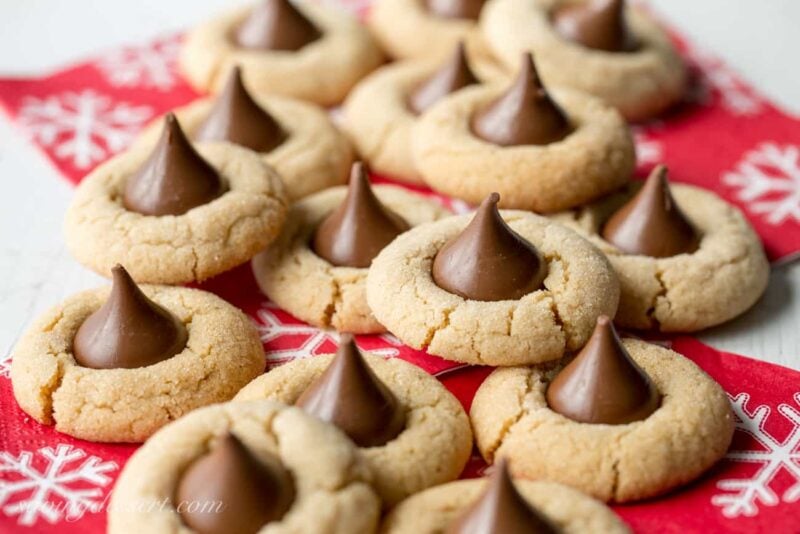 Peanut Butter Blossoms … a very popular cookie recipe and I'm here to tell you, it's popular for good reason.
These cookies are scrumptious.  What's not to love about peanut butter and chocolate?  One of my brothers (I have three) was in Virginia traveling on business yesterday.  Brother David lives in Atlanta but gets up this way at least twice a year or so.  This is David's favorite Christmas cookie so knowing he would be here to eat them, I baked up these Peanut Butter Blossoms and had milk ready for his arrival.
Trust me when I tell you, never, ever make these when you're hungry.  First, there's something about that smell of warm peanut butter cookies and a soft, creamy, milk chocolate kiss that make these irresistible.  I'm starting to drool so I better get on with it!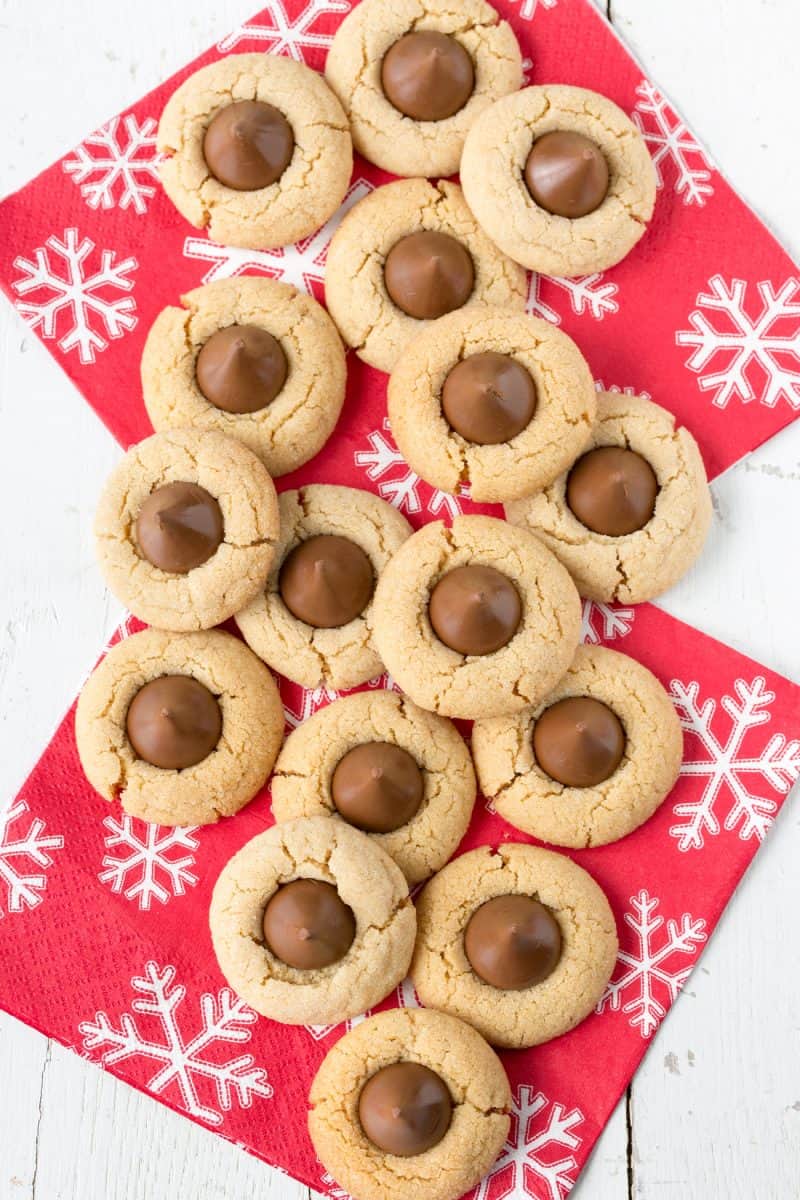 The ingredients are simple, you'll need salt, baking powder, flour, brown sugar, butter, shortening, peanut butter, vanilla and an egg.  You'll also need chocolate kisses too!
Be prepared by unwrapping the kisses ahead of time.  Once these cookies are baked, you have to put the chocolate kiss on the warm cookies right from the oven.  Unwrap about 4 dozen kisses.  That sounds sweet 🙂
Once removed from the oven immediately top each cookie with a Milk Chocolate Kiss, pressing down firmly so cookie cracks around the edge.  This is the exact moment trouble begins (the kind of trouble I get into with warm peanut butter cookies and melty milk chocolate sitting in front of me.)
Cool on wire racks until set.  When the kisses get glossy and soft, and the cookies cool slightly – immediately grab the milk and enjoy!
Finally, be sure to share with your loved ones, and a brother if you have one, and your neighbors if you like them!
There's one with a little curl that was calling my name.
Don't forget to PIN these to your favorite baking board!
Let's be baking friends! If you try our recipe please leave a comment, and photo if you have one, on Pinterest. If you share on INSTAGRAM use the hashtag #savingroomfordessert so we can stop by and give your post some love. And we'd be so happy if you would FOLLOW Saving Room for Dessert on FACEBOOK| INSTAGRAM| PINTEREST | TWITTER  and subscribe to our YOUTUBE channel for all the latest recipes, videos and updates.
Peanut Butter Blossoms
A personal favorite of mine! Who can go wrong with peanut butter and chocolate. It hardly feels like Christmas until I see a plate of these delicious cookies!
Recipe type:
Cookie, Dessert
Ingredients
1½ cups unbleached, all-purpose flour
¾ teaspoon salt
½ teaspoon baking powder
5 tablespoons unsalted butter, room temperature
⅓ cup solid shortening (such as Crisco)
½ cup peanut butter (like Jiff or Peter Pan)
1 cup firmly packed light brown sugar
½ teaspoon vanilla extract
1 large egg, room temperature
1 (12-ounce) package milk chocolate kisses, most unwrapped (SEE NOTES BELOW)
⅓ cup granulated sugar (for rolling)
Instructions
Preheat oven to 375 degrees. Line a baking sheet with parchment paper and set aside.
In a medium bowl, whisk together the flour salt and baking powder.
In large bowl mixing bowl combine the butter, shortening and peanut butter and beat until smooth. Pour in the brown sugar and mix until smooth.
Now add the egg and vanilla and blend until the yolk disappears. Gently add the flour mixture and blend on low until incorporated. Scrape down the sides of the bowl and blend another 30 seconds.
Shape dough into 1-inch balls; roll in granulated sugar and place on the prepared cookie sheet at least 1-inch apart.
Bake 9 to 12 minutes until light golden brown.
Remove from oven; immediately top each cookie with a milk chocolate candy kiss, pressing down firmly so the cookie lightly cracks around edge.
Allow the cookies to sit on the pan or parchment for 5 minutes then remove to a wire rack to cool completely.
Wait until the chocolate kisses have hardened before storing in an airtight container.
Notes
Photos and recipe updated 8/23/2016
I have not tested this recipe using all butter. Please let me know if you do and how it turns out - thanks

Depending on the size you roll your cookies, this recipe will make anywhere between 56 and 68 cookies. You may not need the entire package of milk chocolate kisses so to be safe, do not unwrap all the kisses at one time. A 12-ounce package of Hershey's Kisses holds approximately 65 kisses.
Thanks so much for stopping by!  Merry Christmas ~  Tricia