This post may contain affiliate links. Please read my disclosure policy.
I had a plan. Famous last words!  I
had
planned to post a savory, hearty, wonderful recipe for beef stew today. Ohhh comfort food. I made the stew and took photos but unfortunately it still needs a little tweaking. No recipe will be blogged before it's time! I'll work on it and get back with you.
In the meantime, I felt the urge to make my little furry children happy with some homemade, all natural dog treats. Do you ever wonder why so many dogs and cats are dying young – from cancer? I hear about people losing their pets to cancer all the time. I can count 4 that recently lost their dogs who were only 5 or 6 years old. So tragic and sad
L
I'm starting to wonder what manufacturers are putting in dog treats. I've also started to worry about anything with red dye and my vet said not to buy rawhide made in China. I didn't think to ask him why.
Anyway – not getting on the weird bus here, just saying … if I have a chance to give our pups something made with healthy natural ingredients, or something that smells and looks yucky, I vote for homemade.
This is a simple recipe.  You'll need whole wheat flour, spelt flour, oats, flax seeds, water and peanut butter.
Mix the dry ingredients together in a large bowl.  Add the peanut butter and warm water.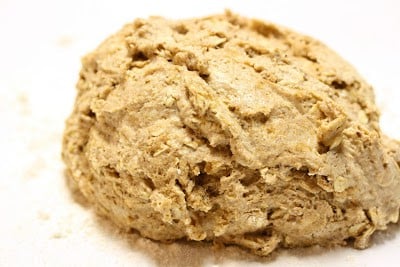 Stir until well blended and dump the dough out onto a lightly floured surface.
Roll the dough out to about 1/4 inch thick.  Cut using cookie cutter, cut the dough into bone shapes.
Place on a Silpat lined baking sheet (or parchment paper) and bake at 350 degrees for 20 minutes.  Turn the oven off and allow the treats to cool in the oven.  They'll be nice and crispy once cooled!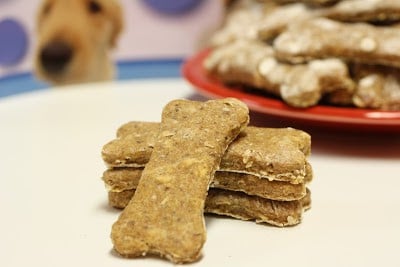 Healthy, crunchy, filling and … I would also say they're delicious but I haven't eaten one yet.  I guess I could but already had dinner tonight so maybe later.
This recipe made about 36 small treats.  You could cut them larger and thicker for big dogs!
What a nice change of pace for our pups.
Oh I forgot to mention … our puppies LOVE them!
Peanut Butter Dog Treats
(Adapted from a recipe on www.dogtreatrecipes.org)
1 cup whole wheat flour
1 cup spelt flour (or whole wheat if you don't have spelt)
1 cup quick-cooking rolled oats
2 tablespoons ground flax seed
1-1/4 cup warm water
1/4 cup natural peanut butter
Preheat oven to 350 degrees.  In a large mixing bowl combine the flours, oats and flax seeds.  Add the peanut butter and water.  Stir until combined.  Knead the dough on a lightly floured surface.  Add  more flour if needed or until the dough is no longer sticky.  Roll out the dough to about 1/4 inch thick.  Using bone shaped cookie cutters cut shapes and place on Silpat lined baking sheet.  Bake for 20 minutes and turn the oven off.  Allow the treats to cool to create crunchy, wonderful puppa-licious treats you can feel good about!
~~~~~~~~~
Thanks so much for stopping by!  Have you started to gather all your Thanksgiving recipes in a pile?  I need to get on it this weekend.  Bake something for someone you love today, even if they are a little hairy and have bad breath!
Tricia