This post may contain affiliate links. Please read my disclosure policy.
Peppermint Ice Cream – a wonderful combination of bright, cool peppermint and a creamy vanilla base for a tasty holiday frozen treat.
First, after so many cookies, fudge and other delicious treats, I thought a fresh, bright, creamy peppermint ice cream would be the perfect dessert to serve at our family dinner Christmas Eve.  I wish I could give you a taste of this creamy concoction.  The peppermint is so bright and the base is so creamy, they are certainly opposites but marry well.
Maybe you too have a pile of candy canes just looking for something to do after the holiday. Unwrap those beauties and crunch them up.  We're going to make some ice cream!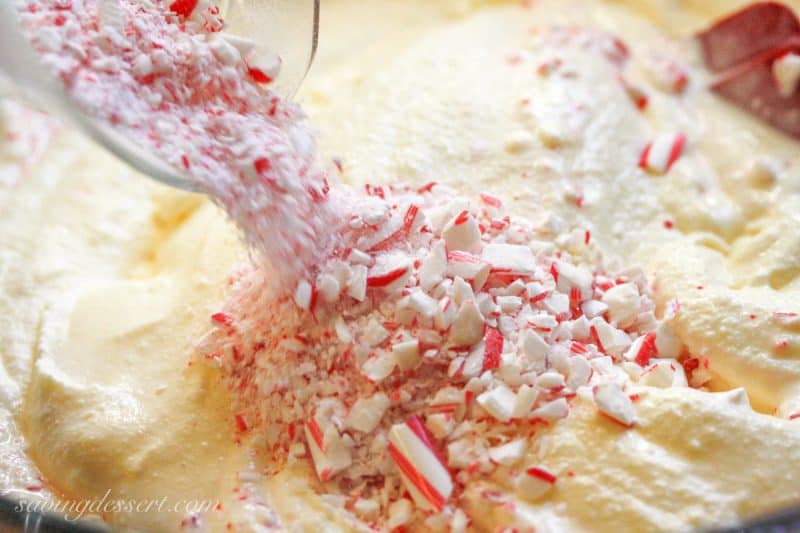 You only need about 1/2 cup of ground peppermint candies.  I used 5 regular sized candy canes.
Finally, this ice cream is flavored with peppermint extract in lieu of vanilla.   I made some lovely chocolate wafer cookies to serve on the side because you know chocolate and peppermint are great together too!
I only took a small bite so I could tell you about this recipe, but I can't wait to have little more on Christmas Eve.   If you need a tasty dessert recipe – this will not disappoint!
Don't forget to PIN to your favorite Holiday Dessert Board!

In addition to the other baking going on around here … my daughter Allie came over to decorate cupcakes for a work party.  I baked the cupcakes ahead of time and helped mix up a wonderful buttercream frosting.  If you're looking for an easy, classic, delicious buttercream frosting, give this one a try from
Alice @ Savory Sweet Life
.
Allie made candy melt stars a few days ahead then piped the icing into Christmas tree shapes.
White candy pearls and sprinkles were added to finish the look.
I bake and Allie decorates – I think we have something here!
Christmas is such a wonderful time of year with family and friends celebrating our most precious Gift.  In addition to this perfect Gift, I am also thankful for you, my friends.  Some I've met and some I'll never get the opportunity to meet in person but I am grateful to you all.
With email, Facebook, blogs and other instant means of communication,  I'm always surprised at the number of Christmas cards we receive.  I am so thankful for each and every one because it means you took a few minutes out of your day to send warm wishes our way.
I am very thankful we're able have presents under our Christmas tree.  We are blessed with jobs and family with which we can share.  Thank you Lord for this opportunity and for this abundant life!
We were also blessed this year with our first grandson, Isaac and a wonderful daughter-in-law, Callie.  Our family has grown, and our hearts have as well.
"And there were in the same country shepherds abiding in the field, keeping watch over their flock by night.  And lo, the angel of the Lord came upon them, and the glory of the Lord shone round about them: and they were sore afraid.  And the angel said unto them, 'Fear not: for behold, I bring unto you good tidings of great joy, which shall be to all people.  For unto you is born this day in the City of David a Savior, which is Christ the Lord.  And this shall be a sign unto you; Ye shall find the babe wrapped in swaddling clothes, lying in a manger.' And suddenly there was with the angel a multitude of the heavenly host, praising God, and saying, 'Glory to God in the highest, and on earth peace, good will toward men.'"  Luke 2:8-14
Delicious and creamy with a bright peppermint flavor.
Ingredients
3

cups

whole milk

1 ¼

cup

granulated sugar

6

large egg yolks

1 ½

cups

heavy cream

1 ½

teaspoons

peppermint extract

½

cup

crushed candy canes

or peppermint candy

Extra crushed candy,

for garnish
Instructions
Mix the whole milk and 1 cup of the sugar in a medium saucepan. Heat on medium stirring frequently until it reaches 170°F on an instant-read thermometer.

In a separate medium mixing bowl, whisk the egg yolks and the remaining ¼ cup sugar together. Whisk until the mixture is foamy and slightly thickened.

Slowly temper the egg yolk mixture by drizzling about half the hot milk into the eggs while whisking continuously. Whisk the tempered egg mixture into the remaining whole milk and sugar mixture in the saucepan. Return the saucepan to medium heat. Cook, stirring continuously with a wooden spoon, until the mixture registers 185°F on an instant-read thermometer or when it is thick enough to coat the back of the spoon. Do not allow the mixture to boil or you'll make scrambled eggs. Remove from the heat.

Pour the heavy cream into a large clean glass or metal bowl, set over an ice bath. Pour the heated milk and egg mixture through a fine sieve into the cream. Add the peppermint extract and stir until well blended. Stir the mixture occasionally until it has cooled completely (this should take about 30 minutes.) Remove the bowl from the ice bath, cover and refrigerate overnight or at least 8 hours.

Process the chilled mixture in your ice cream maker according to manufacturer instructions. Remove the finished ice cream to a large bowl and mix in the ½ cup of crushed peppermint. Store in an airtight plastic container and freeze for several hours before serving. Garnish with additional peppermint if desired.
Recipe Notes
Nutrition information is calculated using an ingredient database and should be considered an estimate. When multiple ingredient alternatives are given, the first listed is calculated for nutrition. Garnishes and optional ingredients are not included.
Nutrition
Calories:
3446
kcal
|
Carbohydrates:
410
g
|
Protein:
48
g
|
Fat:
185
g
|
Saturated Fat:
106
g
|
Polyunsaturated Fat:
11
g
|
Monounsaturated Fat:
57
g
|
Cholesterol:
1734
mg
|
Sodium:
505
mg
|
Potassium:
1366
mg
|
Sugar:
373
g
|
Vitamin A:
7991
IU
|
Vitamin C:
2
mg
|
Calcium:
1202
mg
|
Iron:
3
mg
I hope you and your family have a wonderful, blessed Christmas and a very Happy New Year!  Thanks so much for stopping by!
 Tricia