This post may contain affiliate links. Please read my disclosure policy.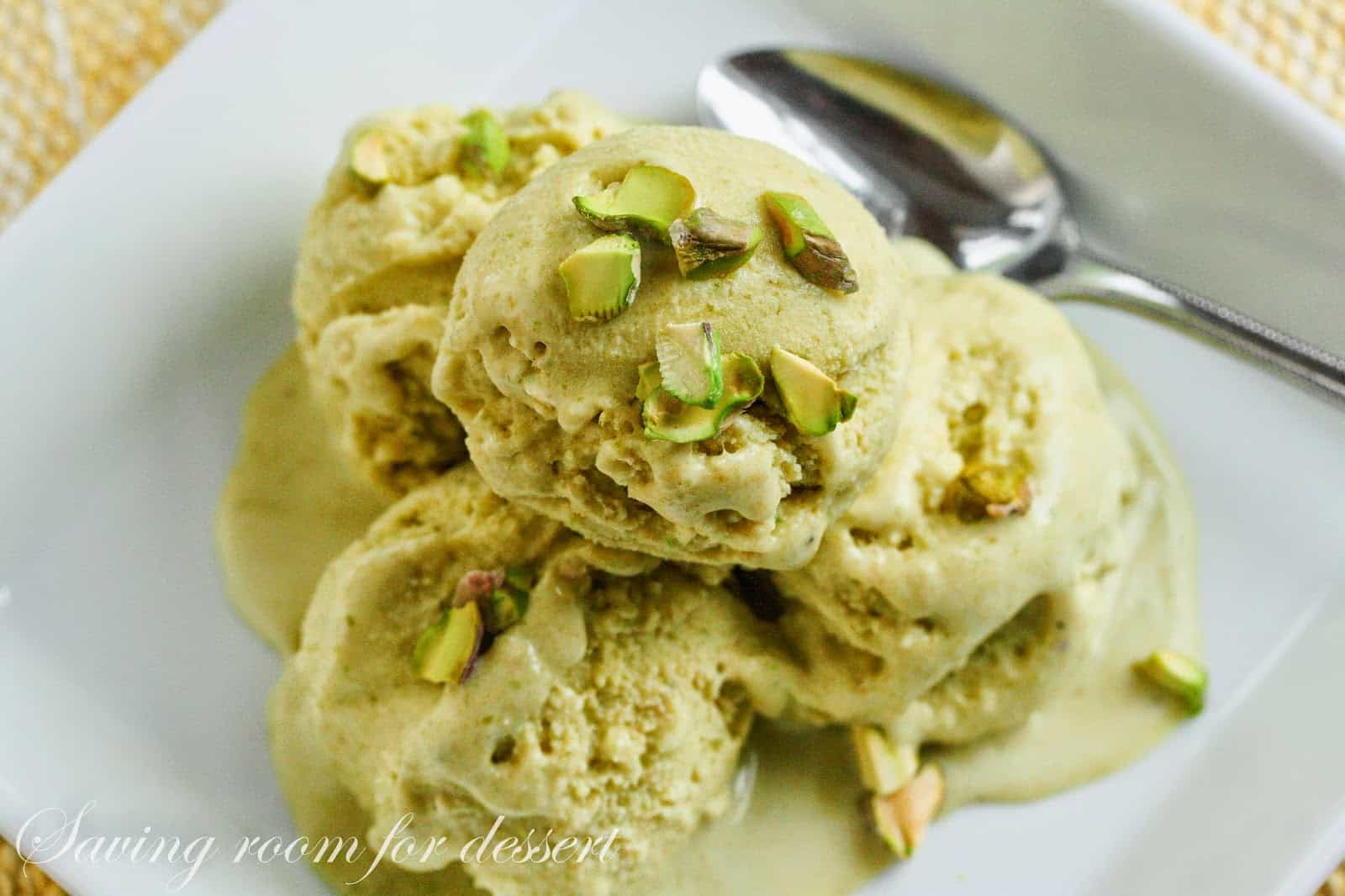 I've been thinking about this ice cream for a long time so when the weather forecast called for a high of 89, well you know.  How much more of an excuse do I need?  The only thing I had to figure out was how to make Pistachio paste.  I mentioned this to my lovely blog daughter
Sarah
who's posting over at the Smart Kitchen.  Sarah is the queen of all things hummus and nut butter.  Sarah embraced the idea and made
Pistachio Poo
 that looks fantastic.  Her success inspired me to make a pasty green nut butter of my own.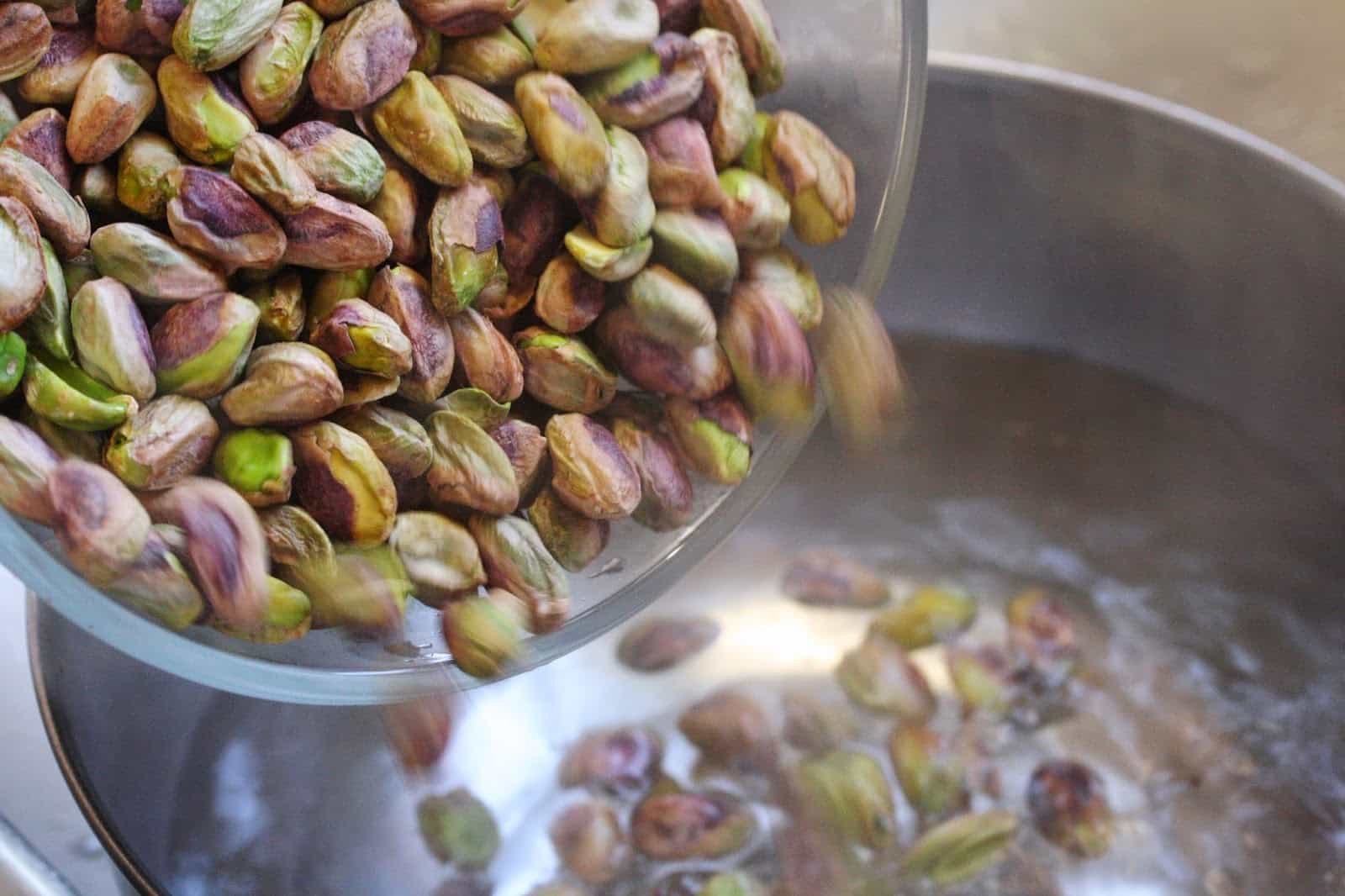 For a few evenings while watching 'Chopped' on the Food Network, I shelled unsalted pistachios.  I read instructions on how to remove the purple skin from the nut so I threw them in a pot of hot water and allowed the pistachios to soak for about 10 minutes.  The skins pop right off.  It is a little messy but well worth the effort.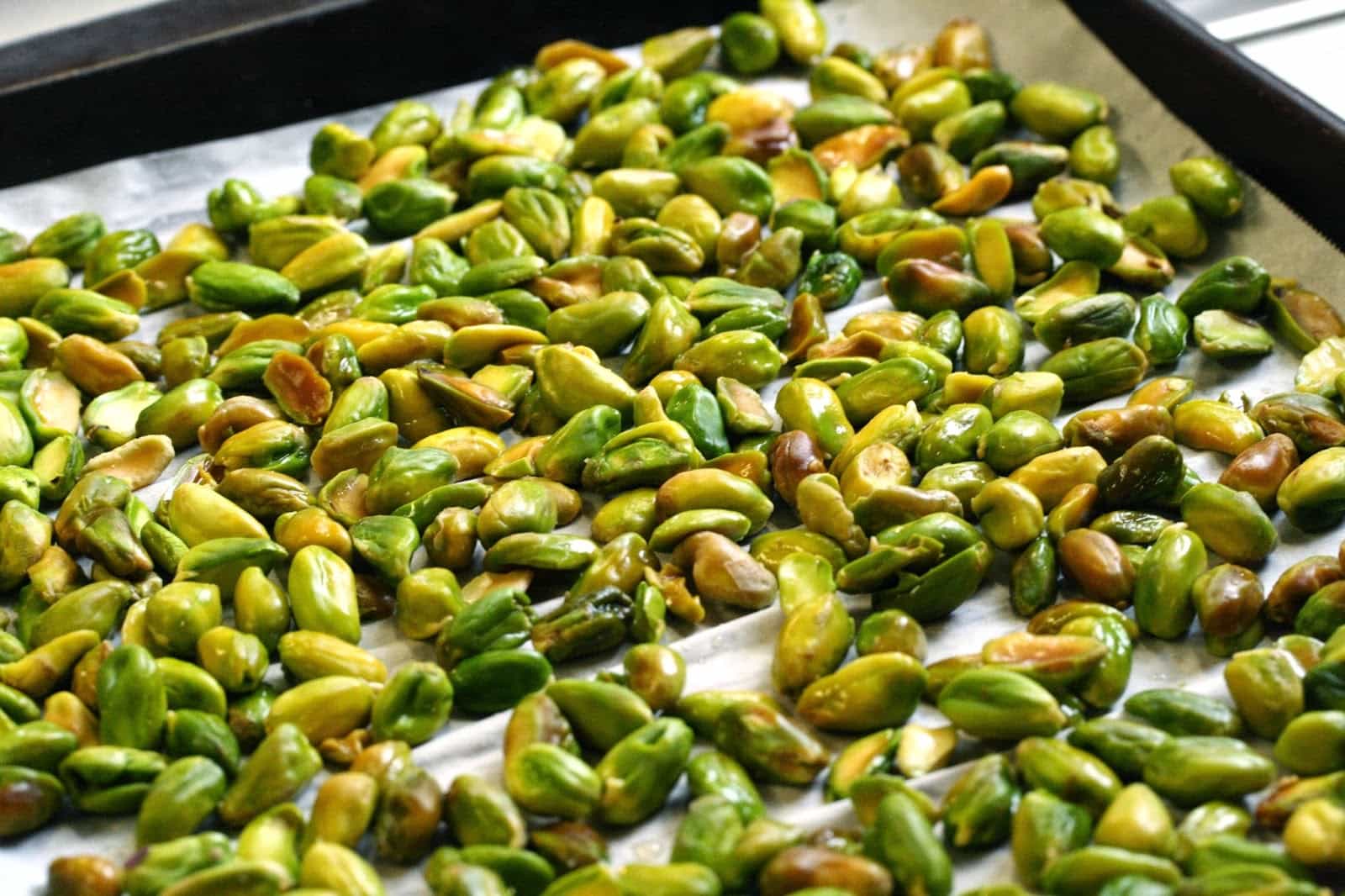 Spread the skinned nuts on a baking sheet and place them in a 170 degree oven for about 20 minutes.  You don't really want to toast them, just dry them out a bit.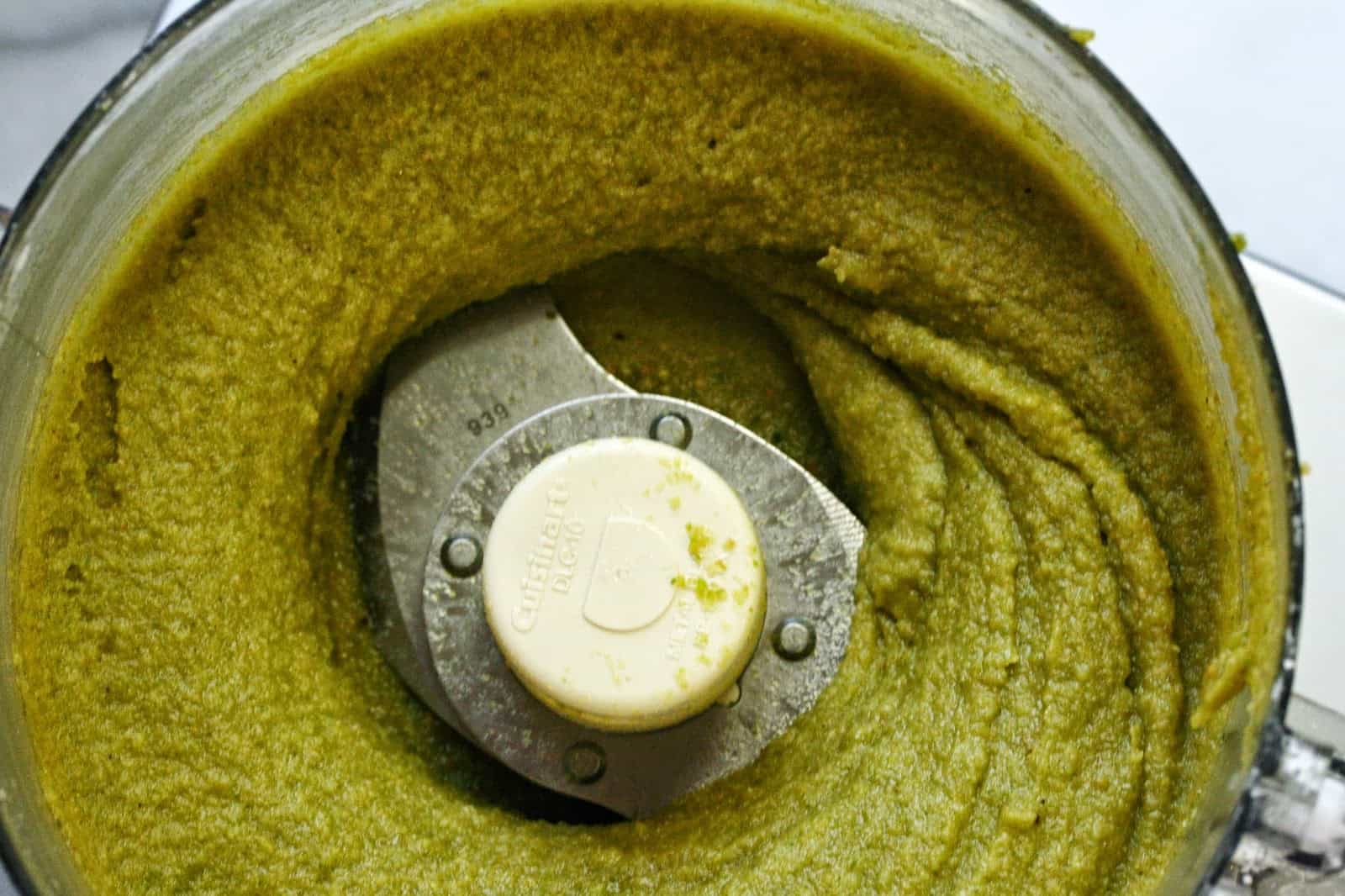 Next all you have to do is add powdered sugar to the pistachios and blend them in a food processor.  Once they are a fine consistency, add a few drops of almond extract and some simple syrup.  Blend until the mixture is smooth and creamy.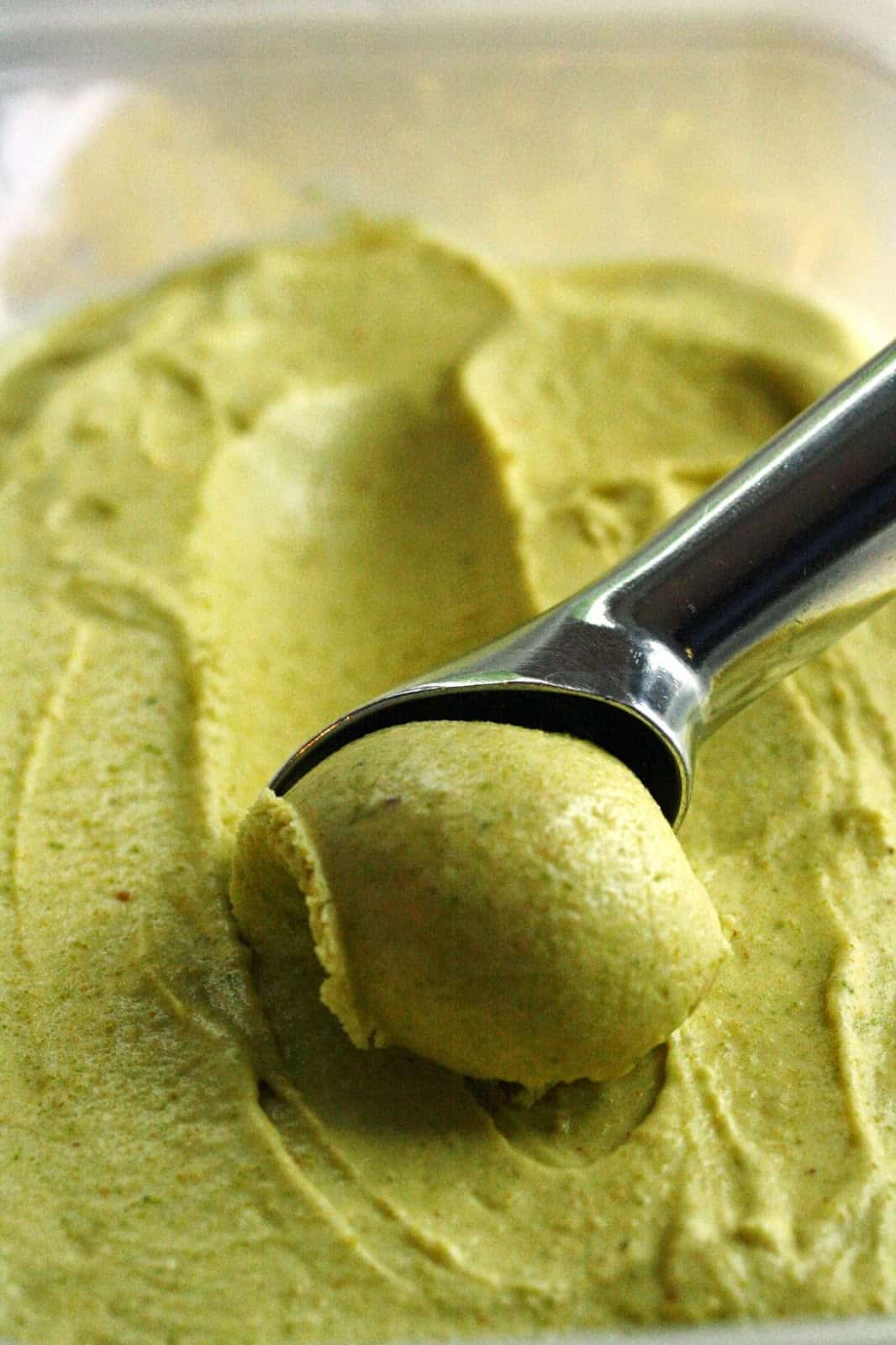 Using a basic custard ice cream recipe, I added 1 cup of the pistachio paste and churned the mixture in my handy-dandy ice cream maker.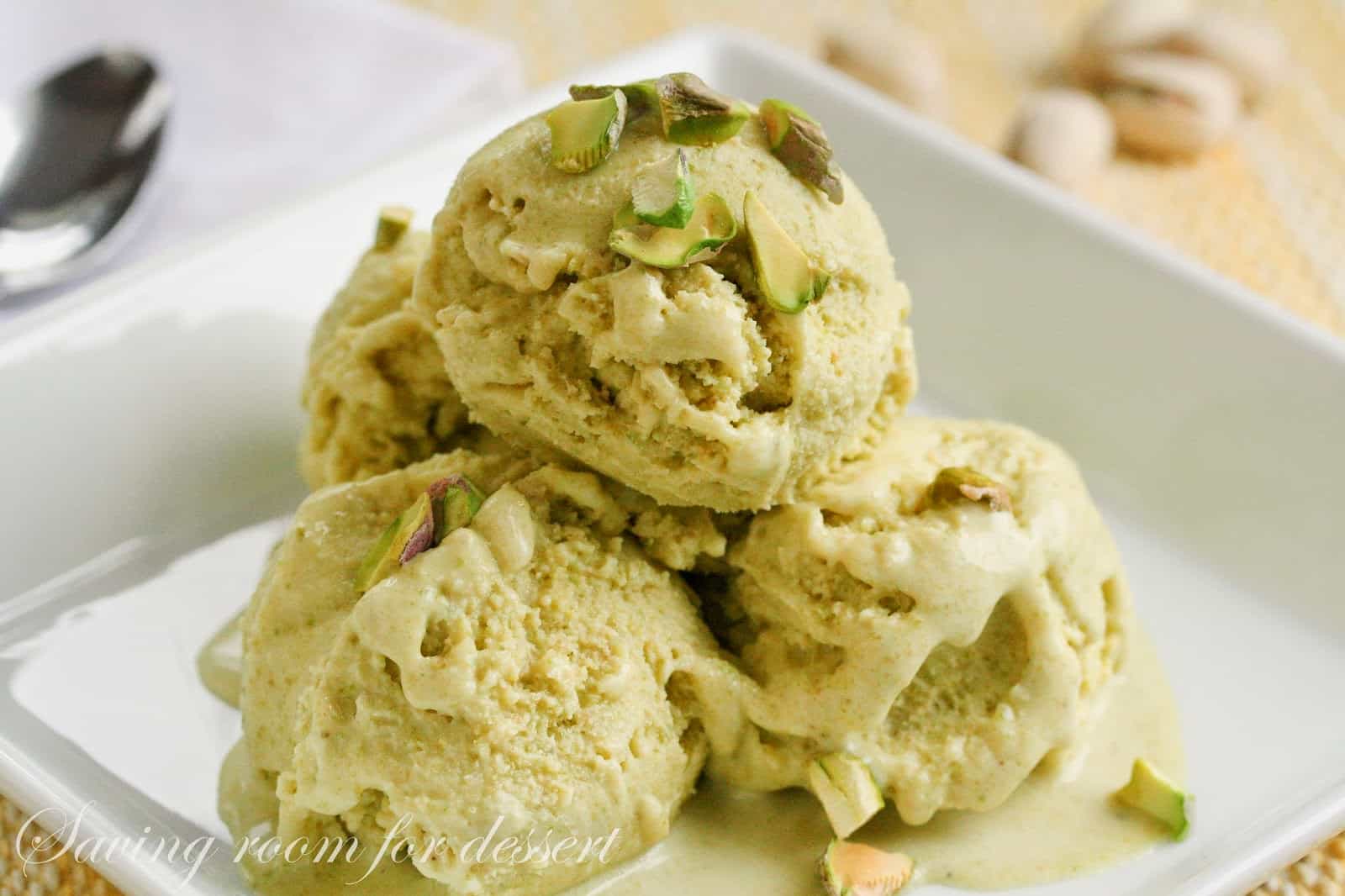 Nutty and creamy, lightly sweet and perfectly green, this ice cream is so good!
I only used half the homemade paste so you'll see another pistachio recipe coming soon.  You can order pistachio paste online but it's very expensive.  I also heard it's available in specialty food stores but I can't find it.  I refused to give up so I made my own.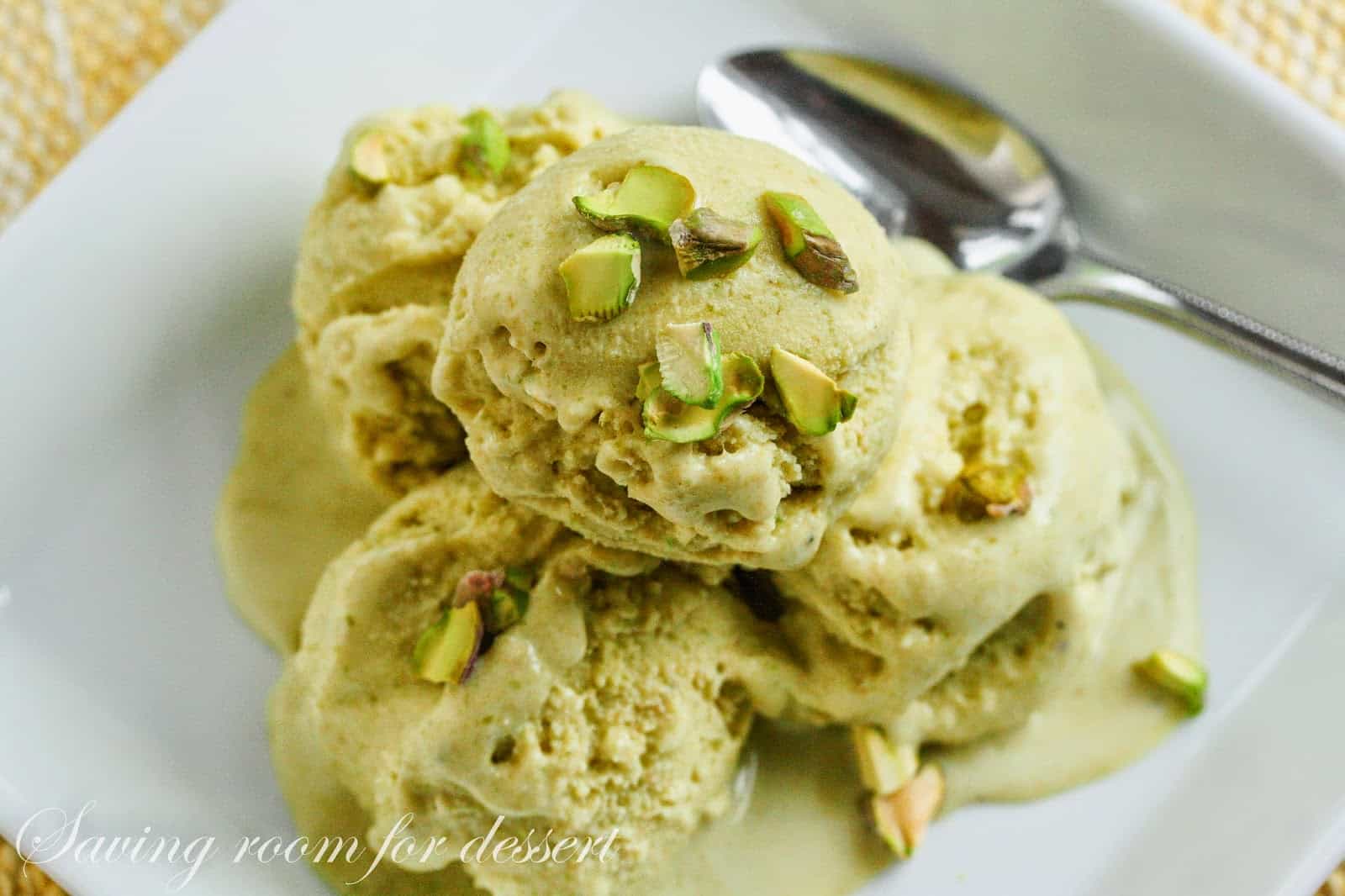 Creamy Homemade Pistachio Ice Cream
Pistachio Ice Cream
Course:
Dessert, Ice Cream
A pistachio lovers dream!
Ingredients
For the simple syrup:
½

cup

water

½

cup

granulated sugar

1

tablespoon

corn syrup
For the pistachio paste:
2 ½

cups

unsalted shelled pistachios

1 ½

cups

powdered sugar

½

cup

simple syrup

⅛

teaspoon

almond extract
For the ice cream:
¾

cups

whole milk

⅔

cups

granulated sugar

a pinch of salt

1 ½

cup

heavy cream,

divided

4

whole egg yolks

1

cup

pistachio paste,

homemade or store bought
Instructions
To prepare the simple syrup:
Combine the syrup ingredients in a small sauce pan. Cook and stir until it begins to boil. All sugar should be dissolved. Remove from the heat and cool.  Makes ½ cup syrup.
To prepare the pistachio paste:
Place the pistachios in hot, but not boiling water for about 10 minutes.  Drain and place the nuts on a clean tea towel.  Peel the purple skin off the nut.  Place the pistachios on a baking sheet and bake for about 20 minutes at 170°F.  You do not want to toast the nuts, just dry them out. Cool.
To prepare the ice cream:
Heat the milk, sugar, salt and ½ cup heavy cream in a medium saucepan until hot.  Do not boil.  In a small bowl whisk the egg yolks.  Whisk in ⅛ of a cup of the warm milk mixture into the egg yolks.  Whisk until well blended and then add the yolk mixture into the remaining warm milk mixture.  Stir constantly over medium heat until the mixture thickens.  Remove from the heat.

Place the remaining 1 cup of cream in a large bowl with 1 cup of the pistachio paste.  Set a strainer on the top of the bowl and pour the hot milk and egg mixture into the paste and cream.  Stir until all ingredients are blended.  Refrigerate overnight or at least 3-5 hours.

Churn the ice cream in the ice cream maker according to the manufacturer's instructions.  Store the ice cream in a freezer safe container.  Serve and enjoy!
Recipe Notes
Nutrition information is calculated using an ingredient database and should be considered an estimate. When multiple ingredient alternatives are given, the first listed is calculated for nutrition. Garnishes and optional ingredients are not included.
Nutrition
Calories:
766
kcal
|
Carbohydrates:
87
g
|
Protein:
14
g
|
Fat:
44
g
|
Saturated Fat:
15
g
|
Polyunsaturated Fat:
8
g
|
Monounsaturated Fat:
19
g
|
Cholesterol:
161
mg
|
Sodium:
49
mg
|
Potassium:
633
mg
|
Fiber:
5
g
|
Sugar:
74
g
|
Vitamin A:
986
IU
|
Vitamin C:
2
mg
|
Calcium:
128
mg
|
Iron:
3
mg
When I started blogging, I never knew the most rewarding aspect of this journey would be the friends that I've made.  I've only actually met a few of the people I call my blog family.  It's a different world here in bloggerland, and I love it.  I've made friends with some amazing cooks, writers, adventurers and feel very blessed to have them all in my life.
One of my dear blog friends just found out she has melanoma.  The first reports indicate everything should be fine as it was caught very early.  Please keep Tanna at The Brick Street Bungalow in your prayers.  Tanna is going through the very same thing my "real" sister went through a couple of years ago.  My sister Cathy is doing great and was also blessed with an early diagnosis.  Tanna is an amazing woman who loves her family and also loves The Lord.  I know she will appreciate your prayers!  We're praying for you Tanna!  Love you lots.
Thanks so much for stopping by!