This post may contain affiliate links. Please read my disclosure policy.
There are two distinct methods for making macarons.  I've always used the French method but after my recent failures I thought it was a good time to try something new.  I was very pleased with this recipe and think the Italian meringue method is much more forgiving than the French method.  The Italian meringue is glossy and shiny and doesn't seem to be as sensitive to deflating.  Making a sugar syrup is a little more time consuming but not at all difficult.
Age your egg whites overnight at room temperature.  Make sure the almond meal is also at room temperature.  Sift the almond meal several times then sift again with the confectioners' sugar.
 Once the almond meal and confectioners' sugar are sifted together, make a well in the center and pour in the egg whites.
Fold gently until you have a stiff paste like batter.
Add the gel food color if using.  You can fold it in now or after the next step (see instructions below).  Set the batter aside while making the meringue.
The meringue should be smooth and shiny but hold a stiff peak.
Gently fold the meringue into the batter in stages.
Pipe the cookies on parchment lined baking sheets.  To achieve the heart shape pipe the batter into a "V" shape.
This is macaron happiness.  A nice solid bottom, a good rise with a foot along the bottom and no cracked tops or hollow middles!  Yeah!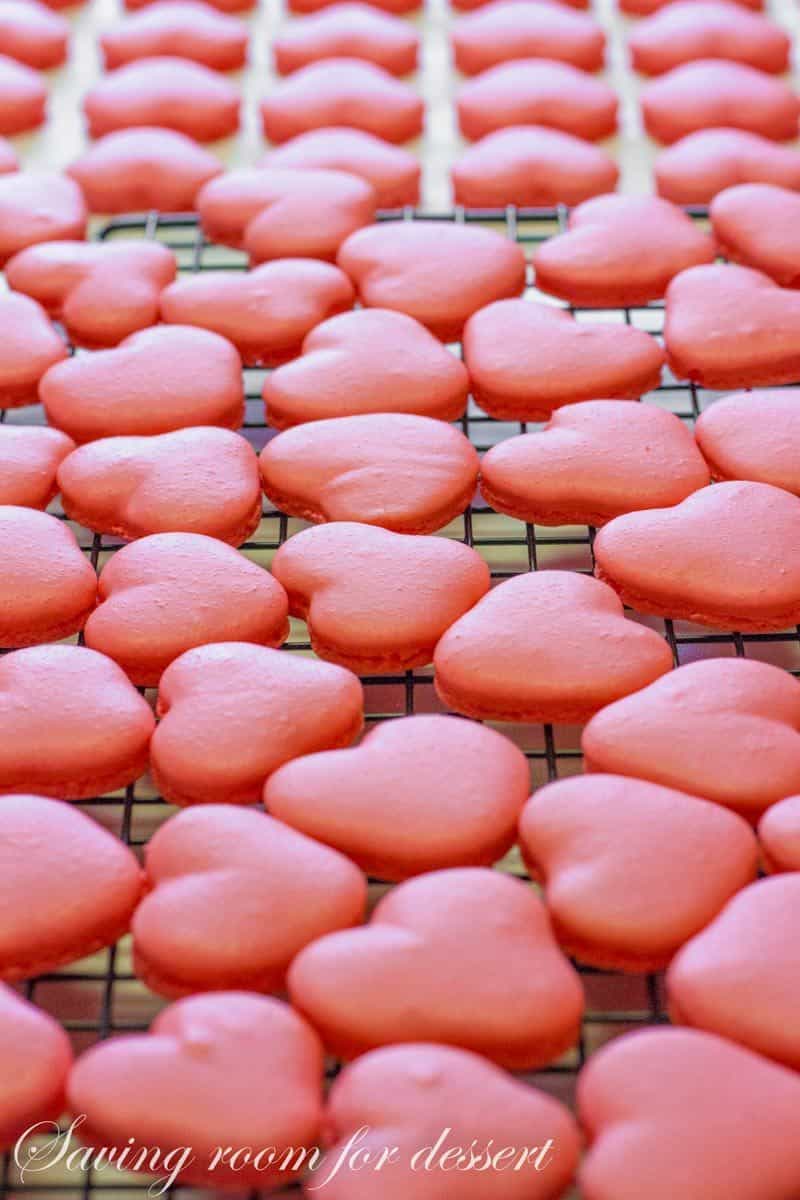 If you use a template when pipping, you will have more consistent sized cookies making it easy to match them up before filling.
Drizzled with a little white chocolate and filled with a fresh raspberry buttercream, these macarons are ready for gifting!
Attention husbands, boyfriends and suitors … you don't have time to waste!  Valentine's Day is coming and you need to start making a plan.  We love chocolate, and chocolate covered strawberries and other pretty foods. So unless you're a baker, florist or jeweler, you need to seek assistance, preferably from a professional.    (This has been a public service announcement – you're welcome ladies!)
Don't forget to PIN to your favorite cookie board!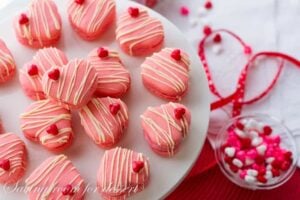 Raspberry Macarons - The Italian Method
Total Time:
1

hour
20

minutes
Course:
Cookies, Desserts
Dazzle your valentine with these homemade macarons with fresh raspberry buttercream.
Ingredients
For the batter:
300

grams

almond meal,

sift twice

300

grams

powdered sugar,

sifted

110

grams

egg whites,

aged overnight
For the meringue:
300

grams

granulated sugar

75

grams

water

110

grams

egg whites,

aged overnight
Extras:
gel food color

red

4

ounces

white chocolate for drizzling

heart shaped candies for decorating if desired
For the raspberry buttercream:
6

tablespoons

unsalted butter,

room temperature

2

ounces

cream cheese,

room temperature

1

cup

fresh raspberries,

pureed and strained

1

tablespoon

Chambord

raspberry liqueur optional

a few drops of vanilla extract

4

cups

powdered sugar,

sifted (more or less as needed for desired consistency)
Instructions
Prepare 4 sheets of parchment paper and at least two baking sheets. To ensure consistent sized cookies, trace a cookie cutter on the parchment paper as a template then turn it over before pipping. Prepare a pasty bag fitted with a large round tip. Set aside.

In a large mixing bowl sift together the almond meal and confectioners' sugar. Make a well in the center and add 110 grams of egg whites. Fold the mixture with a spatula until it becomes a thick, paste-like batter.

Place the remaining 100 grams of egg whites in the large mixing bowl of a stand mixer fitted with the whisk attachment. Set aside.

In a small saucepan combine the granulated sugar and water. Stir until the sugar is dissolved. Attach a candy thermometer to the pan and heat to 225°. Once the syrup reaches 225°, turn on the stand mixer and beat the egg whites on high. Continue to beat the whites while cooking the syrup until it reaches 239°. You want the meringue to be at soft peak stage so if it reaches that stage before the syrup reaches 239°, turn the mixer down to low. When the syrup hits 239° remove it from the heat and slowly pour it into the egg whites while the mixer is running. Try to stream the syrup directly into the whites close to the side of the bowl so it won't cool too quickly. Whip on high for a minute then reduce the speed to low and continue beating until the bowl has cooled slightly and glossy stiff peaks have formed.

Add about half the meringue to the batter, gently folding until combined and smooth. Gradually add the remaining meringue, and food color if using, and fold until the batter is smooth. To test consistency, pick up the spatula and if the batter ribbons back into the bowl, it is ready. It should be like lava blending back into itself after about a minute.

Fill pastry bags with the macaron batter. Pipe the batter into a V shape if making hearts. It may take a few times to get the hang of it, but keep at it. Once the first sheet is filled, rap the pan on the counter a few times to rupture any air bubbles trapped in the cookie. Rotate the pan and rap again. Set the baking sheet filled with heart shaped cookies aside to allow a shell to form. This will take about 20-30 sitting out at room temperature. Pipe another sheet of cookies and repeat until the batter is gone.

Bake for about 18 – 20 minutes for until you can lift the cookie off the parchment coming away clean. If the top separate from the bottom, they are not ready.

Remove the entire sheet of parchment paper with cookies intact to a wire rack to cool. Once completely cool, remove the macarons from the parchment and fill as desired.

To prepare the buttercream, blend the butter and cream cheese together until smooth. Add the vanilla, raspberry puree, Chambord if using, and about 2 cups of the confectioners' sugar. Blend until smooth. Add the remaining confectioners' sugar until you reach the desired consistency for the filling. It does not have to be as thick as cake icing as it will harden once refrigerated. Pipe mounds of buttercream on once cookie, top with a matching macaron and twist a little to spread the filling.

Refrigerate macarons for 24-48 hours before serving for the best flavor. Allow them to rest at room temperature about an hour before serving.

Makes 60 filled macarons, or about 120 individual shells.

(Shell recipe adapted from The Baker Chick)
Recipe Notes
Nutrition information is calculated using an ingredient database and should be considered an estimate. When multiple ingredient alternatives are given, the first listed is calculated for nutrition. Garnishes and optional ingredients are not included.
Nutrition
Calories:
114
kcal
|
Carbohydrates:
19
g
|
Protein:
2
g
|
Fat:
4
g
|
Saturated Fat:
1
g
|
Polyunsaturated Fat:
1
g
|
Monounsaturated Fat:
1
g
|
Trans Fat:
1
g
|
Cholesterol:
4
mg
|
Sodium:
10
mg
|
Potassium:
11
mg
|
Fiber:
1
g
|
Sugar:
18
g
|
Vitamin A:
48
IU
|
Vitamin C:
1
mg
|
Calcium:
13
mg
|
Iron:
1
mg
What I've learned about making macarons:
Tools that really help:
A good quality scale (I have a Cuisinart – love it)
Large pastry bags
Large round tip for pipping
parchment paper
several baking sheets
fine mesh sieve for sifting
Gel food color
A stand mixer with whisk attachment
Candy thermometer if making the Italian method
Other tips:
I always age my egg whites overnight.  No need to refrigerate, just prepare the egg whites ensuring there is no yolk mixed in and cover loosely.
Double or triple sifting the almond meal makes for a smoother shell.
If you store the almond meal in the refrigerator, take it out the night before so it will be room temperature.
Whatever you do, never, never, never try to add extract or liquid flavorings to the batter.  Trust me, it doesn't work, the cookies end up hollow, cracked and footless.
Have all your tools, pans, pastry bags and ingredients ready before starting.
Always make these cookies on a sunny day, with low humidity.  Meringues don't like humidity.
Gently fold the batter until it is like molten lava that moves but is not thin like pancake batter.
The cookies are best after a day or two, they get better with age, like me!
Store the macarons in the refrigerator in an air tight container.
This is a very sweet cookie so if you prefer, use something a little less sweet for the filling such as bittersweet chocolate ganache.
This recipe makes a lot of macarons so be ready to share!
I like to read lots of recipes and comments before making Macarons.  We can learn so much from other foodies and have an arsenal of great tips and tricks for success.
Happy Monday!  I hope you have a terrific week – mine seems to be starting off like a winner – although I can't say the same for those poor Broncos.  What a sad Super Bowl it was, but the commercials were pretty good!  Thanks so much for stopping by!