This post may contain affiliate links. Please read my disclosure policy.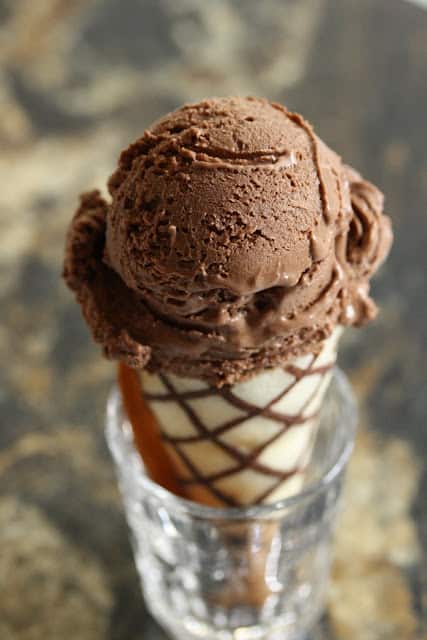 Many moons ago I purchased a cookbook titled 
Making Artisan Gelato by Torrance Kopfer
.  I've drooled over the pages, and pages, of creamy treats always promising to make them someday.  But one of the real reasons I wanted to read this cookbook was to learn more about gelato and the differences between the Italian dessert and ice cream.  Gelato is derived from the Italian verb gelare, which means "to freeze."
Back in the day, I thought gelato was more like sorbet, containing mostly fruit with an icy texture. After a trip to Italy my niece fell in love with gelato and told me it was not sorbet, it was like ice cream, only better.   So I continued to be confused about this very important piece of culinary knowledge.  The author explains the history of gelato in Chapter One and clears up my confusion in one short paragraph.
To paraphrase, Kopfer explains that modern-day sorbet does indeed refer to water-and-fruit based mixtures.  But historically, the terms gelato and sorbet were used interchangeably.  Apparently in Italy gelato often refers to any frozen dessert.  Ha – I wasn't totally off base 🙂  Not that I've ever been to Italy or anything, hint-hint.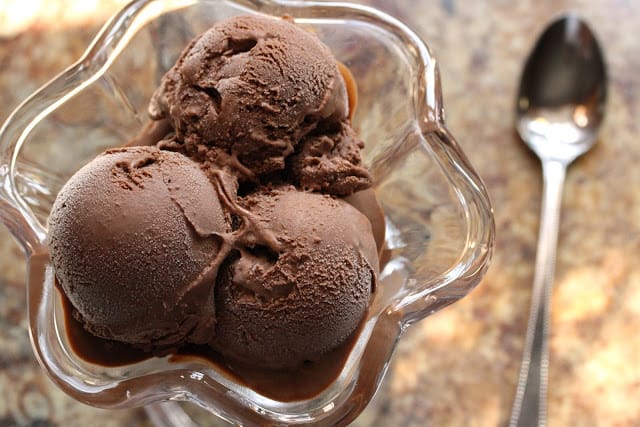 Now we all know that modern-day gelato is indeed a milk based dessert, so what is the differences between gelato and ice cream?   So glad you asked!  Gelato is made with milk, cream, sugar and eggs just like ice cream.  The main differences between the two is the amount of air and butterfat contained in the mixture.  Gelato is made with more milk and less cream, whereas ice cream is made with more cream and less milk.  The ratios are somewhere in the range of 6 to 8 percent butterfat in gelato, and 10 to 16 percent butterfat for ice cream.  For the record, more butterfat is not really needed to make an exceptional dessert!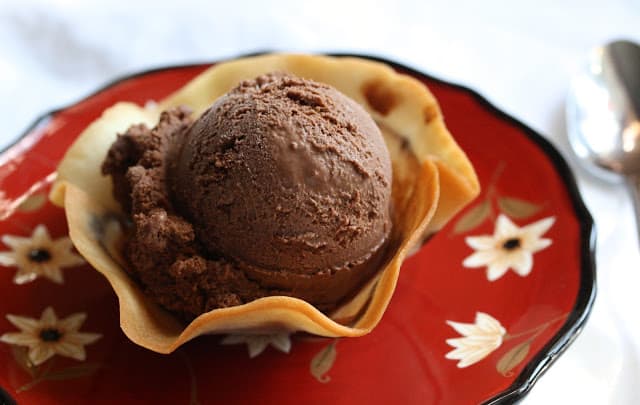 Unfortunately I don't have a professional gelato maker at home.  I do have my handy-dandy Cuisinart ice cream maker that never disappoints!  So I probably didn't infuse the right amount of air and ice crystals in the gelato, but I did make one fine bowl of rich chocolate creaminess!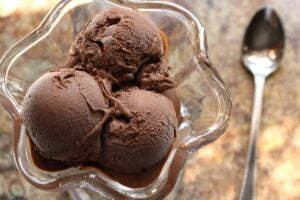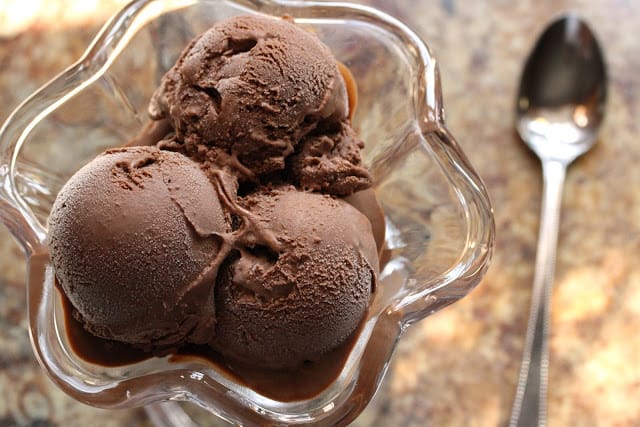 A rich, smooth chocolatly bowl of deliciousness!
Ingredients
2

cups

whole milk

2

tablespoons

unsweetened Dutch-processed cocoa powder

dash of sea salt

1

cup

bittersweet chocolate chips

4

large egg yolks

1

cup

granulated sugar,

divided

1

cup

heavy cream

1

teaspoon

vanilla extract
Instructions
In a small bowl whisk together ¾ cup of the sugar and the cocoa powder.

Pour 2 cups whole milk into a medium saucepan and whisk in the sugar/cocoa mixture. Heat on medium until the mixture reaches 185°F on an instant-read thermometer. Once you reach 185°F, continue to cook the mixture for 5 minutes, stirring constantly, but do not boil.

Remove from the heat and add the chocolate chips. Stir until all the chocolate has melted. Set aside.

In a small mixing bowl, whisk the egg yolks with the remaining ¼ cup sugar until slightly thick and foamy. Temper the eggs by whisking in a small amount of the hot chocolate mixture to the eggs, while whisking constantly. If you've never tempered eggs before, there's nothing to it. Basically you're trying to warm the eggs without cooking them. To do this you want to whisk in small amounts of the hot mixture until you have added about ½ the hot chocolate. I use a small ladle to drizzle the chocolate into the eggs and whisk constantly until blended. Then add a little more, and so on. The egg mixture should be thick and smooth with no lumps.

Pour the tempered egg mixture into the saucepan with the remaining chocolate and blend. Using a wooden spoon constantly stir the mixture over medium heat until it reaches 185°F again on the instant-read thermometer. Do not allow the mixture to boil. Remove from the heat and set aside. Place a large bowl in your sink and fill it with ice. Place a stainless-steel or glass bowl in the ice bath and add the heavy cream. Set a fine mesh strainer on top of the bowl and pour the hot chocolate custard through the sieve into the cold cream. Add the vanilla extract and stir until completely blended.

Cool the mixture by stirring every 5 minutes while over the ice bath. After about 30 minutes, cover the bowl with plastic wrap and refrigerate overnight.

Process according to your ice cream maker instructions. Freeze the gelato in a sealed container until ready to serve. Enjoy!
Recipe Notes
Adapted from Making Artisan Gelato
Nutrition information is calculated using an ingredient database and should be considered an estimate. When multiple ingredient alternatives are given, the first listed is calculated for nutrition. Garnishes and optional ingredients are not included.
Nutrition
Calories:
522
kcal
|
Carbohydrates:
57
g
|
Protein:
8
g
|
Fat:
30
g
|
Saturated Fat:
21
g
|
Polyunsaturated Fat:
1
g
|
Monounsaturated Fat:
7
g
|
Cholesterol:
193
mg
|
Sodium:
89
mg
|
Potassium:
367
mg
|
Fiber:
2
g
|
Sugar:
48
g
|
Vitamin A:
891
IU
|
Vitamin C:
1
mg
|
Calcium:
227
mg
|
Iron:
1
mg
The cookbook seems to have terrific detailed instructions and many great looking recipes.  The recipe and instructions posted above are slightly different than those published in "Making Artisan Gelato."  Please refer to the published material for the original recipe.
But hey – mine turned out great!  It is the creamiest frozen dessert I've ever had.  Custard ice creams (those containing egg yolks) are my favorites and chocolate, well chocolate and I have a thing going on.  It can never be too chocolaty.
Hope you enjoyed – or are enjoying your long weekend!  Hope your Labor Day cookouts were terrifically tasty!  Thanks so much for stopping by!