This post may contain affiliate links. Please read my disclosure policy.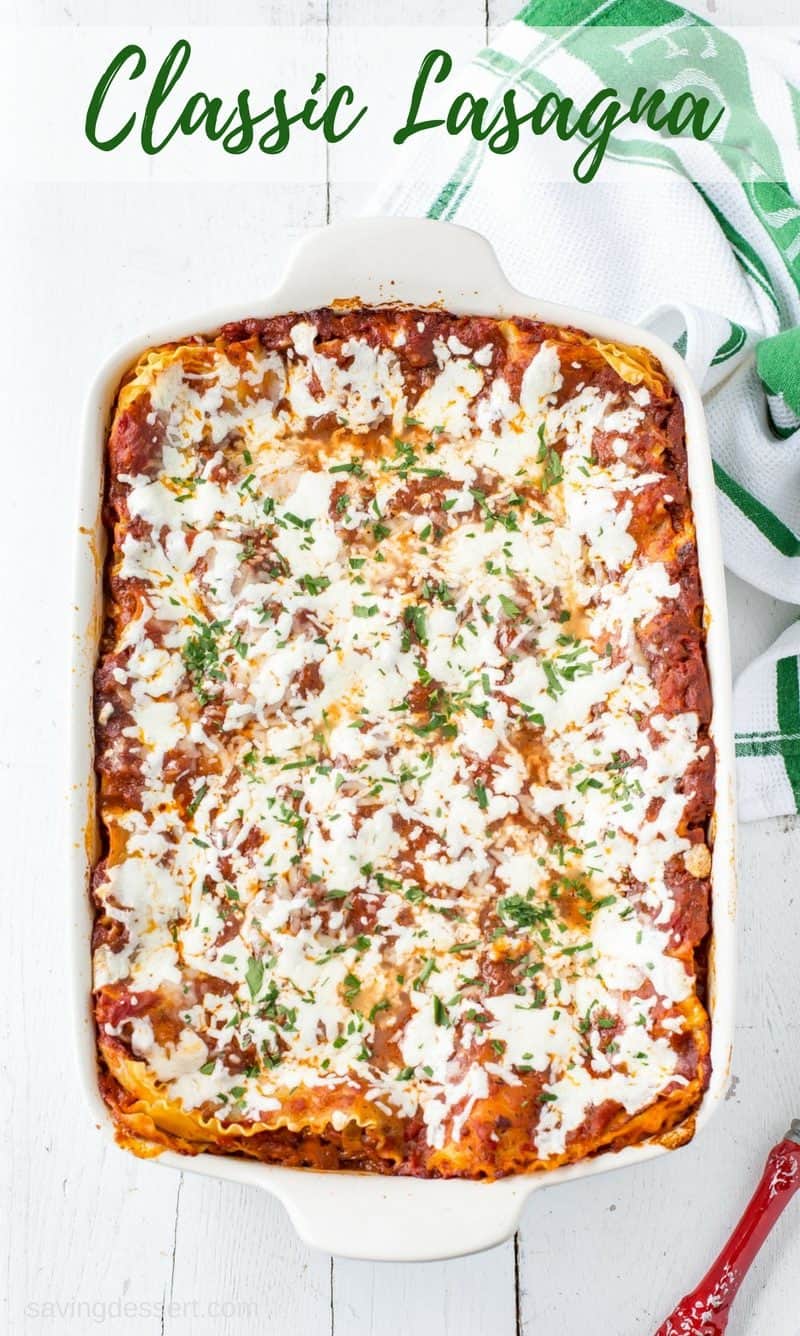 With our Rich & Meaty Classic Lasagna Recipe you'll be able to feed a small crowd or at least your super hungry family!
Just the thought of out of town guests and dinner parties stresses me out a little. I worry too much about having enough food for everyone, and wonder if they'll like what I prepared. Classic lasagna to the rescue!
This delicious recipe, adapted from the New York Times, has several components, each easily made ahead and assembled on the day it's needed. That's not to say this is an easy weeknight meal, it takes a bit of time to love this beautiful pan of homemade lasagna into the oven. With a fantastic homemade sauce, chopped meatballs, Italian sausage and big dollops of a delicious ricotta cheese mixture you'll be wondering if you're part Italian! Oh the cheese, yes we love it here at SRFD and this recipe has all the great players – from Romano to Parmesan, and ricotta to creamy mozzarella. Served with a delicious fresh salad with olives, and plenty of buttered garlic bread, your happy dinner guests will be well stuffed and thrilled they came to your house for dinner!
Don't wait until you have a party to make this meaty lasagna recipe. Put this on your winter weekend menu, because you know you don't want to go outside in this blustery cold weather anyway. The sauce, meat and cheese mixture takes about 4 hours to cook and prepare, but it's super easy to make. Start early in the day or prep the day before, it's all good. If you have a small family that's even better. Divide the unbaked lasagna into several loaf pans and freeze for a wonderful quick dinner. Thaw the frozen lasagna in the refrigerator overnight and leave at room temperature while preheating the oven. You can also freeze individual baked portions for a hearty lunch or easy-peasy weeknight dinners. I love having 'leftovers' and ready made dinners everyone loves!
This lasagna has both handmade meatballs and Italian sausage links in the recipe. At first I thought it was weird to go to the trouble of making and browning meatballs, only to end up chopping them up for one of the layers. However, the meatballs taste so much better than crumbled skillet fried meat, and they stay tender and moist. I was also skeptical about rolling the meatballs lightly in flour. But then I realized the little bit of flour helps thicken and tighten up the sauce. The same goes for the link style Italian sausage. Browning the sausages in a skillet then cooking the rest of the way in the sauce keeps the links tender and juicy. I love getting the little chunks of meatballs and sausage in every bite! I bet that's the way the old Italian grandma's do it, using leftover meatballs to layer in the lasagna. So perfect!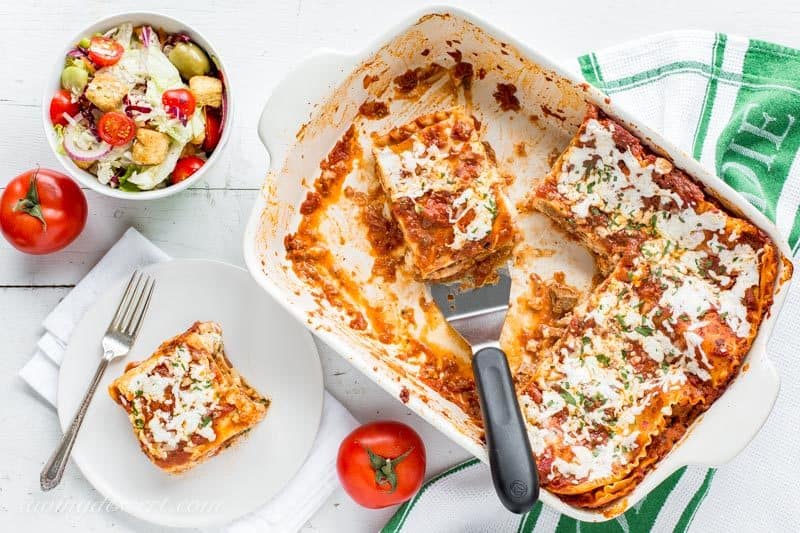 I've made a few pans of this lasagna and everyone loves it. It holds together well, is not watery or sloppy wet, has great flavor and is hearty and delicious! You won't be sorry you took the time to make it right, I'm not!
Thanks for PINNING!
We'd love to connect with you on social media. If you try our recipe, please use the hashtag #savingroomfordessert on INSTAGRAM so we can come give your post some love! And be sure to FOLLOW Saving Room for Dessert on FACEBOOK | INSTAGRAM| PINTEREST | TWITTER for all the latest recipes and updates.
Lasagna Recipe
Total Time:
4

hours
45

minutes
With our Rich & Meaty Classic Lasagna Recipe you'll be able to feed a small crowd or at least your super hungry family!
Ingredients
For the sauce:
½

cup

olive oil,

divided

2

red onions,

finely diced

3

large cloves garlic,

minced

fresh ground black pepper

1 ½

cups

Italian red wine

2

(28-ounce) cans Italian plum tomatoes,

peeled

¼

cup

tomato paste

2

tablespoons

granulated sugar

1

teaspoon

red pepper flakes
For the meatballs and sausage:
½

cup

all-purpose flour

¾

pound

ground sirloin

¼

cup

fresh grated pecorino Romano cheese

1

large egg

¼

cup

chopped fresh parsley leaves

2

large cloves garlic,

minced

1

pound

Italian sausage

(links in casings) half sweet, half hot if desired
For the lasagna:
1

15-ounce container ricotta cheese

2

large eggs

1

cup

fresh grated pecorino Romano cheese

1

cup

fresh grated Parmesan cheese,

plus extra for serving

½

cup

chopped parsley leaves

1

teaspoon

fresh ground black pepper

½

teaspoon

salt

1

pound

mozzarella grated,

divided

20-24

lasagna noodles

(see notes)
Instructions
To make the sauce:
Heat ¼ cup of olive oil in a large, heavy bottom sauce pot or Dutch oven, over low heat. Add the onions and cook, stirring frequently for about 10 minutes or until the onions are wilted. Add the minced garlic and stir until fragrant. Season with pepper. Increase the heat to medium and add the wine. Cook, stirring occasionally, until the wine is mostly reduced, about 20 minutes. Crust the tomatoes into the pot (by hand) along with any canned juice. Add the tomato paste, sugar, red pepper flakes and 2 cups of warm water. Simmer, stirring occasionally, uncovered, for 1 hour.
To make the meatballs and sausage:
While the sauce is simmering, prepare the meatballs. In a shallow bowl or pie plate, add the flour and set aside. In a large bowl, combine the sirloin, cheese, eggs, parsley and garlic. Season lightly with salt and plenty of black pepper. Using your hands, mix all ingredients together until well blended. Shape into golf ball sized meatballs and set aside.

Heat the remaining ¼ cup of olive oil in a large skillet over medium-high heat. Roll the meatballs in the flour, shake off excess and add to the hot oil. You will need to do this in a few batches depending on the size of your skillet. Brown the meatballs on all sides, but do not cook through. Transfer the browned meatballs to the sauce.

Carefully wipe out the skillet with paper towels and brown the sausages over medium-high heat. Add the browned sausages to the sauce. Simmer for 1 ½hours, uncovered, gently stirring occasionally.

Remove the meatballs and sausage from the sauce and set aside to cool slightly. Chop coarsely and set aside to use as a layer in the lasagna, do not return the meat to the sauce.
To make the cheese mixture:
In a large mixing bowl, combine the ricotta, egg, pecorino Romano, Parmesan, parsley and all but 1 cup of the mozzarella. Season with salt and pepper. Mix thoroughly.
To assemble:
When ready to assemble, preheat oven to 350°F. Lightly coat a lasagna pan or deep dish 13x9-inch pan with vegetable spray. Prepare the lasagna noodles according to package directions (see note below) and set aside. To assemble the lasagna, spoon a thick layer of sauce (without meat) into the bottom of the prepared pan. Cover with a layer of noodles.

Spoon ¼th of the remaining sauce on top, then sprinkle a third of the meat and a third of the cheese mixture in tablespoon sized dollops.

Repeat for 2 more layers, starting with a layer of noodles, ⅓ of the remaining sauce, ½ of the remaining meat and ½ of the remaining cheese.

Top with a layer of noodles, ½ the remaining sauce, the last of the meat and all the remaining cheese.

Top with one more layer of noodles and the remaining sauce. Sprinkled the reserved mozzarella evenly over the top. Bake for 45-60 minutes or until the lasagna is bubbly and heated through. To prevent over-browning, tent loosely with foil for the last 15 minutes of baking. Let lasagna stand for 15-20 minutes before serving. Pass fresh grated Parmesan cheese for serving
Recipe Notes
Seasoning - Take it easy when adding salt as the Romano and Parmesan cheeses are naturally salty as well as canned tomatoes. Check the sauce when done and season accordingly.
Assembling: Once assembled you will have 5 layers of sauce, 4 layers of noodles, 3 layers of meat and 3 layers of the ricotta mixture. Lasagna noodles - You can use no-boil, fresh or dried noodles. Be sure to follow the package directions to prepare the noodles. I use a dried noodle that requires par-boiling before adding to the casserole. I recommend soaking the no-boil noodles in hot water for a few minutes, then draining before use. Lasagna noodles come is various sizes. Estimate the number you will need based on 4 layers fit into a large, deep lasagna pan. The noodles can slightly overlap. If using a smaller 13x9-inch baking pan, you will probably need a second small casserole dish which is fine because it freezes well!
Make ahead - Each component can be made ahead and assembled on the day you want to serve. Store the sauce, chopped meat and cheese mixture in separate sealed containers until needed, up to 24 hours before baking. Also, feel free to assemble the entire casserole ahead of time and refrigerate covered until needed. Allow the lasagna to sit at room temperature about 1 hour before baking.
Adapted from the New York Times recipe by Regina Schrambling
Nutrition information is calculated using an ingredient database and should be considered an estimate. When multiple ingredient alternatives are given, the first listed is calculated for nutrition. Garnishes and optional ingredients are not included.
Nutrition
Calories:
717
kcal
|
Carbohydrates:
47
g
|
Protein:
34
g
|
Fat:
40
g
|
Saturated Fat:
16
g
|
Polyunsaturated Fat:
4
g
|
Monounsaturated Fat:
18
g
|
Trans Fat:
0.3
g
|
Cholesterol:
135
mg
|
Sodium:
957
mg
|
Potassium:
526
mg
|
Fiber:
3
g
|
Sugar:
6
g
|
Vitamin A:
960
IU
|
Vitamin C:
10
mg
|
Calcium:
447
mg
|
Iron:
3
mg
Check out our favorite, amazing lasagna pan. It cooks beautifully, cleans up easily, is broiler, dishwasher and microwave safe and has superior heat retention – worth every penny! Click on the photo for more information:
If you decide to purchase something at Amazon after following my affiliate link, I receive a small commission, at no additional cost to you, which I use to pay for web hosting and services for this blog. Thanks for supporting SRFD!
If you're still in the mood for classic Italian cooking, don't miss our easy and delicious Chicken Marsala and these Homemade Potato Gnocchi complete with how-to video! A long time family favorite at our house is this Easy Pasta Salad with Zesty Italian Dressing. Great for all your get togethers!
To change it up a little, I'd love this Italian Sausage and White Beans with Sage for the Instant Pot or Slow Cooker from Kalyn's Kitchen. And, I love this cheesy, delicious recipe for Baked Ziti with Italian Sausage from Brown Eyed Baker too. And finally, I can't wait to try this low-carb Italian Stuffed Zucchini Boats from Valerie's Kitchen – so yummy!
Thanks so much for stopping by!
Tricia