This post may contain affiliate links. Please read my disclosure policy.
My kitchen habits are pretty predictable.  You can almost bet I'll be trying to cook up something new, delicious and blog worthy, every weekend.  However, I didn't get in the kitchen last weekend as we were on the last leg of our whirlwind 1,200 mile trip to Tennessee and back.  Honestly I was happy to get out of the kitchen for a little while.  This baker needed a break after a seriously intense baking season at our house.
 When I opened the last bag of sugar and the butter was no more, I breathed a great big sigh of relief swearing I won't make that many sweets, cookies and cakes ever again.  But you know I'll probably forget, people will start asking if I'm going to make fudge, cookies and toffee and once again I'll get very strange looks from the checkout girl at the grocery store when my cart is full of sugar, butter, chocolate and other candy making tools.  I adore gifting goodies to my friends and family, and to anybody that appreciates it.  Get your orders in early next year!
It's been a long two weeks since I last blogged but it feels like months.  Our holidays were wonderful and delicious and now I'm looking forward to getting back to the basics.  I've really missed all my blog friends and my readers (what I like to refer to as my imaginary and/or virtual friends.)  I have a lot of commenting to catch up on so please forgive me for not visiting sooner!
Beets … natures candy.  We love 'em.  Roasted beets have shown up on our dinner table many, many times.  We also love beets in salads and now we love them in hummus.  It may look a little strange for hummus but you need to look past the intense shade of fuchsia.  When I told my husband, who is a beet lover from way back, that I was making roasted beet hummus, he was very skeptical.  His top lip curled up a bit and he made one of those winching faces, like something smelled bad.  I told him he would love it – because he loves beets and hummus.  Traveling husband has done a lot of traveling over the years and while in the Middle East he has eaten the real deal.  Hummus is served at almost every meal and he enjoyed it frequently (i.e. consumed more than his share.)
So who would guess that he (Traveling husband) was shocked, astounded and amazed that it was delicious hummus.  He loves it in spite of the funny color and said he was blown away with how fantastic it was.  It may seem a little weird but it works.  Beet hummus is not new to the blog world so I took the best of several recipes and cobbled together this winner.
To prepare the beets, give them a good scrub with a vegetable brush leaving about an inch of stems and the root intact.  Rub each beet with a little olive oil and place them on a baking sheet lined with a double layer of aluminum foil.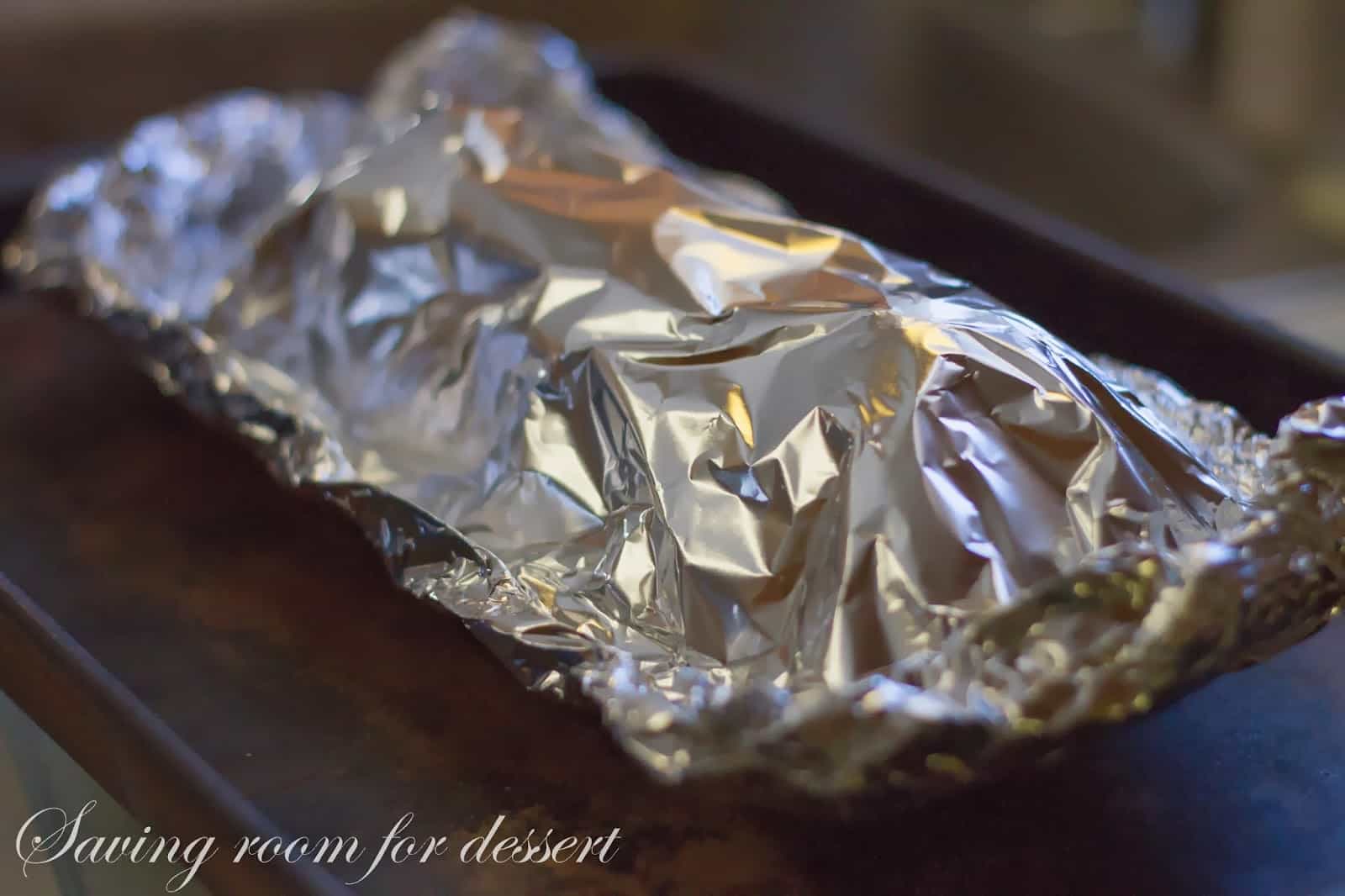 Place two more pieces of foil on top and seal the edges to make a pouch.  Bake the beets in a preheated 400 degree oven for about an hour.  Carefully slice open the foil pouch to allow the beets to cool.  Remove the stems and tails from the beets.  Now they should be super easy to peel and leave you with a shinny smooth tender roasted root!
In the bowl of a food processor add the diced roasted beets, a can of drained and rinsed chickpeas, lemon juice, tahini, garlic, salt, crushed red pepper, cumin and olive oil.
Process until the hummus is smooth.  Add more olive oil if needed to reach the consistency you prefer.
Garnish with chopped pistachios to add a little color and serve with pita chips, sliced vegetables or these wonderful homemade crispy salted Rosemary Flatbread Crackers (recipe coming later this week).
Roasted beets turned into a yummy hummus.
Ingredients
3

large beets

or 4 small, scrubbed, stems trimmed to 2 inch, tail left intact (rubbed with olive oil)

1

can 15 ounce chickpeas

rinsed and drained

Juice of a whole lemon

1/4

cup

tahini

4

cloves

garlic

minced

1

teaspoon

sea salt

1

teaspoon

cumin

1/4

teaspoon

crushed red pepper

2

tablespoons

olive oil

plus more if needed to reach desired consistency

Chopped pistachios for garnish

Crackers sliced vegetables, or pita wedges for serving

Feta cheese for serving with the hummus if desired
Instructions
To prepare the hummus:

Preheat oven to 400°F.  Line a baking sheet with a double layer of aluminum foil.  Place the cleaned and trimmed beets on the foil and drizzle with olive oil.  Rub the oil over the entire beet and cover with a double layer of foil.  Seal the beets in the foil pouch and bake for 60 minutes.  Slice the foil package open and allow the beets to cool.

When cool enough to handle remove the stems and root and peel the beets.  Dice the beets in small pieces and place in the bowl of a food processor.  Add the remaining ingredients and process until smooth.  Add additional olive oil if needed to reach desired consistency.  Serve garnished with chopped pistachios and Feta cheese.

Store leftover hummus in the refrigerator.
Recipe Notes
Recipe lightly adapted from The Year in Food
Nutrition information is calculated using an ingredient database and should be considered an estimate. When multiple ingredient alternatives are given, the first listed is calculated for nutrition. Garnishes and optional ingredients are not included.
Nutrition
Calories:
736
kcal
|
Carbohydrates:
42
g
|
Protein:
16
g
|
Fat:
61
g
|
Saturated Fat:
8
g
|
Polyunsaturated Fat:
17
g
|
Monounsaturated Fat:
33
g
|
Sodium:
2555
mg
|
Potassium:
1171
mg
|
Fiber:
10
g
|
Sugar:
17
g
|
Vitamin A:
296
IU
|
Vitamin C:
18
mg
|
Calcium:
168
mg
|
Iron:
6
mg
~~~~~~~~~~~~~~~~~~~~~~~~~~~~~~~~~~~~~~~~~~~~~~
The decorations are put away, the house is clean and we are back to work!  How quickly the holidays fly by.  No matter where you live I bet you're having some of this cold weather.  We missed the big snow here in Virginia but the ice is on it's way.  Stay safe and thanks so much for stopping by!