This post may contain affiliate links. Please read my disclosure policy.
Skillet Pizza Margherita is a simple pie made with minimal ingredients.  Oven roasting the tomatoes and garlic give this fresh chunky sauce great depth of flavor.
It feels like months since I was in the kitchen cooking up something to share with you.  After two weeks of travel and a difficult week with a very sick dog, I can truly say I'm thrilled to get back in a routine.  Our Parson Russell Terrier (Mocha) developed Addison's Disease.  I never knew such a thing existed for dogs.  It's a disease of the adrenal gland that left untreated can be fatal.  Mocha is feeling much better but will have to take a monthly injection and daily medication for the rest of her life.  We love our fur children.
When I was looking around the blog trying to decide if I should open a can of pumpkin, I noticed I don't have a lot of salads posted.  Then I noticed I don't have a lot of pizza either.  Salad … Pizza – it was tough but I guess you can see who won the toss!  I eat salads everyday for lunch so they don't excite me like baking doughy things like pizza.  Pizza is without a doubt my favorite food … and Skillet Pizza Margherita is a super simple way to satisfy that craving.
The weather has started to cool down but we still have tomatoes in the garden.  I picked 1 1/2 pounds of Roma and Grape tomatoes and popped them in the oven with a drizzle of olive oil, some fresh thyme and a couple of cloves of garlic.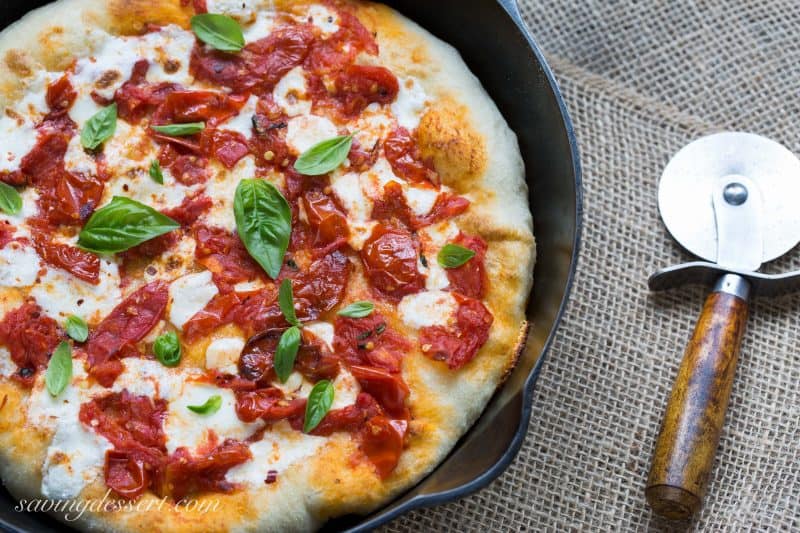 Dice up some fresh mozzarella and pick a few basil leaves and we're ready to roll out a crust for our Skillet Pizza Margherita.
I used my handy-dandy all-time favorite pizza dough recipe (posted below) and tried the cast iron skillet cooking method.  Not only was this pizza deliciously crisp on the bottom and soft and chewy on the top, it took minutes to cook.  If you make the dough and roasted tomatoes ahead of time, this pizza will be on the table in less than 30 minutes.  That makes this a perfect game day treat too.  Your football fans will be so impressed when you thrown down a hot fresh homemade pizza and declare game on!
Skillet Pizza Margherita is a simple pie made with minimal ingredients.
Oven roasting the tomatoes and garlic give this fresh chunky sauce great depth of flavor.  You can skip the roasting and garnish the pizza with sliced tomatoes instead but I hope you will try the roasted tomatoes and sprinkle on a little crushed red pepper.  Dreamy!
Skillet Pizza Margherita
Total Time:
5

hours
45

minutes
Course:
Dinner, Main Course
Skillet Pizza Margherita with garden fresh oven roasted tomatoes and basil.
Ingredients
For the sponge:
1 ½

teaspoons

active dry yeast

1 ½

cups

tepid water

about 80°F

2

tablespoons

olive oil

2 ¼

cups

all-purpose flour
For the dough:
The sponge

2 - 2 ¼

cups

all-purpose flour

1

scant tablespoon table salt
For the topping:
1 ½

pounds

fresh Roma tomatoes

or Plum tomatoes

2

tablespoons

olive oil

1

tablespoon

fresh thyme leaves

3

cloves

garlic

peeled

dash of salt and pepper

8

ounces

fresh ball mozzarella

diced

¼

cup

fresh basil leaves
Instructions
To make the sponge:
Add the yeast to the bowl of a stand mixer. Add the water stirring to dissolve the yeast. Allow the yeast to rest for 5 minutes or until it becomes creamy. Add the olive oil and then gradually stir in the flour with a wooden spoon or rubber spatula.

Scrape down the sides of the bowl, cover and let the sponge rest and rise in a warm place (about 85°F) for 1½ hours. I use my microwave as a proofing oven. It is very warm inside when I keep the task light on underneath. Be sure your dough is free from drafts. The sponge should double in volume and become very bubbly.
To make the dough:
Use a rubber spatula to deflate the sponge and fit the mixer with the dough hook. Add 2 cups of flour and the salt to the sponge and mix on low for 2 or 3 minutes. Increase the speed to medium and add a spoonful of flour, one at a time, if needed to help bring the dough together. It should be cleaning the sides of your mixer bowl. Continue to knead on medium for another 5 minutes or until the dough is smooth and elastic.

Transfer the dough to a lightly oiled mixing bowl and turn it to make sure all sides are moistened with oil. Cover the bowl with plastic wrap and allow it to rest in a warm location for another 1½ hours. The dough should double in volume and hold an impression when you gently poke it with a finger.
For the topping:
While the dough is resting prepare the tomato topping.

Preheat the oven to 375°F. Remove the stems from the tomatoes and slice in half lengthwise. If the tomatoes are extremely watery, gently squeeze out some of the seeds. A little juice is good you just don't want them watery. Lay the tomatoes in a single layer on the baking sheet, cut side up, and drizzle with olive oil. Add the garlic and toss gently to cover. Sprinkle the tomatoes with the thyme leaves, salt and pepper. Roast for 30 - 40 minutes depending on the size of the tomatoes.

Remove the tomatoes and garlic from the oven and place in a medium bowl. Using the back of a fork, gently crush the tomatoes and garlic together leaving some pieces chunky. Pierce the tomatoes before smashing or they will spit juice in your face - just saying. Set aside.

When ready to cook the pizza place the cast iron skillet on the stove top and heat (ungreased) on medium heat for at least 10-15 minutes. If the pan begins to smoke, reduce the heat. Preheat the broiler to LO with the oven rack in the center.

Turn the dough out onto a lightly floured work surface. Divide the dough into two or three pieces (depending the size of your skillet) and cover the pieces set aside to work with later. Shape the dough into a ball and then flatten into a disk. Roll the dough into a 10-inch circle (for a 9 inch skillet) using a rolling pin. If the dough snaps back and doesn't hold it's shape, let it rest a few minutes then try again. Transfer the dough to the pizza peel or rimless baking sheet dusted with cornmeal.

Spread half the diced mozzarella on the pizza dough. Spoon half the tomatoes and garlic on the prepared pizza leaving some cheese uncovered.

Slide the dough into the hot skillet on the stove top. Immediately place in the middle of the oven with the broiler on LO with the oven door propped open. Broil for about 5 minutes. Once the cheese melts you can move the skillet up to a higher rack if needed to brown the dough. Watch it carefully as it can burn in a few seconds.

Remove from the oven and cool slightly. Garnish with fresh basil leaves and a dash of crushed red pepper if desired. Serve immediately.
Recipe Notes
NOTE: If you want to make the dough ahead of time wrap each piece of fully risen dough in plastic wrap, then place it in a Ziplock bag. Store it in the refrigerator for up to 2 days. You can also wrap it tightly and freeze until needed. To thaw the frozen dough, place it still wrapped in the refrigerator overnight. Both frozen and refrigerated dough should be allowed to come to room temperature before shaping - about 2 hours.
Pizza dough adapted from a recipe by Steve Sullivan, published in Baking with Julia
Nutrition information is calculated using an ingredient database and should be considered an estimate. When multiple ingredient alternatives are given, the first listed is calculated for nutrition. Garnishes and optional ingredients are not included.
Nutrition
Calories:
2168
kcal
|
Carbohydrates:
332
g
|
Protein:
74
g
|
Fat:
59
g
|
Saturated Fat:
20
g
|
Polyunsaturated Fat:
6
g
|
Monounsaturated Fat:
29
g
|
Cholesterol:
90
mg
|
Sodium:
751
mg
|
Potassium:
1462
mg
|
Fiber:
18
g
|
Sugar:
11
g
|
Vitamin A:
3925
IU
|
Vitamin C:
54
mg
|
Calcium:
704
mg
|
Iron:
21
mg
Thanks so much for stopping by!  I hope you have a wonderful week.
Tricia