This post may contain affiliate links. Please read my disclosure policy.
I had a long list of recipes to make this weekend but, as things go, ended up with a 'clean out the freezer' kind of weekend.  With spring just around the corner I felt the need to take stock and purge the unrecognizable frozen blocks of something lurking in the dark corners of the freezer.  This worked out pretty great because I found another wonderful smoothie flavor combination that is totally blog worthy.
We've talked about "flash-freezing" fruits during peak season so you can have them ready to roll throughout the year.  I found frozen bags of strawberries and peaches and combined them with coconut water, dates and a banana for a completely satisfying, thirst quenching "healthy" treat.
I added a tablespoon of ground flax seed and a squirt of honey to the blender and finished the smoothie with a garnish of unsweetened coconut.  This is why smoothies are the perfect treat – they are highly adaptable, delicious, and so easy!
Don't have coconut water on hand?  Try using almond milk or yogurt for a seriously creamy smoothie.  Depending on the natural sweetness of the fruit, you may or may not need the honey either.  Just jump right in and do a little "freezer diving" and see what you can come up with.  I usually start with frozen fruit and don't normally add ice to my smoothies to retain the intense fruit flavors.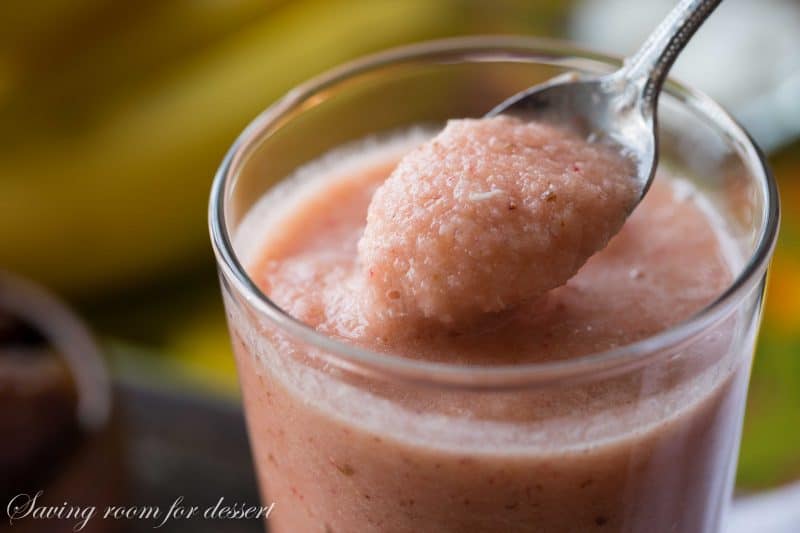 Don't forget your PIN!
Strawberry, Banana & Peach Smoothie
Course:
healthy treat, Smoothie
Healthy, sweet, refreshing and satisfying - frozen fruit smoothies are the perfect treat!
Ingredients
6-8

whole frozen strawberries

1

cup

frozen peach slices

1

whole ripe banana

not frozen

1

(16-ounce) container unsweetened coconut water

2

medjool dates,

pitted

1

tablespoon

honey

to taste

1

tablespoon

ground flax seed
Instructions
Add the fruit, dates and coconut water to the blender carafe. Process until smooth. Add the honey and flax seed and blend until smooth. Adjust for sweetness and add more coconut water if needed. Serve garnished with shredded unsweetened coconut.
Recipe Notes
Substitute almond milk for equal parts of coconut water plus a little yogurt for a creamy smooth treat.
Nutrition information is calculated using an ingredient database and should be considered an estimate. When multiple ingredient alternatives are given, the first listed is calculated for nutrition. Garnishes and optional ingredients are not included.
Nutrition
Calories:
214
kcal
|
Carbohydrates:
52
g
|
Protein:
3
g
|
Fat:
2
g
|
Saturated Fat:
0.2
g
|
Polyunsaturated Fat:
1
g
|
Monounsaturated Fat:
0.4
g
|
Sodium:
13
mg
|
Potassium:
562
mg
|
Fiber:
6
g
|
Sugar:
40
g
|
Vitamin A:
329
IU
|
Vitamin C:
30
mg
|
Calcium:
37
mg
|
Iron:
1
mg
My husband and I had a discussion about the meaning of "homemade." I told him I would defer to the experts – my readers!  According to the dictionary, homemade means any food made at home, it does not mean it has to be made from scratch.   One of my co-workers loves to bake cakes but uses a box mix.  She stated that as long as she baked it at "home" it is homemade.  I guess they're right because where would you draw the line for homemade?   If you make a pie using a freezer crust and canned filling, is it homemade?   I know this is not really urgent, earth-shattering or even the slightest bit important, just interesting.  I guess we have to designate if something is just "homemade" or "homemade from scratch."  Within those two phrases are 4,000 variations such as canned ingredients, milk from a carton, etc., etc.  Anyway – blah blah blah – it's Monday and I made a "homemade from scratch smoothie" but I used a box of coconut water that I didn't make – what say you my kitchen experts?  Homemade or homemade from scratch 🙂
Thanks so much for stopping by!
Tricia